Just a while back, we wrote a piece on Lark, a collaborative platform with a plethora of tools to share documents with your team and edit them in real-time, complete with powerful messenger chat functions, crystal clear voice calls, and many more.
As convenient as the platform is, we still missed the physical connection we took for granted when we were working out of a shared space. Our office has been closed for over a year and I personally miss being able to just walk to a colleague's room and share ideas immediately.
This was when we stumbled onto a website called Gather.town (Gather) which allowed us to do just that, and more.
Bringing a touch of realism
Gather's concept is simple. It acts as a virtual space for friends, colleagues and families to gather in a place and socialise with video or voice calls. But what makes Gather unique is its avatar and space function that allows users to virtually meet up and talk, unlike any other collaborative platforms we've tried in the past.
Its free version can accommodate up to 25 online users in a space, and with different pricing tiers, it can accommodate over 100 users.
"But Rikco, what is the use of Gather when you can just fire up a video call and talk to each other without the hassle?" said the reader reading this right now.
In times like these, being able to talk to someone who's not just a floating head but a moving avatar almost emulates face-to-face conversations. And to me, that's a comforting feeling after being away from others during the pandemic. I could even leave Gather running in the background, simulating the environment of a lively office space.
Some of us in the company managed to find avatars that look similar to how we look in real life too, which lent an extra touch of realness to the whole experience. At the moment, you can't customise from scratch, but you can change the colour scheme of your chosen avatar.
A playground for creativity
Gather offers 70 preset spaces with different themes from your everyday office to a dungeon escape room and even an otherworldly space called Moonpond. This makes setup easy, and you can still further decorate your chosen space to your liking.
If you have your own vision though, you can start with a blank space and make it as elaborate as you'd like. To add, you have the option letting your collaborators decorate the space as they see fit.
Our boss flexed her artistic licence when creating our office from a preset model in the Mapmaker, which is what you would primarily use to create walls, flooring, and set down tiles, and more. Different types of tiles change how an avatar interacts with them, such as:
Impassible tile (for objects like tables, fireplaces, etc., so avatars don't walk through them)
Private spaces (for different rooms or stations, so conversation within these spaces is contained and not overheard by everyone)
Spotlight tiles (the opposite of private spaces, where you'll be broadcasted to everyone, regardless of where they are)
She changed room sizes, replaced furnishings, and later added an outdoor space. When she revealed it to us the next day, she then let us decorate the space to our hearts' content using the Build and Erase function. What we ended up with included:
Private tables for everyone in the company, where colleagues can freely walk into your space for a discussion as they would in real life,
A meeting room with interactive whiteboards so teams can collaborate in real-time,
An outdoor Sakura garden with a flowing fountain (yes, you can hear it),
A dining hall where we have our weekly Friday lunches together (on video).
While inspired by our real-life office, we'd say we took a lot of creative liberties and exaggerated some features of it. (Hey, this is the only way we can have our dream office without worrying about exorbitant costs, okay?)
There's quite a variety of objects you can place, and the few limitations in items we found weren't much to complain about. If the objects available are not to your liking, you could simply upload your own images, like what our in-house batman fanatic did.
Interactivity isn't just limited to between avatars either; specific objects can be interacted with. The loudspeakers, fountains, and fire pits have their own ambient sounds that lend some life to the 2D space.
Meanwhile, the TVs and gramophone can be linked to YouTube videos that play in the background when you're nearby, once you've interacted with them.
And because all work and no play makes Jack a dull boy, Gather has made sure to include some fun items. These include preset games (One Night Werewolf, Codenames, Draw Battle, etc.) you can place on tables, an arcade machine you can put Tetris in, a generic game box you can link to any other online games, Sudoku, and even poker.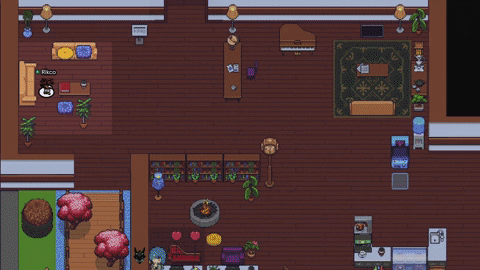 A short but sweet virtual time
While some of us used Gather diligently for a week and enjoyed the virtual interaction it offered, not everyone could be found online all day, every day like in a real office.
For one, both the browser version and app can be taxing on older/less powerful computers, and keeping Gather open throughout the day could overheat your PC.
Personally, my nosy self was also constantly glued to the site, lurking to see what my co-workers were doing (which wasn't productive at all, oops). You'd need better self-control than I do to not get easily distracted.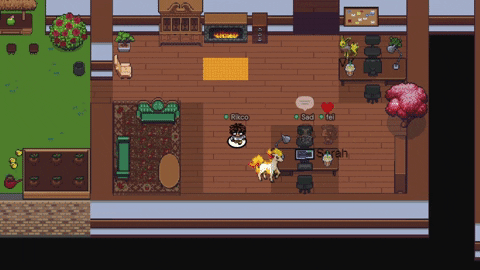 Another drawback of Gather as a workplace collaboration tool is that it requires the user to adopt an always-online persona. You may leave Gather open while you've gone to the toilet or are busy dealing with a client, but without announcing so, your colleagues may simply assume you're actually at your PC and walk over for a chat, only to be talking to themselves.
Whereas in real life, they would be able to clearly see if you're present at your desk or open for a chat. Perhaps a way to circumvent awkward encounters on Gather would be to let your colleagues know to ping you elsewhere first that they'd like to chat before coming right on over.
With that said, we still use Gather on and off as a space to spice up team meetings, for our communal reading sessions, weekly lunches, and celebrations.
It cannot fully replace existing workplace collaboration tools like Teams, Lark, or Slack since it lacks proper document-sharing, search, and detailed chat functions, to name a few.
But at a time when video calls have to make up for our lack of office interaction, Gather is a much welcome (and more fun) improvement to our options out there.
Credit for all images unless stated otherwise: Vulcan Post