Singapore's flagship national carrier, SIA Group, is already back to operating at 56 per cent of pre-pandemic seat capacity (for Singapore Airlines and Scoot combined), as the border reopening heralds the revival of international travel.
It is, in fact, the leader not only in Singapore — which, as a whole, is still only at 40 per cent, as international operators have yet to return — but in the whole of Asia-Pacific, keeping its planes flying and being the first to offer a range of connections to global travelers.
As I observed last year, it is very likely that the Covid-19 pandemic will end up making Singapore Airlines stronger than before, as many of its competitors have been badly bruised, unable to support themselves through the tough times and will now struggle to rebuild their networks.
This is excellent news for SIA, which is out in full force ready to fill the void they have left as one of the best prepared airlines in the world, and a regional leader.
Impressive financial results from Singapore Airlines (SIA) underline the fact that the airline is continuing to set the pace in the Asia-Pacific airline industry in terms of recovery. Supported by a government anxious to reopen borders as quickly as possible, SIA has been able to resume a significant part of its international network.

The contrast with other Asian hub airlines based in countries such as Hong Kong is stark.

While SIA has steadily rebuilt its capacity and routes, many Asia-Pacific airlines are struggling to gain any kind of international momentum.

Source: March 2022 analysis by CAPA – Centre for Aviation
It was, undoubtedly, a costly and painful period of time, but with billions spent on supporting itself through it and even making investments in modernisation of its fleet, Singapore Airlines are now among the frontrunners to reap the benefits of the 2022 revival in international travel and tourism.
Expect good prices as supply outpaces demand
But, if you happen to be a keen traveler waiting to finally leave the city-state after two years of travel restrictions (with very few exceptions), don't worry about high demand yet, as the passenger figures are yet to follow.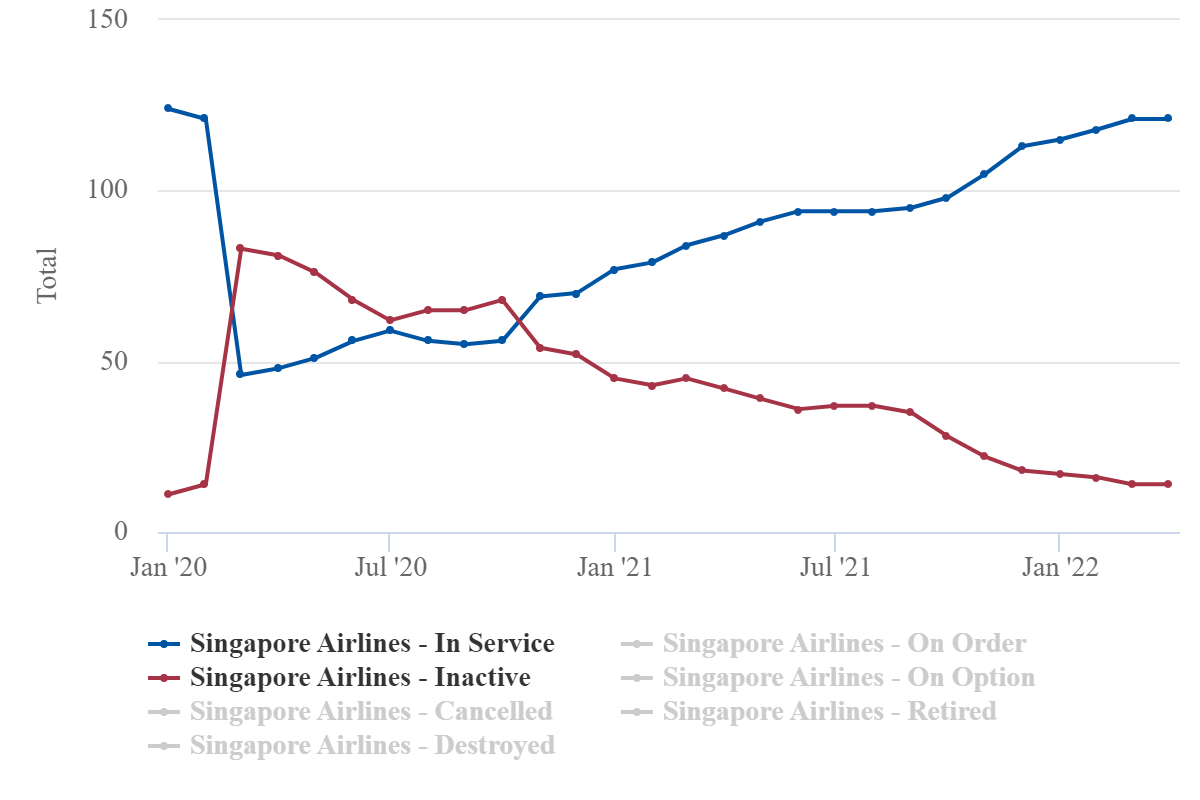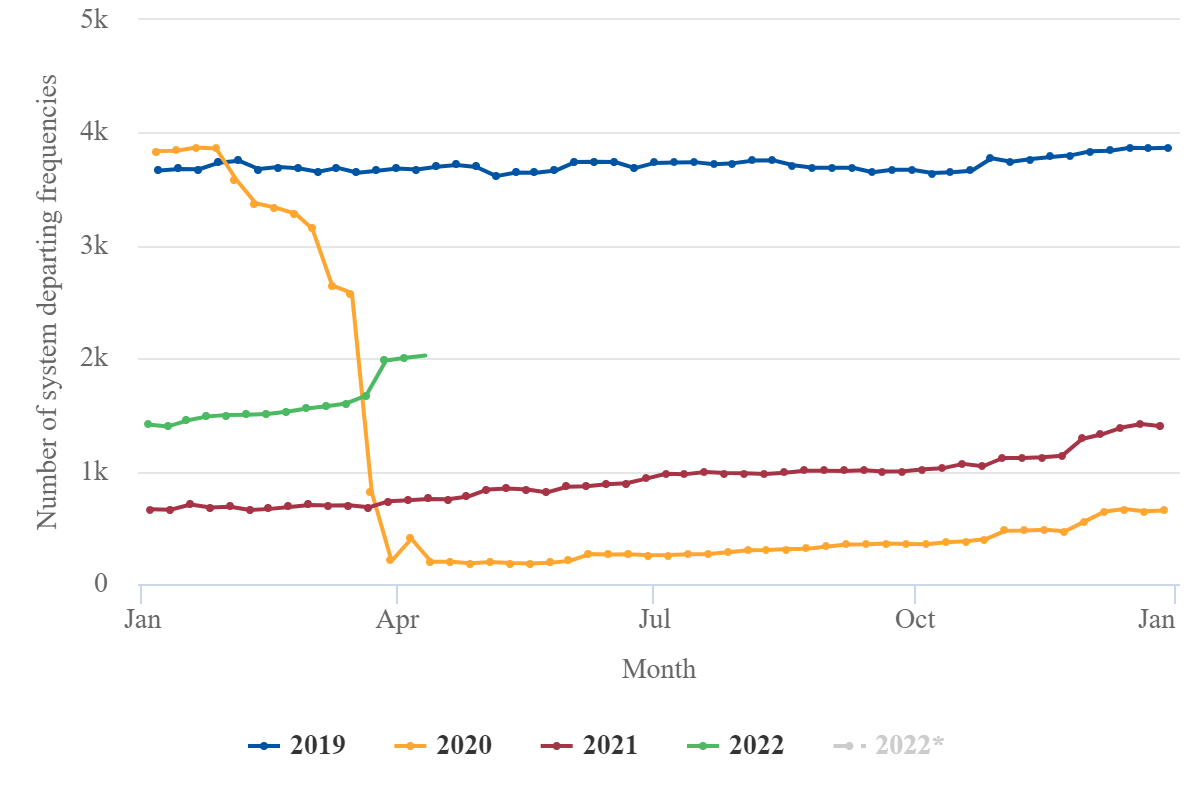 While SIA has deployed over 50 per cent of its pre-pandemic seats, estimates suggest that the capacity and flight frequency are still considerably higher than demand.
At this stage, SIA is adding back flights faster than demand can keep up. This will affect the profitability of these routes, but SIA – like Qantas and others – has obviously determined that it is better to keep aircraft in the air than on the ground.

An aggressive approach to regrowth is a good move for SIA. It may cause some short-term pain, but the airline will be able to re-establish its broad network relatively quickly.

Having a large number of spokes from its hub is vital for an airline like SIA that relies heavily on connecting traffic. And standing up its network and fleet will also mean it is ready when international demand recovery accelerates. This should happen over the remainder of 2022 as more countries relax travel restrictions and passenger confidence returns.

Other airlines have to be more cautious about resuming international routes, but SIA has a solid financial position that gives it substantial flexibility.

Source: April 2022 analysis by CAPA – Centre for Aviation
In Economics 101, when supply exceeds demand, the price of the service typically falls to attract more buyers. After all, it's still better to carry someone at a discount rather than an empty seat.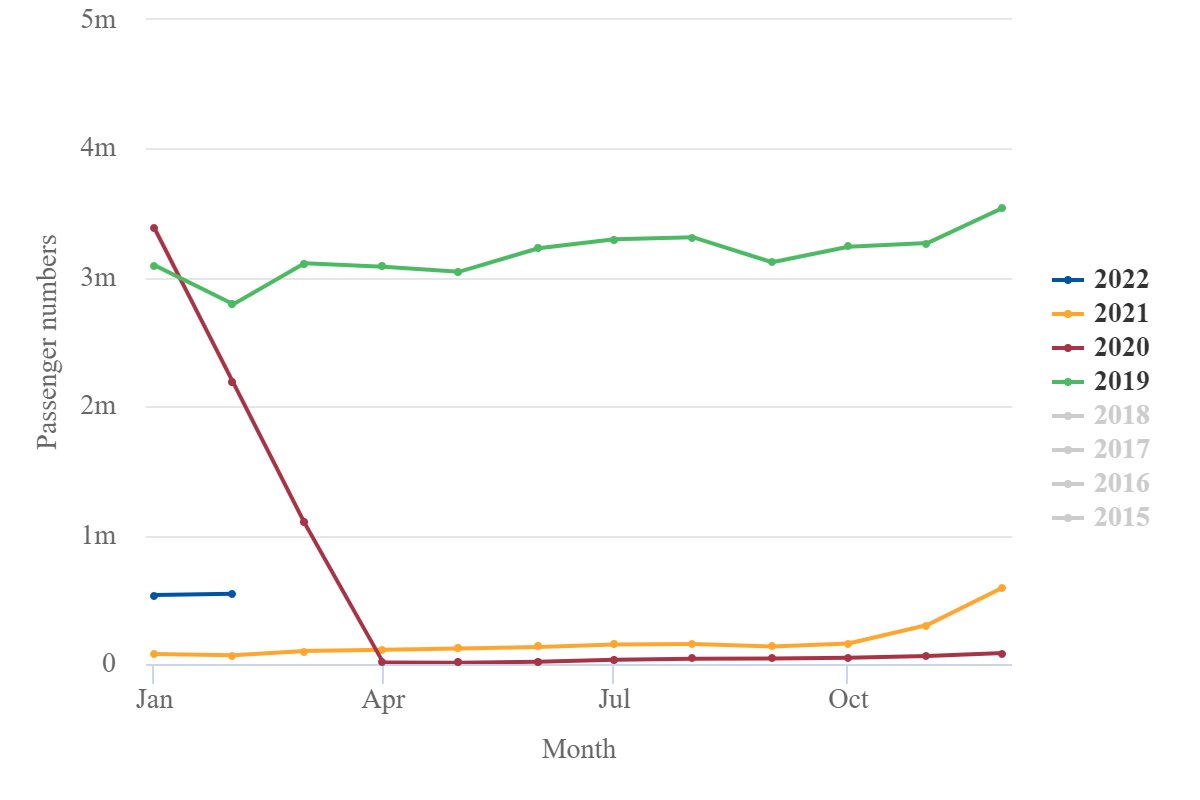 As a result, you can (still) expect good fares on your flights as well as attractive options for upgrades to higher classes, if you'd like to fly in comfort on the cheap (or at least cheaper than the standard fares).
Remember that even if you book Economy, you can always check for affordable upgrades to Premium or Business using mySQupgrade service here — and given the current mismatch between number of fliers and planes in the air, there's a good chance you can be bumped up on the cheap.
A boost for the entire Singapore
You might be wondering how does it make sense to increase the number of flights and seats in the air when the number of passengers is still lagging behind, but there are two good reasons to do that:
Firstly, by being first, SIA is often the only — or one of very few — carriers able to offer routes that returning travelers want. This is an excellent opportunity to both provide a needed service as well as onboard new customers, who may have not yet flown with Singapore Airlines but now have little to no choice.
Secondly, as a national carrier, this readiness is helping the entire Singapore by reinforcing its standing as one of the world's leading air hubs, particularly when places like Hong Kong are still struggling with the pandemic.
In the premium segment that Singapore Airlines operate (but also how Singapore is positioning itself), reliability and service quality are of paramount importance.
That's why even if the company itself is still on a difficult path to post-pandemic profitability, being able to provide a comprehensive network of international air connections (when its competitors can't) is an excellent promotional campaign, for the airline and for the city.
At a time when few others could, they did.
Featured Image Credit: Getty Images via CNBC