Jerome Penafort started his career in real estate and finance, but it was his father's investment in a chocolate manufacturing business in Malaysia that sparked his interest in the chocolate industry.
"[My father] asked me to join him to help expand the business, and coming from an investment background, I saw opportunities in this industry," said the 35-year-old.
Through his dad's business, he had the chance to work closely with cacao farmers in the region and better understand the challenges they faced. This led him to launch Mr. Bucket Chocolaterie in 2020, which has a strong focus on producing handmade chocolates using sustainably sourced Asian cacao.
Inspired by his all-time favourite children's book "Charlie and the Chocolate Factory" by Roald Dahl, Jerome wanted to bring a touch of imagination and playfulness to the chocolate-making industry, and the name 'Mr. Bucket' pays homage to the protagonist, Charlie Bucket.
"I love that the story reminds me that anything is possible — as narrated in the ending where Willy Wonka passed on the chocolate factory to Charlie Bucket. … The chocolaterie is our interpretation of how the story continues after Charlie takes over the chocolate factory," he said.
They only work with Asian farmers
At Mr. Bucket, all of their chocolates are handmade and it only uses cacao sourced from within Asia. This ensures the quality of the cacao and also allows Jerome and his team to maintain a direct and honest relationship with the cacao farmers.
Not many consumers are aware that cacao is grown in Asia. Asian cacao is often viewed as inferior to its South American and African counterparts. We want to change this perception through our unique chocolate treats.

– Jerome Penafort, founder of Mr. Bucket Chocolaterie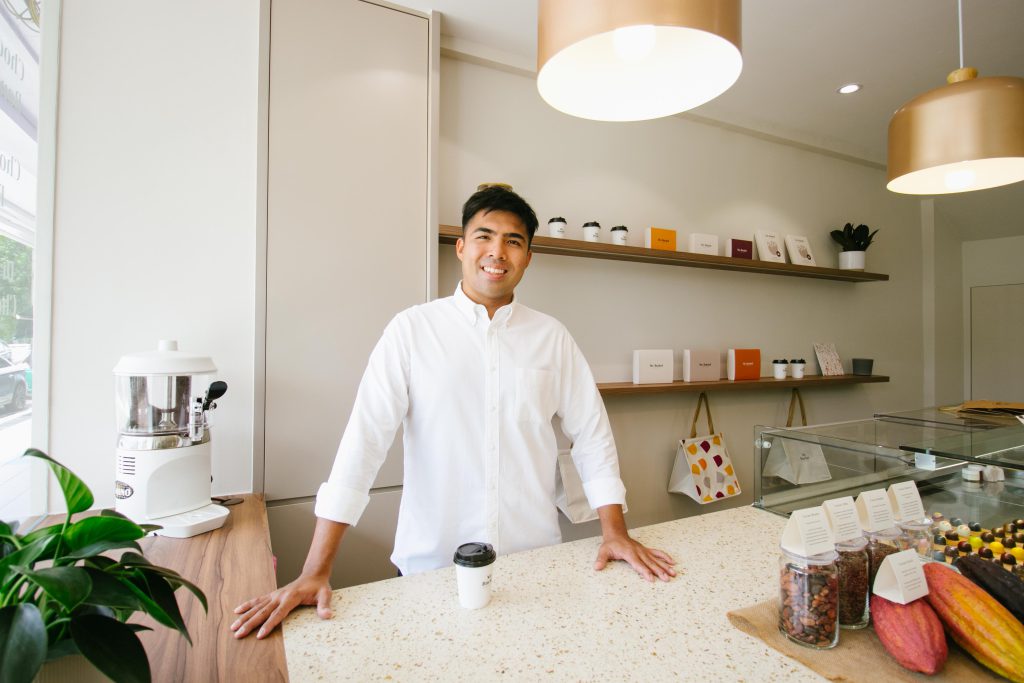 Jerome's first visit to a cacao farm in Davao, Philippines had left a lasting impression on him. Despite the challenging nature of their work, the farmers were proud of their craft and open about the challenges they faced. This experience showed Jerome that there were untold stories in the Asian cacao industry that needed to be shared.
One of the major challenges faced by cacao farmers in Asia is the lack of resources and knowledge to create the best possible produce.
"Unable to invest in better quality equipment and facilities, most farmers can only meet the standard commodity price. Farmers have no control over the market price," explained Jerome.
He recounted a farmer telling him that he has been mocked at for not making the switch to grow durian trees instead, as it reaps much higher profits than cacao. However, he chose to stick to growing cacao as he finds joy in doing so.
This is where Mr. Bucket comes in, with its aim to get greater awareness and support for the cacao farmers, while letting people know that Asia produces exceptional cacao.
Experimenting with unique flavours like Salted Egg Yolk
The brand also intentionally creates interesting flavours that are meant to excite and intrigue customers, with a belief that enjoying chocolate should be a fun and playful experience.
The R&D process at Mr. Bucket is a constant exploration of new flavours and designs. The team takes inspiration from conversations with friends, colleagues, and the latest trends in the food industry.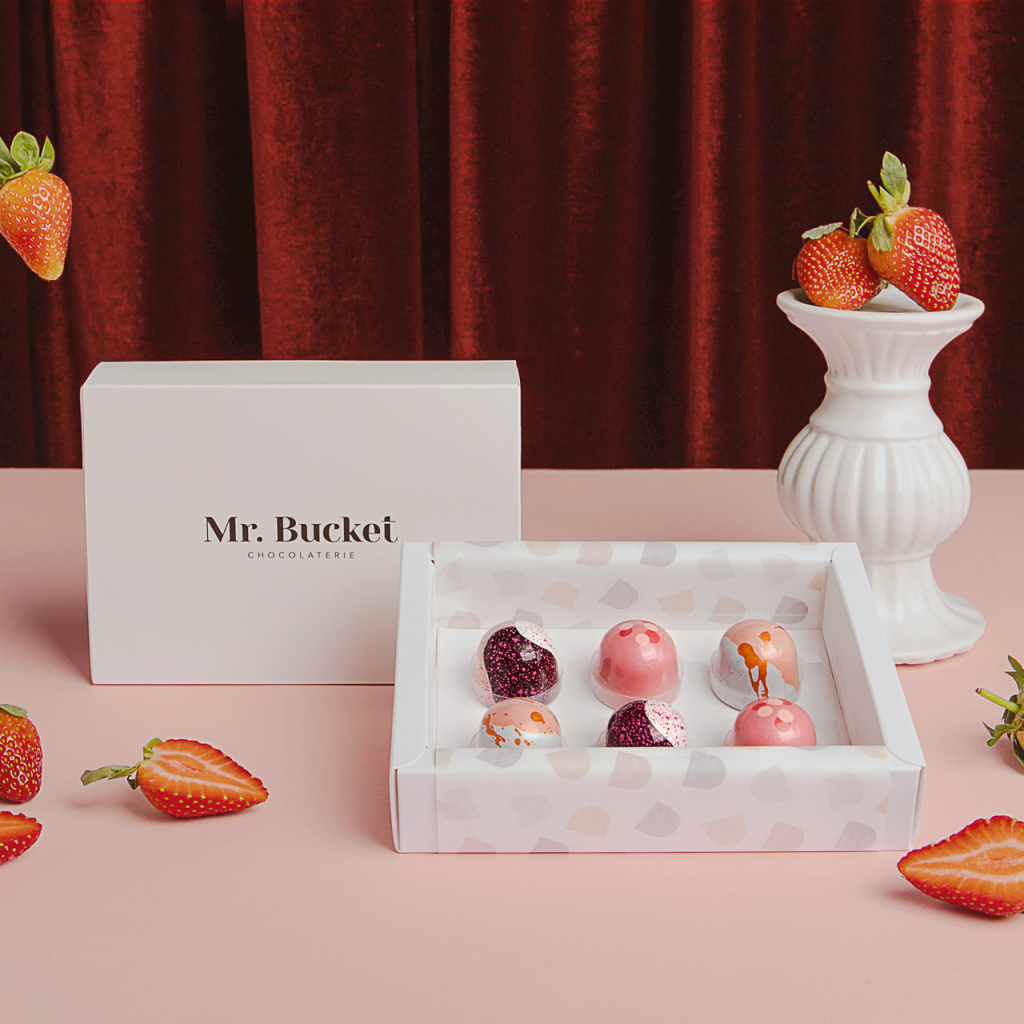 They work tirelessly to create new flavours, from experimenting with classics like Salted Egg Yolk to bold combinations like Strawberry and Balsamic Vinegar in their latest Valentine's Day collection.
They have also launched interesting flavours like Double Soy Caramel, incorporating the rich umami flavour of two types of soy sauce from Kwong Woh Hing.
It has also inked other local collaborations to create Mala chocolate in partnership with local zi char eatery HaoZhangJi, and Cacao Gin in partnership with Brass Lion Distillery.
One of the brand's most popular offerings is their signature Bon Bons, which have been the starting point for many of their creative flavour experiments. According to Jerome, the team has not "failed" in any R&D experiments so far, and they are constantly working on new ideas to delight their customers.
He added that the process of creating new flavours can take anywhere from a few days to a few weeks, with a goal of exploring new designs for each bon bon shell to best reflect the flavour.
Educating consumers on artisanal chocolate
Starting a new business in the food industry comes with its own set of challenges, and Mr. Bucket was no exception.
One of the biggest obstacles was educating consumers about the difference between artisanal and commercial chocolate. Jerome took it upon himself to spread awareness about the concept of Terroir, where the cacao beans grown in micro-locations have unique flavour notes.
"This is a concept similar to wine and coffee, where the raw ingredients are grown greatly affects the flavour," said Jerome.
Furthermore, as Mr. Bucket was launched at the height of COVID-19, it posed a new set of challenges for the brand. Starting a business during a pandemic was not easy, but Jerome saw it as an opportunity.
With the shifting market conditions, he had to be creative and flexible in adapting the business model. The brand was able to find new ways to reach customers, both online and in physical retail spaces, which has allowed them to continue to grow even during the pandemic.
In addition, logistics was another obstacle that they had to overcome. Cold chain logistics is critical in the food industry, and they needed a delivery partner who could provide cold transport for their chocolates. Fortunately, they were able to find a partner who was both reliable and able to scale with them.
We started during Covid times, so Covid was definitely more an opportunity than threat. That being said, it is another round of adjustments we had to make to re-angle the business to transit back to "normal" times now with travel reopening.

– Jerome Penafort, founder of Mr. Bucket Chocolaterie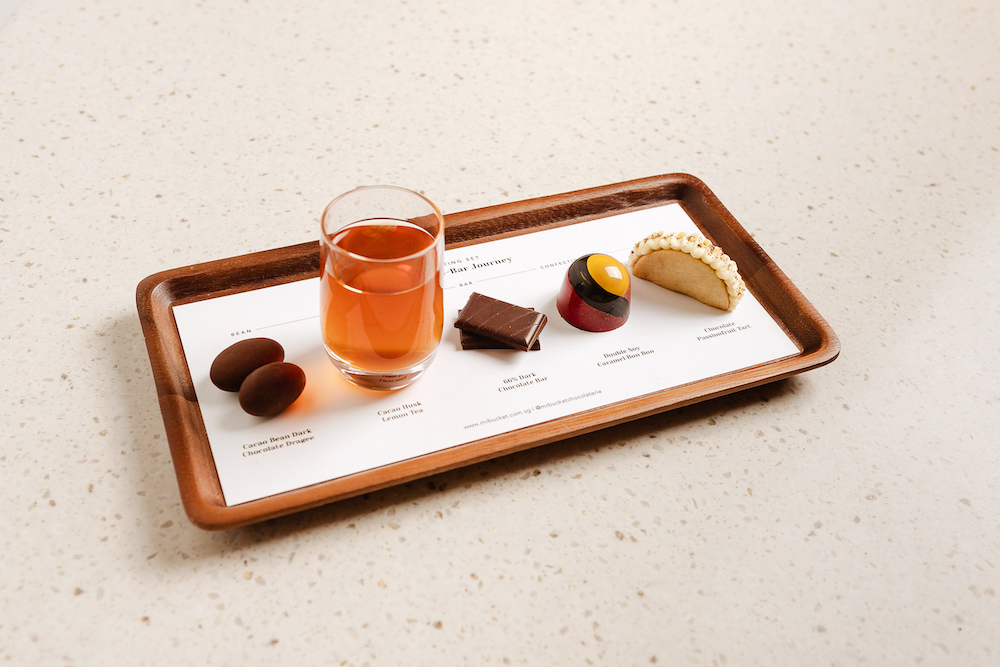 As the world begins to recover from the pandemic, Mr. Bucket is looking ahead to the future.
In the coming months, Mr. Bucket is launching Chocolate Experiences, a series of educational and interactive activities that cater to chocolate connoisseurs of all ages. This is just another way that the brand is working to educate consumers about the wonders of Asian chocolate and the bean-to-bar process.
Two outlets in two years
With the support of its loyal customers, the community, and Singapore Tourism Board (STB), Mr. Bucket has grown from its 700 square feet chocolaterie housed in Sin Ming in 2020, to a 5,000 square feet "chocolate factory" at Dempsey in 2022.
Jerome has invested up to six figures so far to launch both outlets, and have come a long way in just two years. While the brand may not be the fastest growing, the positive feedback from customers and the community is a wonderful validation of its quality and offerings.
As a testament, some of the top luxury and hospitality brands have partnered with them to provide chocolates for their customers.
Collaborations are part of our DNA and we are most proud of local collaborations we have embarked on to change the perception of what chocolate can be.

– Jerome Penafort, founder of Mr. Bucket Chocolaterie
Mr. Bucket's future business plans and ultimate goal is to create greater awareness and support for the cacao farmers in Asia, and to provide a platform for them to share their stories.
By doing so, Mr. Bucket hopes to change the perception of what chocolate can be and to help create a brighter future for Asian cacao farmers. With its unique flavourful chocolates and its mission to support cacao farmers, Mr. Bucket is well on its way to becoming a chocolate lifestyle brand that truly makes a difference.
Featured Image Credit: Mr. Bucket Chocolaterie