Aspire, dubbed the "finance operating system (OS) for businesses", announced today (Feb 14) that it has closed an oversubscribed Series C funding round, raising US$100 million from a group of investors that include Lightspeed, Sequoia Capital SEA, Paypal Ventures, LGT Capital Partners, Picus Capital, and Mass Mutual Ventures.
Aspire, which was founded in 2018, has grown in popularity in Southeast Asia, with its platform offering businesses a suite of financial services including international payments, corporate cards, payable and receivable management, and other services, all accessible through a single, easy-to-use account.
The company's recent tripled annualised payment volume, exceeding US$12 billion, has confirmed its growing appeal across the region, and this latest round of funding will allow Aspire to expand its product offering and regional presence, whilst also increasing its workforce to continue its innovations within the industry.
We are excited to partner with world-class investors to bring finance back to the driving seat of new-age businesses in SEA. From delivering real-time financial data, to fast and transparent cross-border payments, to empowering business teams with world-class spend management capabilities to move fast and move right, we look forward to empowering every modern business, big or small, with the right financial tools to realise their full potential.

– Andrea Baronchelli, Aspire co-founder, and CEO
Fuelling growth in SEA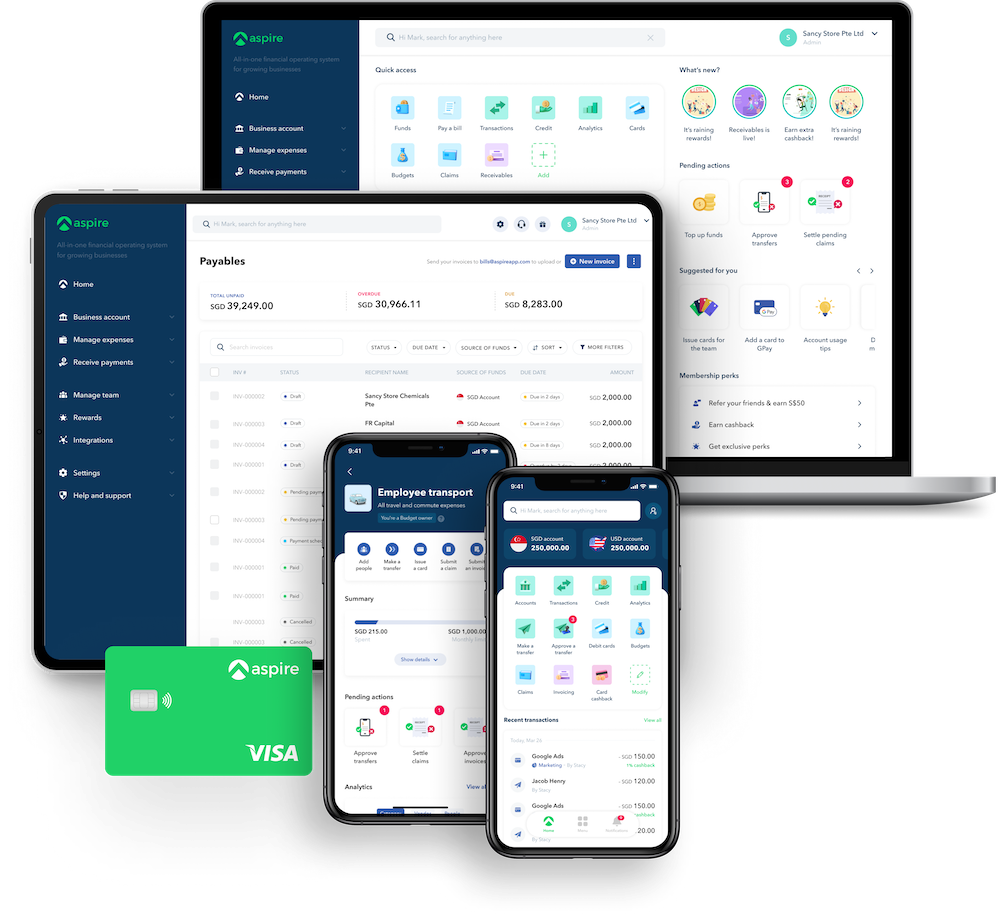 The funds will be used to expand Aspire's offerings and bolster its presence in the market. The company has emerged as a leader in the B2B fintech space in SEA, providing an end-to-end product for managing business finance.
The fresh round of funding will allow Aspire to continue its growth trajectory and secure its position as a leading B2B fintech in Southeast Asia. The company is well-positioned to do so, having raised nearly US$200 million in previous funding rounds, as well as building its customer base to include over 15,000 businesses in the region.
Aspire's plans for expansion include adding more talent across the region to help build the tech ecosystem, ensuring its business model has the best-in-class unit economics, and further enhancing its product offerings.
Aspire is also addressing the need for financial inclusion in the region, where many small businesses lack access to banking services and financial products. By providing a unified suite of financial services to businesses, Aspire can help entrepreneurs and startups gain access to the same financial tools and services available to larger corporations.
As the Southeast Asian economy continues to grow, there is an increasing need for fintech services to help businesses manage their finances and succeed. Aspire is positioning itself to be a leading player in the region, offering businesses the financial tools they need to achieve their full potential, and the recent funding round confirms the company's potential for growth.
Featured Image Credit: Aspire