[This is a sponsored article with MYStartup.]
5G can deliver faster, more reliable, and lower latency connectivity than its predecessors. It could better support emerging technologies including AI, IoT, VR, and the like.
Digital Nasional Berhad (DNB) was mandated by Malaysia's Ministry of Finance (MoF) to deploy the country's 5G network and infrastructure.
While the 5G rollout is still underway, innovations can already be built to leverage the network and automate processes in various industries.
Hence, the MYStartup Hackathon X DNB was held, calling upon Malaysian companies and teams to present ideas that address the needs of DNB.
The hackathon was organised by MYStartup, an initiative by the Ministry of Science, Technology and Innovation (MOSTI), and Cradle Fund.
On January 18, 2023, three winners were chosen out of 111 teams, who pitched solutions to the problem statements:
Floating 5G deployment for a cost-effective 5G service for all palm oil plantations in Malaysia;
Develop a dynamic advertising engagement platform;
Develop a factory of tomorrow with 5G-based AI machine-vision quality inspection that tackles quality assurance, as well as health, safety, security, and environmental questions.
Meet the teams and their winning ideas
1. Spacein Sdn Bhd: IoT satellites for oil palm plantations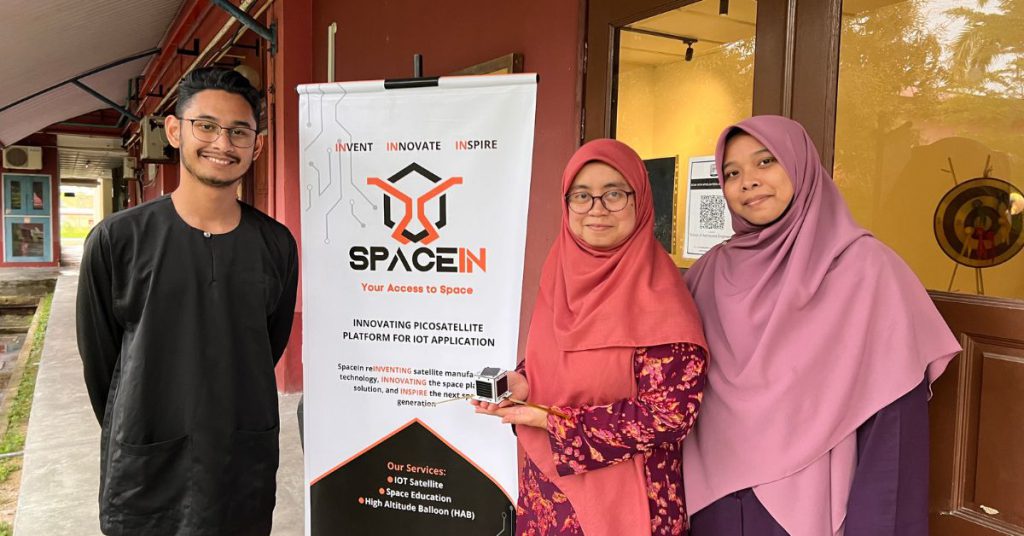 First up, we have Spacein Sdn Bhd (Spacein), a satellite manufacturing company that develops small satellites for IoT applications.
Led by founder and CEO, Dr Norilmi, the team's winning solution to the first problem statement is called Pocketqube Satellite Services (Pocketqube).
It automates data collection, transmission, and distribution, using several small satellites orbiting around the plantation.
This way, workers can constantly monitor the plantation, without physically visiting the remote location.
"Automation will only work with connectivity, and DNB is looking for cost-effective, efficient, and stable connectivity using a 5G network," said Dr Norilmi on Spacein's winning solution.
"Pocketqube fulfils this, and the platform is cost-saving. It's stable, low maintenance, and the satellite's height (between 400km and 700km from sea level) can easily cover any area of plantation in Malaysia."
Dr Norilmi shared that Pocketqube can be extended to oil and gas, too, especially for usage at oil rigs. Fleet and asset management is another industry that could benefit from Pocketqube.
2. carching: Data-driven dynamic billboards
Next, we have carching, led by Jeshua Choong, who we've previously featured for its tech-driven car wraps.
The team created LOOHcomotion at the hackathon, tackling problem statement number two to develop a dynamic advertising engagement platform.
LOOHcomotion is a location-based software linked between a dynamic billboard and a brand's platform. Here, brands can track the viewership of their billboard ads, and engage with drivers who've seen the ad.
Think of them like ads you see on Waze when driving past a marked location, like getting a McDonald's pop-up when you're near the store.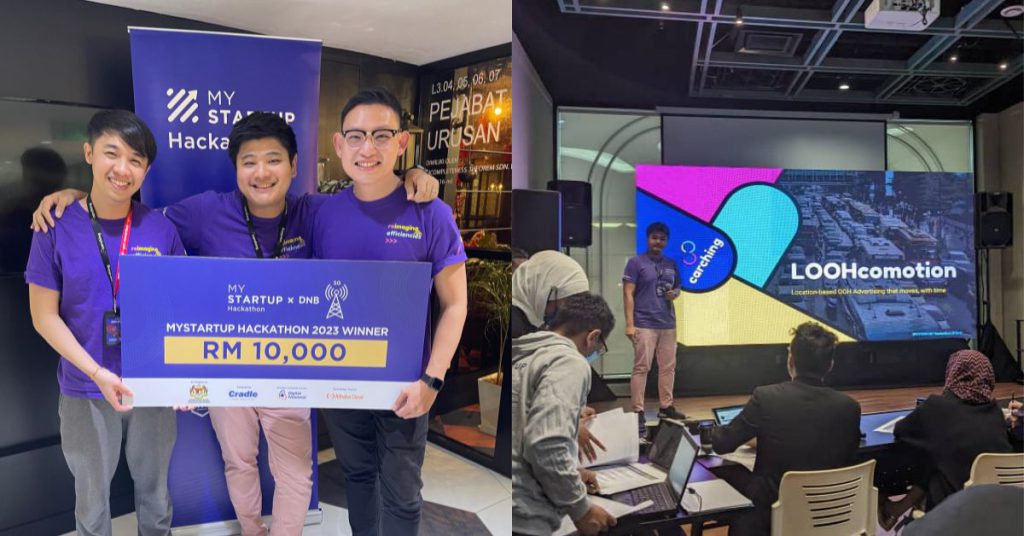 "With our solution, we can make billboards more engaging, more dynamic, and more importantly, data-driven," Jeshua shared.
"We think our solution leverages 5G's network to help all parties unlock more value, without requiring heavy investments, as it's relatively simple to implement. [What's involved is] a brand's advertising spend, drivers' time wasted in traffic, as well as DNB and billboard owners' infrastructure investments."
3. CREDIT by Asia Pacific University: AI-based quality inspection tools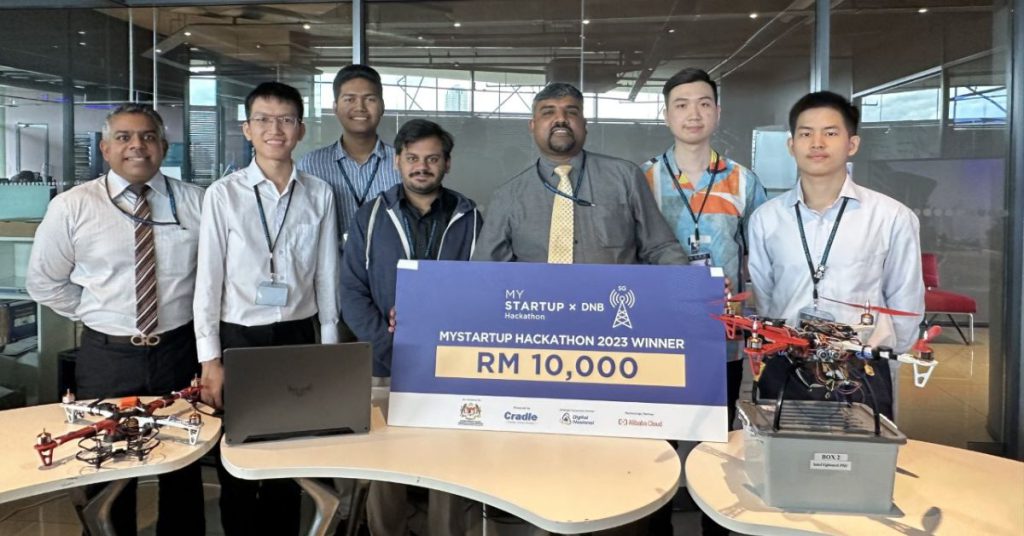 Center for Research and Development of IoT (CREDIT) is Asia Pacific University's (APU) subsidiary that develops innovations utilising IoT and cloud engineering.
Led by Narendran Ramasenderan, the head of CREDIT, the team tackled the third problem statement: develop a 5G-based AI machine for quality inspection and assurance in factories.
Put simply, it's meant to address DNB's aspirations for smart factories that harness 5G.
CREDIT's solution, Digital Twin Mavi Box Hub with 5G, detects defects from a manufacturing hub's production line in real time.
Did you know: A digital twin is a computer programme that uses real-world data to create simulations that can predict how a product or process will perform.
It's also trained to identify and raise alerts if it detects health, safety, security, and environmental issues in factories.
When paired with a CCTV, or placed on a drone that autonomously flies within the manufacturing plant, all data is fed to a digital twin model to be analysed.
Outside of factories, the Digital Twin Mavi Box Hub with 5G is being used in Malaysia's search and rescue missions during flood relief.
"Apart from that, we are working with several palm oil plantations for yield monitoring and health, safety, security, and environmental issues with the same technology," Narendran added.
-//-
The three winning teams received RM10,000 cash prizes from MYStartup, and the opportunity to deploy their solutions within DNB's 5G ecosystem.
According to Nanderan from CREDIT, his team's solution may soon receive investment opportunities, which could assist them in building a prototype, and having an eventual market launch.
If your startup has an idea you're hoping to build and grow, you can join MYStartup's community to find corporate partners, resources, and programmes for every stage of your startup journey.
Learn more about MYStartup Hackathon X Digital Nasional Berhad here.
Read about other hackathons we've covered here.
Featured Image Credit: MYStartup Hackathon X Digital Nasional Berhad