foodpanda officially kickstarted a direct pick-up function at its newest pandamart outlet in Telok Ayer today (March 29).
The new function allows customers to make a grocery order through the foodpanda app and self-collect it in a swift 15 minutes, making it the fastest online grocery service in Singapore to date.
The introduction of the pick-up function not only streamlines the online grocery shopping experience, but also helps meet the demand for on-the-go workers in the Central Business District (CBD).
Well-stocked with a selection of more than 5,000 products, the Telok Ayer flagship pandamart also carries exclusive store-only items like organic produce, tomahawk steak, cuts of wagyu, and baked goods. It's a perfect pitstop for those looking to top up their office pantry stash, or the time-starved who want quick and convenient supermarket trips.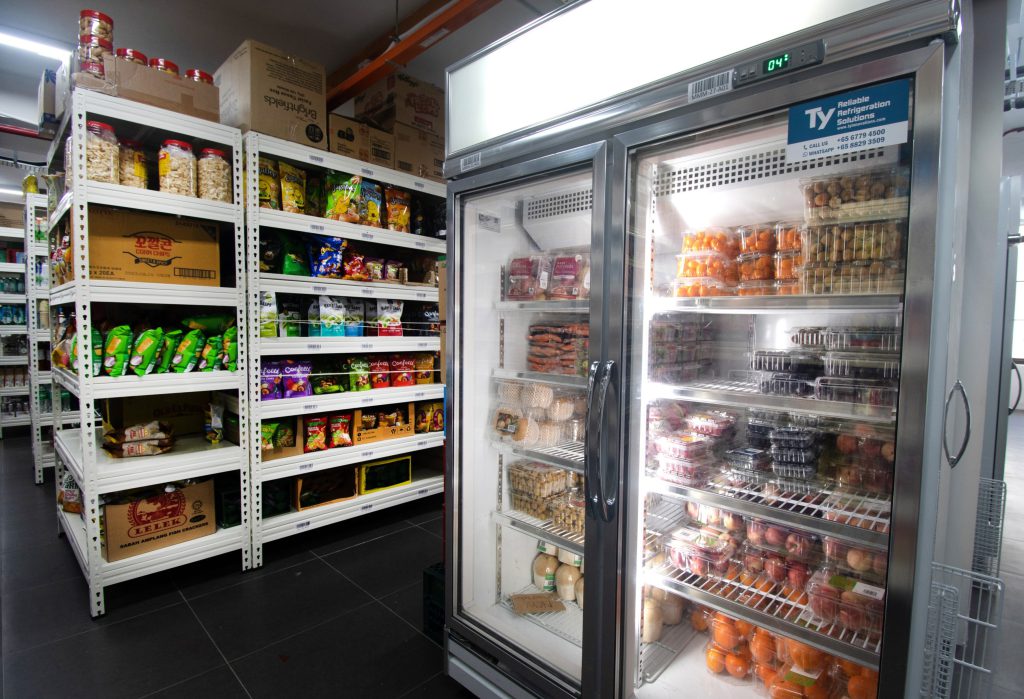 "As we return to normalcy post-pandemic, we're seeing a preference in having more options for grocery shopping, where customers value the ease of switching between online and offline shopping," said Kevin Zagolin, Director of Quick-Commerce at foodpanda Singapore.
"pandamart's newest store at Telok Ayer makes an ideal location to trial our pick-up option, which will help cater to the wide and differing needs of consumers in the CBD area. With this, we're excited to unveil a new chapter of grocery shopping and uphold our commitment to meeting our customers' ever-changing needs."
How does the pick-up function work?
I had a first-hand experience of the pick-up function at the launch event earlier today.
For starters, I must change my delivery address to 101 Telok Ayer and select the "pick-up" option. I can then start adding items to cart, bearing in mind all the latest deals and offers that are offered to me.
But it gets interesting after I check out and complete my order.
A "picker" or a pandamart personnel stationed at Telok Ayer will accept my order on his device. He will then proceed to take the item off the shelf and scan its barcode. This will inform and update the inventory in real-time so when the stock is low or unavailable, the app will stop the next customer from ordering the item.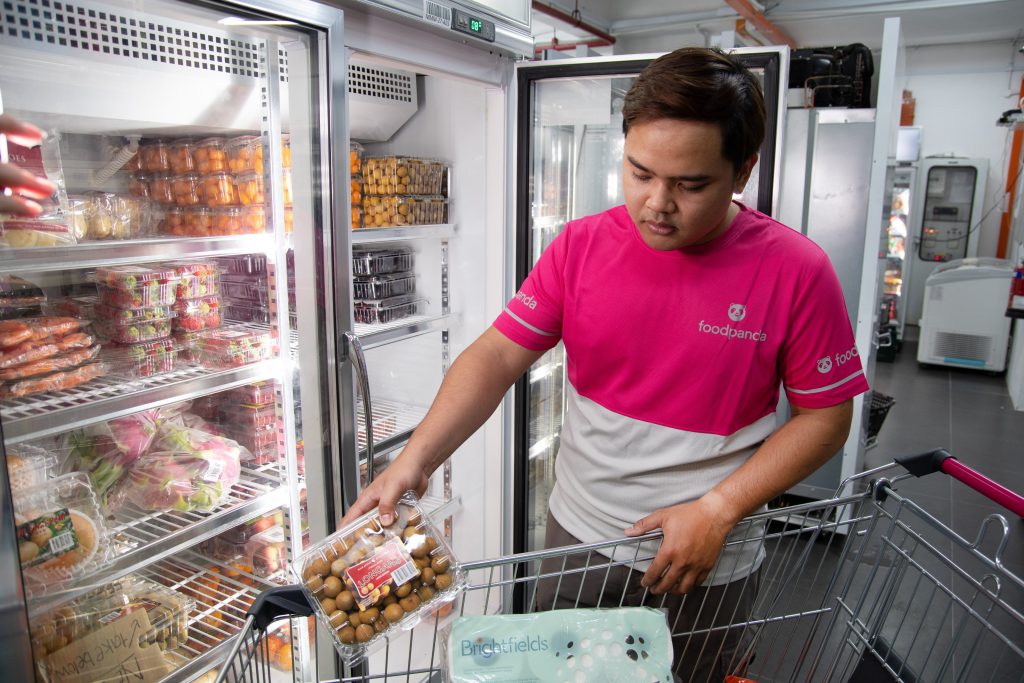 To keep to the 15-minute promise, "pickers" — usually two to six will be stationed at the outlet — will have to take and scan each item within 15 seconds. To optimise the speed, a barcode will appear beside each of the ordered items on his device, so all he needs to do is go to the shelf with the same barcode to pick up the item.
There are charts displayed near the fresh good sections to remind the pickers to eye for produce that are not up to standard, and only select those that are of the best quality for customers. Since I was already at the store, the entire process probably took about five minutes.
My picker moves with such agility that I was literally running after him across the shelves. I can't help but wonder which part of his body moves first – brain, hand, leg – when he collects my order.
For those who are interested to try out this feature, it's available everyday from 7am to 10pm. You can select your preferred collection time and visit the Telok Ayer pandamart to pick up orders.
The driving force behind the new pick-up feature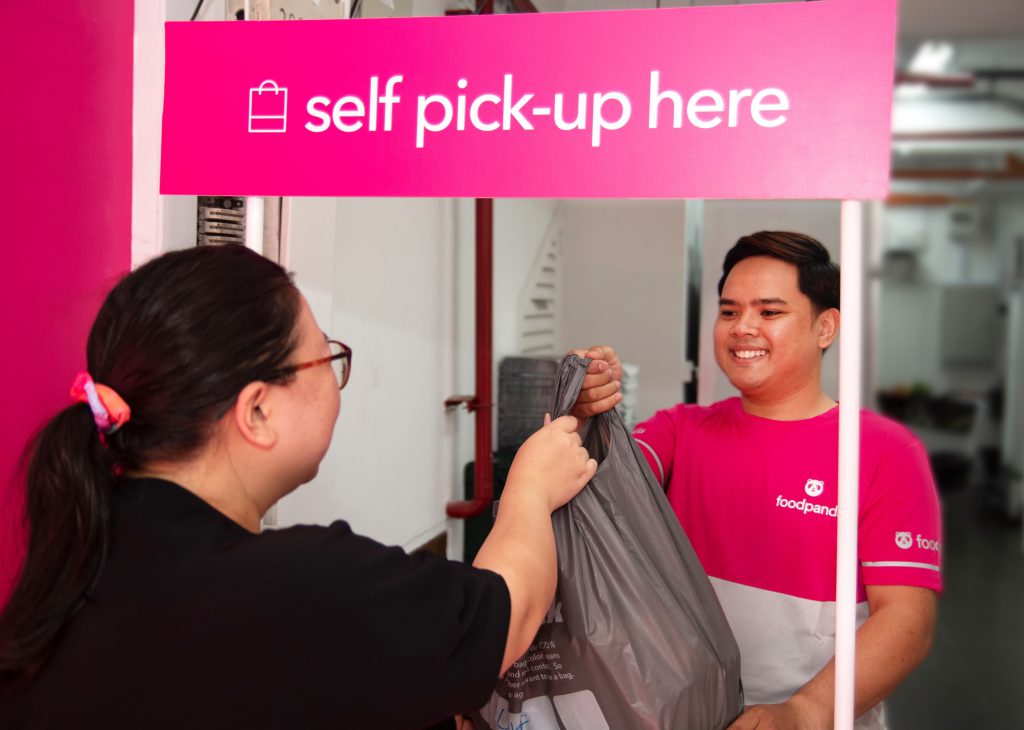 Together with the launch, foodpanda also released an infographic – called 'Transforming Grocery Shopping in Singapore' – detailing how Singaporeans have been using pandamart to fulfill their grocery needs.
Thanks to the pandemic, many customers have turned to home-cooked meals and it seems they're not giving up their newfound culinary skills anytime soon.
Data from foodpanda also revealed that cooking ingredients have seen a whopping 200 per cent increase since the pandemic began, while bread, milk, and ice-cream remain the most sought-after items.
As consumers shift towards smaller, more frequent purchases, foodpanda is forced to keep up with the times, providing people with the goods that they need when they need them.
Like the way that many quickly pivoted at the dawn of the pandemic to keep afloat, the new pick-up function, is perhaps another strategy to survive the vast and ever-changing quick commerce scene.
Featured Image Credit: foodpanda