Sony Malaysia has just introduced the WF-C700N, its latest earbuds that come with noise cancellation, adaptive sound control, and plenty of other innovative features.
According to them, the wireless earbuds are designed with comfort and stability in mind and since we had the opportunity to test them out, here's our verdict.
Design: A slightly difficult pill to swallow
The Sony WF-C700N comes in black, lavender, sage green, and white, which is a pretty good range of colour options.
The casing was on the longer side and resembled more of a pill in comparison to the casings of the brand's other earbuds such as the larger, more squarish outline of the Sony LinkBuds.
It has a matte finish and a flat base which means that it won't roll over easily when placed on a surface.
Despite its uncommon shape, the case fits into pockets or bags without much fuss and is not too heavy to hold. However, a slight issue I have is how slippery it feels as the finish doesn't offer much grip.
As I was trying to open it up, I quickly encountered another issue. While most of the earbuds I used in the past allowed me to easily snap the case open with one hand, this was not the case with the Sony WF-C700N.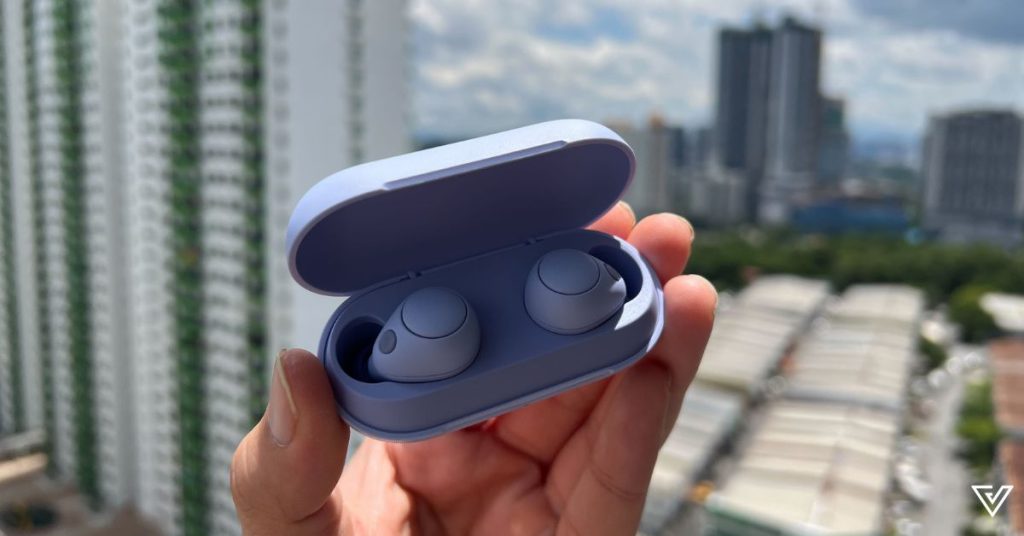 This, coupled with the slippery finish makes opening the case a job reserved for two hands.
At least you can easily close the case with one hand, and this is reassuringly met with a satisfying snap.
It is also worth noting that the case comes with an LED indicator to show you how much battery life is left in the carry case itself.
The buds have exactly the same textured finish as the case, and the external noise-cancelling mics have a silver protective mesh.
Although there are no wear-detect sensors, they auto disconnect when both are placed back in the charging case.
Meanwhile, instead of capacitive touch controls which a lot of newer earbuds seem to have, the Sony WF-C700N has large clicky buttons.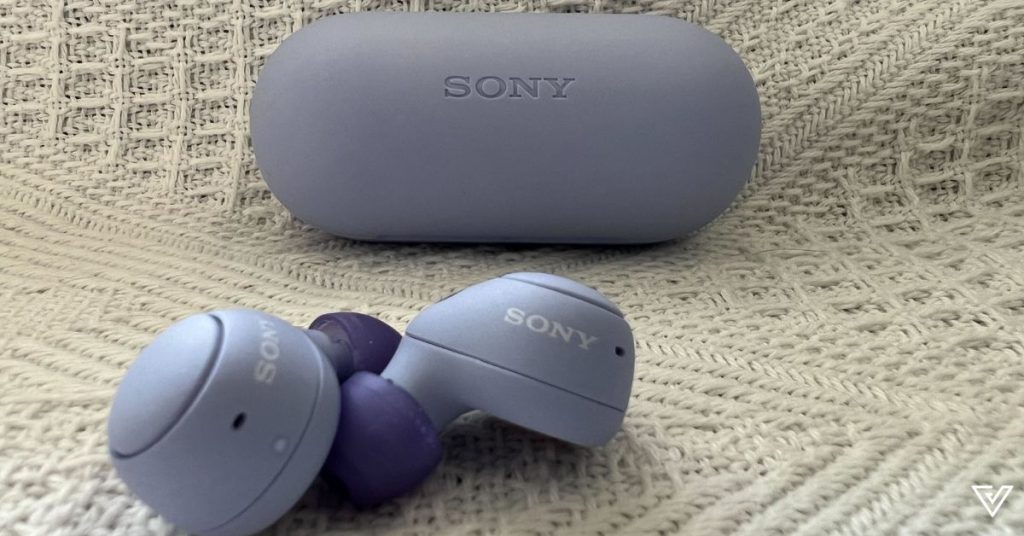 This eliminates any possibility of common accidental touches and gets rid of any doubt when you've pushed them as when you press the buttons, you can clearly feel a click.
I simply wished that the buttons were slightly smaller as those who have larger fingers might accidentally click on the buttons without meaning to while trying to push the earbuds in. But this isn't a dealbreaker.
The button on the left earbud is for you to scroll through ANC profiles whilst the right earbud is for you to pause or play your music. The inputs which consist of single, double, triple, and hold gestures are fully customisable within the Sony Headphones Connect app.
Unfortunately, there is a lack of on-ear volume control.
The earbuds themselves feel pretty solid in hand and there are no issues whatsoever that they'd fall out of my ears. They feel pretty secure thanks to their ergonomic surface design and hybrid silicone rubber eartips which are available in three different sizes.
Sound: A placebo effect
According to the Sony website, the earbuds feature a 5 mm driver unit with a high-compliance diaphragm that ensures powerful bass and clear vocal quality.
This means that music, movies, and podcasts are clearly reproduced, thanks to rich mid-range sound.
Besides that, their Digital Sound Enhancement Engine (DSEE) aims to restore high-frequency elements which are lost when an original music source is compressed to produce high-quality sound that's closer to the original recording.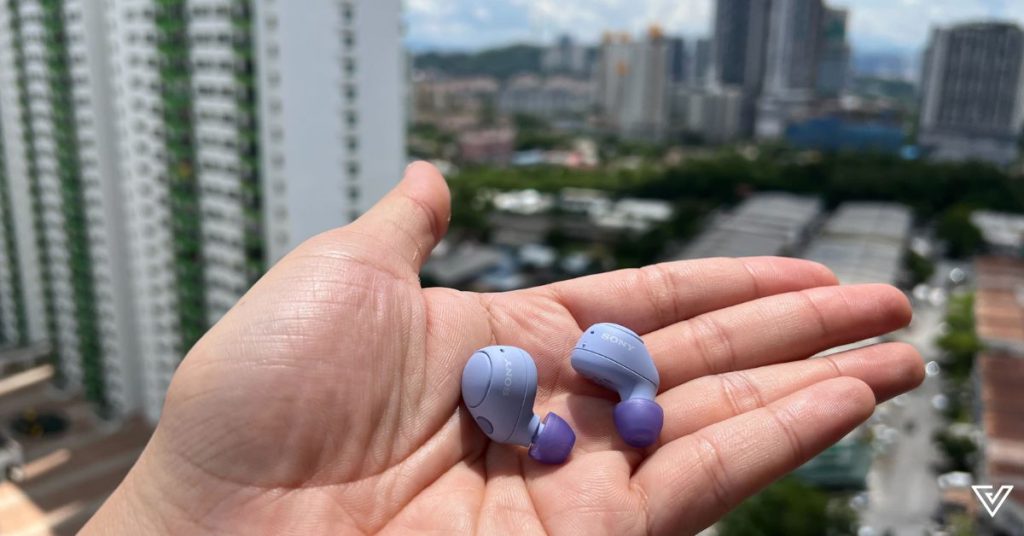 Although I am definitely not an audiophile, I feel that the Sony WF-C700N is pretty agile as it is able to adapt to the highs and lows of a variety of music genres.
However, something I wished was a bit better was the earbuds' noise-cancelling feature. Even with noise cancelling coupled with pretty loud music on, I felt that I could still hear my surroundings and at times, I was able to hear what people around me were talking about.
Features: An action-packed app
The first thing I did after I took the earbuds out of the casing was open up the Sony Headphones Connect app in order to access their full potential.
The app features a myriad of different features. Apart from being able to see the battery life of all three components (left and right earbuds, and the case), you can also control your music and the volume.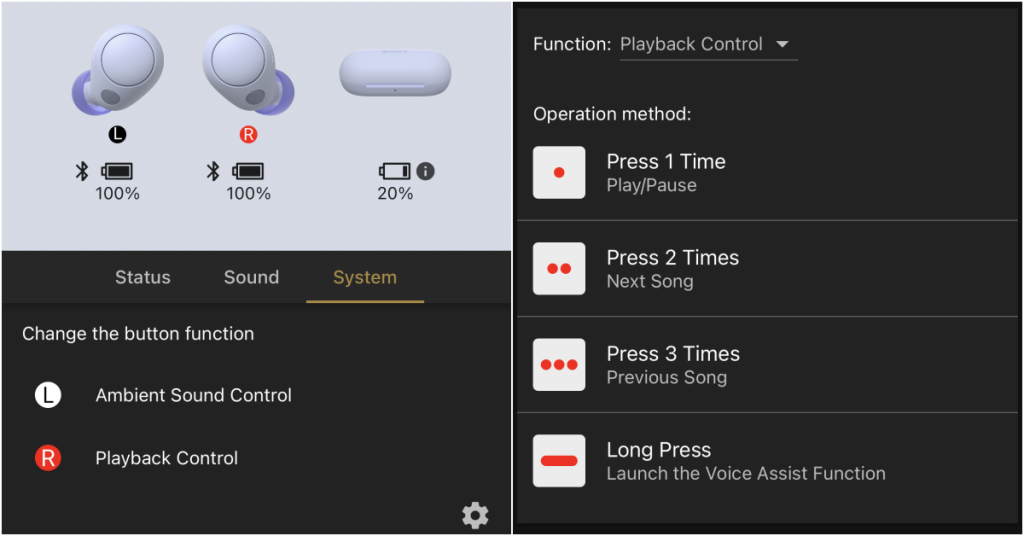 But that is not the best part, as besides being able to shuffle through your ANC profiles which consist of noise cancelling and ambient sound (which you can control the filtration level of), the app has a feature called Adaptive Sound Control.
If turned on, this allows the app to detect your actions and the places you frequent and automatically adjust how much ambient sound is filtered.
Meanwhile, you can also input the places you frequent such as the gym or the office, and decide what levels of ambient sound filtration you would prefer while you're at those places.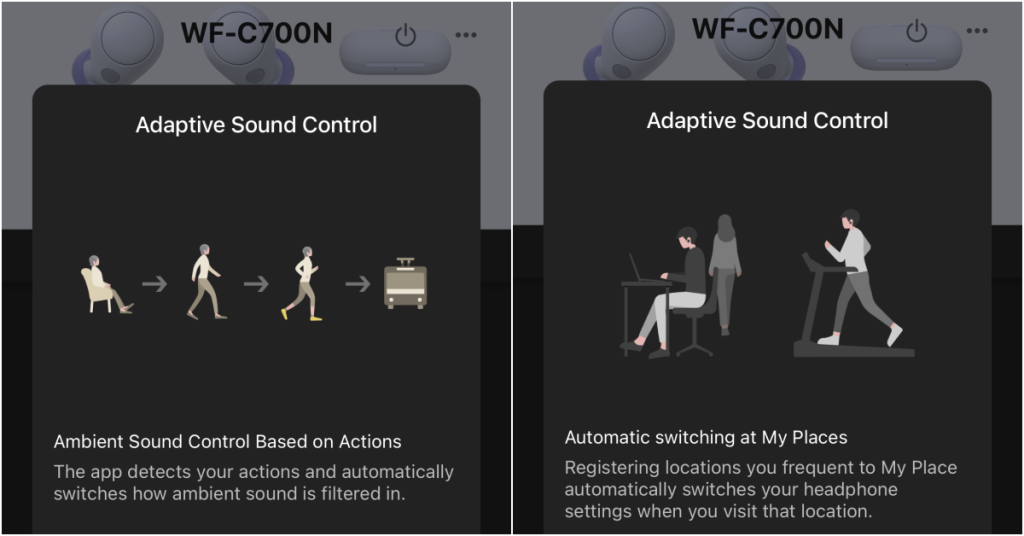 In terms of battery life, the Sony website states that the earbuds themselves last 7.5 hours with ANC on, and the case brings this to 15 hours.
Sony's claims appeared to ring true as the battery of the earbuds remained over 70% despite my using them on and off for the better part of a week.
Sony's 360 Reality Audio: A gamechanger
Despite all of that, I'd say that the buds only have the potential of really coming alive with Sony's 360 Reality Audio feature.
This allows you to immerse yourself in sound all around you, in a way that's as real as you being at a live concert or with the artist recording in a studio.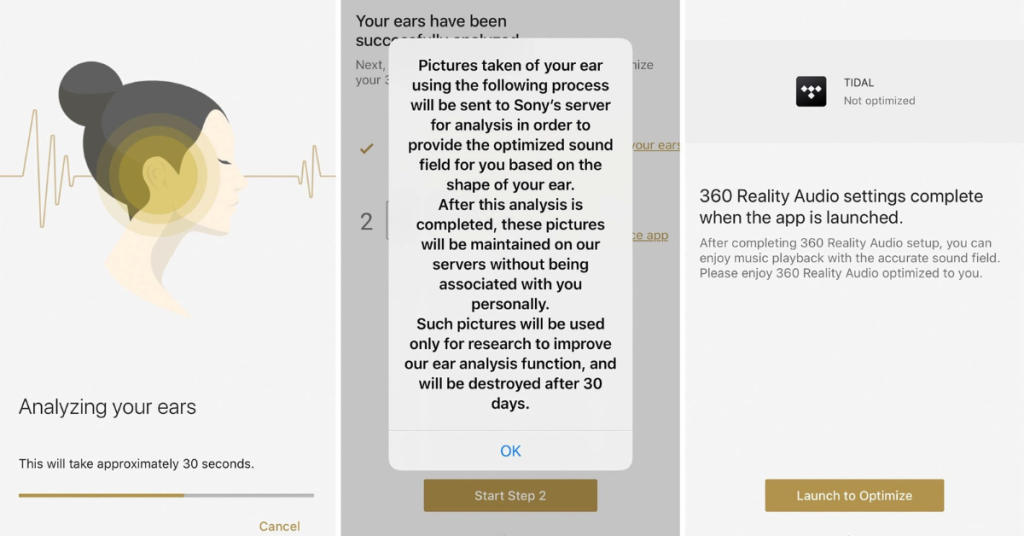 To set this up, you would need to first take photos of your ears. This process is slightly awkward as you need to look straight ahead with the phone facing your ear (would recommend someone helping you with this).
After all that awkward ear picture-taking is done, the next step would be to link either your nugs.net or Tidal account and although I was not subscribed to either platform, I had managed to get an access code for a free trial.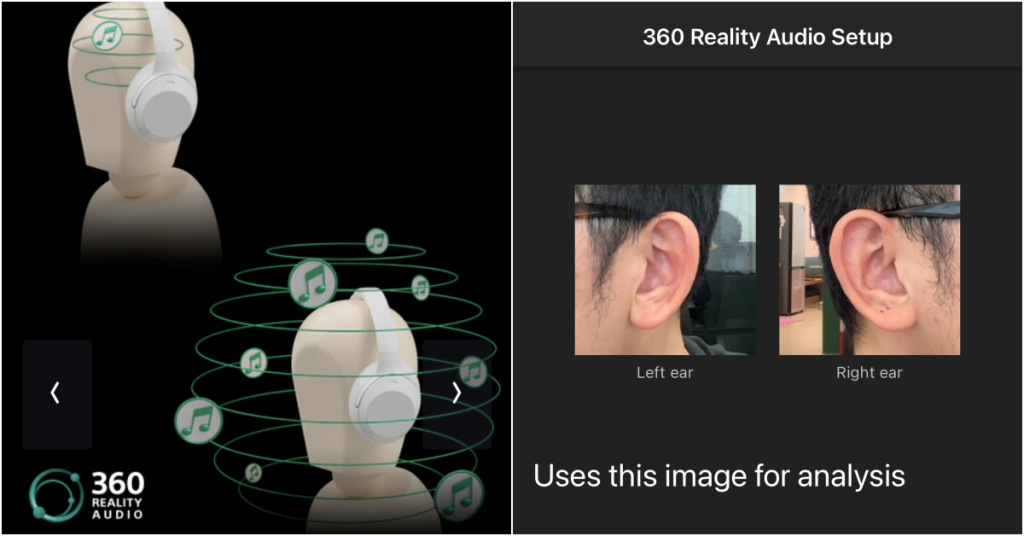 Reviewers online called Sony's 360 Reality Audio a "game-changing immersive sound for this money", and although I was initially not too impressed with the sound quality of the earbuds, the special feature really changed my perception.
I was extremely impressed by Sony's 360 Reality Audio as it makes music sound much more immersive and compelling, sinces artists are able to essentially expand the soundstage into 3D space around the listener.
This coupled with Tidal's huge music catalogue remixed specifically for Sony's 360 Reality Audio meant that I could enjoy my favourite songs in a completely different way.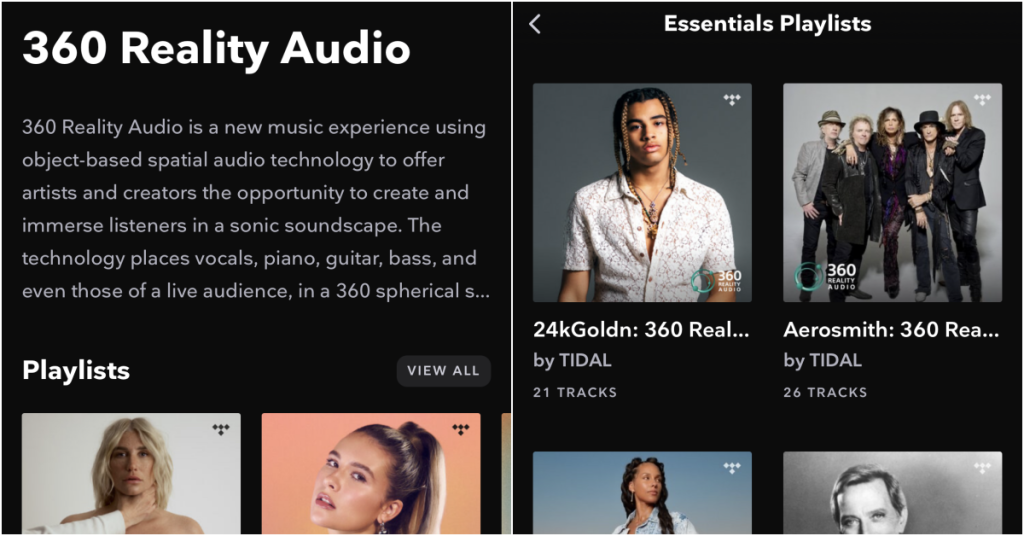 The verdict
The Sony WF-C700N's RM549 price tag means that it is competing with other mid-range wireless earbuds.
However, for its price tag, the Sony WF-C700N is a pretty good option that is well-rounded in its sound, design, and features.
Although you'd probably be able to get earbuds with better ANC capabilities, I think that the Sony WF-C700N still performs decently at this price point.
For those who are able to utilise the 360 Reality Audio with subscriptions to either nugs.net or Tidal, having the earbuds is a no-brainer.
| Pros | Cons |
| --- | --- |
| Comfortable to wear for long periods of time | Big clicky buttons may not be suitable for those with larger fingers |
| Extensive app offering a lot of customisation options | Slippery texture of the casing doesn't offer much grip |
| Immersive 360 Reality Audio | 360 Reality Audio is limited to specific subscription-based streaming services |
VP Verdict is a series where we personally try and test out products, services, fads, and apps. Want to suggest something else for us to try? Leave a comment here or send the suggestion to our Facebook page.