Like me, you might've received plenty of spam messages in the past. I'm specifically talking about the ones that say something like "I have a job offer for you", followed up with some ludicrous amount of money you can earn (think RM1,000 per day).
And like me, you might've usually ignored and blocked those spammers.
Recently, however, I learnt of someone who had participated in one of these "scams" that got you to complete tasks for money. Seeing how it operated piqued my curiosity, so, when a Hannah from HR Recruitment in a digital marketing company reached out to me, I was thrilled. 
Editor's Update: We've removed the name of the company that Hannah is supposedly from, as a representative has reached out to clarify that they are not actually affiliated with the individuals we spoke to. The representative further explained that they have filed their own MCMC report for their company name being wrongfully used.
She asked, "My company is hiring online part-time employees. Our work is simple and free. Can I send you the job details?"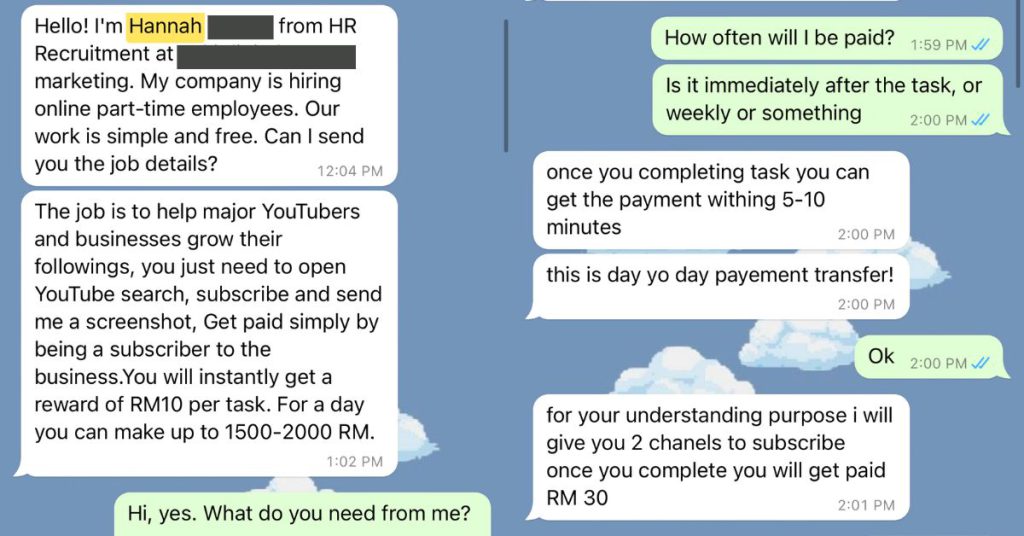 The job, she said, is to help major YouTubers and businesses grow their followings. All I had to do was subscribe to the given channels and send a screenshot.
"You will instantly get a reward of RM10 per task," Hannah dangled the proverbial carrot in front of me. "For a day you can make up to RM1,500 to RM2,000."
Jumping on this illustrious and oh-so-lucrative opportunity, I replied, "Hi, yes. What do you need from me?"
Getting initiated
"To understand how we work, I will give you two channels to subscribe to, once you complete you will get paid RM30 immediately," Hannah started.
She went on to explain that once completed, I will be added to a daily task group, where I will be given more tasks. I would be able to earn RM1,000 to RM2,000 per day, Hannah shared. (Yes, the estimated profits had changed slightly, but who was I to question her?)
After agreeing to these terms, Hannah gave me two tasks.
"Task 1: Open the YouTube APP and search for [Taylor Bell], click to subscribe, and take a screenshot to me after the subscription is succecessful." (Yes, succecessful.)
"Task 2: Open the YouTube APP and search for [Street Foodie], click Subscribe, and take a screenshot to me after the subscription is successful."
Looking up both these channels, I was surprised to find they were both quite legit.
I doubt that either of these channels actually paid to get subscribers—it might have been randomly selected by the scammers to secure its apparent legitimacy. 
After sharing the screenshots, Hannah congratulated me and reiterated, "In order to process your payment, we would like to add you into our task group which you can earn RM1,800 to RM2,000 per day." Hm. The figures changed again.
To join the task group, I was given a referral code and a link to a Telegram account with the username Miya_99.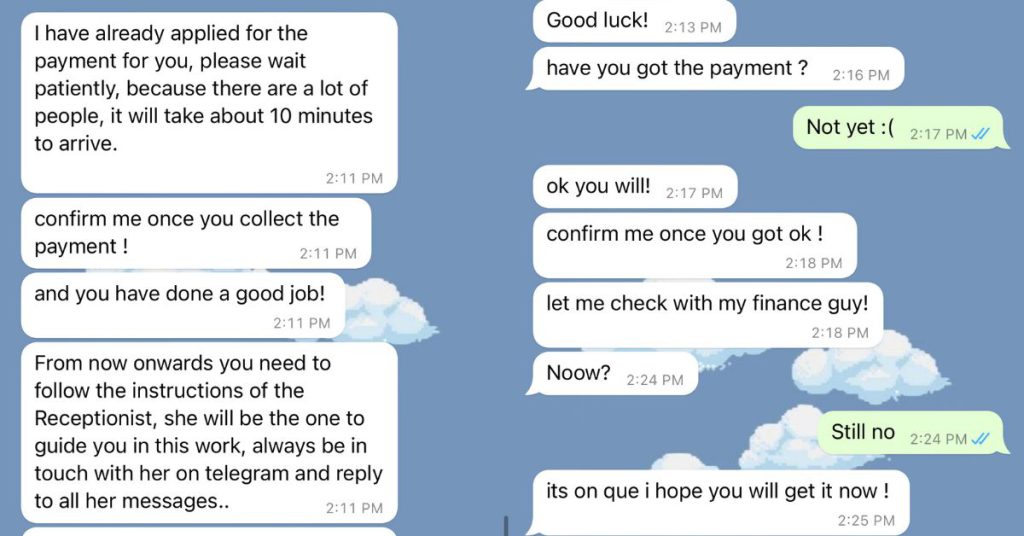 While waiting, I sent my bank account number as requested to Hannah. She told me that I would be getting my first payment of RM30 in five minutes' time.
In reality, I got it more in like 15 minutes. But it was real money in my real account.
"Good luck!" Hannah said as she sent me away on my journey. "Do more task [sic] and earn well!"
It sounded more like a warning, than a blessing, like when Effie Trinket said "may the odds be ever in your favour" in The Hunger Games.
Well, like Katniss, I had volunteered to be a tribute, and I shall see this to its bitter end.
Into the mainframe
"Hello, I am Receptionist_Miya, nice to meet you!" the Telegram account with a pretty woman set as its profile picture greeted me upon sending my referral code.
I was asked to share my full name, gender, age, occupation, location, and WhatsApp number.
For my own privacy, I lied about my address and jobs, putting instead a random address. My profession? A graphic designer.
Once those details were provided, Miya alerted me that I was "registered into system". Yet, I wasn't added to any task groups yet.
To this, Miya explained that the next mission time was the nearest hour, and that she will add me when the time comes.
Sure enough, I was added to a group called "Part-time assignments" with a whopping 263 members.
Before long, the games began. Messages started piling in rapidly. People were sending their screenshotted proofs of subscription, and I began to do the same. Except, I didn't want to speak up in the group chat, so I sent those screenshots to Miya instead.
We were also asked to number these screenshots with a code, such as T14 or T16, with the "T" meaning task.
After completing some tasks, I began to wonder when the payments would be made. When asked, Miya provided me with the following work rules: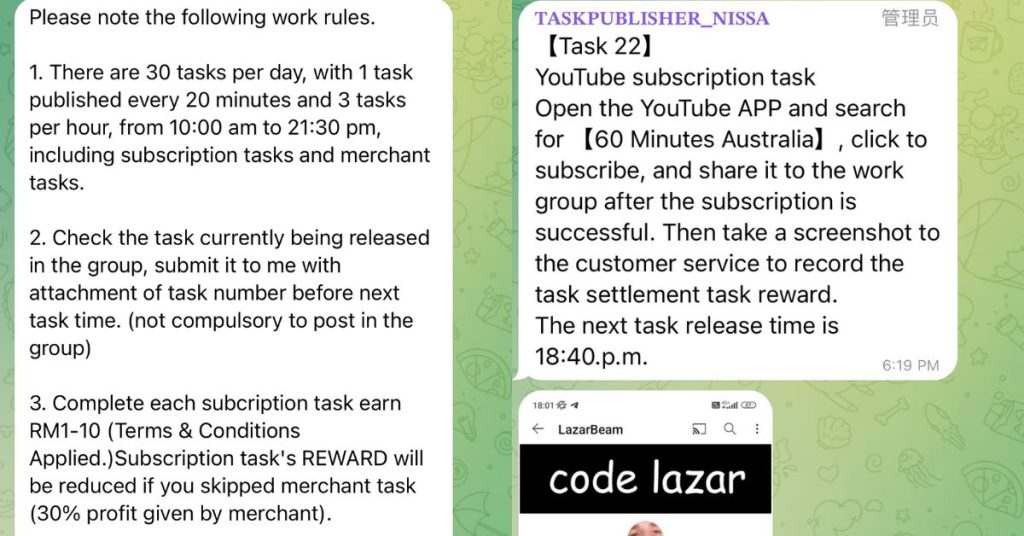 Completing each task will earn you RM1 to RM10, terms and conditions applied. What were the terms and conditions? I do not know. I'm pretty sure that's just there for cop-out reasons.
When your "salary" reaches RM60 to RM200, Miya will be able to submit it to the system for settlement to your bank account.
Most important is this note, though: "Subscription task's reward will be reduced if you skip merchant tasks."
Wait. What are merchant tasks?
The gaslighting begins
All the while, as I was subscribing to accounts, screenshotting as proof (then unsubscribing so I didn't clutter my carefully curated subscription list), I wondered when the "scam" would kick in.
I even started to think, was this "job" a legit one, after all?
Little did I know, my naive little bubble was soon going to burst.
At 5PM, the merchant task finally dropped, and as I read through the instructions, I realised this was it. This was the scam.
The merchant task was all about getting you to transfer a certain amount to a bank account to get more money in return.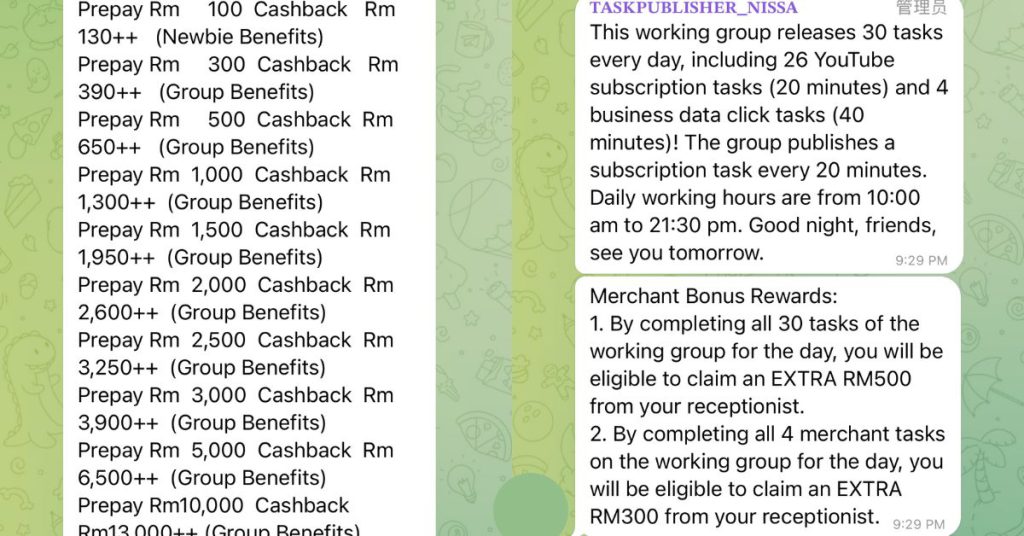 For example, pay RM1,000, and you'll get RM1,300 in return. This went all the way up to RM10,000, where you'll get RM13,000 in return.
"The quota is limited, first come, first served, everyone seize the opportunity," the admin said.
Immediately, messages began to flood in.
"Yes! The more you apply, the more you get!" Herdis said.
Carlyle announced, "I am ready to complete the application quota of RM2,000. I hope the application can be successful."
"It's the last chance of the day to earn more money; I want to earn more so I can give my family a happy life," Sorin woefully shared.
Siti added, "I have nothing to do with my children at home every day. Fortunately, I came across this job. Now I earn more than my husband."
My God, just how many of these accounts were bots?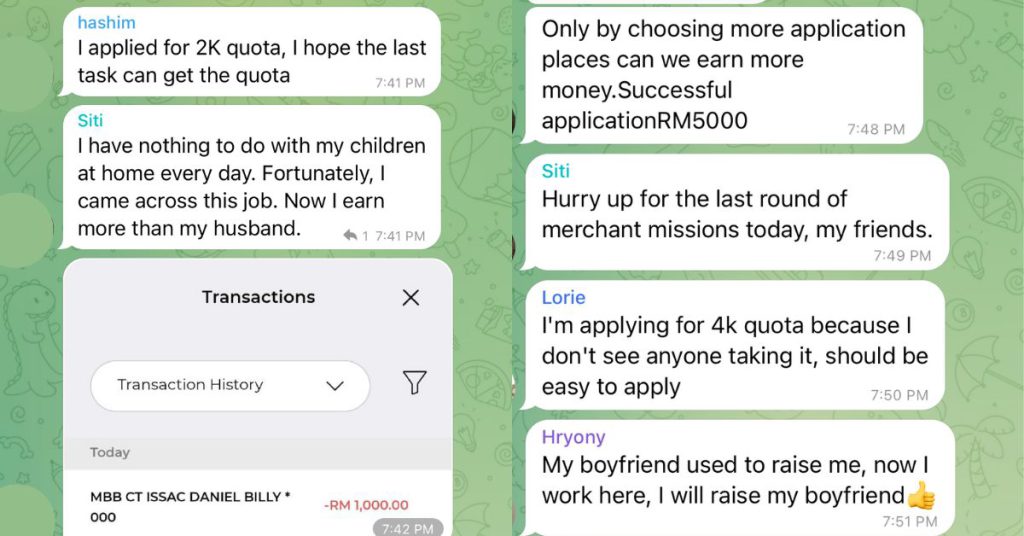 People (or bots) were also sending in screenshots of transfers made. Funnily enough, most of these transfers were made to different account numbers.
When asked about the reason for this task, the admin shared that this was to help a client ramp up their transaction activity.
"You can rest assured that the company has prepared compensation agreements for all mentees," they said. "If your income is affected because of us during the task, you can ask your receptionist for compensation according to the compensation agreement."
First of all, what agreement? Second of all… what agreement?
The admin later reminded that those who don't participate in the merchant salary will have their tasks' salaries reduced to RM5 to RM1 per task.
Sick of all the messages, I decided to call it a day. Or a lifetime, really.
At 10:52PM, my phone chimed with a message from Miya.
"Good night. Dreams are the best part of life. If you miss sleep, you miss the best part of life," she said. Then, "Our working hours: 10:00 – 22:00."
Sweet dreams, Miya.
How can I get in on this?
The next day, I got another message on WhatsApp.
"Hello! I'm Nur, the HR Recruiter at Team Lewis, I got your phone number from Linked-In that you are looking for a job."
Contrary to Nur's belief, I wasn't actually looking for a job. Yet, she continued to message me the following day, to which I finally replied, "Hi Nur, If I have a YouTube account I want to grow, can I work with you for this service?"
To which Nur said, yes. But she lied, because she continued to say that she has two test tasks for me.
"No, I don't want to get paid," I clarified. "I'm asking: can I pay others to subscribe to my channel through you?"
To this, Nur said that I would have to do her job first before we can discuss mine.
No deal, Nur.
Yet, I decided to send her one last message asking how I can get her job as a recruiter. The message stopped sending. I tried messaging Hannah. It didn't deliver either.
Interestingly, all my messages to these numbers stop delivering after a date, so I assume these numbers have a certain time limit.
Stay safe, folks
Going into this with an ulterior motive made this whole experience really interesting. It felt like I was playing some kind of simulator game.
At one point, I asked Miya: "Does that mean I have to fulfill every task to get the payment?"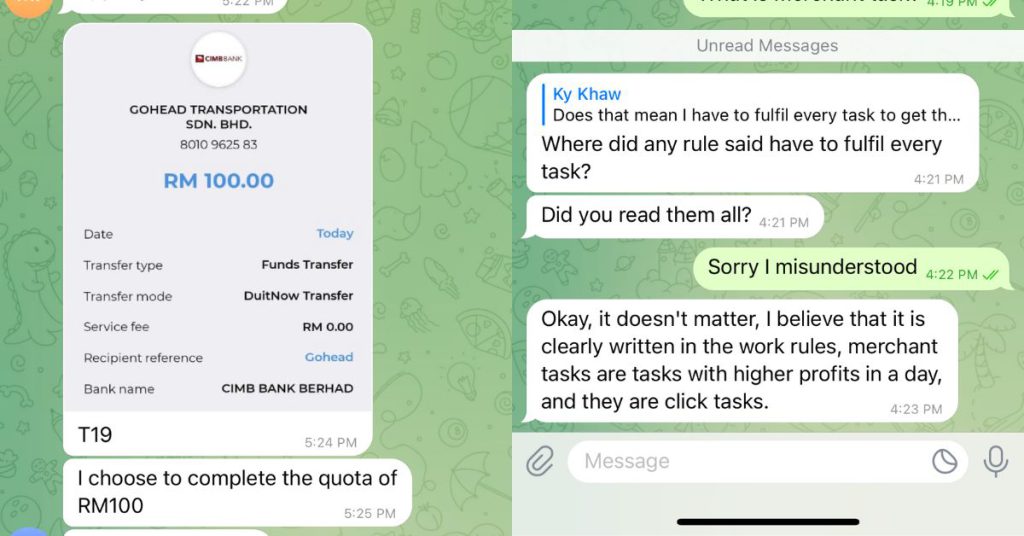 This did not sit well with the receptionist, who replied, "Where did any rule say have to fulfill every task? Did you read them all?"
A people pleaser at heart, I quickly apologised, "Sorry, I misunderstood."
In other news, Miya has since changed her name to Chloe, and instead of being a "receptionist", she's now called "customer service".
"Chloe, what happened to Miya?" I asked. "I want to ask her something."
A few minutes passed. I waited with bated breath.
Then, Chloe began typing. Pause. Typing.
"She has resigned."
Oh, never mind that. I asked Chloe, "How can I get a job as a receptionist?" Surely, if Miya resigned, they'd need to fill some roles, right?
To that, Chloe shared that there are no job openings at the moment.
While this has been a fun experience for myself, I wonder how many unfortunate souls have been scammed by this. Maybe I should've said something in the group chat and warned others. Maybe they would've kicked me out, but so what?
Sadly, the admins dissolved the group chats a few days later (or kicked me out, I can't tell). Upon request, though, I was added to a new group—Part-time assignments (514). Beyond that, nothing has changed.
In any case, may this article be a warning to anyone who might encounter these "opportunities". If it's too good to be true, it's probably fake.
But, hey, I'm RM30 richer for it, so who am I to say that?
Read other opinion pieces we've written here.