[This is a sponsored article with Colony.]
Admit it. As much as we want to believe we're above workplace gossip, it seems to be something that just… happens.
For your own job security, you'd probably keep it hush-hush, and only dive into it with your most trusted work bestie.
But what if you could air it out, all in the name of good fun?
Jerry Coworking Space (Jerry) is making this possible with their free Avenue K pop-up event,  happening from now until June 19, 2023.
For context, Jerry is the "no bullsh*t" (their words) younger sibling to their bougie elder sister, Colony, which is known for their luxury work spaces.
The bells and whistles of coworking—like free-flow coffee and snacks—are cut out at Jerry, to keep things affordable for customers.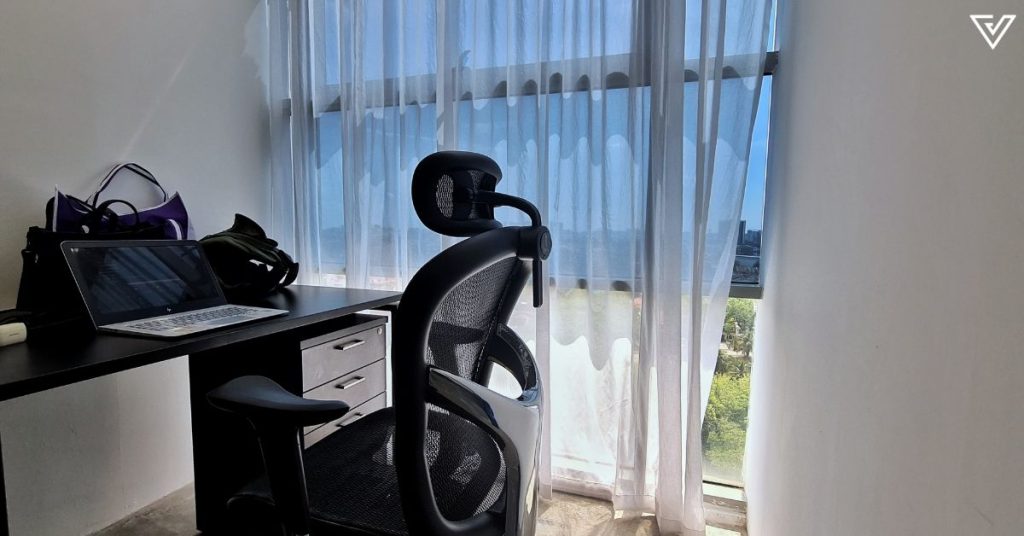 But Jerry now wants to try something new, albeit not too far off from their usual offerings, and this first pop-up event of theirs is just a teaser to that.
Embracing workplace shenanigans
As the pop-up event is themed, "What Happens in Jerry, Stays in Jerry", they've got several installations whereby your only job is to have fun.
But first, coffee. 
For that, Jerry has partnered with INTERFOLK, so you can redeem all-day unlimited speciality coffee, for RM30.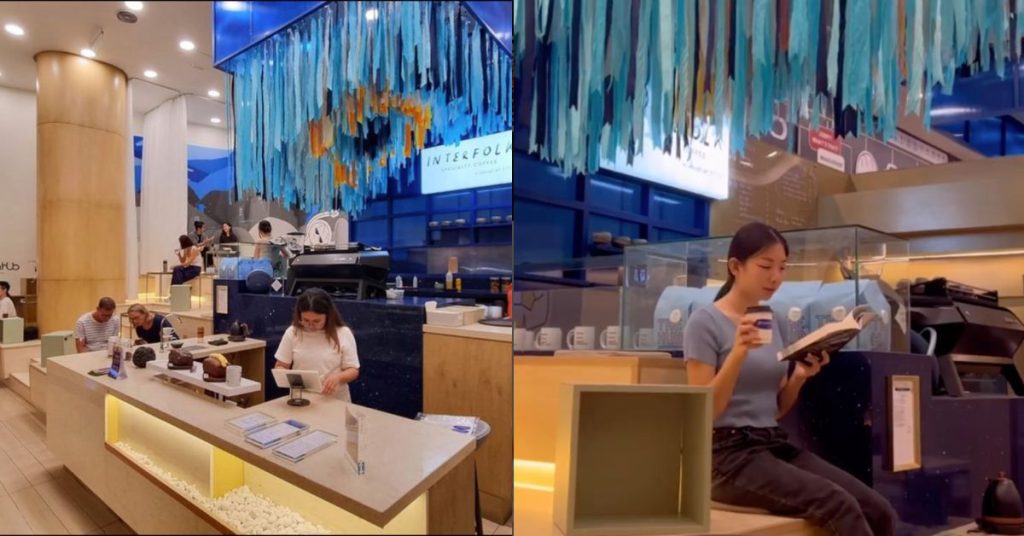 Coffee and gossip can give rise to bad breath though, so the How Crappy Is Your Boss section is where you'll be able to freshen up.
Grab mints from different tubes at the Rate-Your-Boss Mint-O-Meter to reveal how you feel about your boss. Each tube has a different descriptor, from "You love your boss" to "You're quitting after you get your bonus".
At the end of the day, the levels of the remaining mints in different tubes will show how everyone really feels about their bosses.
Or, maybe you're chill with your boss, and instead have an issue with your peculiar colleagues.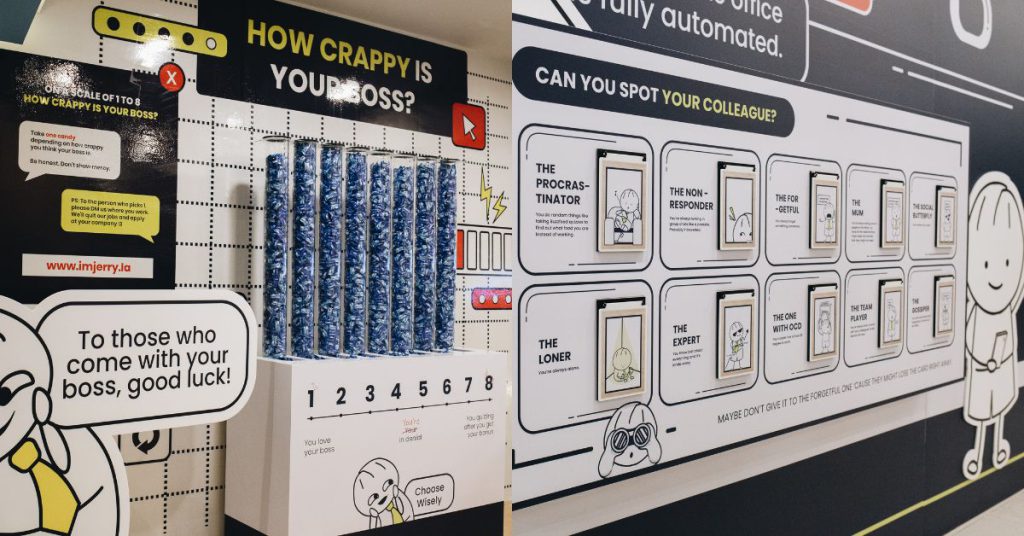 Those who say they don't have coworkers with unusual behaviours are either lying or have been working remotely for too long.
The Spot Your Colleague Corner is where you can identify those quirky colleagues of yours.
If you're feeling bold, snap a photo of a matching character and send it to your peculiar colleague with the caption, "This made me think of you."
Now watch the friendship blossom. 
Over in the Cards Against Your Colleague section, inspired by Cards Against Humanity, you can pick out three cards from the stash and form a comical storyline about your coworkers.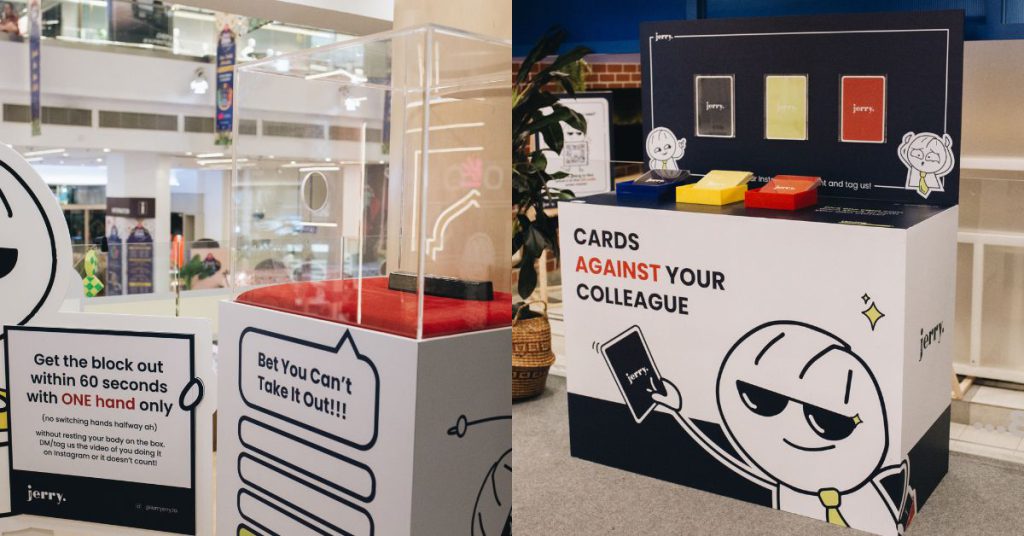 The unlimited coffee purchase will also get you an entry to spin a virtual wheel and win up to RM7,000 in prizes, so you don't need to keep waiting on that bonus.
But for those who actually want a challenge to make the reward sweeter, prizes can be won from games like Jerry's Block Breakout Challenge, inspired by the gold bar challenge that went viral online.
Using one hand, your goal is to extract a heavy metal bar from the clear acrylic box it's kept in, through a small hole.
The task comes with an unrealistic deadline too, so you only get 60 seconds to complete it.
Aside from all the fun, there are also spaces here where you can get serious. While your peers mess around, workaholics can get some tasks done at the six workstations available.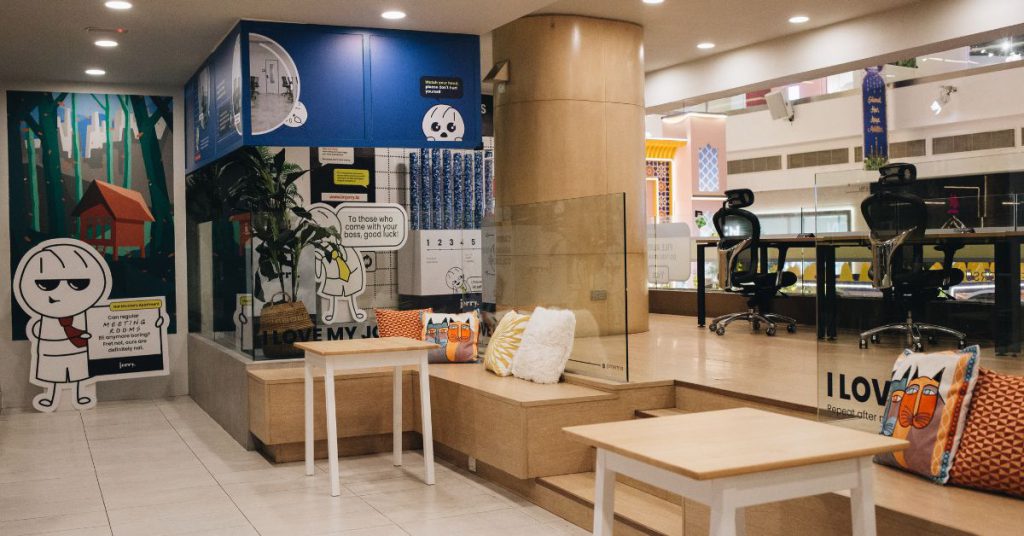 If you ever need a break from the fun or work, then check out Not Monica's Apartment, the Friends-themed meeting room, where you can role-play as the sitcom's characters gossiping over coffee.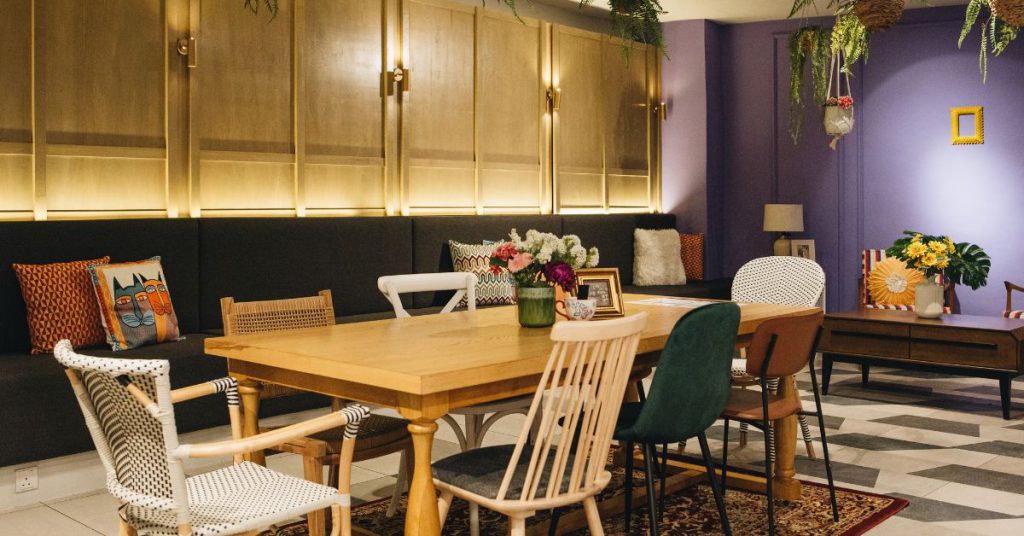 These are just some teasers that we can disclose about the job description, so for the full experience, you'll have to clock in at Avenue K yourself.
An identity crisis or new brand direction?
The whole idea behind Jerry is meant to be a no-frills coworking space, a complete 180° of Colony's luxury concept.
Jerry offers private rooms with high-speed WiFi, large desks, and ergonomic chairs to cut out distractions and help you stay focused on your work.
With online bookings and unmanned door locks, using a private room at Jerry ensures you won't have to speak to a single soul, something that we really enjoyed when working there.
Over the past two years since their launch, the brand has expanded to eight outlets within Klang Valley alone, and even accommodates emart24's HQ.
All Jerry outlets are strategically placed, too. Available in locations like SS15, Damansara Uptown, Kuchai Lama, and more, guests are never too far from eateries, conveniences, public transport, and parking spaces.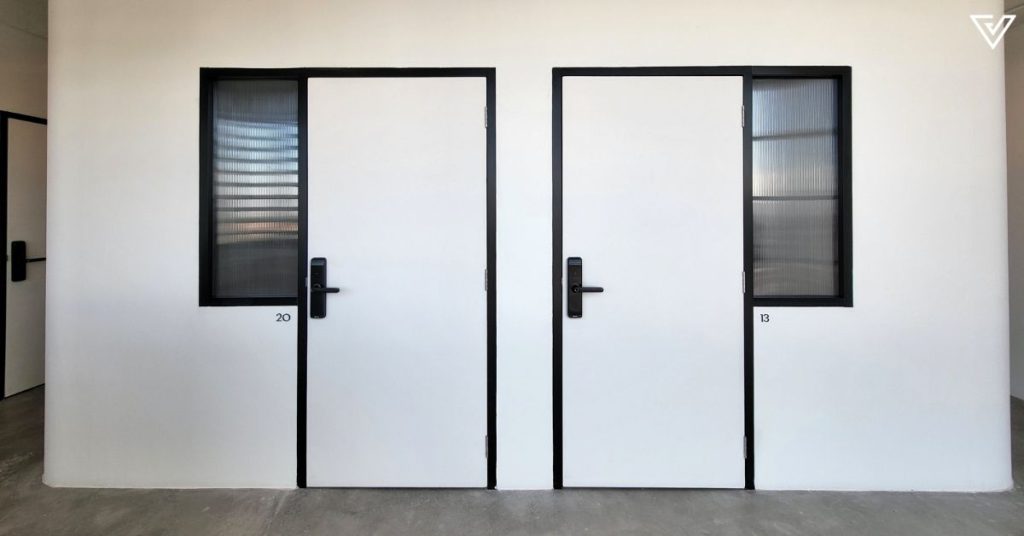 With a 4.8 Google review rating, and most of the positive comments making a mention of the cleanliness and efficiency of basic necessities facilitated in the space, clearly, Jerry seems to be doing something right with their bare-bones concept.
So, what's up with the themed pop-up?
"We're working towards extending our product offerings to include meeting rooms," Alia Azmi, Jerry's Content Specialist, revealed.
Jerry's new meeting rooms won't be regular ones, either. They'll be thematic, fun, and slightly off-beat, with an unapologetic charm (i.e. Not Monica's Apartment) that evokes the brand's sassy personality, inspired by Deadpool.
Alia elaborated that only a select few Jerry outlets will see the new addition, based on the feasibility and size of the spaces. The Damansara Heights and TTDI locations are some examples.
Eventually, the new concept will be fully unrolled in all upcoming Jerry outlets.
Until then, the pop-up event at Avenue K will be the closest thing to experiencing the new offering in a more fun and interactive way.
Featured Image Credit: Jerry Coworking Space