Prime Video, Amazon's video streaming service, is increasing its investment in Malaysian content, a May 18 press release stated. The release also announced Prime Video's first local content slate and a localised user experience for Malaysians.
The content slate includes two upcoming Malaysian-made Amazon Originals—That Cover Girl and Budak Flat.
"The announcement underlines Prime Video's commitment to invest in Malaysia and the creative
community across Southeast Asia," the press release shared.
A new way to enjoy local content
Currently, Prime Video is already offering a variety of local titles, including 2022 and 2023 Malaysian box office hits.
Kelab Rojak, Abang Long Fadil 3, and Juang are available to stream now. Some upcoming films to join the roster in the next two months include Coast Guard Malaysia: Ops Helang, Imaginur, and Stone Turtle.
Some other local favourites available include KL Gangster, Misteri Dilaila, Leftenan Adnan, Kolumpo, Suatu Ketika, and Munafik, as well as Upin & Ipin and BoBoiBoy movies.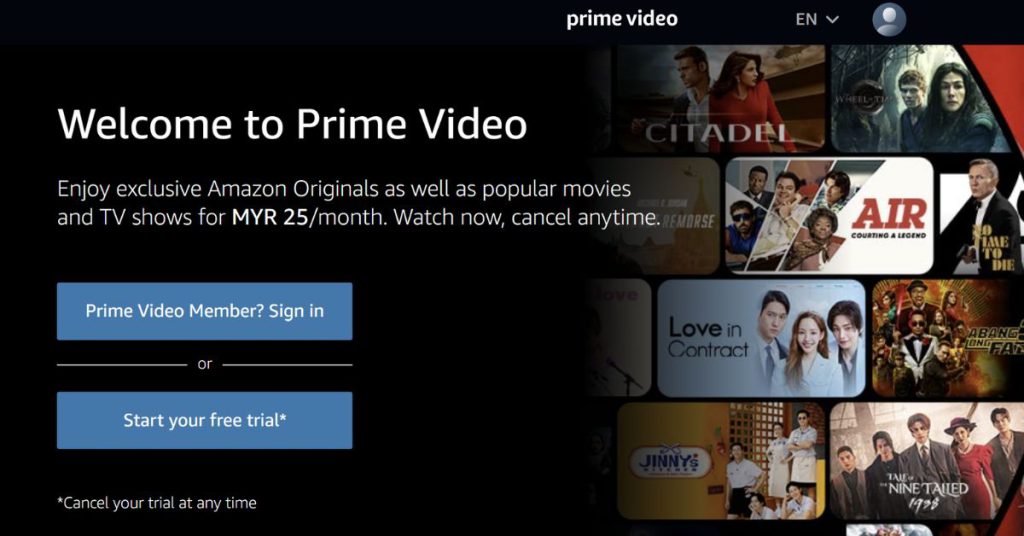 Besides local content, Prime Video also offers various global Amazon Original movies and TV series, from Hollywood films and Bollywood releases to Japanese anime and Korean dramas.
The platform also offers its interface in Bahasa Melayu and subtitles and dubbing on selected content.
Prime Video costs RM25 per month for Malaysians. Competing services include Netflix, which is RM28 per month for the basic plan, and Disney+ hotstar, which is RM54.90 for three months (RM18.30 per month). 
Malaysian content for Malaysian viewers
Set against the backdrop of Paris and Kuala Lumpur, That Cover Girl is a romantic drama series about a businesswoman running a fashion empire.
Produced by Creative Stew and directed by Kabir Bhatia, the drama will star Siti Saleha, Hisyam Hamid, Alicia Amin, and Aiman Hakim.
"We're proud to bring our original Malaysian story on strong and inspiring female characters to audiences around the world on Prime Video," said Abid Hussain, That Cover Girls' creator and founder of Creative Stew. 
Meanwhile, Budak Flat is an action film advised by Syafiq Yusof and directed by Eugene Lim, Woo Ming Jin, and Faizal Ishak. It's produced by Skop Production and stars Pablo Amirul, Zahiril Adzim, Nabila Huda, Aaron Aziz, Balan Kash, and Yung Raja.
Budak Flat film explores the rivalry between two criminal brothers who find their relationship tested to a deadly conclusion when a murder triggers a gang war in their flat. 
"It's a uniquely Malaysian action film that we hope will find audiences across the globe on Prime Video," said producer Shamin Yusof.
Both That Cover Girl and Budak Flat are expected to premiere on Prime Video in Malaysia and in selected territories around the world later this year.
Empowering local filmmakers
With this increased investment from Prime Videos, Malaysian filmmakers will have a new platform to reach audiences in Malaysia and even abroad.
Original content from the platform aside, Prime Videos also gives viewers access to local box office hits they might have missed in the theaters, or an opportunity to rewatch past favourites.
That said, Netflix also does feature a library of local content, but local original content appears to be lacking. Malaysian Netflix Original content we could find were Pasal Kau!—also known as All Because of You—and The Ghost Bride (Taiwanese-Malaysian). 
Hopefully, Prime Video's focus on local content will help develop Malaysia's film industry as a whole, as Amazon's well-established reputation may improve funding and support for Malaysian creations. 
Featured Image Credit: Budak Flat / That Cover Girl