Over the past three years, COVID-19 brought about more home-centric lifestyles and has accelerated the shift from offline to online, causing a growth in the digital consumer population in Singapore.
On average, Singaporeans utilise about 10 online platforms to shop, and around 97 per cent of all Internet users in Singapore have made at least one online purchase, helping the e-commerce industry in Singapore to thrive.
The flourishing e-commerce industry has provided vast opportunities to key players in the industry, such as logistics providers who have seen a surge in demand for parcel deliveries. In fact, more than 200,000 parcels are being delivered daily in Singapore.
However, the surge in demand for parcel deliveries is also posing new challenges for logistics providers, as consumers increasingly expect quick and seamless order fulfillment.
To meet these changing consumer expectations, logistics companies have had to explore innovative solutions such as parcel lockers.
By integrating parcel lockers into their delivery solutions, logistics companies can offer an efficient and effective alternative to the traditional home delivery services.
Addressing the demand for seamless parcel delivery
One such company that has pivoted to provide parcel locker delivery services is FedEx.
The international courier has teamed up with Pick Network, a subsidiary of Infocomm Media Development Authority (IMDA), to provide parcel locker delivery services to its customers.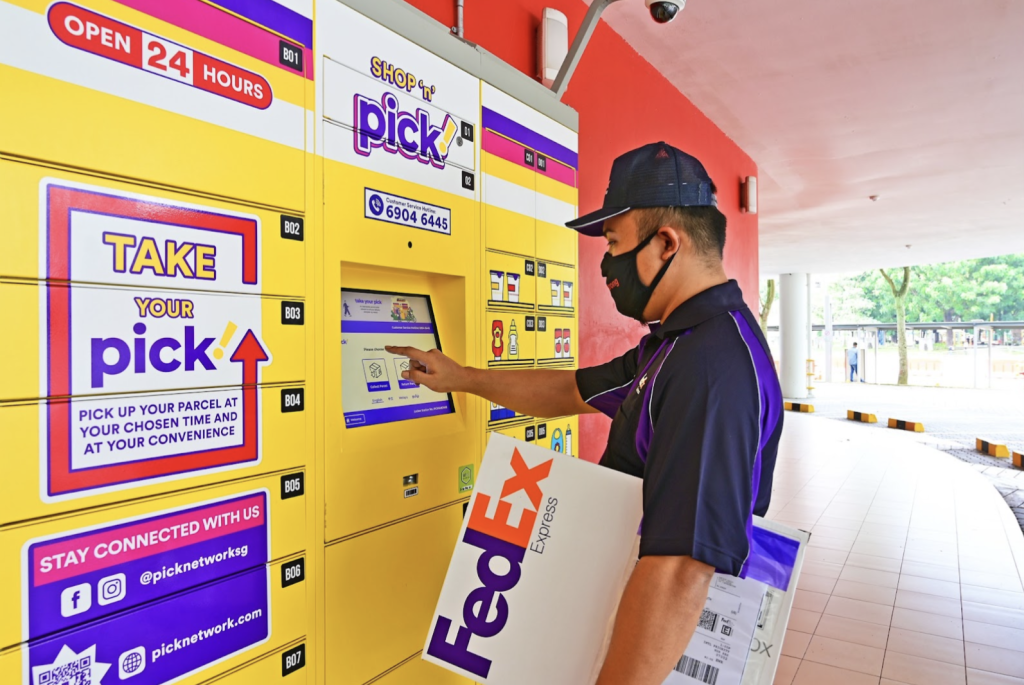 Launched in April 2021, Pick deploys, owns and operates the nationwide parcel locker network across Singapore.
FedEx and Pick share similar values in providing reliable, efficient and innovative solutions to customers. By aggregating deliveries to a consolidated locker location instead of individual doorsteps, we are able to experience productivity gains and increased cost savings.

– Eric Tan, Managing Director, FedEx Express Singapore
In addition to providing a secure location for customers to retrieve parcels at their convenience, parcel lockers also play a crucial role in improving the delivery process for logistics companies. Couriers are now able to drop off multiple parcels at one convenient location – improving productivity by saving time and costs.
Enhancing customer convenience with parcel lockers
According to Eric, Pick's extensive network of over 1,000 lockers in various locations across the country – including all HDB estates, MRT stations, bus interchanges and community clubs – has helped FedEx offer its customers greater convenience and flexibility in receiving their parcels as the lockers are operational 24/7.
FedEx customers often opt for Pick lockers as their preferred method of receiving packages because they are easy to use and convenient.
There are two ways for any FedEx customer to collect their parcels from a Pick locker. Firstly, customers can log into FedEx Delivery Manager online to indicate their preference for all future parcels to be delivered to their preferred Pick locker.
Alternatively, in areas where FedEx has already adopted Pick lockers, customers will receive an SMS from FedEx on the day of delivery, informing them that their parcel will be delivered to their nearby Pick locker unless they choose to opt out.
Subsequently, they will receive an SMS from L-Alliance (Locker Alliance) with a PIN code to retrieve their parcel at a time that best suits them.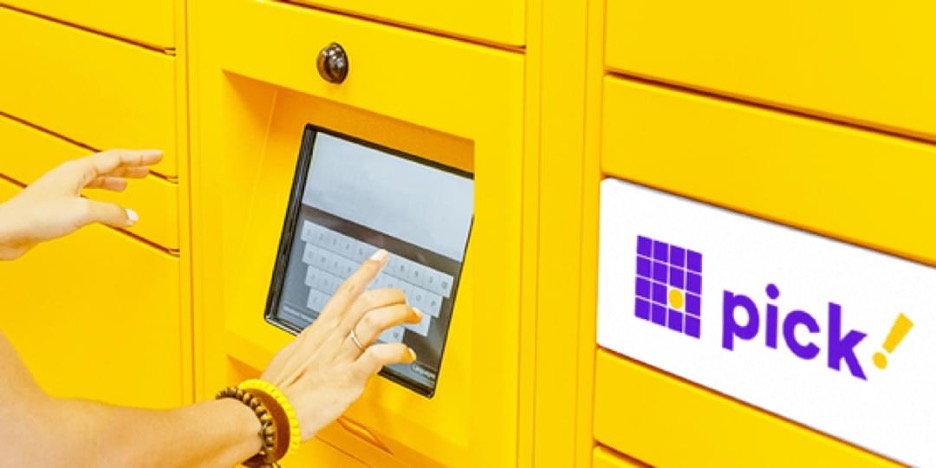 For Patrick Tan, a FedEx customer and avid user of the Pick lockers, he found this parcel collection option to be very convenient as he does not need to worry about rescheduling or having someone at home to help receive his parcels whenever he isn't available.
As a small e-commerce business owner, he often purchases small parts online, which are automatically sent to the nearest Pick locker below his block whenever he can't physically collect his parcels. This eliminates the chances of missed deliveries and frees up more time for him as he doesn't have to wait idly for his delivery to arrive.
"I no longer have to worry about rearranging for another delivery time if the courier misses me at home," said Patrick, adding that parcel lockers are a great option for customers like himself who receive plenty of deliveries.
"Even during shopping festivals when parcel traffic is high, I have been able to collect my parcels on time. The entire process is straightforward and has been made a lot more convenient and accessible with Pick lockers."
Streamlining courier efficiency and productivity
Aside from providing convenience to its customers, FedEx has also brought a plethora of advantages to its diligent couriers through Pick's locker system.
Prior to the collaboration, FedEx couriers would typically deliver packages directly to the customer's doorstep. However, a common issue that may arise is the rescheduling of deliveries, which typically occurs when recipients are not available to receive their packages at the time of delivery.
In such cases, I would first check with the customer if they have any preferred alternative delivery options, such as leaving the package with a trusted neighbour, or if it was a condominium, at the security booth or management office. If that is not possible, we would schedule a second delivery attempt at a convenient time for the customer.

– Iskandariah Hussin, Senior Courier, FedEx Express Singapore
A second delivery attempt is required approximately three out of 10 times for home deliveries, and this means that Iskandariah has to make multiple trips to the same location.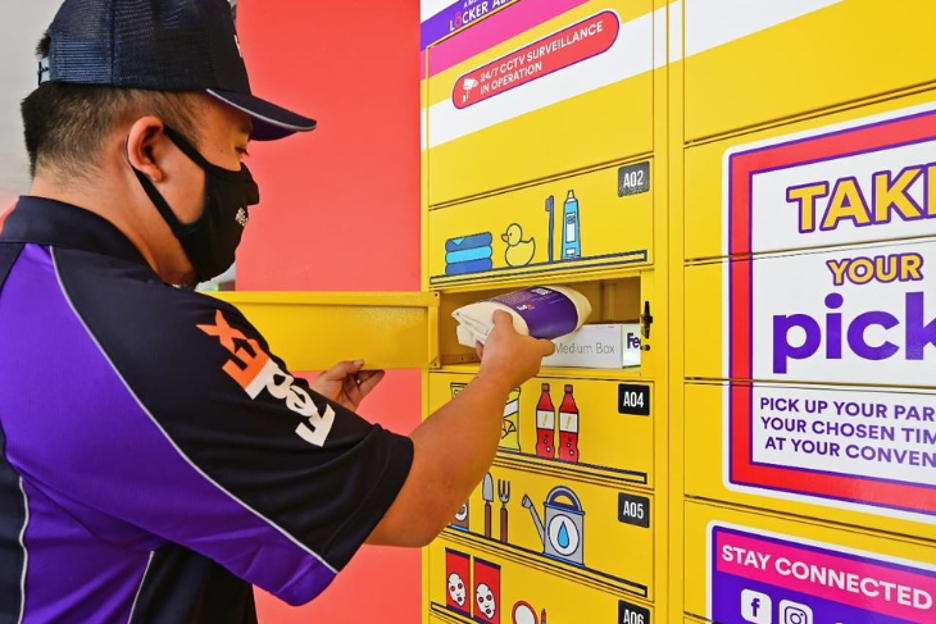 With the implementation of the Pick locker option, Iskandariah finds that his usual delivery routine has been significantly refined.
For example, since almost all Pick lockers are located on the ground floor, Iskandariah does not have to perform doorstep visits up a HDB block to complete his delivery. The senior courier also sees an improvement in his productivity as he can deliver multiple packages to a single location, reducing the time taken for deliveries.
Another senior FedEx courier shared that he was able to cover eight addresses in approximately 45 minutes, as compared to the previous one hour for four addresses, with the option to deliver parcels to a Pick location.
Additionally, Iskandariah said that he benefits from savings on fuel and parking expenses since he travels shorter distances to complete the deliveries, which in turn effectively reduces his carbon footprint and time spent on the road.
Rise of parcel lockers is shaping the future of e-commerce logistics
During the initial trial period, FedEx adopted 40 per cent of Pick lockers and the take-up rate has been impressive, with 70 to 80 per cent of consumers choosing to collect their parcels from Pick lockers instead of home delivery.
Following this successful trial, FedEx has now chosen locker delivery as its primary delivery mode in Singapore.
We expect utilisation rate to continue to increase as public awareness on the convenience and security is on the rise. FedEx remains committed to providing our customers with convenient, efficient and safe delivery options.

– Eric Tan, Managing Director, FedEx Express Singapore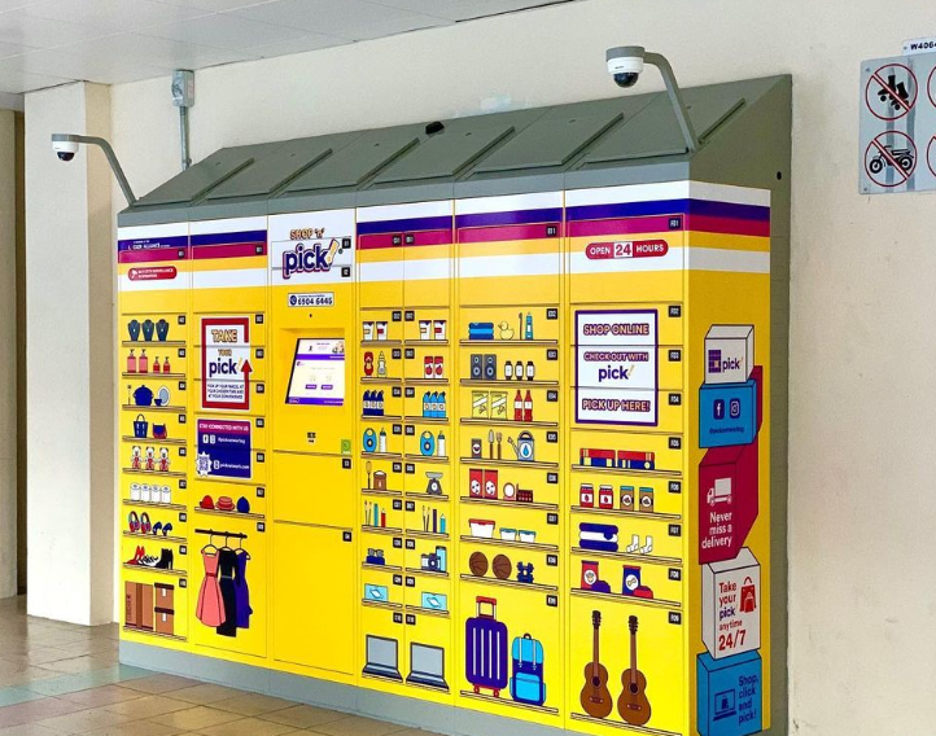 While locker service adoption is still in its early stages in Singapore, FedEx believes that this delivery option can offer a multitude of benefits in the broader context of e-commerce logistics.
This includes faster and more secure deliveries while reducing impact on the environment and improving customer experience with added convenience.
Pick Network's CEO, New Soon Tee, echoes this sentiment. "Pick operates the nationwide locker infrastructure to bring greater convenience to consumers and improve the working conditions for couriers. We are glad to play a part in transforming the last mile delivery sector with FedEx," he said.
The use of parcel lockers is an innovative solution that can disrupt the logistics industry in Singapore, which is currently grappling with delivery inefficiencies such as manpower challenges, costly overheads, and the need for timely delivery.
As parcel lockers become more widespread, they are likely to become an essential component of the e-commerce logistics ecosystem, revolutionising the way that e-commerce companies approach last-mile delivery and customer service.
In the future, there is also a possibility that parcel lockers may evolve beyond package delivery to offer additional services like returns, first-mile sending of parcels, and click-and-collect, which could provide even greater benefits to consumers, businesses, and couriers.
Featured Image Credit: FedEx