Homegrown social enterprise City Sprouts is more than just an agricultural company – it's a vibrant community built upon a shared passion for sustainability and environmental stewardship.
Founded in 2019 by Zac Toh, Simone Lim and Chee Zhi Kin, City Sprouts has a mission to build stronger social bonds and empower the community through green spaces and programmes. It's not just changing the way we think about food and sustainable agriculture, but also creating a more connected and environmentally conscious society.
While City Sprouts is not Zac's first business venture, it is his first serious social enterprise venture.
Zac shared that he first met Simone when she started GWS Green Affairs, a department under GWS Living Art that focused on terrarium workshops for the community. He then met Zhi Kin through a run at MacRitchie Reservoir, and they hit it off with their shared understanding of building community through urban farming.
From there, they continued the work of Green Affairs, which eventually became City Sprouts.
The spark [for City Sprouts] was to create a business that could directly be in touch with the community, to change some of their opinions about what is food, and the origins of food. We then expanded that scope to not only food, but also sustainability and how the community could play an important role in that.

– Zac Toh, founder of City Sprouts
Growing sustainable communities through urban farming and education
At City Sprouts, the focus is on fostering community through the creation of green spaces and programmes.
Driven by Singapore's Green Plan and 30 by 30 vision, the founders believe in the ground-up spirit of making Singapore more sustainable and food independent.
They aim to promote urban farming and sustainable living through a variety of education and outreach programmes that cater to individuals, schools and organisations. These include guided farm tours, team building activities, school learning journeys, educational programs, volunteering, as well as events and workshops.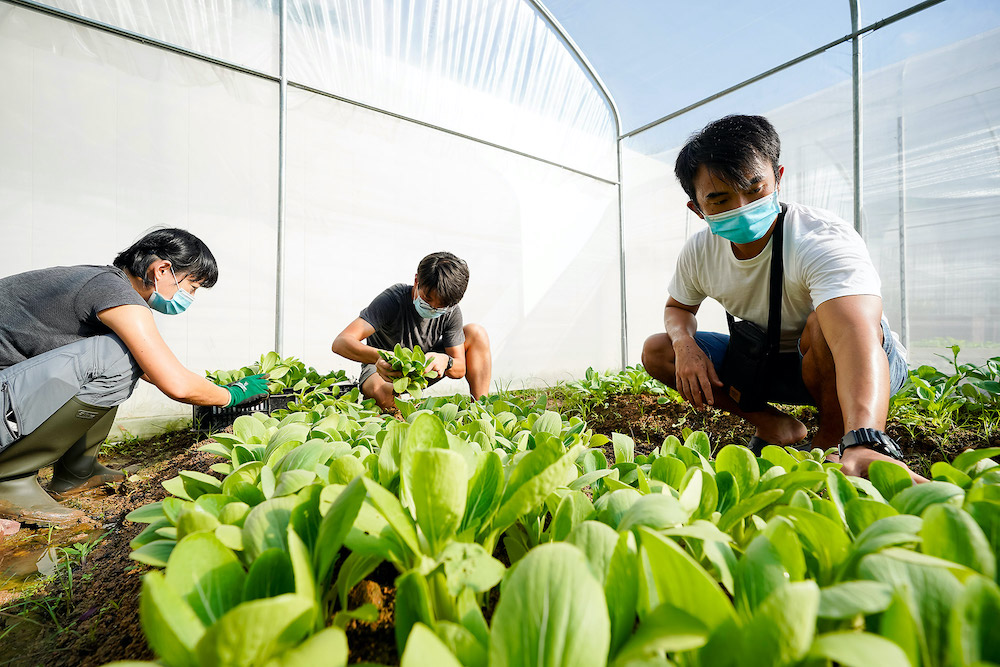 However, City Sprouts' mission goes beyond creating resilient and sustainable cities and improving food security. The founders also believe that their urban farms serve as a platform for building stronger social bonds within communities, bringing people from all walks of life together, regardless of age or socioeconomic status.
According to Zac, the social enterprise is promoting community engagement by empowering and educating individuals to take an active role in promoting sustainability. By working collaboratively with the community and encouraging environmental stewardship, they aim to create a shared sense of responsibility for the health and wellbeing of our planet.
Rather than just focusing on farming, they tailor their programming to appeal to different target groups and their shared passion for the outdoors and nature. By subtly introducing relevant topics such as food sustainability, they can engage participants and educate them in a natural and relatable way.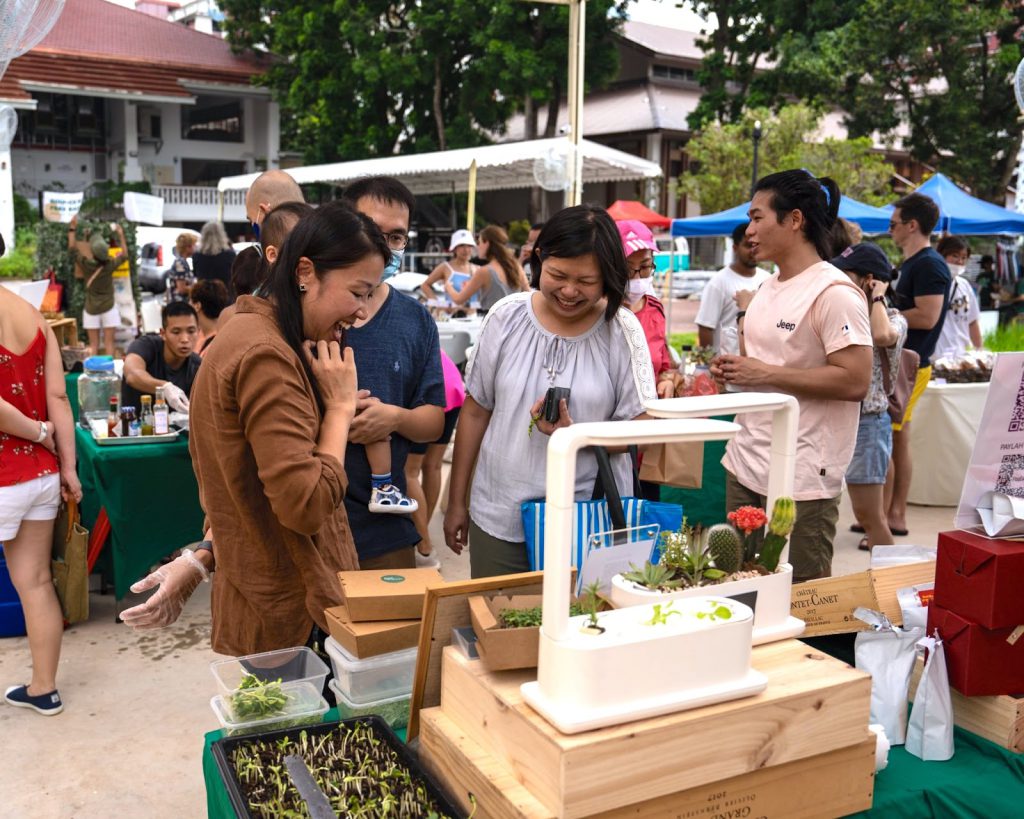 An example of their successful community engagement was through their past Farmers Markets, which aim to attract shoppers and foodies with a focus on fresh, locally-grown produce.
By emphasising the importance of sustainable agriculture and food production through meeting with the farmers, we were able to educate participants on the benefits of local food systems and inspire them to incorporate these practices into their daily lives, leaving [them] with a newfound appreciation for locally-grown produce and a desire to support sustainable food systems.

– Zac Toh, founder of City Sprouts
Transforming defunct spaces into urban farming concepts
In May 2019, City Sprouts was awarded a government tender to transform a section of the former Henderson Secondary School in Redhill into an urban farming concept.
It was truly tough when we took on the space. We really had no clue what we had gotten ourselves into, but I always knew being given such a prime opportunity to revamp a defunct space and turn it into something that is community-driven is critical and important.

– Zac Toh, founder of City Sprouts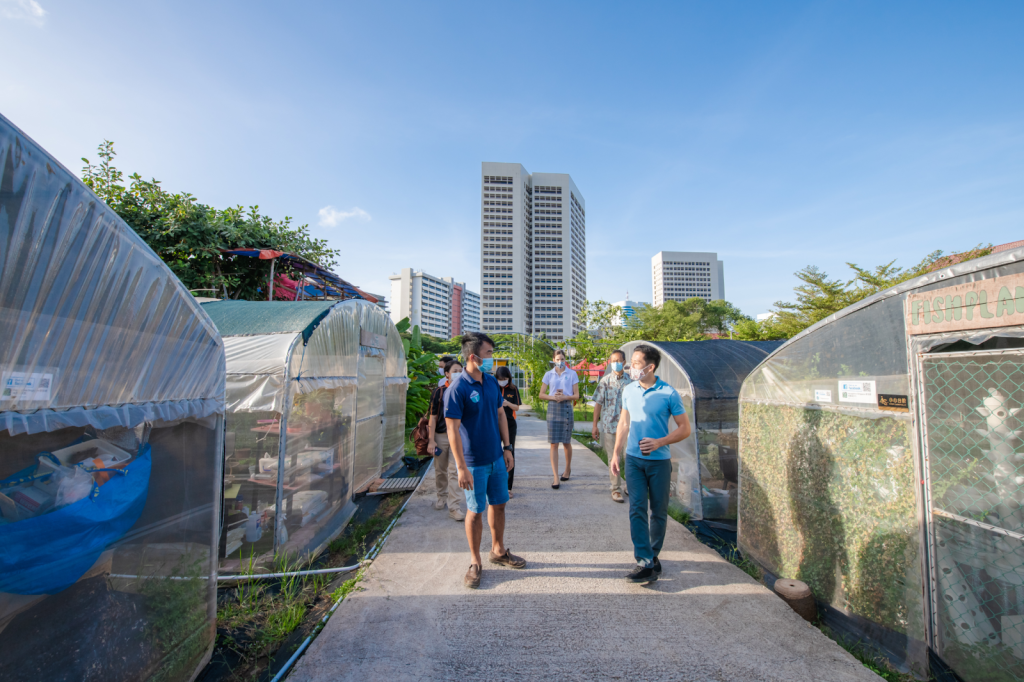 The space is now dubbed as City Sprouts @ Henderson, serving as a hub for gardening enthusiasts, agri-preneurs, agrifood and agritech partners, and nearby communities to connect and experience agriculture and food.
This successful initiative eventually led to the development of two additional City Sprouts spaces: Sky Sprouts, a rooftop urban farm, and Life Sprouts, an urban farm and community platform situated on the site of an old amusement park.
However, Zac confessed that they faced significant challenges in its early days, especially since it launched in the midst of the COVID-19 pandemic. As a social enterprise that is centred around community building, the founders were concerned about how the pandemic would impact their work.
Zac said that he initially thought the pandemic would pose a significant threat, given their core competency in community building. However, being a small business, they were able to swiftly adapt as they navigated the uncertain landscape.
Zac also recounted how he ended up emptying his personal bank account and bootstrapping to keep the business afloat, since it was hard for others to understand what they were trying to do, and they wanted the social impact to be as genuine as possible without any other influence. Despite the difficult circumstances, he is grateful that other like-minded individuals were still keen to join the organisation.
"The team slowly grew, and we managed to do well. We now run four community farms ourselves, and we also help other stakeholders to run their farms and build communities through their spaces," he said, adding that they are looking to further grow the team as there is a growing demand for the community-building niche that they have carved out.
Expanding their impact with DBS Foundation Grant
The social enterprise first applied for the DBS Foundation Grant Award in 2020, which supports social enterprises and small and medium-sized enterprises (SMEs) with strong growth potential and creating a positive impact on society.
Although they were unsuccessful in their first two attempts, Zac noted that DBS Foundation's questions and feedback during the application process were critical in helping City Sprouts to adjust and refine its business model. As an impact startup at an early stage, this was particularly helpful in steering them to create a more sustainable and impactful enterprise.
Elaborating on the rejection, Zac explained that in the startup's early years, they focused a lot on a business model that had high capital and operating expenditure, and may not have been sustainable in the long-term.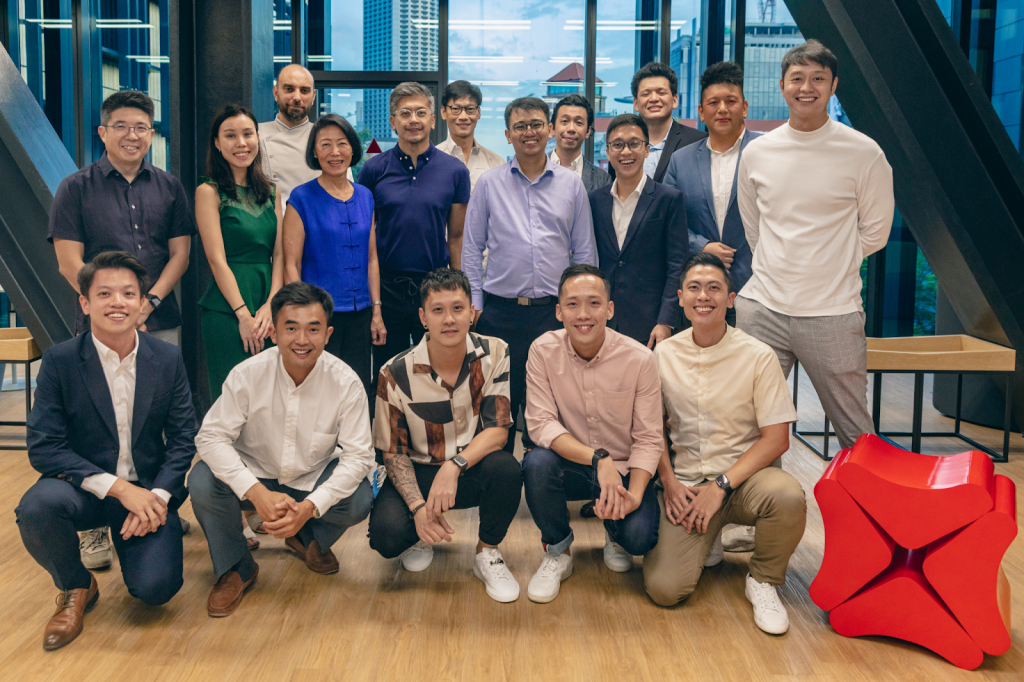 However, "the third time's a charm", and they managed to secure it in 2022. "I think City Sprouts finally got the grant as we morphed into an asset-light company, focusing on the core of our business, which is building communities."
With the grant funding, City Sprouts was able to run social research in collaboration with the National University of Singapore to understand how to curate different activation and community engagements to enable individuals to be more sustainable in their everyday lives.
In contrast to their early days when they were focused on "surviving" without any investment or funding, the grant gives them more freedom and opportunity to focus on scaling up their business and impact, such as by redeveloping multiple urban spaces and crafting community-driven programmes.
Besides funding, City Sprouts has also received networking opportunities and guidance from the bank, which helped them to expand their space outreach and increase programming initiatives, which are key to their vision of fostering communities.
For example, CitySprouts was recently given the opportunity to work with DBS Foundation to organise the original instalment of "DBS Perspectives @ Esplanade", a series of programmes that the bank presents at the DBS Foundation Outdoor Theatre.
Held just earlier this month on May 3, the meaningful event took the form of an intergenerational fashion runway that brought the young, old, and marginalised communities together to showcase sustainable fashion, and successfully drew a crowd of some 300 audience members.
He also acknowledged that DBS Foundation is one of the pioneers in supporting the social entrepreneurship scene in the region, and brings a wealth of experience and access to a like-minded impact community that's highly valuable to the company.
Zac enthusiastically recommends DBS Foundation to other businesses, noting that it is supportive and genuinely wants to help impactful enterprises to grow and achieve their full potential.
In fact, since receiving the grant, City Sprouts has doubled its team and also increased its community outreach, running thrice the number of programmes across different spaces today.
Zac said he did not expect to achieve such success, but is looking forward to expanding their impact further with the help of DBS Foundation.
Our ultimate goal is to be able to help [enable] community-building through different spaces across the city, and essentially increase asset value as well as social capital for the space.

– Zac Toh, founder of City Sprouts
If you are keen to join DBS Foundation's growing community of impact-driven businesses, check out its application page here.
This article was written in collaboration with DBS Foundation.
Featured Image Credit: City Sprouts