By now, you should already be deeply familiar with Malaysia's national flag, the Jalur Gemilang, which translates to the Stripes of Glory.
With a 14-point star and 14 stripes, the flag can be found at every corner of our country. However, as patriotic as the intentions may be, many instances where the Jalur Gemilang is displayed are not done correctly. 
Details of the flag design aside, there is a laundry list of guidelines detailing how to display and handle it properly. 
With that in mind, here are the do's and don'ts of how to fly the national flag we learnt from a document by the Department of Information Malaysia. 
Size does matter
The Jalur Gemilang may come in many different forms, but each has its guidelines.
To start us off, there's the Bendera Biasa. You may wonder, biasa? Biasa maksudnya?
The meaning of Bendera Biasa is a normal flag, which can be flown in buildings, offices, or residential homes. These flags should be 91.5cm in width and 183cm in length. The height of the flagpole used should be 610cm.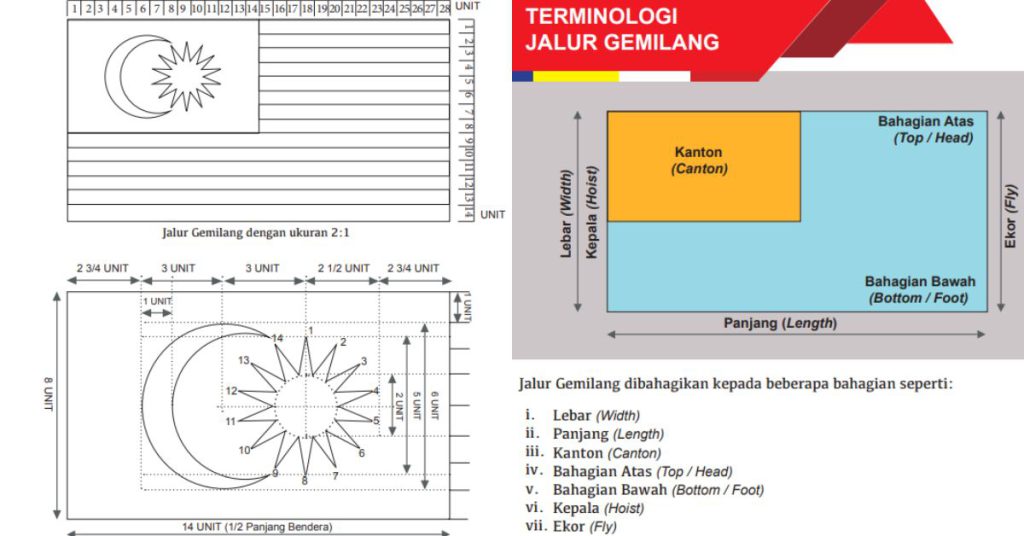 If you think an office or a home might not have space for that, there's the Bendera Rumah (home flag), specialised for home and office use where space is limited.
Other kinds of flags include Bendera Sedang (medium flag), Bendera Besar (big flag), Bendera Kereta (car flag), and the Bendera Meja (table flag).
All have their unique use cases (such as the big flag for embassies), but here are the dimensions they should abide by given the circumstances:
Flag type
Flag size (width x length)
Flagpole (height x diameter)
Biasa
91.5cm x 183cm
610cm x 7.6cm
Rumah
61cm x 122cm
Outside a building, permanently: 610cm x 7.6cm

Inside a building, temporarily:
305cm x 3.8cm
Sedang
122cm x 244cm
915cm x 7.6cm
Besar
183cm x 366cm
1,220cm x 15.2cm
Kereta
15.25cm x 30.5cm
40cm x 1cm
Meja
15.25cm x 30.5cm
40cm x 1cm
Horizontal only
No matter what size it is, one of the biggest rules about the Jalur Gemilang is that it should only be displayed horizontally.
That means if you've ever seen buntings where the flags are hanging vertically along a line, those are incorrect.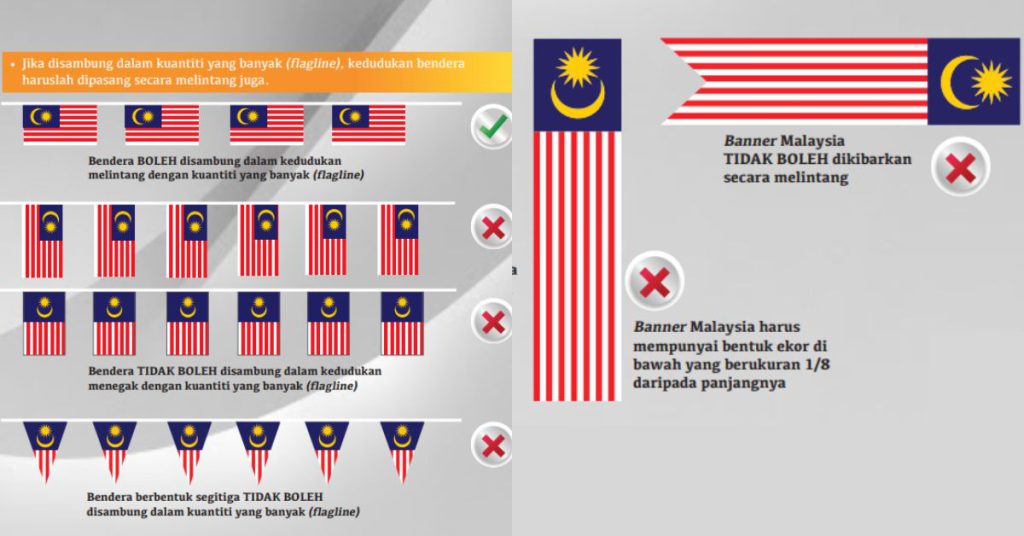 Even those triangular flags aren't supposed to be installed on a flag line in large quantities, either.
So, if you want to use a flag line, each flag should be horizontal, and if you want to display the Jalur Gemilang vertically, you should use the banner format.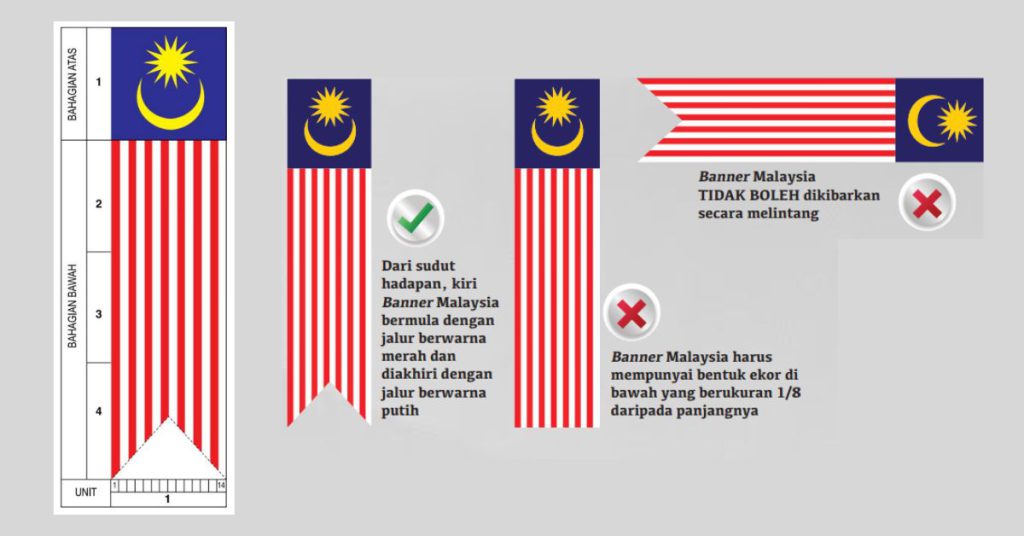 The left of the banner must start with a red stripe while ending with a white stripe. The moon and stars should be pointing upward, meaning the star comes first, then the crescent moon pointing up beneath it.
The banner should have a tail shape at the bottom, measuring one-eighth of the flag's length.
And, of course, don't even think about displaying the flag upside down. 
While the authorities are generally quick to jump on improper displays of the Jalur Gemilang, it seems that, depending on circumstances, some instances may get a pass.
In 2022, the Burj Khalifa lit up in the likeness of the Jalur Gemilang to commemorate Hari Merdeka celebrations, and though the display is technically wrong when compared to the rules outlined by our government, it seems that Malaysia overall appreciated the gesture.
I <3 Malaysia, but don't put the flag on clothes
According to the document, using the flag in matters interpreted as derogatory to the dignity of the Jalur Gemilang is not allowed.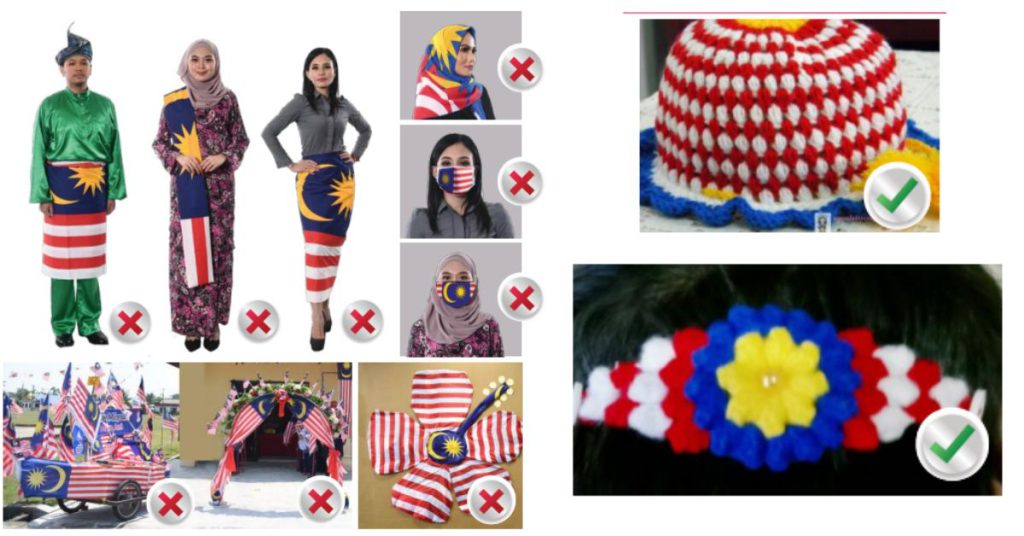 That's a pretty vague explanation, but this basically means it shouldn't be used as a pattern on items such as tablecloths, hijabs, umbrellas, songkoks, sampins, hats, bath towels, cushion pads, face masks, and so on.
However, you can use the colour combinations of the flag—AKA blue, yellow, red, and white—to create Malaysia-themed items. 
Don't capitalise on the flag
The use of altered flags in advertisements for the purpose of promoting Merdeka or the national month is not allowed. You can't just overlay the flag in some font or a graphic.
It's also prohibited to use the flags to produce any brand logo. Again, though, using basic colours and flag motifs is acceptable.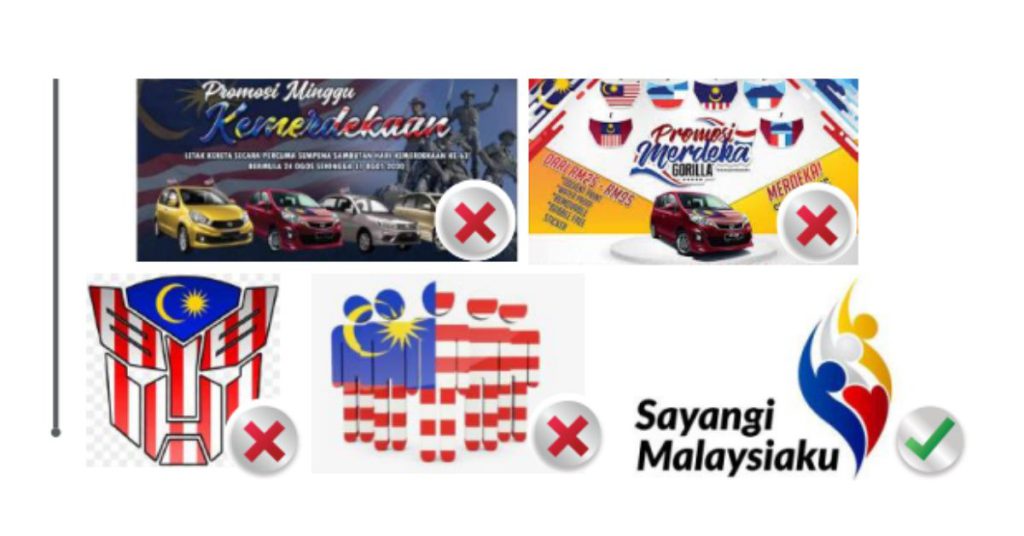 Meanwhile, if you use the flag in an infographic, you should ensure the flag isn't overlapping any text.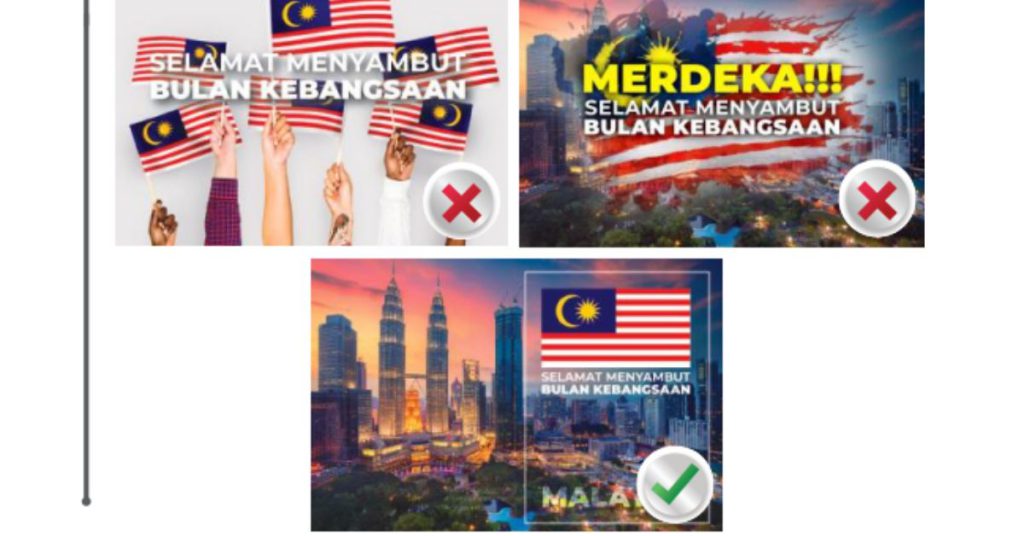 Disposing of the flag
When a flag becomes tattered and discoloured, it's time to dispose of it, as it's not respectful to continue using such a flag.
And no, you can't just toss it into the bin.
Rather, you should burn it, but make sure you do it in a private space.
So, what's the damage?
While you might think that "respecting the flag" is just a suggestion, there are a few laws in place to punish those who disrespect the flag. 
First, there are Sections 3 and 5 of Act 414, Emblems and Names (Prevention of Improper Use).
Those prosecuted under this act will be fined not more than RM20,000 or imprisoned for a period not exceeding three years, or both.
There's also Act 193, also known as the National Emblem (Control of Display) Act 1949. If an individual is guilty of this offence, they shall be liable to imprisonment for a term not exceeding six months, or a fine not exceeding RM500, or both.
Meanwhile, corporations guilty of the offence may be fined not more than RM1,000.
Individuals who insult or provoke the Jalur Gemilang can also be prosecuted according to the Sedition Act 1948.
A person guilty of sedition may be sentenced to three years in jail, an RM5,000 fine, or both.
As we inch closer to Hari Merdeka this year, we hope this information will come in handy if you plan to proudly display the Jalur Gemilang properly and respectfully.
Learn more about the rules of using the Jalur Gemilang here.
Read other articles we've written about Malaysia here.
Featured Image Credit: Jabatan Penerangan Malaysia