[Editor's Note: The article has been updated to reflect Circles.Life's latest statement]
Singapore's thriving tech industry, once hailed as a beacon of growth and innovation, has been hit hard by the tech winter.
This downturn in the tech sector has forced several prominent companies, including e-commerce giant Shopee and super app Grab, to implement significant layoffs. The latest company to join this wave is digital telco Circles.Life.
A few employees who were affected by the downsizing at the company spoke about the layoff process and shared concerning details about the company's work culture.
Second layoff for the company this year
According to the affected employees, the layoffs took place in late June and were handled in a similar manner to a previous round of layoffs in 2020.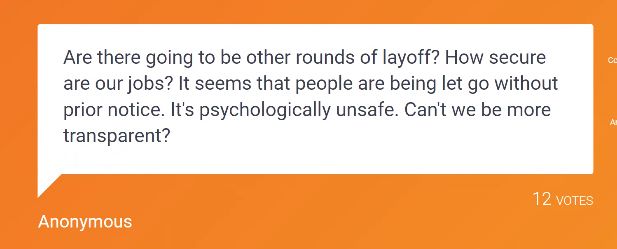 Employees were informed through individual meetings dubbed "quick sync" with their line managers, while some received physical letters or emails on the day itself. The announcement itself was brief, mentioning that specific individuals had "graduated" and wishing them the best.
However, the layoffs were not communicated to the wider company.
While the exact number of employees affected by the recent layoffs remains unverified, it is estimated to be around 20 to 30 employees. This comes after an earlier round of layoffs in May, which reportedly impacted at least 50 employees.
Circles.Life, which currently has nearly 1,000 employees according to LinkedIn, saw various departments affected, including Marketing, P&C, Engineering, Product, and the entire B2B Circles X team.
Affected employees were apparently provided with the standard severance package – a two-month notice period and gardening leave – depending on their duration of employment.
According to the sources, the layoffs were not limited to just the Singapore office, but also extended across the region, affecting the entire Australia marketing team, including its Head of Marketing.
They also attributed the downsizing decision to various factors, such as cost efficiency, underperformance of the Circles X business, a decline in subscribers due to market forces and competition, as well as poor service.
"Circles X is failing as a product. A lot of their partnership deals were supposed to close but didn't, and Circles.Life as a telco is losing market share alarmingly," said one ex-employee.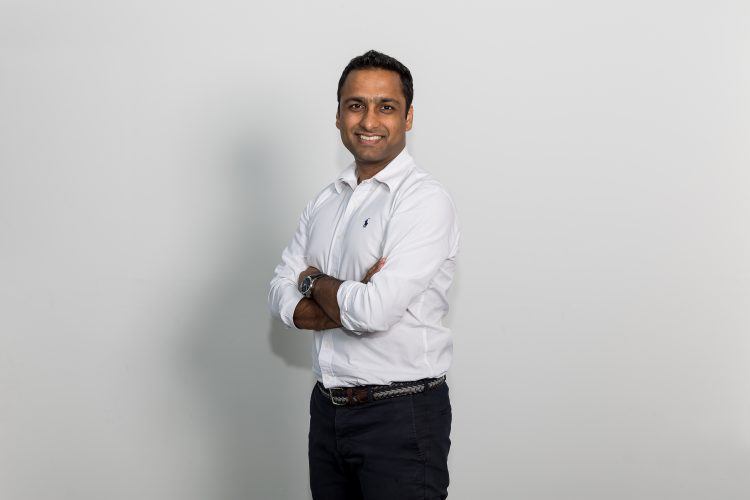 Co-founder Abhishek Gupta, who previously headed the division, faced challenges as the business did not meet expectations. Out of the numerous partnership deals that were slated to close by the first quarter of 2023, only one was successfully closed.
During a townhall, the company allegedly mentioned that due to "investor pressure", Gupta was "elevated to non-executive director".
"His office was fully vacated at the end of the day, and converted into a meeting room," said another ex-employee.
Following Gupta's departure, the entire Circles X team has been reduced from a team of about 30 people to just five individuals.
"Toxic management and a terrible work culture"
The ex-employees also expressed concerns about Circles.Life as a company, describing it as having a "toxic management core" and a "terrible work and team culture".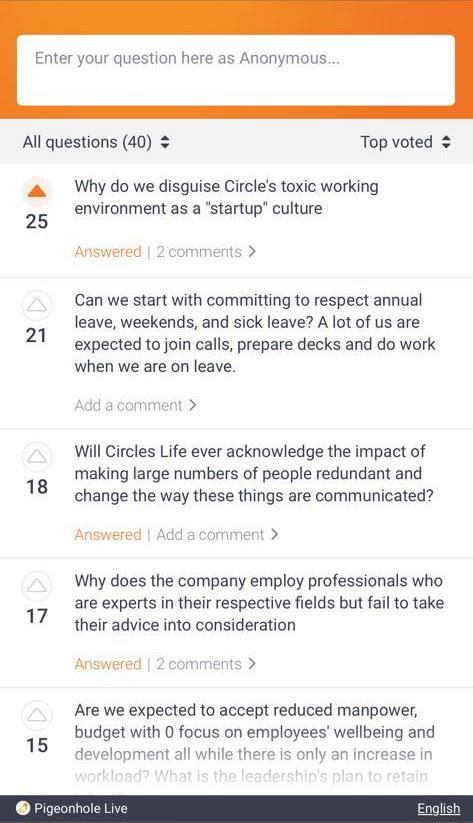 The employees cited examples of "open gaslighting", intimidation and threats – "banging tables and shouting/berating in public is very rampant" – as well as "power playing".
The work culture was said to prioritise sacrificing personal lives and rest time, with junior employees often working late while their managers were unavailable, only to have their work presented by the manager to the founder.
The employees also mentioned discriminatory hiring practices, lack of processes, and poor communication across all levels.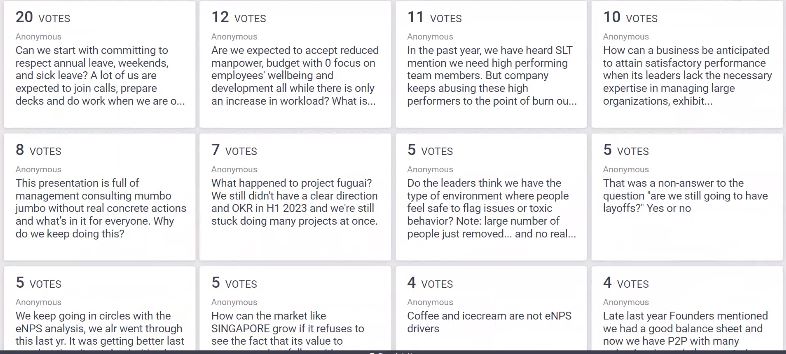 "The eNPS (Employee Net Promoter Score) have been tanking for a while now. P&C have tried all sorts of initiatives such as free food, anonymous surveys, townhalls, and announcement of a new office, but there's no use," said an ex-employee. 
Circles.Life claims that there have been no layoffs
In response to Vulcan Post's inquiries about the layoff on July 7, a spokesperson from Circles.Life refuted the claims. "There have been no layoffs at Circles," she said, and dismissed the remarks as "untrue". 
However, the ex-employees showed their "agreement of separation and release" from the company to Vulcan Post, contradicting the spokesperson's statement.
Other affected employees that Vulcan Post reached out to so far said that they are unable to comment on the matter as they are "under NDA (non-disclosure agreement)". 
On July 10, a Circles.Life spokesperson reached out to Vulcan Post reiterating that the "news of layoffs is untrue".
"We are well capitalised, continue to be focused on our business and progressing fast on the expansion of our footprint," she added.
According to the spokesperson, recruitment levels and employee turnover during the current period have remained consistent with previous periods. In fact, they are "going strong in recruitment" and have several open job opportunities lined up across various locations.
As of the end of the first half of 2023, their global headcount stands at over 600, which is slightly higher than at the beginning of the year.
The spokesperson also briefly touched on Abhishek's role, asserting that he "remains a co-founder and retains title since formation", with a strong vested interest in the company's success.
"We are thrilled about the prospects of 2023, as we expand our client base in the telecommunications industry and strengthen our consumer business across multiple markets, including Singapore. We have exciting updates planned for the remainder of the year," said the Circles.Life spokesperson.
Featured Image Credit: Circles.Life