Singapore-based healthcare group, Thomson Medical Group Limited (TMG), announced today (July 12) its acquisition of FV Hospital in Vietnam for up to US$381.4 million (~S$517.1 million).
This landmark deal marks Vietnam's largest healthcare transaction to date and Southeast Asia's most significant healthcare acquisition since 2020.
Under the terms of the sales and purchase agreement, TMG will purchase 100 per cent of Far East Medical Vietnam Limited (FEMV), which operates various healthcare facilities in Vietnam, including the renowned FV Hospital and a network of primary and specialist clinics.
The initial consideration for the acquisition is approximately US$359.6 million (~S$487.5 million), resulting in an enterprise value of US$328.5 million (~S$445.3 million) after price adjustments. According to TMG, it will finance the purchase using internal resources, external borrowings from financial institutions, and debt capital markets.
"The acquisition of FV Hospital deepens our commitment to the Southeast Asian healthcare sector, expanding our Group's presence across three of the region's most important geographies in healthcare. FV Hospital provides a strategic foothold for us in Vietnam and a gateway to grow and focus on future investments in this fast-growing market," said Kiat Lim, TMG's Executive Vice-Chairman, who initiated discussions with FV Hospital six months ago.
TMG expands its regional footprint
Established in 1979, TMG is a leading healthcare provider in Southeast Asia, operating in Singapore and Malaysia. Its subsidiary, Thomson Medical Pte Ltd, offers comprehensive healthcare services for women and children and operates the iconic Thomson Medical Centre along with specialist clinics and facilities providing various healthcare services.
With its strong brand equity and heritage, the SGX Mainboard-listed healthcare group aims to leverage FV Hospital's established track record and complement its existing operations.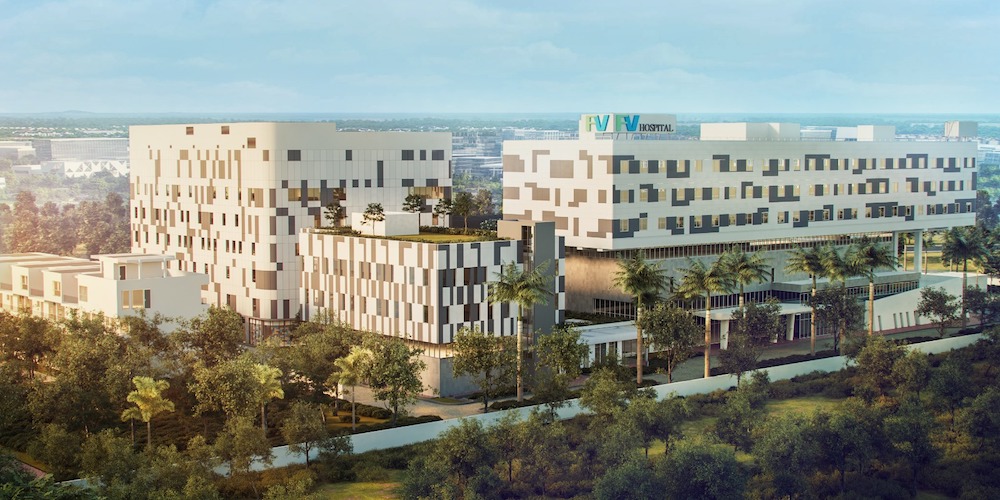 FV Hospital, founded in 2003 by Dr Jean-Marcel Guillon and a group of French physicians, has become a comprehensive healthcare provider in Ho Chi Minh City's District 7.
Accredited by the Joint Commission International, FV Hospital offers a wide range of medical specialties, including oncology, cardiology, ophthalmology, orthopaedics, maternity, and gastroenterology.
The hospital currently has nearly 200 operating beds and is undergoing expansion to add a seven-floor structure to its premises, housing advanced capabilities such as a PET scan, CyberKnife, bone marrow transplant unit, IVF and dialysis services, and extended outpatient services.
With over 1,600 staff members, including more than 200 Vietnamese and expatriate doctors, FV Hospital operates an outpatient clinic known as FV Saigon Clinic in Ho Chi Minh City's District 1. The acquisition also includes the American Chiropractic Clinic Ltd, a network of four clinics acquired in 2022 to expand chiropractic services and develop sports medicine.
"With the support of Thomson Medical moving forward, I am incredibly excited for the next phase of FV's growth journey. Together, we will continue to chart a path of continued success and shape the future of healthcare in Vietnam," said Dr Jean-Marcel Guillon, founder and CEO at FV Hospital.
TMG's acquisition of FV Hospital opens up a lucrative market in Vietnam and strengthens the group's expertise as a regional healthcare operator.
Vietnam's private healthcare market has experienced significant growth due to favourable macroeconomic factors, including rising healthcare expenditure driven by a growing middle class, an aging population, and an expanding expatriate community.
Vietnam aims to become an upper-middle-class country by 2035 and a high-income country by 2045. The country's medical tourism sector has also thrived, attracting patients from neighbouring countries.
"FV Hospital has been extremely successful in the past two decades in establishing itself as a premium general hospital. As part of TMG, we hope to work together to take their growth plans to the next level," said Kiat Lim.
Ultimately, the acquisition of FV Hospital positions TMG as a key player in Vietnam's healthcare sector and reinforces the group's commitment to expanding its regional footprint.
Featured Image Credit: Thomson Medical Group