Just days after Mark Zuckerberg launched a potential competitor to Twitter, Elon Musk rolled out the ad revenue sharing scheme announced in February, which is bound to make the platform's most popular account holders really happy.
In other words, Twitter is now paying its users — though only to those who qualify.
To be eligible, you must be subscribed to Twitter Blue (easy enough) and have clocked at least five million views on your posts over the past three months and pass a final, human review by Twitter staff.
The program is currently available in all countries that its payment processor Stripe is also available in, which include Singapore and Malaysia.
Once you're in, you're going to receive a share of the revenue on ads placed in replies to their tweets. One popular meme account, Internet Hall of Fame, reported netting US$107,000 in its first payment.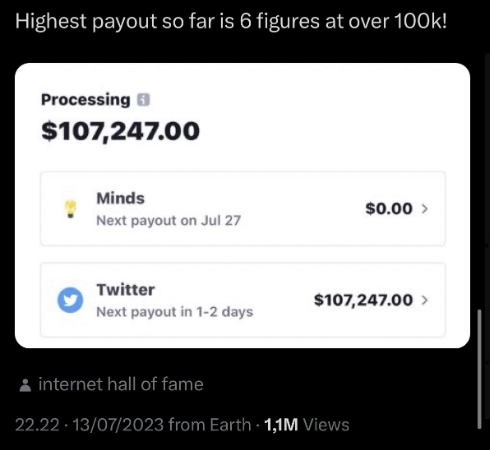 In other examples, Billy Markus — the creator of memecoin Doge, using alias Shibetoshi Nakamoto on Twitter — reported bagging US$37,000, while the popular but controversial internet figure, Andrew Tate, received US$20,000.
Another major internet celebrity, Mr. Beast, announced he's giving away his share of Twitter's ad revenue — around US$25,000 — to the author of the most liked reply under the following tweet.
It's important to clarify that these currently large sums are not monthly payments, but collective share backdated to February, when Elon Musk first announced the scheme:
This means that going forward, each monthly transfer is likely to be about one-fifth of what is reported today (still a decent side revenue for doing little else than tweeting to and with your followers).
While it's not a groundbreaking amount of money for the biggest names, it is going to be very important for hundreds of sociopolitical commentators (A-list celebrities have long monetised their Twitter following, to the tune of millions of dollars by simply getting paid by companies for promoting their products and services).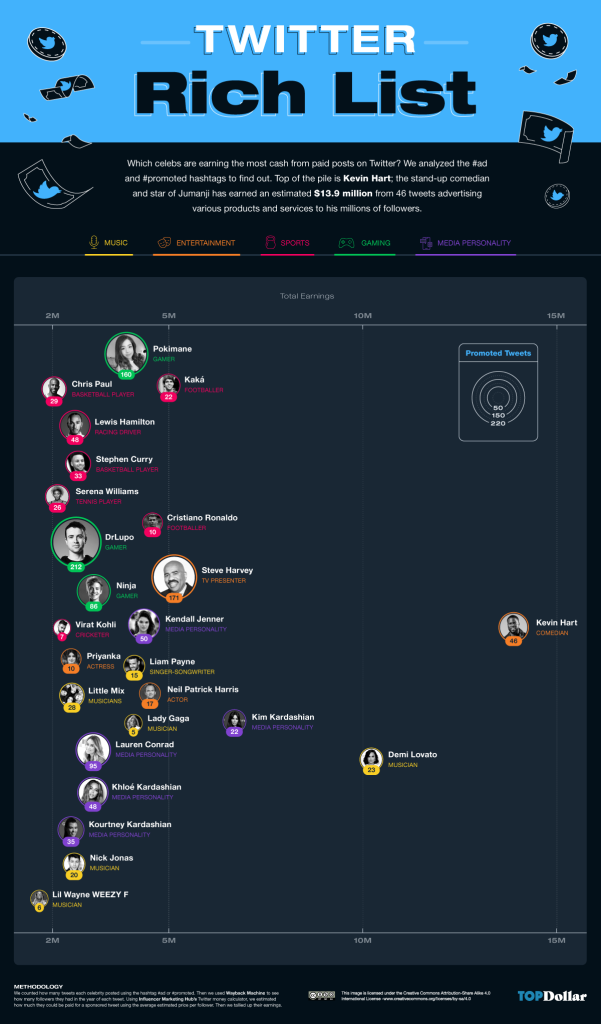 Sharing is caring… for Twitter
You might be wondering why Musk is giving away money when the company is still reporting negative cashflow and has suffered a 50 per cent drop in advertising revenue, with many businesses withholding spending after being spooked by the controversy surrounding the platform after its takeover.
But while Musk axed approximately 80 per cent of Twitter's headcount to cut costs, he also understands that value is generated not by staff, but users — particularly those who attract millions of eyeballs with their content.
The backbone of Twitter's existence is not in the A-listers sharing details of their lives on yet another app, but rather from hundreds or thousands of contributors, drawing millions of others to interact with them directly on the microblogging service.
By offering them a cut, Musk incentivises them not only to stick around, but to also come up with more eyeball-worthy content — just like what YouTube does in the video space.
It's likely that the programme is going to see some adjustments in the coming months, with rumours that Twitter is planning to adjust the criteria to admit more people into it.
The goal is surely going to be to calibrate it for the best results in terms of cost of boosting user activity — the rise in which should bring advertisers back, as Twitter is fighting to regain billions lost in revenue and multiply it in the coming years.
Sending a message that it is willing to share the spoils with its top users was a necessary step, and one which puts any wannabe competitors (like Zuckerberg's Threads) at a major disadvantage.
Whatever they come up with in response, we may be sure that all of us are only going to benefit in the process.
Featured Image Credit: Depositphotos