Homegrown online marketplace Carousell has partnered car-as-a-subscription company Carzuno to launch a car subscription service in Singapore today (July 18).
Called the Carousell Car Subscription, the fully digital end-to-end service provides Carousell users with further convenience by allowing them to rent cars — from choosing their preferred car to returning it — without leaving their home.
The car subscription service aims to address issues revolving the rising costs of living by providing Singaporeans with an alternative, affordable option to experience car ownership, without the residual value risk of potentially buying at record-high COE premiums.
Users will also be able to choose their preferred rental duration, ranging from one to 24 months. Additionally, they are granted the flexibility to change to different car models, be it to suit changing needs or to try out a model before committing to a purchase, without the hassle of traditional car rentals and car sharing.
Besides being known for being able to buy and sell secondhand cars, Carousell has the largest platform for rental cars in Singapore.

In recent years, we have had more requests to offer car subscription services as well, and we have seen growing demand globally, especially among eco-conscious drivers who want to use electric vehicles without the hefty price tag.

– Sanjay Shivkumar, Head of Autos, Carousell Singapore
Carousell lets you rent cars for as short as one month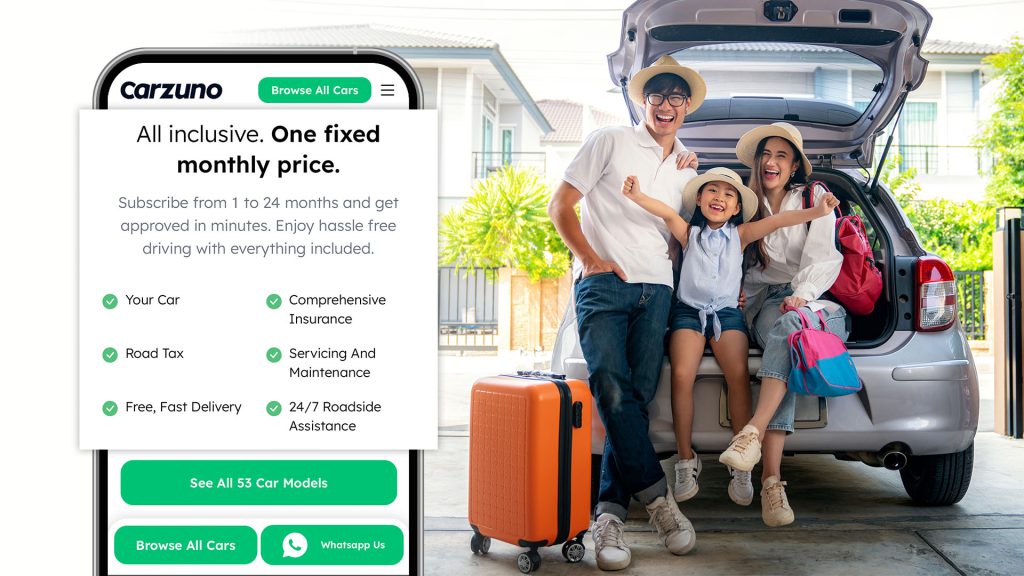 Above all, the Carousell Car Subscription offers a fuss-free solution to car ownership, covering expenses like insurance and road tax, maintenance and servicing, down payment, and bank loans.
According to Carousell, its all-in-one pricing is among one of the most competitive monthly subscription rates in the market, and it includes preferred car, comprehensive insurance, servicing, maintenance, 24/7 roadside assistance, unlimited mileage, and free doorstep delivery and return.
All prices are fully transparent on its website, and vary from car to car depending on the model and specs, which allows users to find a car that suits their budgets and needs.
For instance, the monthly fee for a 12-month subscription of a brand new 2023 Toyota Yaris Cross is S$2,199 per month, while the fee for the fully electric 2022 BYD E6 is S$2,499 per month for a 12-month subscription (as of writing).
As part of the Carousell Car Subscription's new launch promotion, Carousell and Carzuno will be offering an exclusive S$100 discount for all car rentals until the end of the year.
Combining Carousell's reach of one in three Singaporeans as monthly active users with our large fleet and variety of 50 car models, we are excited to give Singaporeans more flexibility and freedom in driving the car of their choice.

It is as simple as filling in a three-minute form, uploading a copy of your driver's licence, adding fuel to the car and enjoying your drive. Users can also have the peace of mind that the cars available are in tip-top condition from regular servicing and maintenance.

– Kim Jonsson, CEO, Carzuno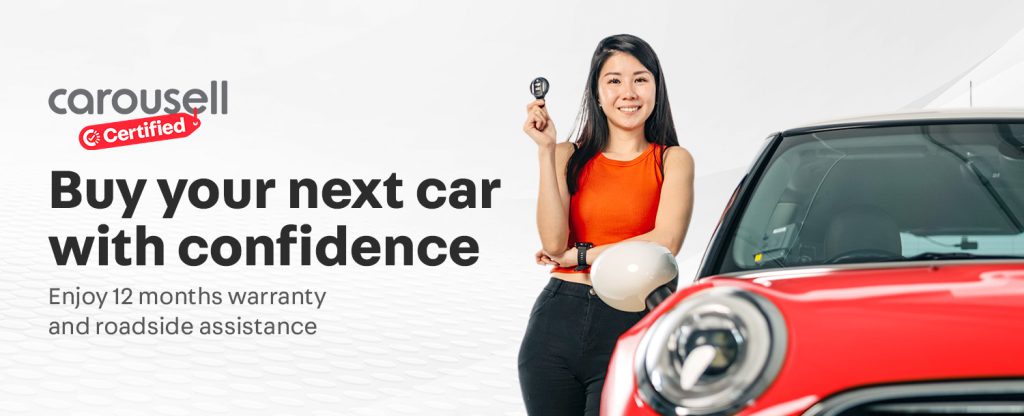 The launch of Carousell's car subscription services follows closely on the wheels of the Carousell Certified programme that launched in April 2023, which ensures that its buyers can choose secondhand items with the peace of mind that everything has been thoroughly checked for quality and authenticity.
Carousell Certified listings are available in the Cars, Luxury, Mobile, and Sneakers category with the "Certified" tag, and are sold by either Carousell Official Stores or from authorised Carousell Certified Partners.
Carousell Certified cars are inspected with a road test by certified mechanics and backed with a 12-month warranty on major vehicle components. Certified cars are priced fairly, backed by past and current market prices, and have no hidden costs.
Featured Image Credit: Carousell