Food delivery platform foodpanda has launched its on-demand parcel delivery service pandago in Malaysia, according to a press release on August 7, 2023.
The service was initially launched in Singapore in August 2022, an article on foodpanda's website stated. In December 2022, pandago was made available to customers in Thailand, Taiwan, and the Philippines.
Now available to Malaysians, access to the service can be found on the foodpanda app in a designated pandago tile.
Similar to services such as Lalamove and GrabExpress, pandago lets users request for foodpanda riders to deliver their items.
According to the press release, the 24/7, on-demand delivery service can fulfil users' deliveries in under 60 minutes. Meanwhile, their website shares that pandago can deliver over cross-zone borders up to 10km from your location.
"This makes it particularly convenient for users who want to deliver urgently needed items, such as perishables and essential documents, even in the wee hours," the release stated.
Said by the release to be available round-the-clock, some use cases of pandago include delivering urgently needed items, perishables, or surprise gifts.
Like foodpanda's food delivery service, customers of pandago will be able to track their deliveries and chat with the assigned delivery partner.
"Delivery is such a central part of our lives now and it has never been easier to deliver items such as medication, keys, documents, or items that you simply left behind at another location," said foodpanda Malaysia's CEO, Sayantan Das, in the August 7 release.  
It's been around
Interestingly, before launching this C2C service, the pandago service has actually been operating in Malaysia since 2021, but as a logistics-as-a-service (LaaS) solution for businesses who need an on-demand fleet to deliver orders, the release shared.
This B2C service is still available today and seems to be accessible on the pandago website.
According to the team, pandago doesn't charge onboarding or commission fees, which makes it easier on businesses' pockets.
Terms and conditions
According to the foodpanda app, parcels delivered through pandago must be 15kg or less, sealed in a bag or box, fit in a foodpanda rider's bag (43cm x 43cm x 41cm), and can't be dangerous, illegal, or restricted items.
Prohibited items include (but are not limited to):
Any item exceeding an aggregate value of RM200
Gold or silver ore, bullion, precious metals and stones, jewellery, and semi-precious stones including commercial carbons or industrial diamonds
Livestock, fish, insects, animals, plants, and plant material
Items classified as hazardous material, dangerous goods, prohibited or restricted articles by any government or regulatory agencies
Radioactive, incendiary, corrosive, or flammable substances, hazardous chemicals, explosives (including firecrackers), firearms or parts thereof, and ammunition
Any other items that are illegal, hazardous, dangerous, or otherwise restricted and prohibited under any statute or law or regulation for transportation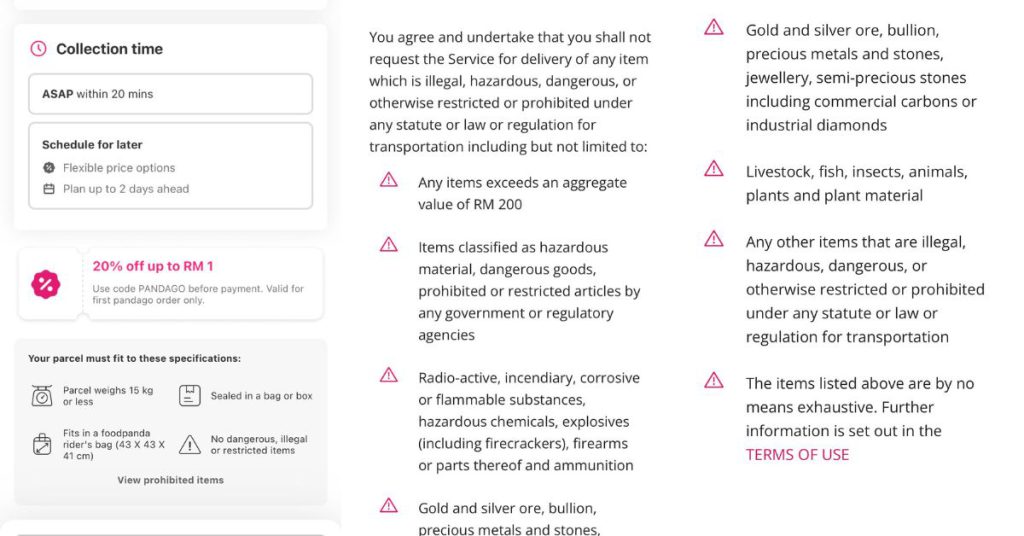 I've personally used on-demand delivery services to send devices such as phones that were above RM200, so it was surprising to see that such deliveries would not be allowed in pandago.
Looking up GrabExpress's terms and conditions, it seems like there isn't a limit to the value of items transported.
However, Lalamove's terms state that users warrant that the goods to be delivered by the delivery partner do not contain any items of an aggregate value exceeding RM500.
"You hereby agree that if you are desirous of insuring your goods, you shall procure your own insurance coverage," Lalamove's terms state.
Both Lalamove and GrabExpress do prohibit "valuable items" such as cash, passport, or other official identification documents, though.
Quite a competitive market
Both Lalamove and GrabExpress are examples of other services in Malaysia that do on-demand deliveries. Like pandago, Lalamove is available 24/7, while Grab Express' instant delivery services are available from 8AM to 11PM.
When we input the same collection and delivery locations, it appears that pandago is cheaper compared to GrabExpress as well as Lalamove at the time of writing.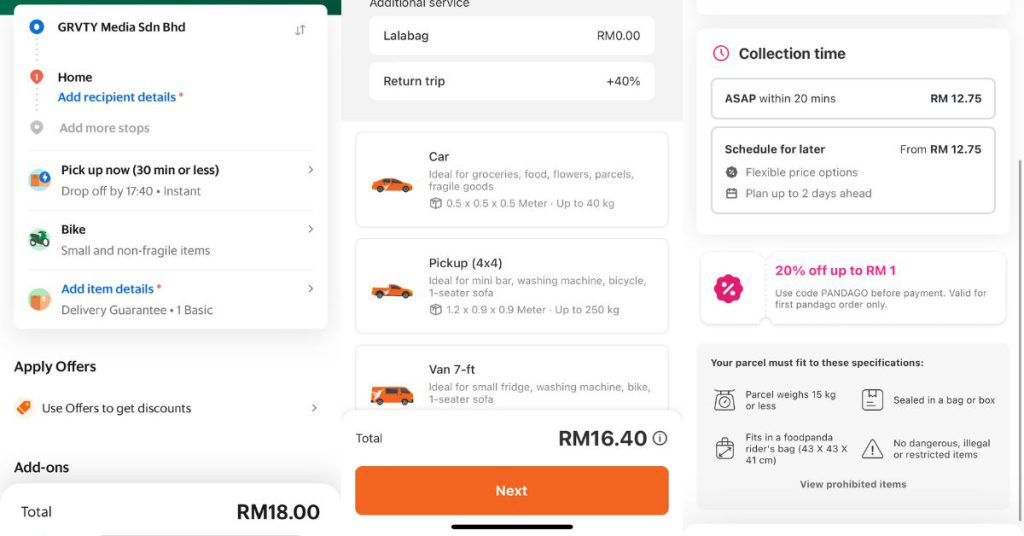 The price on GrabExpress was RM18, while Lalamove's price started at RM16.40 (for the motorcycle, which carries up to 10kg).  
Meanwhile, pandago's price started at RM12.75.
But considering that pandago is still a new service, I think there's a possibility that the prices are kept low for now to capture a market share in the competitive market.
pandago is also offering new users 20% off their first delivery with the voucher PANDAGO.
"With pandago, customers can simply send any small item off at any time of the day without busting their wallets," said foodpanda Malaysia's CEO, Sayantan Das, in the August 7 release.