Disclaimer: Any opinions expressed below belong solely to the author.
Every quarter, the Singapore Department of Statistics (SingStat) and the Economic Development Board (EDB) publish their ongoing business expectations surveys for the services and manufacturing sectors, polling 1,500 and around 400 companies respectively about their predictions regarding the coming six months.
Each of them covers the same basic three areas:
General business outlook
Output/revenue forecast
Employment forecast
Combined, they serve as a barometer of sentiments about the overall economic situation and challenges in their respective industries.
Fortunately, after a period of cautious moderation, positive sentiments appear to be returning almost everywhere — bringing good news to jobseekers as well.
Services
In the services sector, encompassing wholesale trade, retail trade, transportation & storage, accommodation, food & beverage services, information & communications, finance & insurance, real estate, professional and administrative & support services and recreation, community & personal services, the net average of companies having positive expectations ahead of the second half of the year is between eight and 10 percentage points — a noticeable boost over three to four per cent recorded in the first six months.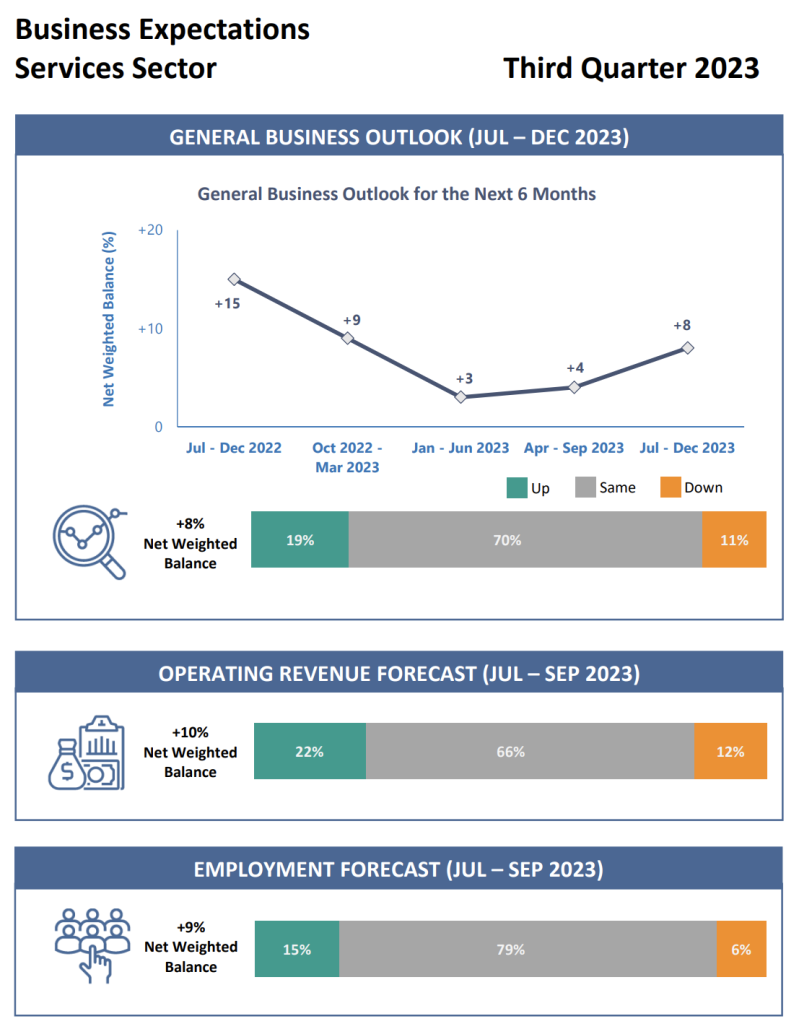 More companies expect higher revenues and, in line with better results, more of them expect to bring new employees on board, with only six per cent looking to cut their headcounts.
On a per industry basis, only wholesale trade is expecting conditions to deteriorate slightly, while most industries are looking forward to demonstrably higher revenues as well as increased employment.
Unsurprisingly, the positive sentiments are the highest in accommodation and recreation services, as international tourism continues its rebound to pre-pandemic levels (or even above them, perhaps).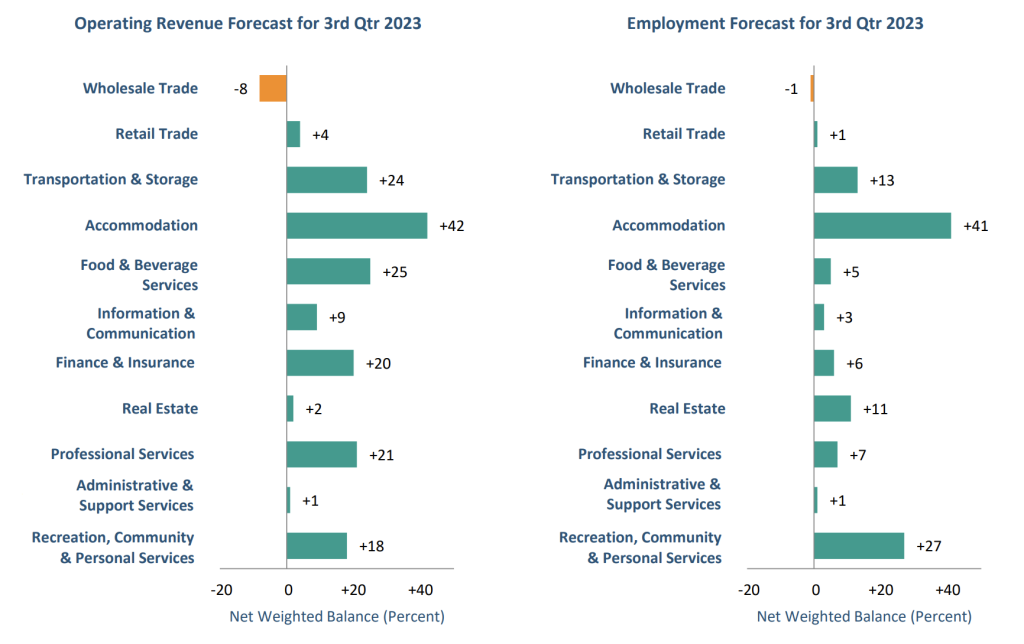 Anticipation of big events coming next year must be helping as well, as Singapore has garnered lots of positive publicity for becoming the unofficial regional hub for world-class entertainment, with multiple concerts of global stars like Taylor Swift and Coldplay scheduled here for early 2024.
Manufacturing
While services are the mainstay of Singapore's economy, manufacturing keeps playing an unusually large role for a developed country, but it's more prone to international volatility — particularly in the years of pandemic sways made worse by the Russian invasion of Ukraine, affecting everything from consumer demand, through availability and costs of logistical services to prices of resources and energy.
It's no surprise then, that it has exhibited far more pessimistic views over the past year, and it is therefore great to see a significant, positive reversal ahead of the second half of an otherwise slow 2023: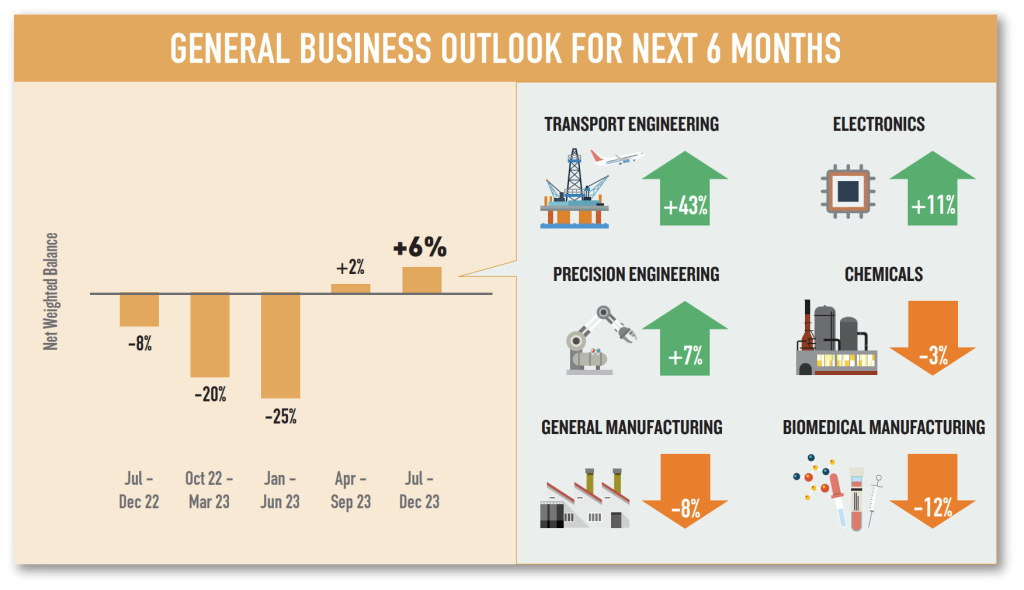 After a gloomy 12 months, following global slowdown caused by the war in Ukraine and soaring inflation, a majority of Singapore's manufacturers is finally optimistic about the coming six months — though, it has to be said, not all branches of the industry are equally upbeat.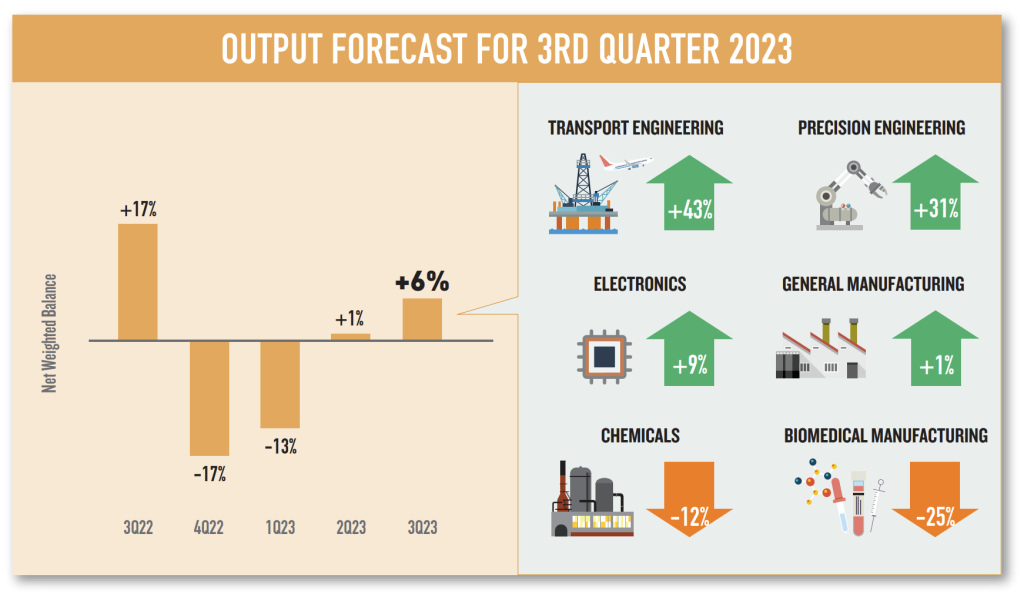 A similar percentage is expecting their output to increase, another reversal from earlier six to nine months when around two-thirds of establishments saw declining orders.
Most importantly, to regular Singaporeans however, industry's employment outlook is back to being positive again, after a general (on average) freeze on hiring earlier in the year.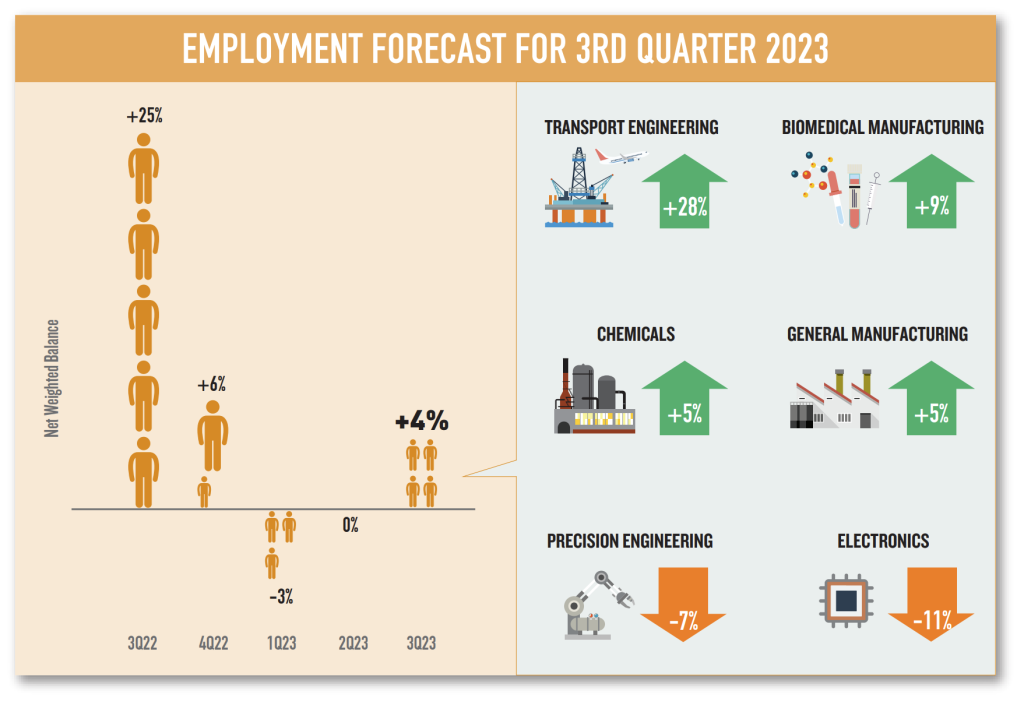 That said, expected cuts in employment in precision engineering and electronics — still dealing with a relative glut following pandemic years of shortages in the semiconductor business — remain worrisome.
Though perhaps not for long, as pledged investments (like the recently unveiled S$2.65 billion, 1,200-person factory by a local startup Silicon Box) are planned well in advance, to serve for many years, or decades, into the future, regardless of short term hiccups.
Overall, the business and employment outlook for Singapore's economy appears to be more positive than expected in a year when official estimates place GDP growth at just around 0.5 to 2.5 per cent. It is, perhaps, a bit more likely now that real performance ends up falling towards the upper end of this forecast.
Featured Image Credit: man64 / depositphotos