[This is a sponsored article with Time.]
Social media is full of trends, and brands can often be seen in a frenzy trying to recreate them.
However, jumping on trends solely for the sake of it can come off as inauthentic for both individuals and businesses, and will not guarantee that you'll get your desired results.
This is because the success of your content or marketing campaign still comes down to ensuring that the trend aligns with your brand identity, values, and target audience.
That will require investing time to understand how to adapt the trend to your brand, along with technical know-how and the right infrastructure to execute your vision.
If you're at a loss for how to properly grow your business's social media presence, you might be relieved to know that there are resources available to help.
Time Digital Masterclass 2023 is one of them, and it's where SME owners like you can be empowered and gain insights into crafting your own success in the digital sphere.
Organised by Time, these masterclasses will be held every month, and so far, they've already had one session in July which looked at how SMEs could master livestreaming with TikTok Shop.
With the next digital class happening on August 24, 2023, here's what you can expect when attending the free hour-long session.
Take advantage of the power of content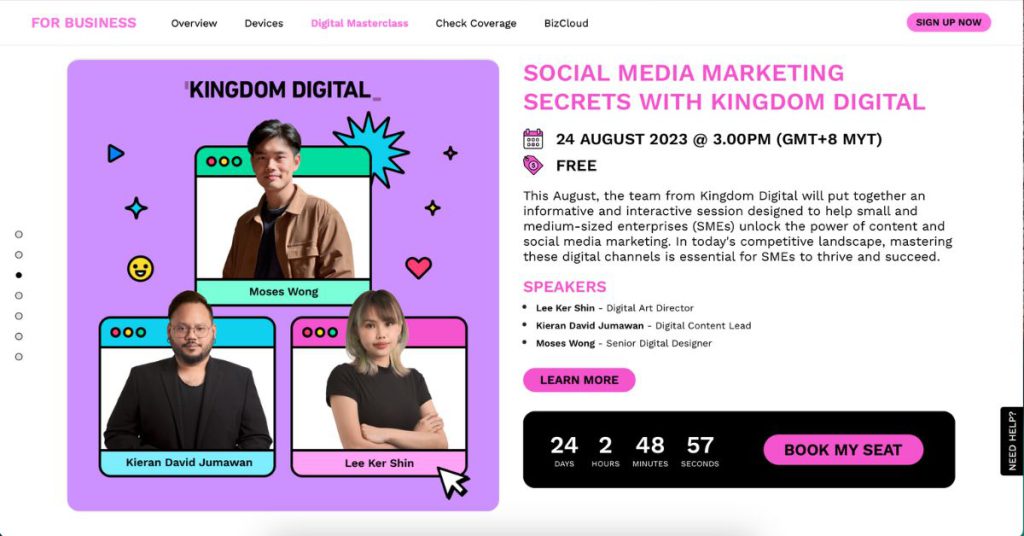 In today's competitive landscape, mastering social media is essential for your SME to thrive and engage with existing or prospective customers.
Titled, "Unlock the Secrets of Social Media Marketing with Kingdom Digital," the upcoming webinar will be an informative and interactive one to help you curate content for your brand.
For example, you'll learn the skills to identify industry trends, benchmark against the competition, and recognise untapped opportunities for your SME.
As choosing the right social media platforms is crucial in reaching the right people, the session will also guide you in determining which platforms align best with your business goals and target audience.
You'll learn strategies for maximising your reach, engagement, and conversions on the right platforms via the social media marketing tips that will be discussed in this masterclass.
The speakers for this session will feature the team at Kingdom Digital, a social marketing agency in SEA that creates insight-driven digital advertising campaigns. Some notable campaigns the agency has worked on include the social media content for Grab, PropertyGuru, and BOH.
You'll hear from Lee Ker Shin and Kieran David Jumawan, who are the company's Digital Art Director and Digital Content Lead respectively.
Kingdom Digital's Senior Digital Designer, Moses Wong, will be joining them too. Moses himself is an influencer, and there's a chance you've seen him online, what with his 1.7 million follower count on TikTok.
The trio will delve into the critical aspects of building strong relationships with your target audience, using case studies on select brands to illustrate examples.
Get suitable infrastructure for the job
Posting up content on social media requires a stable internet connection with fast upload and download speeds.
Hence, using an unreliable internet service provider can negatively impact your productivity.
That's why Time provides internet subscription services (choice of 100Mbps or 300Mbps packages) tailored specifically for small businesses, ensuring smooth and efficient online operations.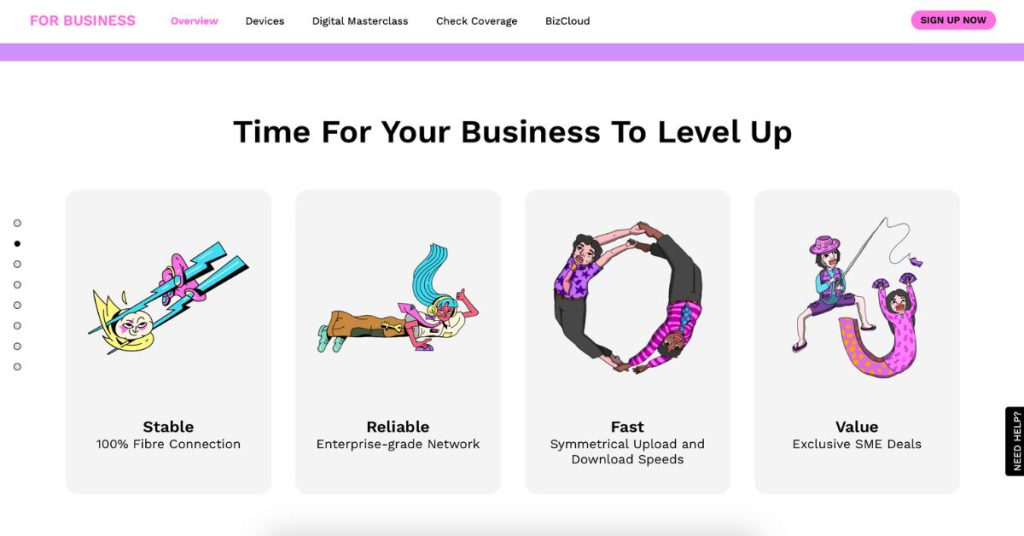 You'll get a 100% fibre enterprise-grade network that also comes with a fast and symmetrical connection, which makes uploading and posting content on your social media pages a seamless experience.
With Time's services at your disposal and the know-how from their webinars, you'll be able to find the confidence to capture the right online audience for your brand.
Featured Image Credit: Vulcan Post