Chelsea Law, a Senior Principal Podiatrist and Manager of Podiatry at Khoo Teck Puat Hospital (KTPH), has devoted her career to diabetic foot management and advanced wound therapy. 
Starting out at a time when podiatrists were scarce, Chelsea thrived in the fast-paced environment of an acute hospital, experiencing a steep learning curve that honed her skills.
As a podiatrist, Chelsea's role extended beyond just caring for her patients' lower limbs. She also provided bedside debridement of wounds, offered appropriate dressings, educated patients and caregivers on wound care techniques, as well as explored offloading techniques to aid wound healing.
Many of her caseloads primarily consisted of high-risk foot conditions, with a significant focus on diabetic wounds, both in inpatient and outpatient settings.
The joy of witnessing wounds improve, even when amputation seemed imminent, is deeply gratifying and forms the bedrock of Chelsea's commitment.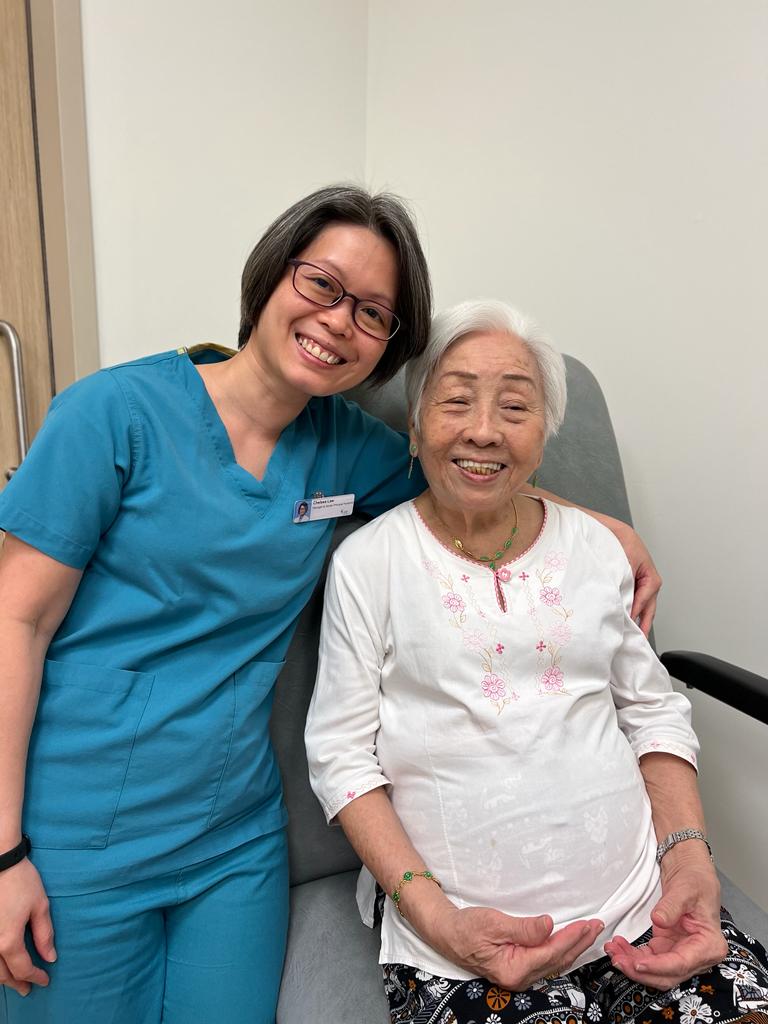 She recounted a long-standing diabetic patient with complications, including infected ulcers on both limbs. The patient faced high amputation risk so the medical team employed various interventions such as surgery, wound therapy and angioplasty, to enhance healing prospects.
Despite a prolonged hospital stay due to depression and complex wound problems, the team's efforts led to the patient's successful discharge with both limbs preserved.
"This field is particularly fulfilling because what you do may not just heal the person's wound, but can be life-changing to the individuals and the family affected," said Chelsea.
Pioneering multidisciplinary diabetic foot services
Beyond treating ailments, Chelsea is also driven by the meaningful experiences she encounters daily, and the genuine connections she nurtured with patients and colleagues over time.
Working together with dedicated clinicians from diverse specialties like endocrinologists, diabetes nurse educators, vascular surgeons and orthopaedic surgeons, they shared a common goal of improving the care of patients with diabetic foot ulcers.
This multidisciplinary approach ignited Chelsea's passion for wound management, and ultimately led her to establish joint-consult clinics focused on diabetic foot services.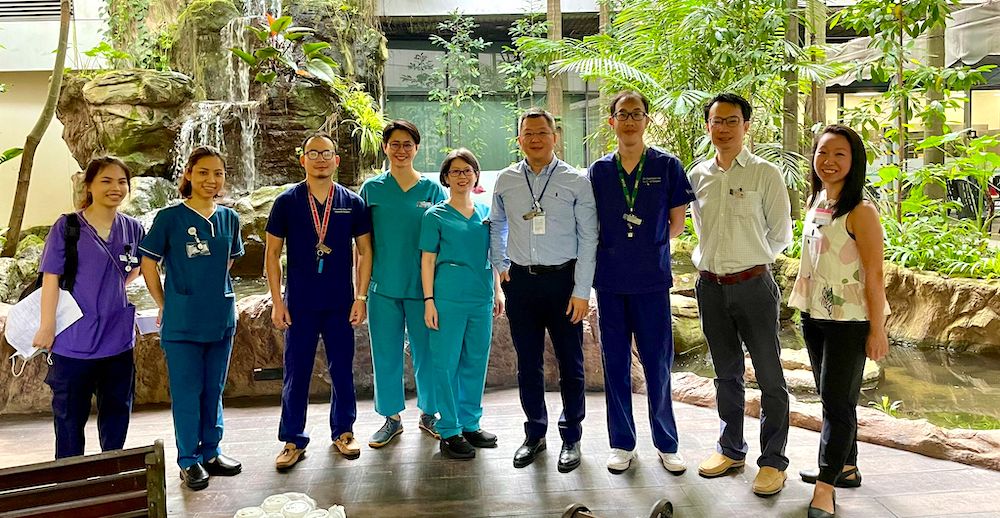 In this setup, patients get a consolidated care plan that is collectively deliberated upon by various disciplines, with senior doctors leading these discussions.
Nurses, podiatrists and physiotherapists are also encouraged to contribute their thoughts and concerns on patient care plans. This approach yielded diverse insights, which proved valuable in identifying potential patient issues.
"[Such] collaboration helps us understand the patient better and allows us to care for them more holistically – caring for them as a whole, and not just the 'hole' in their feet," said Chelsea.
Creating affordable diabetic footwear
When it comes to diabetic foot management, Chelsea wanted to particularly address an often-overlooked aspect: appropriate footwear.
"Injuries from footwear make up quite a proportion of the wounds we see in the clinic, and many could be due to the use of inappropriate footwear," said Chelsea.
She added that for diabetic individuals with reduced sensation, the ill-fitting nature of their footwear may go unnoticed, leading to direct pressure over bony areas, causing blisters and subsequent injuries.
Furthermore, the footwear provided by healthcare institutions tended to be unattractive, bulky and often shunned by patients. In fact, many patients only wore them during their appointments to avoid publicly highlighting their foot issues.
Chelsea and her team also noticed there were limited "medical" shoes in the market. The few available choices were primarily sourced from overseas, leading to hefty price tags ranging from S$100 to S$400 per pair.
"Those that are labelled "diabetic" often are expensive and not affordable for the many patients who are heavily laden with multiple medications and outpatient or inpatient bills," said Chelsea.
This prompted the team to work on developing an affordable footwear that delivered therapeutic benefits while circumventing the overtly "medical" look.
They worked directly with manufacturers to keep costs low, offering it at just one-third the cost of typical commercial diabetic footwear.
Their shoes are also designed with a spacious toe box to accommodate patients with minor toe deformities, coupled with increased depth for insoles, velcro straps for convenience, and soft linings to prevent abrasion.
Additional features include a cushioned midsole, breathable mesh upper for moisture-wicking, rocker-bottom outsoles for better gait, and supportive midsole and heel counter for stability.
"Looking back, it's extremely satisfying and also gratifying to be able to fully see the sale of this product to my patients, even though it was super challenging over the years," she said, attributing the project's success to the company's support and seed funding.
Through her groundbreaking diabetic footwear project and multidisciplinary initiatives, Chelsea has set a precedent for collaborative care, kindling the flames of innovation in others and inspiring them to embark on similar transformative journeys.
Her contributions continue to pave the way for a brighter future in podiatry and allied health, leaving a lasting impact on countless lives she has touched along the way.
Making a difference in healthcare sector
With decades of experience in this field, Chelsea takes pride in developing and grooming the next generation of the workforce. She recalls how there were only less than 20 podiatrists in the whole of Singapore when she first started her career, many of whom were expatriates.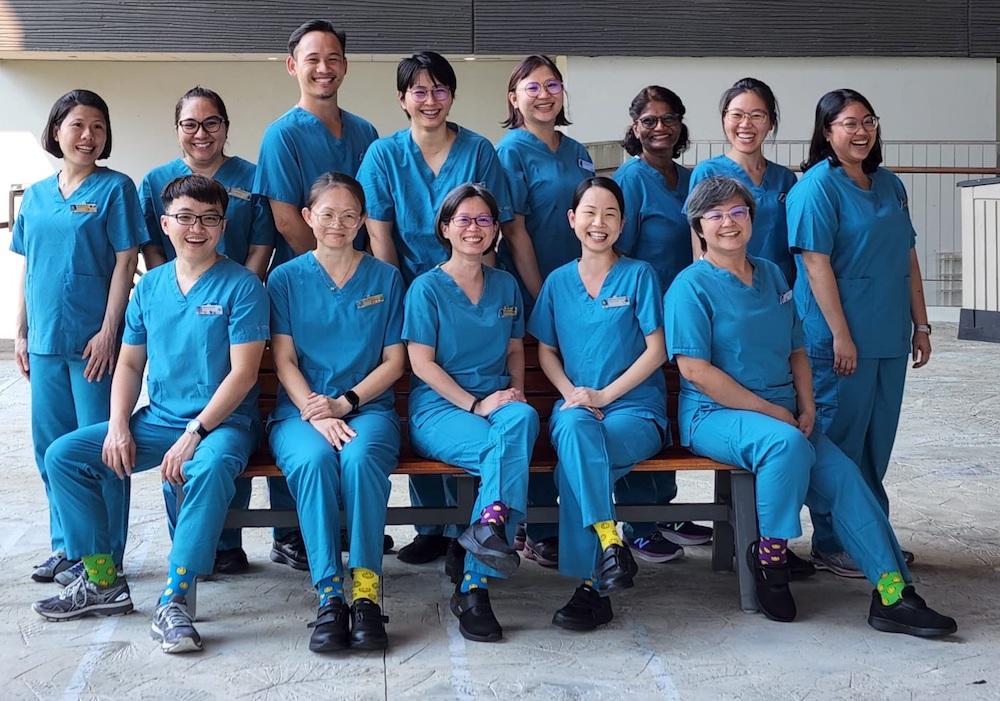 Over the years, the field has seen dedicated individuals contributing to mentoring and shaping young podiatrists, progressively elevating the profile and awareness of podiatrists.
"We have come far from where we were years ago, with many young podiatrists doing better than us, spreading their influences internationally and specialising and deepening their knowledge and skills in the various domains of the professions," said Chelsea.
Although podiatry remains a niche profession in Singapore, there are numerous career paths for podiatrists to explore.
Some institutions have recently introduced career development frameworks for these allied health professionals, allowing podiatrists to specialise in various areas such as high-risk foot management, sports podiatry, musculoskeletal management, and paediatrics.
Undoubtedly, acquiring deeper knowledge and expertise in these areas can open doors to abundant job opportunities. The allied health sector provides an array of specialised areas to explore, offering an avenue for personal growth and professional fulfilment.
"Work has been meaningful to me personally when I know that my skills and knowledge have helped patients that I have come across to improve their foot health, prevent amputations, and hopefully, their overall quality of life," said Chelsea.
If you're seeking a fulfilling career that not only empowers you to make a tangible difference in people's lives, but also offers opportunities for growth, now is the time to consider a career or mid-career transition into allied health.
You can find out more about what it takes to be an allied health professional here. By joining this dynamic field, you can follow in Chelsea's footsteps, contributing to the well-being of others and leaving an enduring legacy of positive change.
This article was written in collaboration with the MOH Holdings team for the Care To Go Beyond campaign.
Featured Image Credit: Chelsea Law