While most 21-year-olds in Singapore would usually be busy pursuing their academic paths, Mark Zubovskyy has decided to embark on a different path. In order to keep his family business afloat, Mark had decided to drop out from university.
From basic managerial duties to marketing and the leasing of supplies, the Ukraine-born is currently helping his parents, Vadim Zubovskyy and Alena Zubovska, run their Slavic restaurant, Kapitan.sg, with the occasional help from his sister who is currently in secondary school.
Running a restaurant, let alone at a very young age, was all "very foreign" for him, but he was left with no choice but to pick up the skills needed to efficiently run the business.
Kapitan.sg had been in the red for a couple of months, and given that his parents had taken up business loans to open up the restaurant, bankruptcy was a growing concern for the family.
But what led them to this situation in the first place?
His family moved to Singapore in 2004
A job opening in the shipping industry brought Vadim and wife, together with then two-year-old Mark, from Ukraine to Singapore back in 2004. Prior to moving to Singapore, Vadim spent a decade at sea as a ship captain.
After settling in the city-state, the couple — who are both Russian nationals but grew up in Ukraine — welcomed their daughter. Both their children received their education in local neighbourhood schools and today, the family are Permanent Residents of Singapore.
Growing up, Mark fondly recalled that they rarely dined out because his mother often prepared home-cooked meals.
Eventually, she started cooking for her friends who had been longing Slavic food. But as she continued to serve these homemade dishes to her friends and acquaintances, the family realised that there was an untapped demand for authentic Slavic food in Singapore.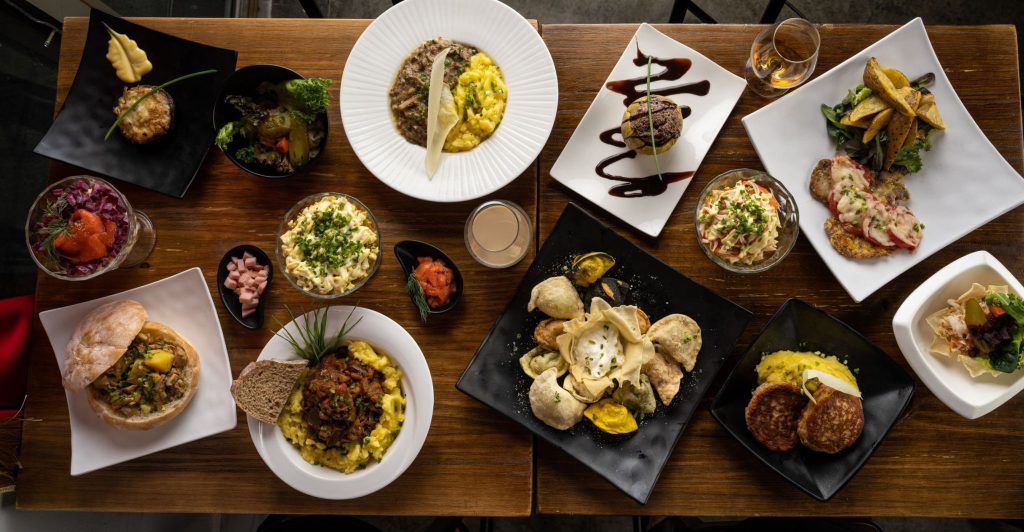 As such, they decided to take a leap of faith and ventured into the F&B industry with Kapitan.sg that aims to not only satisfy the cravings of those missing home-cooked Slavic meals, but also introduce Eastern European cuisine to new audiences in Singapore.
Kapitan.sg specialises in serving pelmeni and vareniki, Slavic-style boiled dumplings. These dumplings are made from scratch everyday, and have much thicker, doughy skin as compared to Chinese dumplings.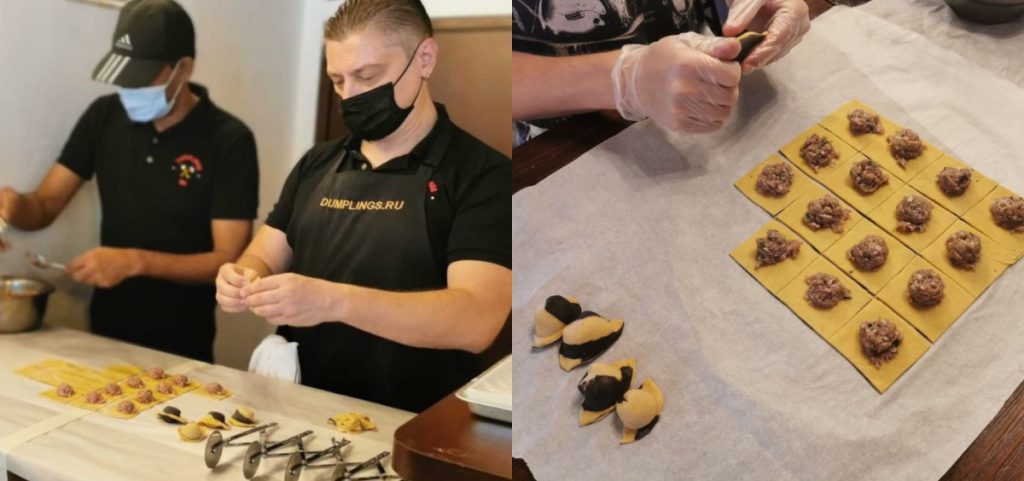 The Russian pelmeni is typically stuffed with a variety of meat fillings like beef, pork, salmon and mutton, while Ukrainian vareniki has veggie options like mushroom, sauerkraut and curd cheese.
Aside from dumplings, the restaurant also sells traditional Slavic beverages such as Kompot (a drink made of slow-boiled fruits and berries) and they infuse their own vodka, including chilli vodka, which is one of their best-sellers.
They poured their life savings into the restaurant
Prior to establishing itself as a restaurant, Kapitan.sg started off as a humble food kiosk called Angmoh Dumplings at the basement of Tanjong Pagar MRT station. Mark shared that his parents invested about S$20,000 to S$30,000 to get the kiosk up and running in late 2019.
It was initially set up as a means to "test the waters" and gauge the reaction of Singaporeans, given that Russian food was generally quite rare to find across the city-state.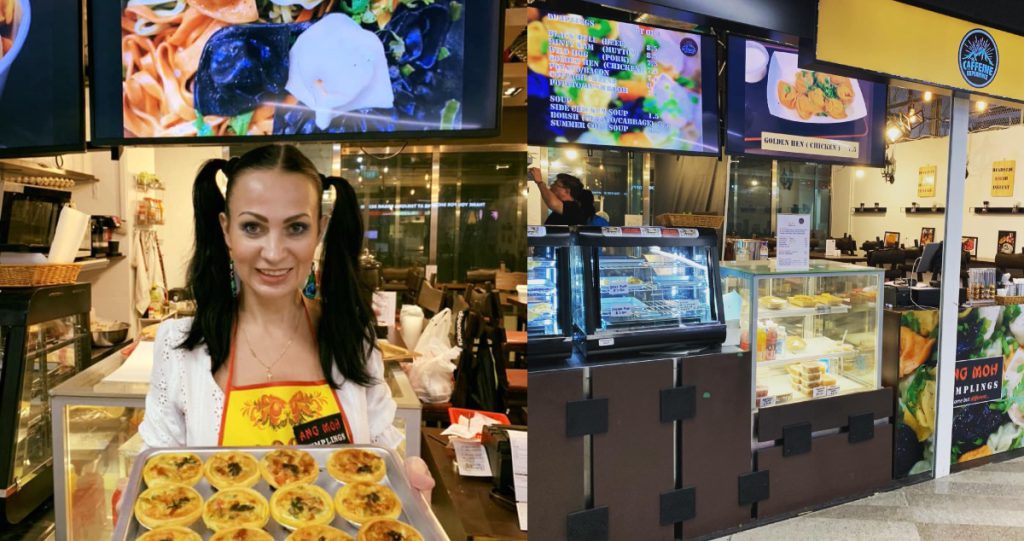 In fact, it is the only Russian-owned kiosk that served authentic family-owned Slavic recipes that are said to have been passed down from over a century ago. Apart from the kiosk, there is only one other Russian restaurant in Singapore, though it is heavily influenced by Hainanese cuisine.
Being the only Russian-owned Slavic restaurant in Singapore eventually played to their advantage — the unique cuisine offered by the restaurant quickly piqued the curiosity of Singaporeans, leading to a growing demand for their offerings.
Hence, when the chance arose to open up a restaurant at a bigger space (which was more than five times larger than the kiosk) in Maxwell Chambers, they quickly seized the opportunity.
"[Maxwell Chambers] has a central location — it's at the heart of Singapore's CBD and is right next to the MRT, with a good walking visibility. We thought it was a very, very good location," said Mark, adding that they sunk "their entire family's life savings" totalling S$50,000 to S$70,000 to set up the space in 2020.
At the peak of the pandemic, they only had one staff
While the cuisine served by the restaurant was well-received by Singaporeans at the time, the journey of running an F&B establishment successfully was no easy feat, especially since Vadim and Alena lacked experience in the industry.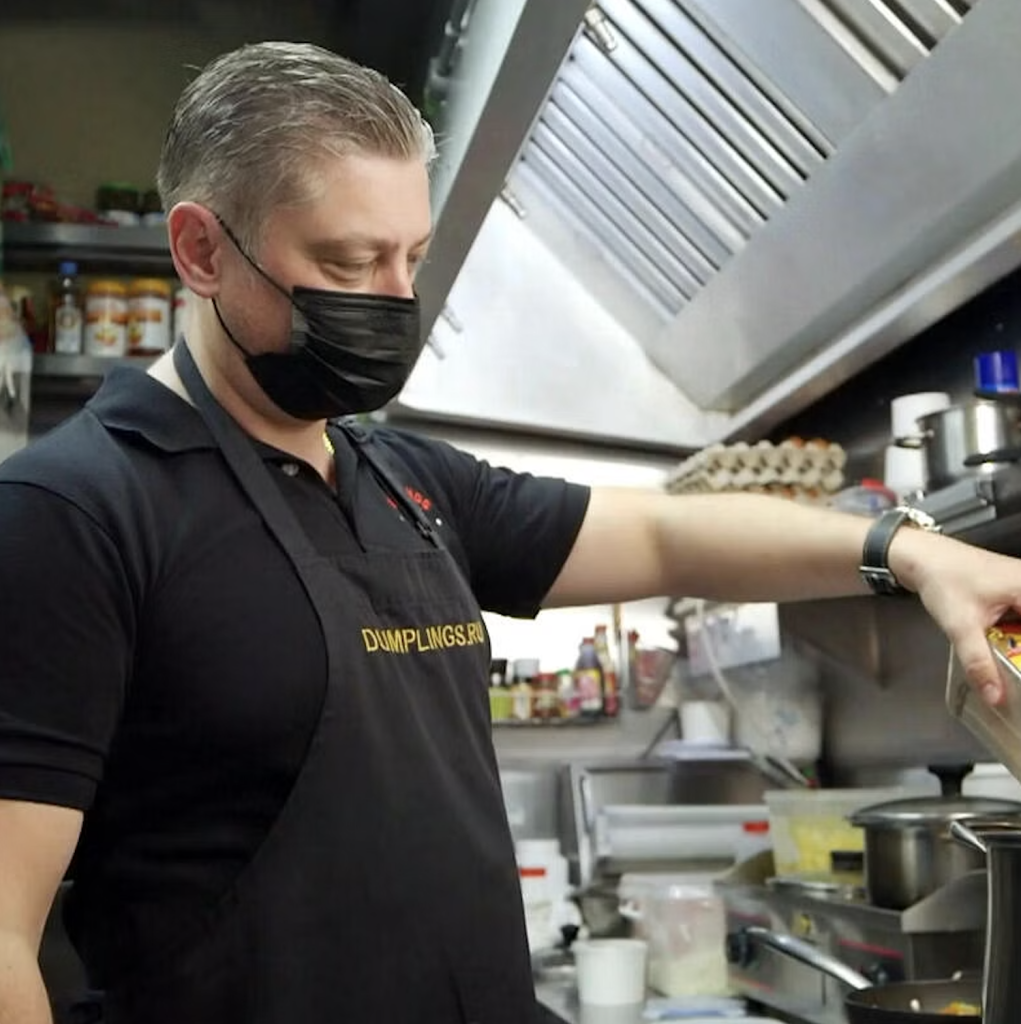 They had no prior experience at all — my dad spent his life working in maritime, and my mom was a housewife. So by deciding to run a restaurant, they really had to learn a lot on the spot. But I also feel like that's the best way to learn. As they worked, they picked up a lot of things.

– Mark Zubovskyy
The onset of COVID-19 also brought about more challenges for the business, especially since the lockdown restrictions were implemented three months after the restaurant's opening.
"We couldn't serve dine-in customers at all, and being a fairly new business, our name wasn't really out there yet," he explained.
Mark admitted that the restaurant found it "rather difficult to survive". It only managed to make it through the pandemic by leveraging government subsidies and cutting down their headcount. In fact, at the peak of the pandemic, it was operating with only one full-time staff, with Vadim at the helm of the restaurant.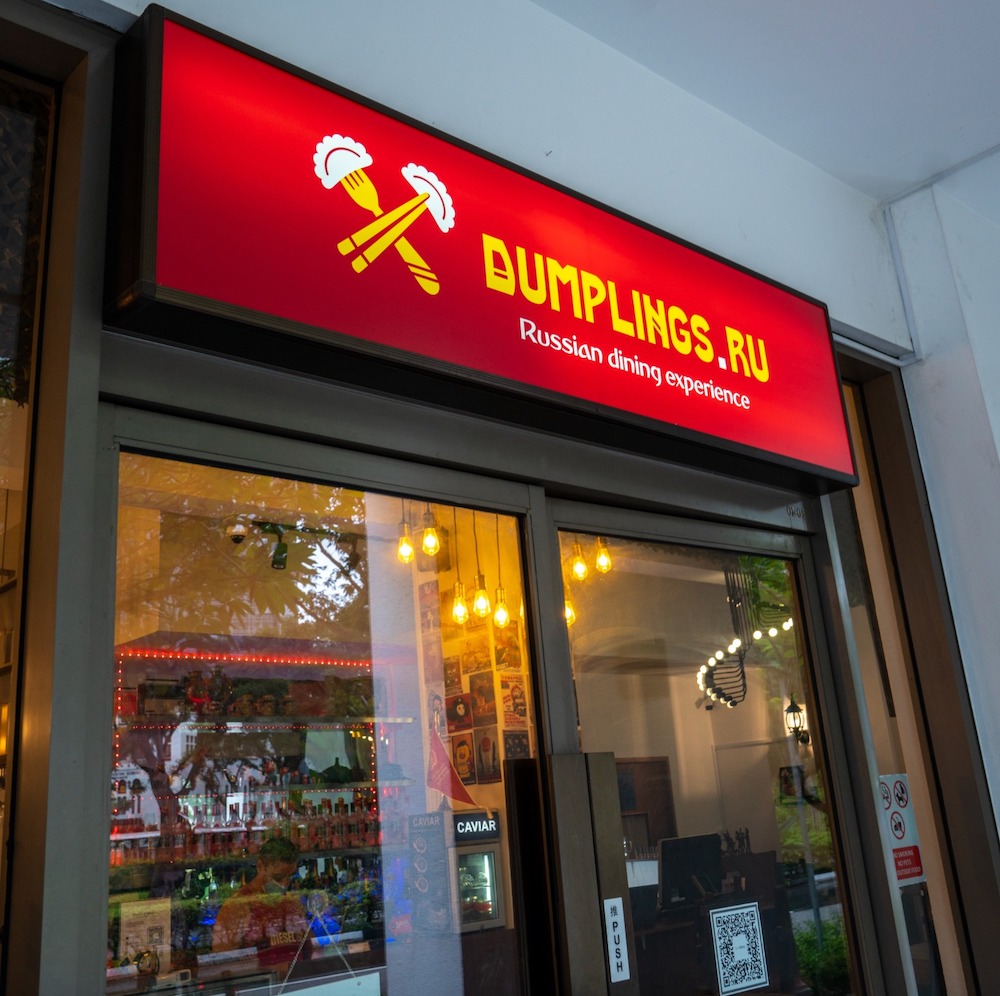 In addition to these measures, the restaurant also strategically rebranded themselves from Angmoh Dumplings to Dumplings.ru in order to market the restaurant as one that focused on Russian food.
"Before this, the name of our restaurant was too [generic]. People would assume that we were just a restaurant selling dumplings," explained Mark.
He gave up studying in NTU to save the family business
Just when its business picked up again, the onslaught of the Russia-Ukraine war dealt another blow to the business. The Slavic restaurant's social media pages were bombarded with negative comments, with some even accusing it of taking advantage of the conflict in Ukraine to promote Russian food.
"The negative comments escalated quickly — some asked me to change the name of my restaurant, and someone even asked me to get Putin to stop the war," Vadim told The Straits Times in a separate interview.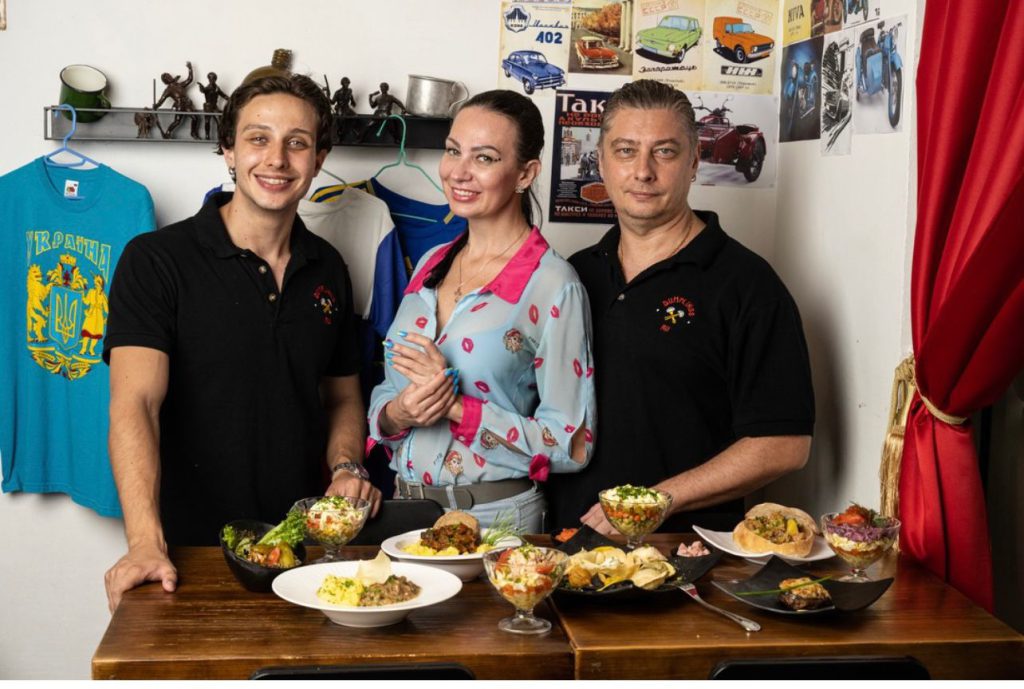 Given the precarious situation the restaurant was in, Mark decided to join the business full-time last year despite securing a spot for Nanyang Technological University's Maritime Business undergraduate degree intake.
Rather than spending money for a degree, he decided that it was best for the money to be utilised for the restaurant. Every month, Mark shared that it costs S$55,000 to keep the restaurant up and running.
Rent and utilities cost S$14,000, and salaries for four full-time staff comes up to S$15,000. Inventory, including raw ingredients, cost another S$18,000, while business loan repayments and miscellaneous expenses take up another S$8,000.
While Mark had decided to drop out from university, his family also had to significantly downgrade their lifestyle in order to finance the business.
Our bank account is going down, down, down. We have already changed our car to a basic one for picking up goods, and my dad sold his motorbike. He really loves his motorbike, but I hope in the future, if it all goes well, I can buy another one for him. We just pray.

– Mark Zubovskyy
The 21-year-old shared that he only draws a salary that is just enough to cover his basic living expenses, which is usually between S$1,000 to S$2,000 every month. Additionally, he takes up modelling gigs on the side to support himself and to keep the amount he draws from the business as his salary to a minimum.
From backlash to breakeven
Following the backlash, the restaurant underwent a second rebranding, changing its name from Dumplings.ru to Borscht.
The rebrand to Borscht, which is also a traditional Ukrainian dish, was driven by their aim to shift the restaurant's focus from solely serving Russian cuisine to offering a broader range of Slavic dishes.
To address the negative comments, Mark and his parents also took to social media to urge users to be kinder in their words. 
"We do hope that people can be kinder in their words and refrain from leaving further hate speech in this humble space that we have created," the Slavic restaurant said in a lengthy post on Facebook.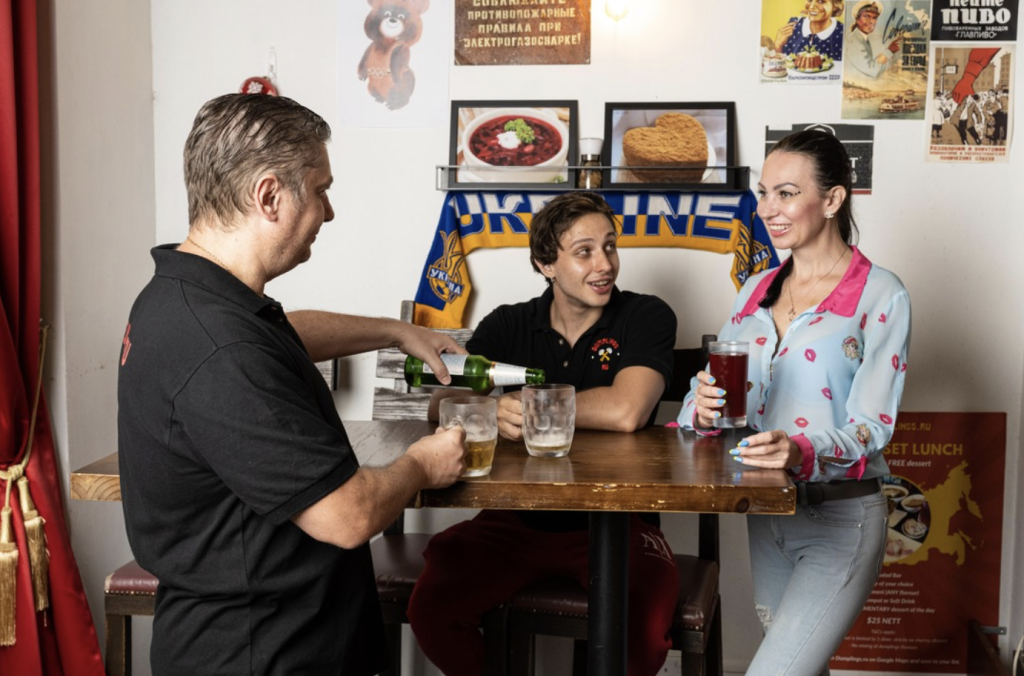 Additionally, they donated 10 per cent of their delivery sales to aid Ukraine, providing support to those in distress due to the conflict. This act of generosity garnered widespread attention from multiple media platforms, resulting in a significant influx of customers eager to show their support for the restaurant.
"I would say our sales increased at least twice — we were packed for lunch and dinner. We were even struggling to meet the demand for our dumplings, because all of our dumplings are handmade," Mark shared.
Unfortunately, as media interest died down, so did demand.
I would say our latest challenge since then has been retaining customers. We've been here for three years and we realise that while people enjoy the food, its not something they eat everyday. It's more of an exotic cuisine.

And that's where our issue lies — the retention is just not high enough. We were in the red for the past couple of months.

– Mark Zubovskyy
This was why the business decided to implement several new strategies aimed at improving their customer retention rates.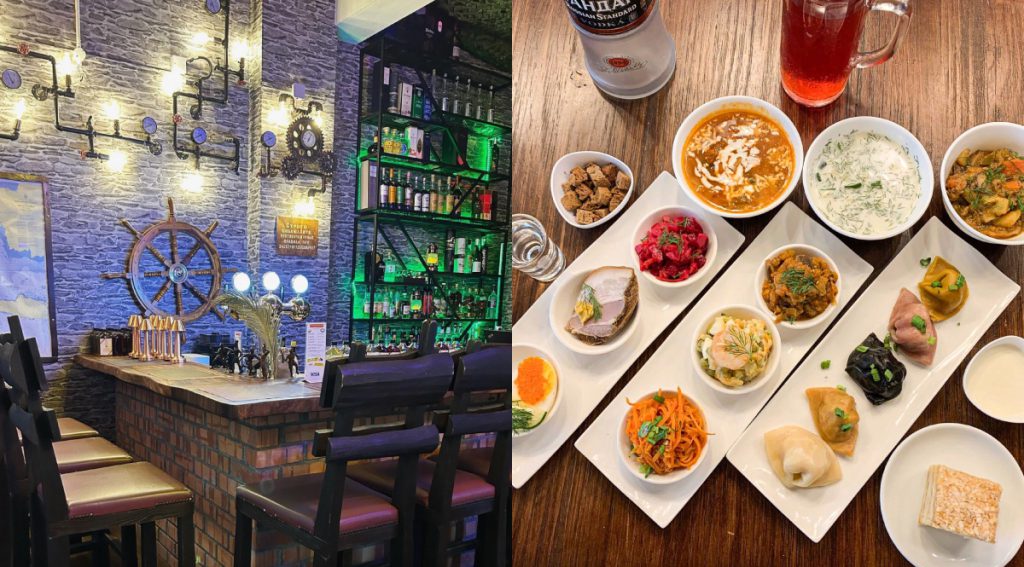 Earlier this year, the Slavic restaurant underwent another rebranding to Kapitan.sg. While still offering Slavic cuisine with a focus on Ukrainian and Russian dishes, they decided to expand their menu to include offerings from Germany, Poland, and Belarus.
Besides these dishes, the business is also currently working on some Singaporean-Slavic fusion dishes to suit the taste preferences of Singaporeans. In the long run, it also hopes to open a halal outlet.
Alongside the rebranding, Kapitan.sg has ramped up its marketing efforts by leveraging social media. Remarkably, their venture into TikTok proved to be a resounding success.
"We decided to give it a try, and to our delight, our very first video went viral. We are immensely grateful and thrilled because we've witnessed an influx of customers who discovered us through TikTok, with some visiting our restaurant within just two or three days after seeing our TikTok content," shared Mark.
Since the business went viral on TikTok, Kapitan.sg is now on the road to breakeven. As for Mark, the 21-year-old has plans to go back to university. However, these plans are likely to be on hold for the next couple of years as his main focus is on leading the business to success.
The overall goal [for Kapitan.sg] is to bring our food and share our culture in Singapore. A lot of cuisines are very established in Singapore — Spanish, Italian, Mexican — and the people are familiar with these cuisines.

Slavic cuisine, on the other hand, is still very foreign. That's why we want to share our culture and experiences with Singaporeans.

– Mark Zubvoskyy
Featured Image Credit: Kapitan.sg