If you want to ask Poesy Liang to introduce herself, don't. Having answered it for what feels like a million times, the artist finds it to be one of the "most dreary" questions to be asked.
After all, stories from Poesy's life can be found all over the internet, with the sources ranging from her own website to countless articles in the media. To summarise, though, Poesy is an artist who has been known for not just her art, but also her social movements such as the Bald Empathy Movement.
However, there are some stories still that haven't been divulged. Stories such as the one she will soon tell through her very own documentary.
Titled The Rooftop Cat Has Nine Lives, Poesy launched a crowdfunding campaign for it on September 9 on MyStartr. The Rooftop Cat is also the name of her art series.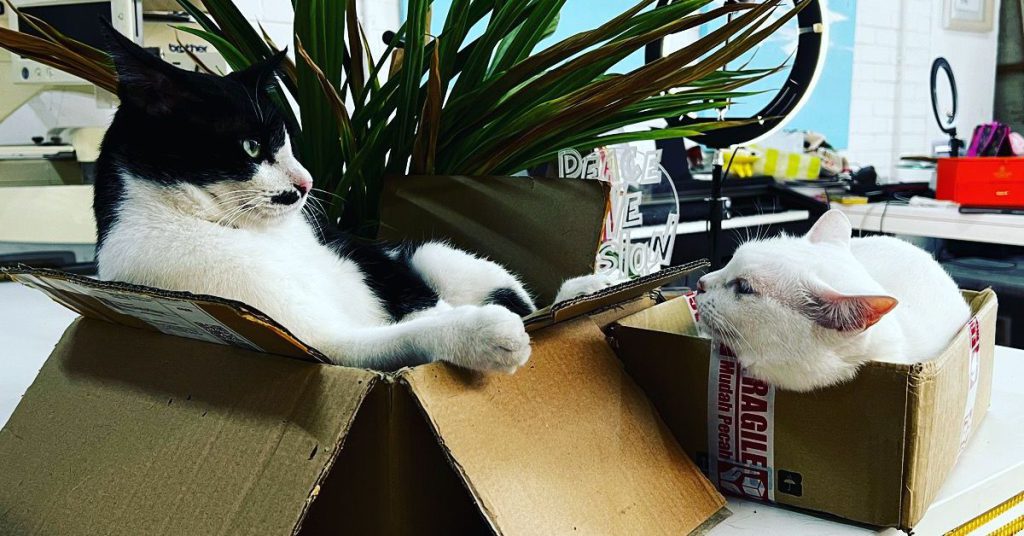 At the time of writing, the campaign has generated RM13,889.
On the campaign page, she shared that the funding is needed so she can continue paying bills such as electricity, internet, and rent, so she can work in peace and through this film.
"Through May and June of 2023, in between her film edits, Poesy was a GrabCar driver in order to pay for her mounting overheads," the page read. "This crowdfunding effort is to help her single-mindedly focus on the filmmaking, so she will not be burdened by worry."
To understand more about the documentary and her journey, we reached out to learn more of Poesy's journey leading up to the documentary.
For the uninitiated
Born to a Malaysian father and a Taiwanese mother, Poesy was exposed to the arts from an early age and was formally trained with professional artists.
Her first painting was made when she was 9 years old, which would be shown in an exhibition in 1986, shown alongside works by adults.
At 14, she further shot into stardom as she starred in a Levi's 501 commercial. Following her on-screen debut, Poesy would appear on television for another 14 years, which would pay for her studies in architecture school.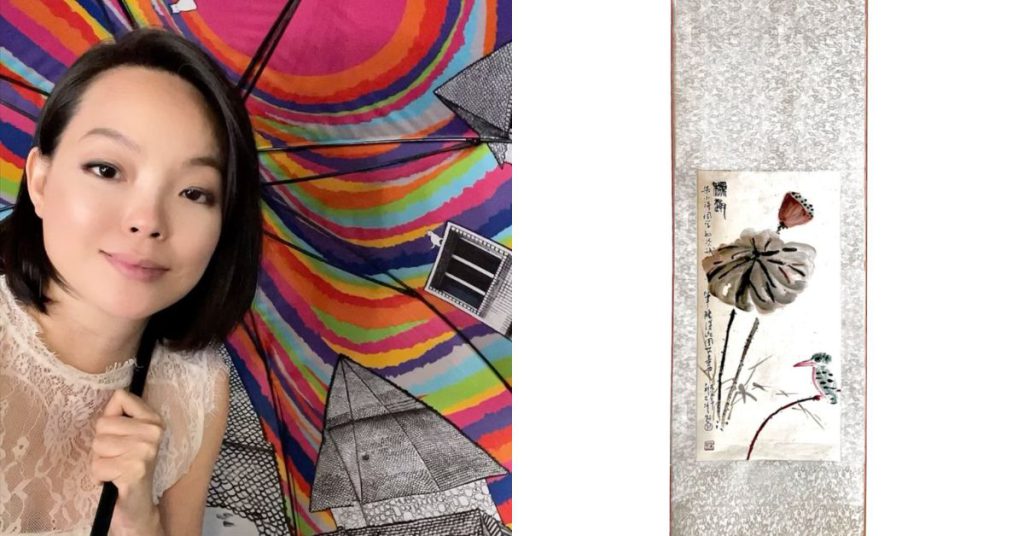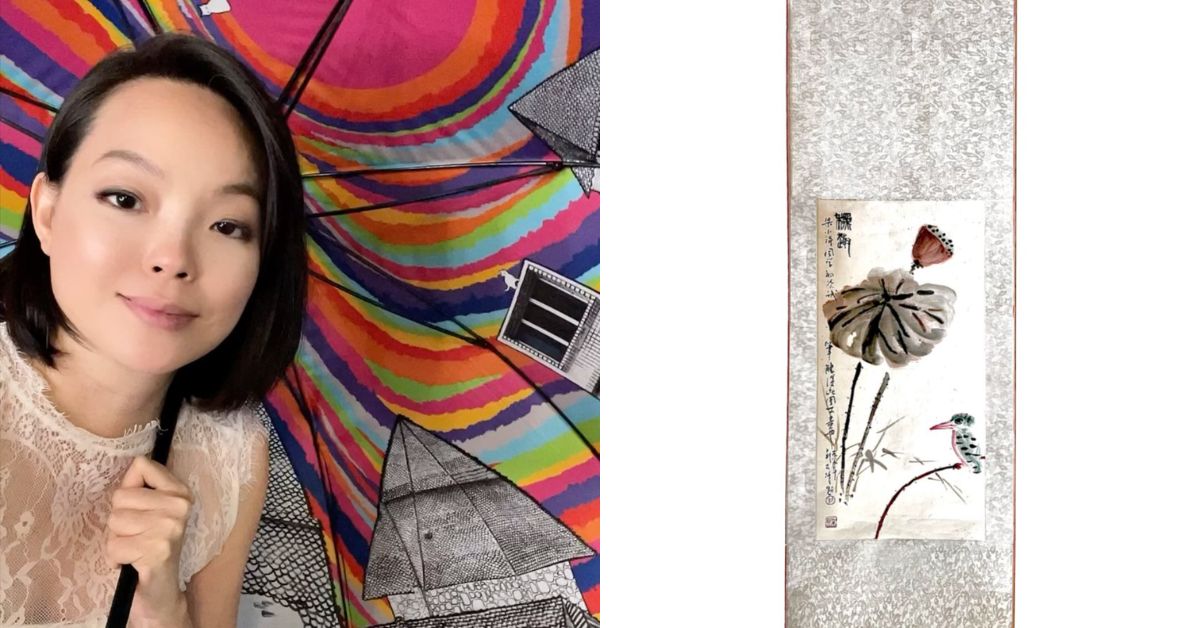 While all these may make Poesy sound like she had a good and easy life, there were many difficult things happening behind the scenes, which will be expounded upon in the film.
One of the biggest obstacles would come when Poesy turned 17.
"I had spine tumours, thoracic intradural meningioma," she explained to Vulcan Post. "It is a rare spine growth and I am the only person of this age that suffered from the condition in the world."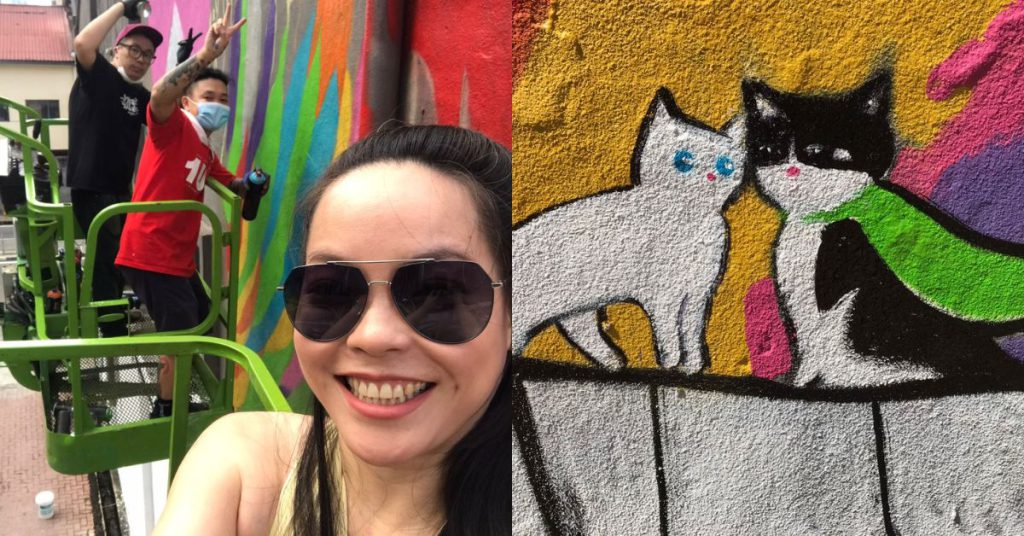 The usual people who suffer from this kind of meningioma are babies and octogenarians, but Poesy had gotten it at ages 17 and 28.
The disease caused paralysis due to its "inconvenient location" inside Poesy's spinal casing, which crowded out her spinal cord. Doctors did not expect her to be able to walk again—but Poesy persisted.
And she has carried that persistence with her through life. Even now, as she faces financial struggles, she continues to persist through her ongoing crowdfunding campaign.
Meet the Rooftop Cat
Especially given her architecture background, Poesy shared that she has grown to have an obsession with drawing repetitive roof tiles.
She explained, "In 2011 when I returned from the Bald Empathy Movement Tour, I toured so many countries and cities and all the roof tiles that I saw just came out in my drawings. Then, cats started to appear."
"I haven't really been able to stop doing that since. I tried stopping, but always came back to it."
It's been 12 years since she started The Rooftop Cat (TRC) series, and though it has evolved, the ethos of it remains.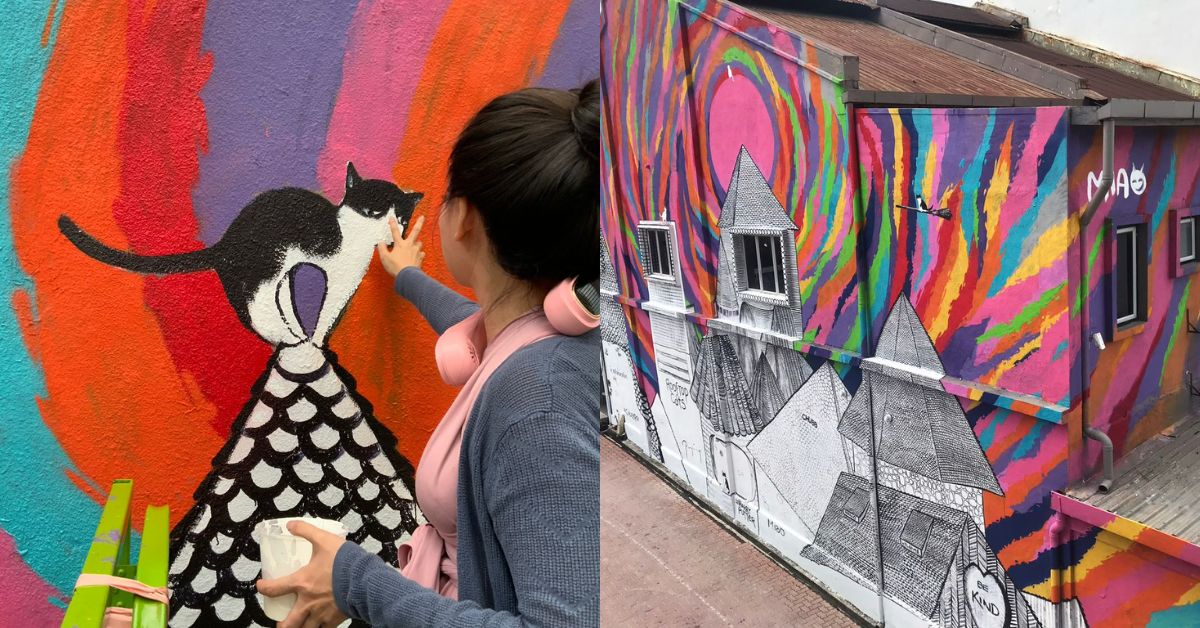 Essentially, the featured cat represents a character with goals and dreams, with the only other person who understands those dreams being the recurring full moon in Poesy's paintings.
Over the years, Poesy has been asked numerous questions about her inspirations as well as the events of her life—which would take about two hours each time to fully cover, she said.
Thus, the film's aim is to answer all these questions.
"I feel that it was time to make the film especially now that the rooftop cat has also got a very large public piece in the middle of Kuala Lumpur with the ChubbPoesy collaboration," she said.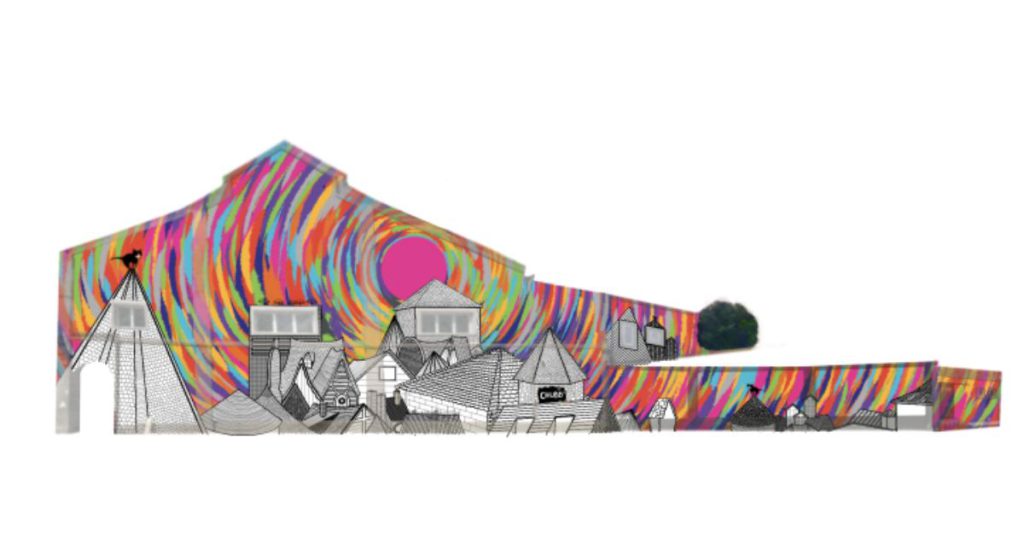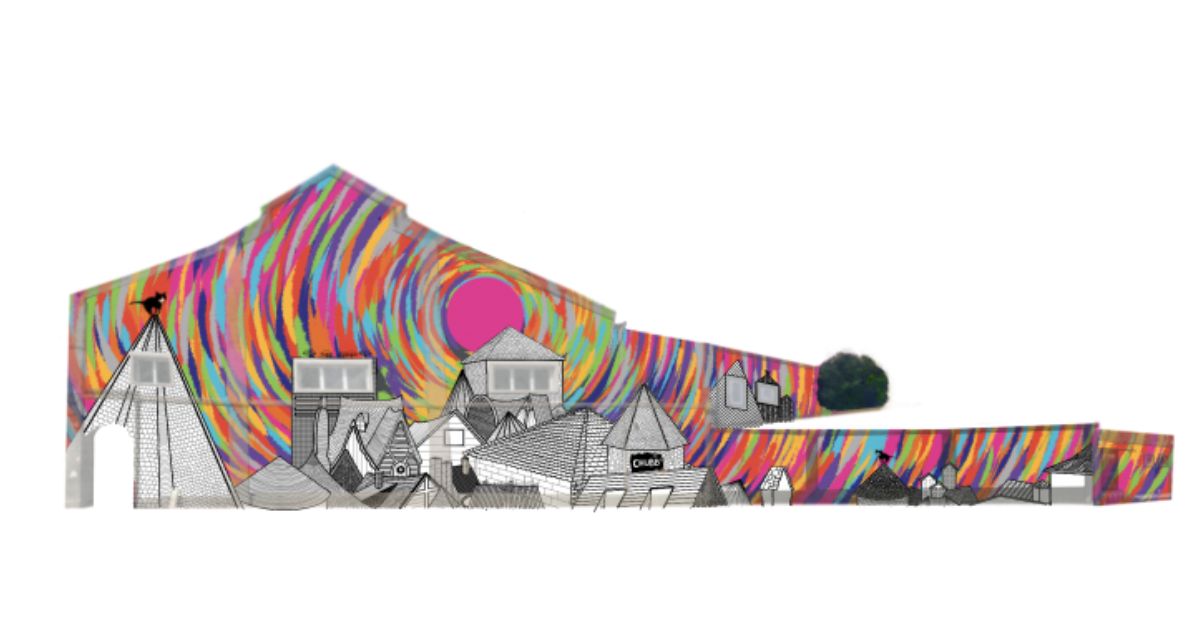 As a contemporary artist herself, Poesy shared that she has many friends and peers in the industry who have landed high-profile brand collabs, which made her feel quite left out.
"I started to pray fervently, 'When is it going to be my turn that I get to land a deal of my own?'"
Her prayers were answered when insurance company Chubb began looking for an artist. Coincidentally, the nine corporate colours of Chubb were also the palette that Poesy uses in her art.
The story behind the Jalan Pudu mural will be featured in the documentary.
Immortalising her story on screen
The title, This Rooftop Cat Has Nine Lives, is something that Poesy deeply resonates with.
More than just a play on the myth of cats having nine lives, Poesy shared that she feels as though she has many past lives as well. She's been an actress on TV, was paralysed at times, and experienced many heartbreaks, some in a very public manner, she said.
"I just felt that these stories can help someone else," she expressed.
She's been self-funding the film so far, but the challenge now is with paying the bills as well as some expenses incurred during the post-production of the film.
She shared that she has been able to keep the expenses quite slim, but the basic overheads with rental, electricity, and internet sums up to about RM3,800, which doesn't include food, petrol, or phone bills.
"Driving Grab hasn't been the most sustainable solution because I do really long hours, sometimes I'll do a 15-hour shift and have no more energy to do anything else, especially not on the film," she explained.
With supporters to answer to now, she would really like to finish and publish the film as soon as possible.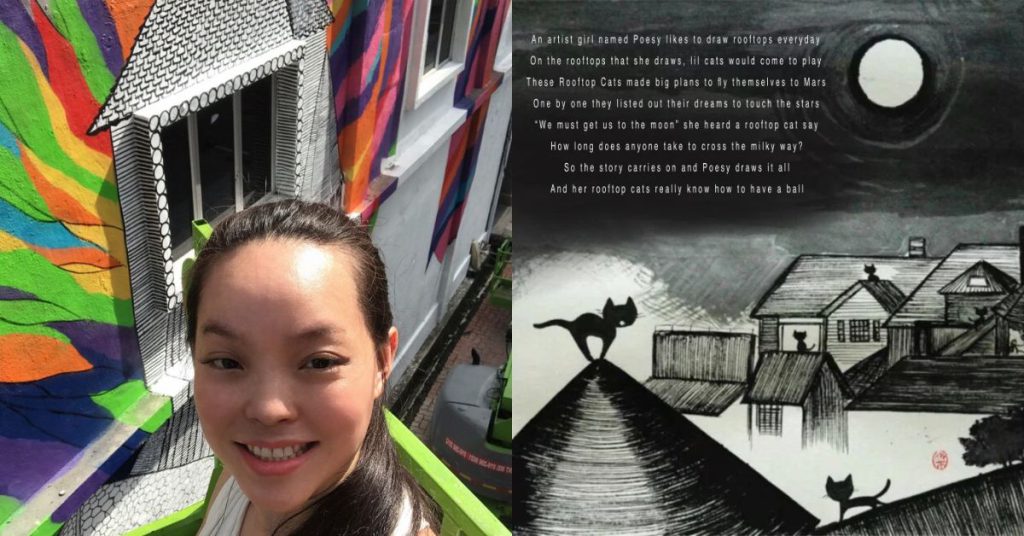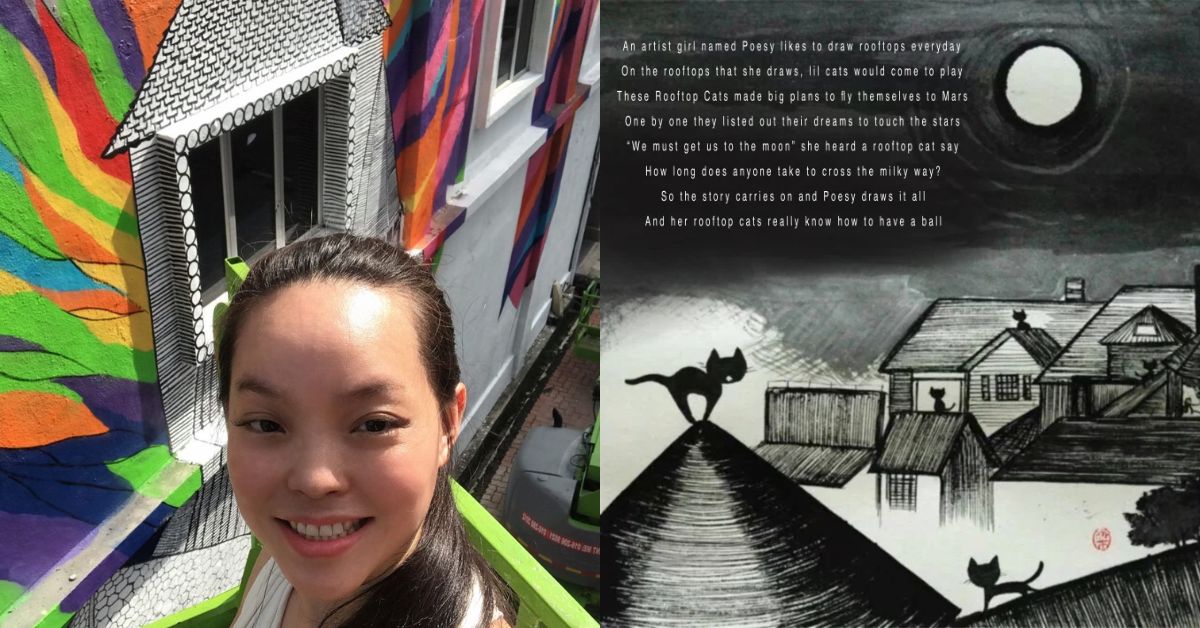 Although she set the reserve target on MyStartr at RM3,333, which wouldn't even cover a month of her basic overheads, her target ideally is RM30,000 which would help cover six months of her bills.
Any excess from her crowdfunding would be used to submit her film to international film festivals.
So far, most of the people funding the project are from her friends and family list. However, a small percentage are unfamiliar names. Poesy shared that she's happy that it has reached people who haven't known her, but hopes to receive more support.
There are three tiers available for the crowdfunding campaign—RM33, RM66, and RM99, and each tier has varying rewards and benefits.
Poesy's campaign will be ongoing from now until October 10, 2023. She hopes to release the documentary in November.
"This film is not a money-making venture," she reminded. "The objective of making this film is so that the rooftop cat's story is being told, and that anyone who encounters one of my rooftop cat paintings can easily understand it and receive the inner healing that I embedded into my work."
Learn more about Poesy Liang's crowdfunding campaign here.
Read other articles we've written about Malaysia here.
Featured Image Credit: Poesy Liang