Southeast Asia's leading superapp, Grab, unveiled yesterday (October 4) a series of new product innovations aimed at offering GrabFood users in Singapore more affordable options.
These initiatives are designed to appeal to budget-conscious consumers who may not typically consider food delivery services for their daily meals.
We want to serve more foodies in Singapore by making GrabFood more accessible to them. By leveraging our technology and platform, we are able to create services at different price points to appeal to different consumer groups — all without compromising on service quality and reliability.

Our suite of affordability features will enable foodies on a budget to save as they eat, whether they're ordering in or dining with GrabFood. These more affordable features not only benefit consumers, but also create more earning opportunities for our merchant and delivery partners who will benefit from increased demand for our services.

– Tay Chuen Jein, Head of Deliveries at Grab Singapore
Key features to enhance accessibility
Grab's Saver Delivery feature is now available nationwide, allowing consumers to opt for a lower delivery fee in exchange for slightly longer wait times. This feature has already saved GrabFood consumers in Singapore over US$7 million in delivery fees between January and August this year.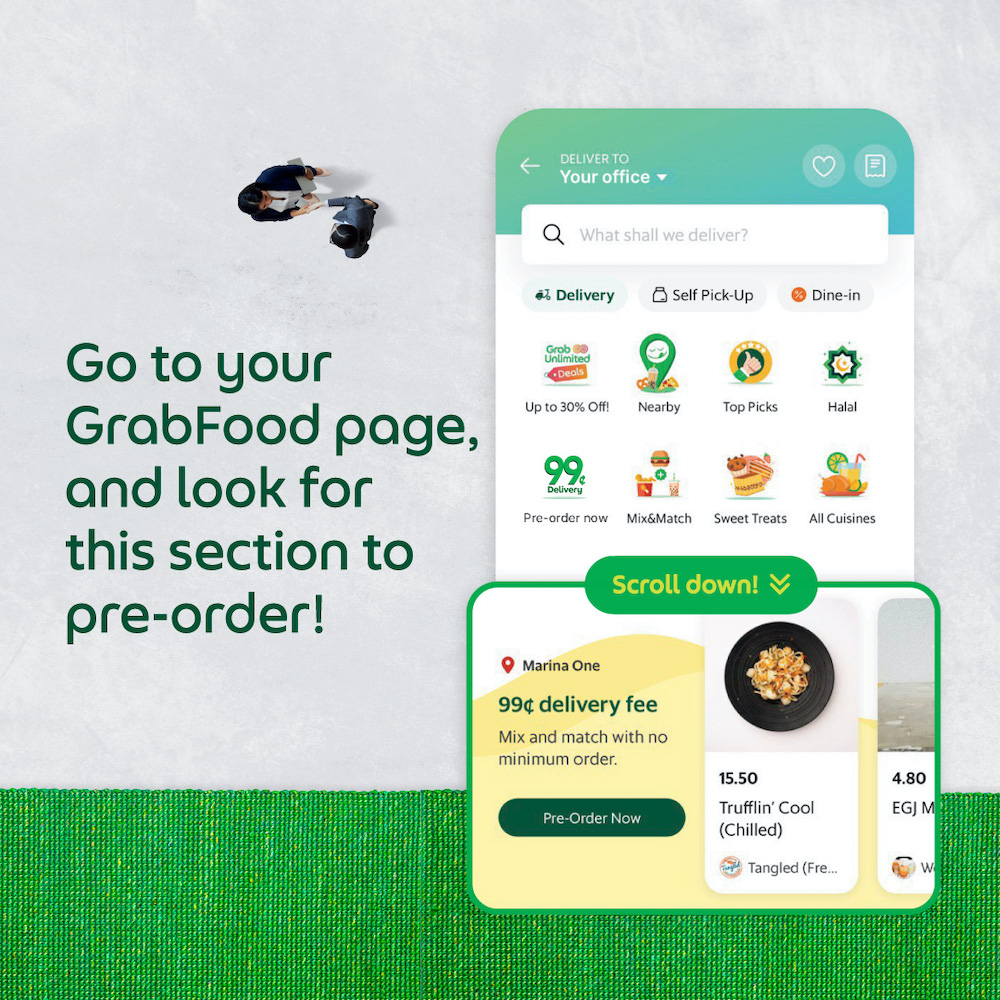 Additionally, Grab is piloting a Pre-Order service at more than 380 locations, initially focusing on business districts. This service enables consumers to order meals from select merchants a week to 90 minutes in advance, with a fixed delivery fee of S$0.99 and no minimum order requirement. This is ideal for solo diners who may struggle to meet minimum order amounts.
With over 80 per cent of Southeast Asians ordering food delivery for groups, Grab is also introducing several upgrades to its Group Order feature. This includes the ability to join via QR code, set order deadlines, track order progress, and calculate shared bills easily.
Separately, Grab's Dine-In feature allows users to discover nearby dining deals, read restaurant reviews, purchase dine-in vouchers, and book rides to their chosen restaurants within the app. This feature aims to engage consumers who prefer dining out rather than ordering in.
Consumers can also look forward to exciting dine-in deals, including a one-for-one discount on dine-in items starting from November 20.
In early 2024, Grab has plans to introduce a dedicated Budget-Friendly page that will help value-conscious consumers easily discover all of GrabFood's affordable options in one place, complete with browsing filters based on meal and delivery budgets.
By implementing these innovations, Grab seeks to expand the accessibility of GrabFood to a wider segment of consumers, challenging the perception that food delivery services are only for those with higher incomes.
The company aims to make GrabFood a more inclusive platform while continuing to deliver quality service. These efforts signify its commitment to catering to the diverse needs of its users and creating a more inclusive and budget-friendly ecosystem in the food delivery industry.
Featured Image Credit: GrabFood