Consumer electronics subscription-based marketplace Circular announced today (October 9) that it has closed its seed funding round of US$ 7.6 million today.
Led by AirTree Ventures, the funding round saw participation from YC Continuity Fund, Global Founders Capital, Partech Ventures and January Capital. The round was also backed by notable angel investors, including the founders of PropertyGuru, Funding Societies, StashAway, Carousell and Nutmeg.
The latest funding round brings the total valuation of Y Combinator-backed Circular to US$30 million.
With the new injection of funds funds, Circular is expanding its offerings in Singapore, further drilling into product market fit.
It also plans to double down on its expansion in Australia, as well as expand its B2B offering, Circular for Business, to address the underserved startup and SME segments in both markets.
The startup has grown threefold in the last 12 months, and plans to grow another threefold across Singapore and Australia in the coming year.
Electronics in a circular economy
Founded in Singapore in 2021 by Nick Ramsay, George Oliver, Pantha Roy and Yaniv Bernstein, Circular offers customers subscriptions for a wide range of premium tech devices with free damage protection that covers up to 90 per cent of the cost of repair.
The consumer electronics industry is large and varied, with approximately 50 million premium tech devices sold across Asia Pacific in 2022. These products are increasingly expensive, but they are also chronically under-utilised, representing a huge addressable market for Circular and opportunities for disruption as the first-mover tech subscription startup in the region.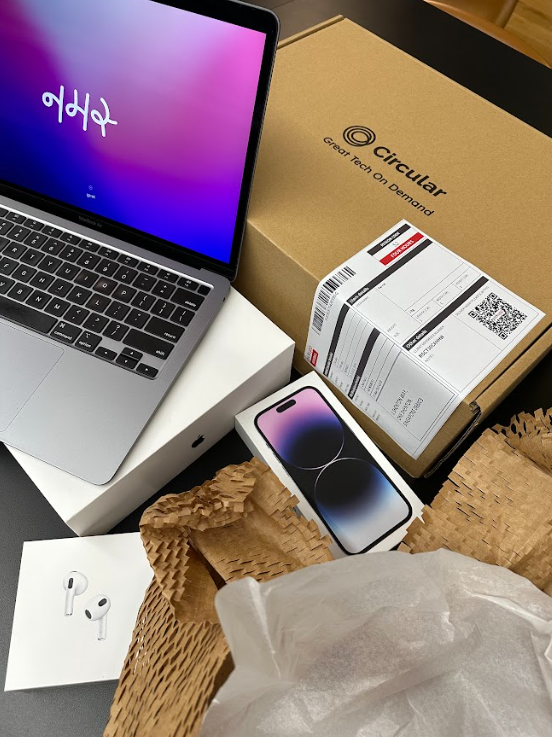 Through a flexible and affordable monthly subscription, Circular customers access the latest tech gadgets at a fraction of the cost in a sustainable way. For instance, subscribers can save up S$955 on an iPhone 15 Pro Max 256GB as compared to purchasing the phone outright from Apple, with no device protection.
Adding to its core categories of tech gadgets — which comprises refurbished as well as brand-new phones, tablets and laptops — Circular has also recently begun offering popular gaming products as part of its Singapore catalogue. 
The problem of tech device underutilisation is huge, and Circular aims to help curtail it with our subscription model. By keeping products in use for longer – and keeping precious materials out of landfills – we hope to gradually shift patterns of consumption and reduce our collective burden on the environment.

What's most exciting for us is that we see many of our customers quickly come back for second and even third devices, indicating they've moved their device needs entirely to subscriptions and that they're fully embracing the circular economy.

– Nick Ramsay, CEO and co-founder, Circular
Featured Image Credit: Circular