Singapore social enterprise Bettr Group has received S$2 million in funding from the Asia Impact First Fund (AIFF) last Friday (October 13), which will be used to support Bettr Group's business expansion plans and social programmes.
The social enterprise is also aiming to triple the number of beneficiaries served together with their network of social and business partners.
Bettr Group has received support from the DBS Foundation since 2015, with the business participating in a series of programmes aimed at helping them achieve their business objectives.
Karen Ngui, DBS Group Head of Strategic Marketing and Communications and a board member of the DBS Foundation, shared that it is indeed possible for businesses to have a positive impact on society while simultaneously building a sustainable business, and Bettr Group serves as a notable example of this.
At DBS Foundation, we are privileged to have been a partner on their journey for almost a decade now, and to witness the lasting change they have brought to the lives of many through their programmes. We believe Bettr represents a new generation of businesses that can help address pressing societal issues in our midst and drive systemic change from the ground up, and look forward to the potential impact they'll be creating with this latest capital injection from the AIFF.

– Karen Ngui, DBS Group Head of Strategic Marketing and Communications and DBS Foundation Board Member.
The AIFF was first launched in August 2022 by DBS Foundation and Heritas Capital, with the goal to encourage others to fill the gaps in funding for social enterprises in the region.
Over US$20 million was raised in their first funding round in March 2023, with DBS as the anchor investor, contributing US$10 million. Other investors included the Tsao Family Office, IMC Group, among many others.
Allowing vulnerable Singaporeans to start new beginnings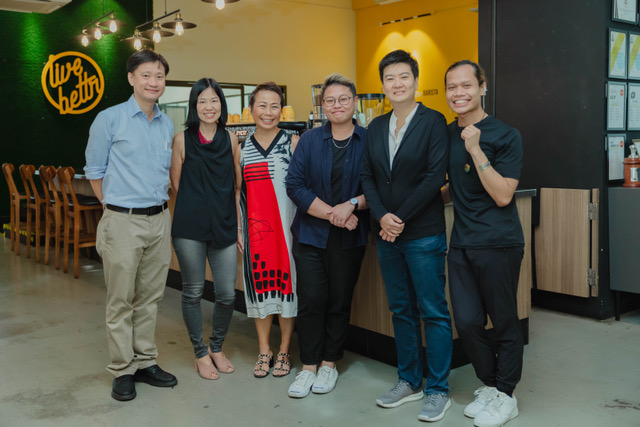 Bettr Group was first founded in 2011 and is one of the leading impact-driven coffee companies in Singapore.
It seeks to help marginalised communities, including single mothers and ex-convicts, by providing training and employment programs through Bettr Academy, their coffee and beverage academy, and Bettr Coffee, their coffee bars and roastery.
Pamela Chng, CEO and founder of Bettr Group, expressed her excitement for this partnership, emphasising the group's commitment to helping vulnerable groups in Singapore through their business.
At Bettr, we have used our business as a force for good for over a decade and have strived to
produce sustainable financial performance while creating tangible long-term impact on lives. We are
excited to partner Heritas [Capital] through AIFF to expand our vision of social businesses being key actors in the economy to create dual business and impact solutions for an increasingly complex world.

We intend to solidify our footprint in Singapore, support more beneficiaries through education and
inclusive employment, and eventually scale into the region.

– Pamela Chng, CEO and founder of Bettr Group
Bettr Group also proudly holds the distinction of being the first B-Corp certified company in Southeast Asia, dedicated to supporting smaller coffee farmers and advocating responsible and sustainable sourcing and farming practices.
In recognition of their unwavering commitment, Janet Chia, Managing Director and Head of Private Equity at Heritas Capital, has announced her intention to join the board of directors at Bettr Group.
Featured Image Credit: DBS Foundation