As a Singaporean, one of the simple joys of my life is running down from my HDB home when I hear the ice cream vendor's bell. From local flavours like attap chee to classic ones like mint chocolate, it doesn't matter if you are young or old – everyone loves ice cream.
While ice cream vendors in Singapore typically sell their ice cream from their carts, in Western countries like the United States and the United Kingdom, ice cream is often sold from ice cream vans or trucks.
In 2008, Tobias Peng decided to take things a step further by creating his own ice cream and restoring classic vehicles for his ice cream trucks, thus founding Super Ice Cream Truck and Scoopy's & Cream.
Growing up, the 40-year-old always had a passion for the arts. He even offered private drumming lessons on a part-time basis before going to university. Later, he joined Singapore Airlines as a cabin crew member and flew for five years before deciding to return to the ground and start his own business.
As a first-time entrepreneur, starting a business was a very daunting task for Tobias. Coming from a middle-class household and having no business and financial aid, Tobias shared that the uncertainties associated with entrepreneurship created a lot of self-doubt at the beginning of his journey.
Just flying into the unknown, it was a bit of an "adventure" for me, and I really didn't know what to expect without any guidance. In business, you don't get a fixed income based on the work you do, it's really based on the results you deliver [and] the value people are willing to pay you for.

Tobias Peng, founder of Super Ice Cream Truck and Scoopy's & Cream
Despite his self-doubt and the absence of external investments, Tobias took a leap of faith and put in a six-figure investment into the businesses, which constituted the majority of his life savings.
He started his businesses during the Global Financial Crisis
When asked about the inspiration behind starting Super Ice Cream Truck and Scoopy's & Cream, Tobias shared that he enjoys the freedom that comes with creating something new and that the business allows him to express parts of himself to others. He added that by catering ice cream, albeit simple, it was his way of delivering happiness to customers.
However, 2008 was also the same year when Singapore experienced the repercussions of the Global Financial Crisis, a period of recession marked by a significant decrease in Singapore's manufacturing exports due to reduced consumer demand in the United States and Europe.
With the low consumer activity combined with inexperience in the Food and Beverage (F&B) industry, the business consequently experienced a low-take up rate.
I would get to work at the factory creating ice cream before the sun was up, and when the day's work was done, the sun was already down. It wasn't the most efficient way of growing [the] business, but it had to be done at that point when [the business] didn't have traction.

Tobias Peng, founder of Super Ice Cream Truck and Scoopy's & Cream
Despite all odds, the business was able to improve and has since evolved to include mobile event spaces and ice cream catering.
Creating his own niche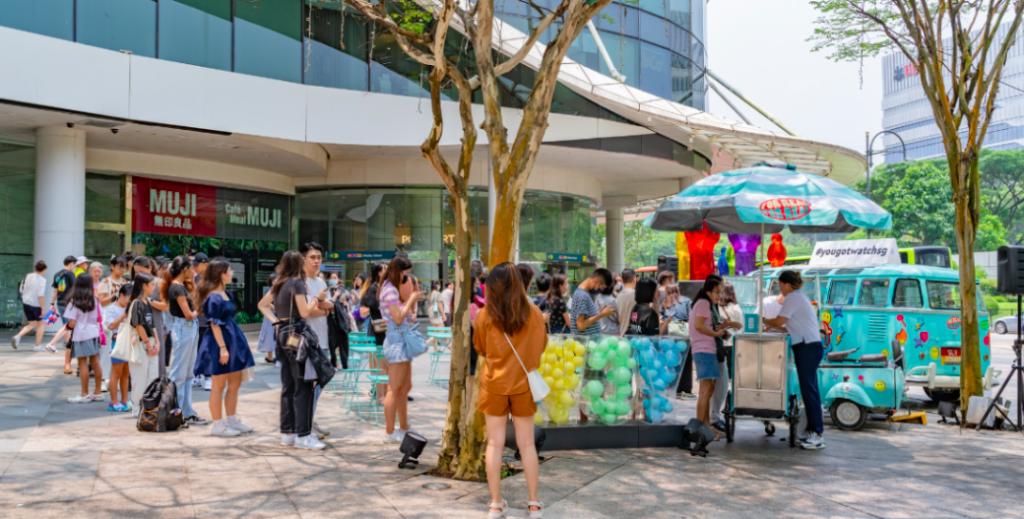 Staying unique and having the ability to catch someone's attention is paramount for success in Singapore's events and F&B industries. One might ask, in what way does Tobias's ice cream business stand out above the rest?
Scoopy's & Cream is an ice cream catering company that initially supplied ice cream to hotels and restaurants, in addition to opening two physical outlets – a dine-in cafe at Downtown East, and a kiosk at Tiong Bahru Plaza.
However, Tobias shared that the profit margins earned were extremely thin, and he also experienced difficulties in acquiring contracts consistently, which greatly impacted the overall profitability of the businesses.
Combined with the high operating costs and stiff competition from other brands, Tobias decided to close his two stores and streamline his operations toward catering and live branded ice cream stations, where he could also sell his ice cream.
"We realised that giving away ice cream made everyone happy, and it was also a really great tool for attracting the crowd at events," said Tobias.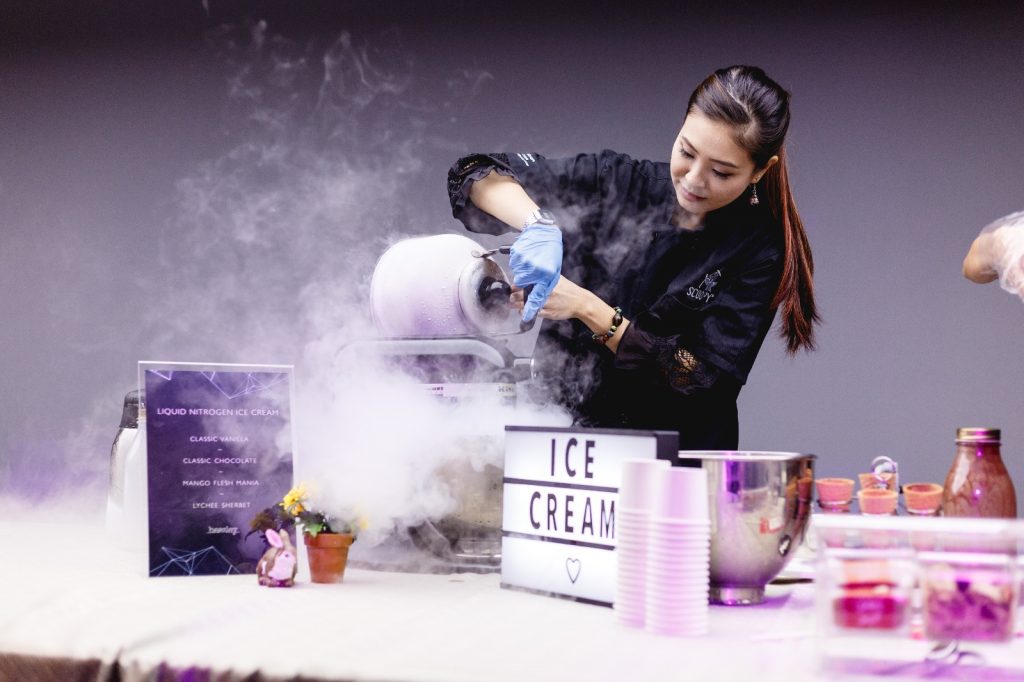 In Singapore's F&B industry, businesses need to consistently keep up with trends to stay competitive and relevant in the market. Tobias shared that he stays updated with new food trends through their ice cream making workshops, adding that he often gets surprised by the participants' new creations. New flavours are created and experimented with by their in-house Research and Development (R&D) team.
A highlight of their ice cream making classes is the use of liquid nitrogen to freeze their ice cream, which rapidly solidifies the ice cream upon contact. Tobias noted that his ice cream making workshops allow him to share his ice cream making knowledge with others, and while some daring flavours unfortunately don't make the cut, these moments bring joy to both him and the participants.
For Super Ice Cream Truck, they are reknowned for their unique mobile event spaces, where classic vehicles – such as Vespas and Sidecars – are restored and transformed. To date, Super Ice Cream Truck has worked with many big-name brands since its inception, including Dior, Kate Spade, Prada, Kenzo, among many others.
Customisation is a key pillar of Super Ice Cream Truck's brand, where their unique and functional designs are tailored to each client's specific needs.
Clients are offered a free consultation, allowing the business to understand their branding or marketing objectives and discuss the concept and potential look of the vehicle, depending on the budget allocated. Tobias shared that it creates room for creativity and stressed the importance of creating eye-catching spaces as they play a pivotal role in determining the success of the event itself.
Tobias shared that by making event spaces mobile, the vehicles can be branded and renovated before transportation, which eliminates any unnecessary costs. He also mentioned that some of his vehicles are sourced locally, while others are imported from international sources.
This approach has allowed Tobias to carve out his own niche in Singapore, serving as the secret ingredient that attracts clients to his business.
With our ice cream truck concept that can be rebranded, we were suddenly in a brand new category that no one was in.

Tobias Peng, founder of Super Ice Cream Truck and Scoopy's & Cream
Barely survived COVID-19, recovered thanks to his niche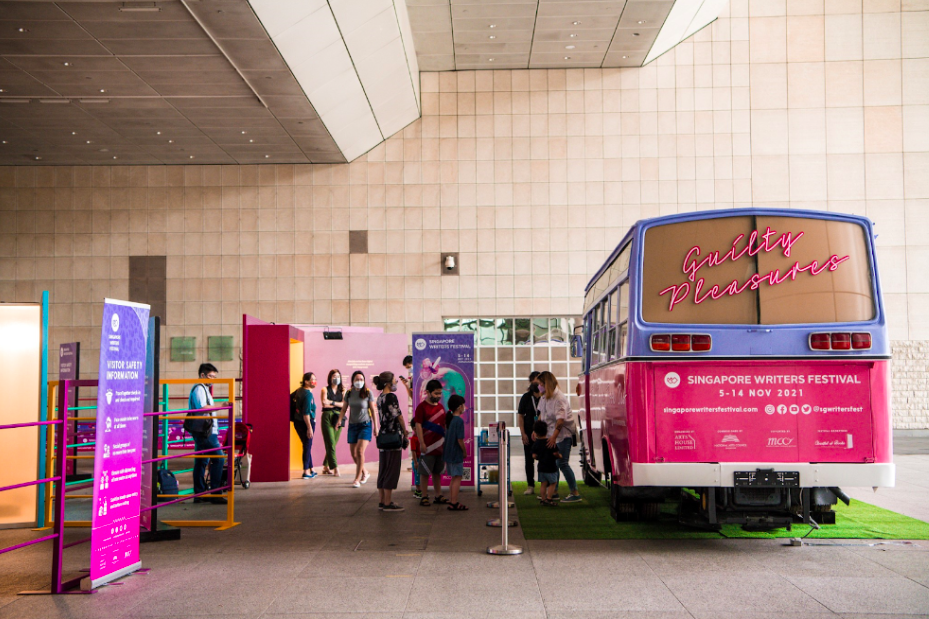 The COVID-19 pandemic has dealt a heavy blow to the events industry. According to the Singapore Tourism Board, the global travel and hospitality industry suffered a huge loss of US$935 billion in 2020, forcing the industry to reinvent itself away from physical interaction.
Tobias shared that due to the social distancing measures enforced by the government, organising events became almost impossible, akin to biting a bullet. He added that his team would watch the news in anticipation, silently hoping for these measures to relax.
Despite the standstill in the events industry, Scoopy's & Cream continued to deliver their ice cream through direct home deliveries and fulfilled mass orders to send 'care packs' to employees' homes for their clients. His businesses managed to recover and continued to grow post-pandemic, thanks to the government's support schemes and the unique offerings of his businesses.
They say that "riches are in the niches", and that companies should strive to be different to stand out in the market, which is precisely what Tobias achieved with Scoopy's & Cream and Super Ice Cream Truck.
To date, Tobias has gained more than a decade of experience in the events and F&B industry in Singapore. He shared that the key to surviving competitive markets is to be creative and consistently think of ways to improve, as well as keep an eye out on new trends and adapt to them quickly.
Find something everyone is not doing, and do it if it will change [the environment] positively. Be creative, be different.

Tobias Peng, founder of Super Ice Cream Truck and Scoopy's & Cream
However, he also stressed that businesses should exercise caution and avoid rushing into over-expansion, even during favourable economic conditions, recognising the unpredictability of the startup scene.
As of now, Super Ice Cream Truck will continue to help their clients with their branding and marketing efforts, while Scoopy's & Cream will continue to spread simple joys with their ice cream.
Tobias shared that although he does not have an ultimate goal set for his businesses, he has an ambition to penetrate into other international markets and welcomes new mentors and investment opportunities.
---
Embark on your startup journey with MAS-regulated ANEXT Bank, one of Singapore's first digital banks for SMEs.
---
Featured Image Credit: Super Ice Cream Truck