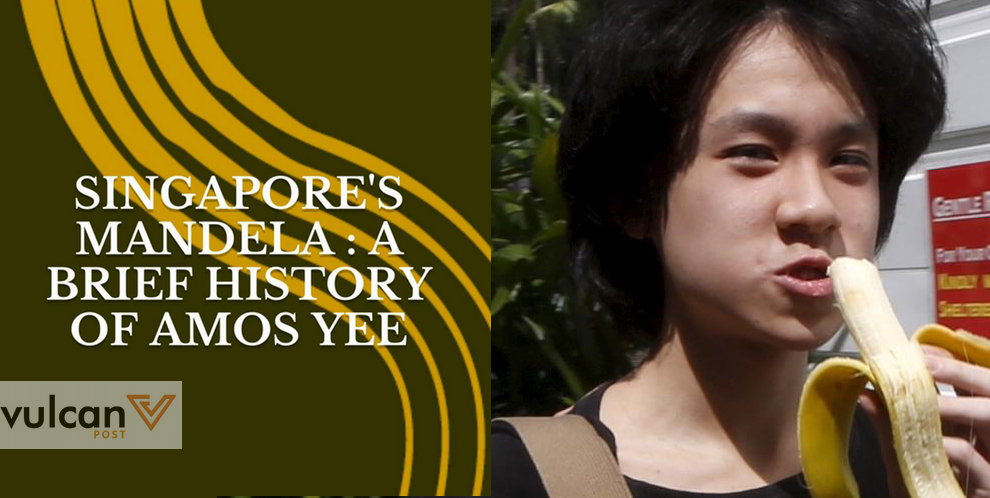 Someone has taken it upon themselves to apparently write and sell a biography about Amos Yee.
A 26-page Kindle book has surfaced on Amazon's UK website, titled "Singapore's Mandela: A Brief History of Amos Yee". It was written and listed on Amazon by a man named Jason Venning, and is said to share 17-year-old Amos Yee's life story and celebrate him as the nation's, well, Mandela.
The brief introduction available on the website likens Yee to men like Abraham Lincoln, Gandhi, Martin Luther King Jr., and Robert Kennedy. It also points out that Yee's first name has biblical origins, which is, obviously, of great significance.
That dexterity with words has come into full focus in his minutes-long tirade on YouTube videos from which he delivers his opinions to the masses using eloquently formed phrases, interspersed with profane words that might make any upstanding citizen of a tightly-run, well-ordered society such as that found in Singapore, cringe.

— Jason Venning, "Singapore's Mandela: A Brief History of Amos Yee."
Yee himself addressed this book, and asked Venning to send him a free copy of the e-book.
https://www.facebook.com/permalink.php?story_fbid=957320874314517&id=286808914699053
For Singaporeans attempting to buy the book, it is unfortunately only available to UK customers, which makes us wonder if: a) this book is just an elaborate practical joke, or b) the British have some great love for Amos Yee that we don't know about.
It also has a single review by someone who just seems angry that the book even exists at all.
So until someone gets the book or the British decide to share this gem with us, I'd suggest you head over to Amazon to read the introduction. Even Yee is curious to know how this person managed to write a biography about him without even meeting the guy.
Also Read: The MeatMen: Feeding 84K Hungry People With Glorious Food Videos
https://www.facebook.com/vulcanpost/posts/730282210449004
Want to know how to grow your business or website? Want to learn how to get more traffic to your site?
Here's something that you might be interested in.
Serial entrepreneur Jon Yong Fook has just written an ebook called the
Here's what he has to say about the book:
What is it:
A collection of 100 practical marketing tactics for startups, entrepreneurs – anyone thinking of starting a new business online. It's probably the most practical marketing book you'll buy all year, there's zero filler, fluff or BS strategy stuff; it's just 100 ideas of things you can do to improve customer acquisition, retention, revenue et cetera.
Why did I write it:
I've been advising more startups over the last year, through two institutions – Singapore Management University in Singapore and True Incube incubator in Thailand. Having talked to maybe 50 startups I noticed the same early stage problems and questions cropping up again and again: How do we drive traffic, how do we get more visitors to our site to download our app and sign up for our service, how do we get feedback from them, how do we get people to pay, how do we get people to stay.
So I thought, why not put all of these answers in a book!
My background:
I'm an programmer, marketer and entrepreneur based in Asia. I've started and sold one startup, was CTO for a fairly big ecommerce company in Japan, and am now based in Singapore and run a SaaS company called Beatrix.
Exclusively for Vulcan Post readers, Jon has offered to give out free e books to 10 of our lucky readers. Each e-book costs $30, so if you want to get your hands on the free e book, here's what you need to do:
Simply comment on the comment section below and share with us what do you do and why would you like to have the e book.
We look forward to reading them!
Also read: .elementor-1806 .elementor-element.elementor-element-60a51e9 > .elementor-container > .elementor-column > .elementor-widget-wrap{align-content:flex-start;align-items:flex-start;}.elementor-1806 .elementor-element.elementor-element-60a51e9.ob-is-breaking-bad > .elementor-container > .elementor-row, .elementor-1806 .elementor-element.elementor-element-60a51e9.ob-is-breaking-bad > .elementor-container{justify-content:flex-start !important;flex-direction:row;}.elementor-1806 .elementor-element.elementor-element-60a51e9.ob-is-breaking-bad.ob-bb-inner > .elementor-container > .elementor-row, .elementor-1806 .elementor-element.elementor-element-60a51e9.ob-is-breaking-bad.ob-bb-inner > .elementor-container{justify-content:flex-start !important;flex-direction:row;}.elementor-1806 .elementor-element.elementor-element-60a51e9.ob-is-breaking-bad.ob-is-glider > .elementor-container.swiper-container-vertical > .elementor-row, .elementor-1806 .elementor-element.elementor-element-60a51e9.ob-is-breaking-bad.ob-is-glider > .elementor-container.swiper-container-vertical{flex-direction:column;}.elementor-1806 .elementor-element.elementor-element-60a51e9.ob-is-breaking-bad.ob-is-glider.ob-bb-inner > .elementor-container.swiper-container-vertical > .elementor-row, .elementor-1806 .elementor-element.elementor-element-60a51e9.ob-is-breaking-bad.ob-is-glider.ob-bb-inner > .elementor-container.swiper-container-vertical{flex-direction:column;}.elementor-1806 .elementor-element.elementor-element-60a51e9.ob-is-breaking-bad.ob-bb-inner{width:100%;flex:unset;align-self:inherit;}.elementor-1806 .elementor-element.elementor-element-facd228.elementor-column > .elementor-widget-wrap{justify-content:space-between;}.elementor-1806 .elementor-element.elementor-element-facd228.elementor-column{align-self:inherit;cursor:default;}.elementor-1806 .elementor-element.elementor-element-facd228 > .elementor-element-populated{padding:40px 12px 0px 12px;}.elementor-1806 .elementor-element.elementor-element-facd228.ob-is-pseudo > .elementor-element-populated:after{transform:rotate(0deg);}.elementor-1806 .elementor-element.elementor-element-6d6403e{text-align:left;width:auto;max-width:auto;}.elementor-1806 .elementor-element.elementor-element-6d6403e img{width:160px;}.elementor-1806 .elementor-element.elementor-element-6d6403e > .elementor-widget-container{margin:0px 0px 0px 0px;}.elementor-1806 .elementor-element.elementor-element-6d6403e.ob-has-background-overlay > .elementor-widget-container:after{width:100%;height:100%;top:0%;left:0%;transform:rotate(0deg);}.elementor-1806 .elementor-element.elementor-element-fcf0f2d{--divider-border-style:solid;--divider-color:#363441;--divider-border-width:1px;}.elementor-1806 .elementor-element.elementor-element-fcf0f2d .elementor-divider-separator{width:100%;margin:0 auto;margin-center:0;}.elementor-1806 .elementor-element.elementor-element-fcf0f2d .elementor-divider{text-align:center;padding-top:22px;padding-bottom:22px;}.elementor-1806 .elementor-element.elementor-element-fcf0f2d > .elementor-widget-container{margin:0px 0px 0px 0px;}.elementor-1806 .elementor-element.elementor-element-fcf0f2d.ob-has-background-overlay > .elementor-widget-container:after{width:100%;height:100%;top:0%;left:0%;transform:rotate(0deg);}.elementor-1806 .elementor-element.elementor-element-5a9beed.elementor-position-right .elementor-image-box-img{margin-left:8px;}.elementor-1806 .elementor-element.elementor-element-5a9beed.elementor-position-left .elementor-image-box-img{margin-right:8px;}.elementor-1806 .elementor-element.elementor-element-5a9beed.elementor-position-top .elementor-image-box-img{margin-bottom:8px;}.elementor-1806 .elementor-element.elementor-element-5a9beed .elementor-image-box-wrapper .elementor-image-box-img{width:36px !important;}.elementor-1806 .elementor-element.elementor-element-5a9beed .elementor-image-box-img img{transition-duration:0.3s;}.elementor-1806 .elementor-element.elementor-element-5a9beed .elementor-image-box-img{overflow:hidden;}.elementor-1806 .elementor-element.elementor-element-5a9beed .elementor-image-box-wrapper{text-align:left;}.elementor-1806 .elementor-element.elementor-element-5a9beed .elementor-image-box-title{color:var( --e-global-color-aa202c3 );font-size:16px;font-weight:500;line-height:20px;}.elementor-1806 .elementor-element.elementor-element-5a9beed .elementor-image-box-description{color:var( --e-global-color-d216197 );font-size:14px;line-height:17px;}.elementor-1806 .elementor-element.elementor-element-5a9beed > .elementor-widget-container{margin:0px 0px 24px 0px;padding:12px 16px 12px 16px;background-color:#2D3041;border-radius:8px 8px 8px 8px;}.elementor-1806 .elementor-element.elementor-element-5a9beed.ob-has-background-overlay > .elementor-widget-container:after{width:100%;height:100%;top:0%;left:0%;transform:rotate(0deg);}.elementor-1806 .elementor-element.elementor-element-9b2fd78 .elementor-search-form__container{min-height:50px;}.elementor-1806 .elementor-element.elementor-element-9b2fd78 .elementor-search-form__submit{min-width:50px;}body:not(.rtl) .elementor-1806 .elementor-element.elementor-element-9b2fd78 .elementor-search-form__icon{padding-left:calc(50px / 3);}body.rtl .elementor-1806 .elementor-element.elementor-element-9b2fd78 .elementor-search-form__icon{padding-right:calc(50px / 3);}.elementor-1806 .elementor-element.elementor-element-9b2fd78 .elementor-search-form__input, .elementor-1806 .elementor-element.elementor-element-9b2fd78.elementor-search-form--button-type-text .elementor-search-form__submit{padding-left:calc(50px / 3);padding-right:calc(50px / 3);}.elementor-1806 .elementor-element.elementor-element-9b2fd78 .elementor-search-form__icon{--e-search-form-icon-size-minimal:20px;}.elementor-1806 .elementor-element.elementor-element-9b2fd78 input[type="search"].elementor-search-form__input{font-family:var( --e-global-typography-secondary-font-family ), Sans-serif;font-size:var( --e-global-typography-secondary-font-size );font-weight:var( --e-global-typography-secondary-font-weight );line-height:var( --e-global-typography-secondary-line-height );}.elementor-1806 .elementor-element.elementor-element-9b2fd78 .elementor-search-form__input, .elementor-1806 .elementor-element.elementor-element-9b2fd78 .elementor-search-form__icon, .elementor-1806 .elementor-element.elementor-element-9b2fd78 .elementor-lightbox .dialog-lightbox-close-button, .elementor-1806 .elementor-element.elementor-element-9b2fd78 .elementor-lightbox .dialog-lightbox-close-button:hover, .elementor-1806 .elementor-element.elementor-element-9b2fd78.elementor-search-form--skin-full_screen input[type="search"].elementor-search-form__input{color:#848393;fill:#848393;}.elementor-1806 .elementor-element.elementor-element-9b2fd78:not(.elementor-search-form--skin-full_screen) .elementor-search-form__container{background-color:var( --e-global-color-a60e21b );border-color:#2D303F;border-width:1px 1px 1px 1px;border-radius:8px;}.elementor-1806 .elementor-element.elementor-element-9b2fd78.elementor-search-form--skin-full_screen input[type="search"].elementor-search-form__input{background-color:var( --e-global-color-a60e21b );border-color:#2D303F;border-width:1px 1px 1px 1px;border-radius:8px;}.elementor-1806 .elementor-element.elementor-element-9b2fd78 > .elementor-widget-container{margin:0px 0px 30px 0px;}.elementor-1806 .elementor-element.elementor-element-9b2fd78.ob-has-background-overlay > .elementor-widget-container:after{width:100%;height:100%;top:0%;left:0%;transform:rotate(0deg);}.elementor-1806 .elementor-element.elementor-element-a790473 .elementor-nav-menu--dropdown a, .elementor-1806 .elementor-element.elementor-element-a790473 .elementor-menu-toggle{color:var( --e-global-color-988a23c );}.elementor-1806 .elementor-element.elementor-element-a790473 .elementor-nav-menu--dropdown{background-color:var( --e-global-color-accent );}.elementor-1806 .elementor-element.elementor-element-a790473 .elementor-nav-menu--dropdown a:hover, .elementor-1806 .elementor-element.elementor-element-a790473 .elementor-nav-menu--dropdown a.elementor-item-active, .elementor-1806 .elementor-element.elementor-element-a790473 .elementor-nav-menu--dropdown a.highlighted, .elementor-1806 .elementor-element.elementor-element-a790473 .elementor-menu-toggle:hover{color:var( --e-global-color-secondary );}.elementor-1806 .elementor-element.elementor-element-a790473 .elementor-nav-menu--dropdown a:hover, .elementor-1806 .elementor-element.elementor-element-a790473 .elementor-nav-menu--dropdown a.elementor-item-active, .elementor-1806 .elementor-element.elementor-element-a790473 .elementor-nav-menu--dropdown a.highlighted{background-color:var( --e-global-color-a60e21b );}.elementor-1806 .elementor-element.elementor-element-a790473 .elementor-nav-menu--dropdown a.elementor-item-active{color:var( --e-global-color-secondary );}.elementor-1806 .elementor-element.elementor-element-a790473 .elementor-nav-menu--dropdown .elementor-item, .elementor-1806 .elementor-element.elementor-element-a790473 .elementor-nav-menu--dropdown .elementor-sub-item{font-family:var( --e-global-typography-secondary-font-family ), Sans-serif;font-size:var( --e-global-typography-secondary-font-size );font-weight:var( --e-global-typography-secondary-font-weight );}.elementor-1806 .elementor-element.elementor-element-a790473 .elementor-nav-menu--dropdown a{padding-left:12px;padding-right:12px;padding-top:12px;padding-bottom:12px;}.elementor-1806 .elementor-element.elementor-element-a790473 .elementor-nav-menu--main > .elementor-nav-menu > li > .elementor-nav-menu--dropdown, .elementor-1806 .elementor-element.elementor-element-a790473 .elementor-nav-menu__container.elementor-nav-menu--dropdown{margin-top:0px !important;}.elementor-1806 .elementor-element.elementor-element-a790473 > .elementor-widget-container{margin:0px 0px 50px 0px;}.elementor-1806 .elementor-element.elementor-element-a790473.ob-has-background-overlay > .elementor-widget-container:after{width:100%;height:100%;top:0%;left:0%;transform:rotate(0deg);}.elementor-1806 .elementor-element.elementor-element-3731701{--divider-border-style:solid;--divider-color:#363441;--divider-border-width:1px;}.elementor-1806 .elementor-element.elementor-element-3731701 .elementor-divider-separator{width:100%;margin:0 auto;margin-center:0;}.elementor-1806 .elementor-element.elementor-element-3731701 .elementor-divider{text-align:center;padding-top:3px;padding-bottom:3px;}.elementor-1806 .elementor-element.elementor-element-3731701 > .elementor-widget-container{margin:0px 12px 16px 12px;}.elementor-1806 .elementor-element.elementor-element-3731701.ob-has-background-overlay > .elementor-widget-container:after{width:100%;height:100%;top:0%;left:0%;transform:rotate(0deg);}.elementor-1806 .elementor-element.elementor-element-93e4800 .elementor-button:hover, .elementor-1806 .elementor-element.elementor-element-93e4800 .elementor-button:focus{background-color:#FD703C;}.elementor-1806 .elementor-element.elementor-element-93e4800 .elementor-button{border-radius:8px 8px 8px 8px;}.elementor-1806 .elementor-element.elementor-element-93e4800 > .elementor-widget-container{margin:0px 24px 0px 24px;}.elementor-1806 .elementor-element.elementor-element-93e4800.ob-has-background-overlay > .elementor-widget-container:after{width:100%;height:100%;top:0%;left:0%;transform:rotate(0deg);}.elementor-1806 .elementor-element.elementor-element-aef0e41{--divider-border-style:solid;--divider-color:#363441;--divider-border-width:1px;}.elementor-1806 .elementor-element.elementor-element-aef0e41 .elementor-divider-separator{width:100%;margin:0 auto;margin-center:0;}.elementor-1806 .elementor-element.elementor-element-aef0e41 .elementor-divider{text-align:center;padding-top:3px;padding-bottom:3px;}.elementor-1806 .elementor-element.elementor-element-aef0e41 > .elementor-widget-container{margin:16px 12px 24px 12px;}.elementor-1806 .elementor-element.elementor-element-aef0e41.ob-has-background-overlay > .elementor-widget-container:after{width:100%;height:100%;top:0%;left:0%;transform:rotate(0deg);}.elementor-1806 .elementor-element.elementor-element-d1a473d .elementor-nav-menu .elementor-item{font-family:var( --e-global-typography-text-font-family ), Sans-serif;font-size:var( --e-global-typography-text-font-size );font-weight:var( --e-global-typography-text-font-weight );line-height:var( --e-global-typography-text-line-height );}.elementor-1806 .elementor-element.elementor-element-d1a473d .elementor-nav-menu--main .elementor-item{color:var( --e-global-color-aa202c3 );fill:var( --e-global-color-aa202c3 );padding-left:12px;padding-right:12px;padding-top:8px;padding-bottom:8px;}.elementor-1806 .elementor-element.elementor-element-d1a473d .elementor-nav-menu--main .elementor-item:hover, .elementor-1806 .elementor-element.elementor-element-d1a473d .elementor-nav-menu--main .elementor-item.elementor-item-active, .elementor-1806 .elementor-element.elementor-element-d1a473d .elementor-nav-menu--main .elementor-item.highlighted, .elementor-1806 .elementor-element.elementor-element-d1a473d .elementor-nav-menu--main .elementor-item:focus{color:var( --e-global-color-secondary );fill:var( --e-global-color-secondary );}.elementor-1806 .elementor-element.elementor-element-d1a473d .elementor-nav-menu--main .elementor-item.elementor-item-active{color:var( --e-global-color-secondary );}.elementor-1806 .elementor-element.elementor-element-d1a473d > .elementor-widget-container{margin:0px 0px 10px 0px;}.elementor-1806 .elementor-element.elementor-element-d1a473d.ob-has-background-overlay > .elementor-widget-container:after{width:100%;height:100%;top:0%;left:0%;transform:rotate(0deg);}.elementor-1806 .elementor-element.elementor-element-99567dc{--grid-template-columns:repeat(0, auto);--icon-size:24px;--grid-column-gap:24px;--grid-row-gap:0px;}.elementor-1806 .elementor-element.elementor-element-99567dc .elementor-widget-container{text-align:left;}.elementor-1806 .elementor-element.elementor-element-99567dc .elementor-social-icon{background-color:var( --e-global-color-a60e21b );--icon-padding:0em;}.elementor-1806 .elementor-element.elementor-element-99567dc .elementor-social-icon:hover i{color:var( --e-global-color-secondary );}.elementor-1806 .elementor-element.elementor-element-99567dc .elementor-social-icon:hover svg{fill:var( --e-global-color-secondary );}.elementor-1806 .elementor-element.elementor-element-99567dc > .elementor-widget-container{margin:16px 0px 24px 12px;}.elementor-1806 .elementor-element.elementor-element-99567dc.ob-has-background-overlay > .elementor-widget-container:after{width:100%;height:100%;top:0%;left:0%;transform:rotate(0deg);}.elementor-1806 .elementor-element.elementor-element-8f19ab8{color:var( --e-global-color-988a23c );font-family:var( --e-global-typography-text-font-family ), Sans-serif;font-size:var( --e-global-typography-text-font-size );font-weight:var( --e-global-typography-text-font-weight );line-height:var( --e-global-typography-text-line-height );}.elementor-1806 .elementor-element.elementor-element-8f19ab8.ob-harakiri{writing-mode:inherit;}.elementor-1806 .elementor-element.elementor-element-8f19ab8.ob-harakiri .elementor-heading-title{writing-mode:inherit;}.elementor-1806 .elementor-element.elementor-element-8f19ab8.ob-harakiri .elementor-widget-container > div{writing-mode:inherit;}.elementor-1806 .elementor-element.elementor-element-8f19ab8 .elementor-widget-container{mix-blend-mode:inherit;}.elementor-1806 .elementor-element.elementor-element-8f19ab8 > .elementor-widget-container{margin:0px 0px 0px 12px;}.elementor-1806 .elementor-element.elementor-element-8f19ab8.ob-has-background-overlay > .elementor-widget-container:after{width:100%;height:100%;top:0%;left:0%;transform:rotate(0deg);}#elementor-popup-modal-1806 .dialog-message{width:100vw;height:100vh;align-items:flex-start;}#elementor-popup-modal-1806{justify-content:flex-start;align-items:center;pointer-events:all;background-color:#000000B3;}#elementor-popup-modal-1806 .dialog-close-button{display:flex;}#elementor-popup-modal-1806 .dialog-widget-content{animation-duration:1s;background-color:var( --e-global-color-accent );box-shadow:2px 8px 23px 3px rgba(0,0,0,0.2);}#elementor-popup-modal-1806 .dialog-close-button i{color:#848393;}#elementor-popup-modal-1806 .dialog-close-button svg{fill:#848393;}@media(max-width:1024px){.elementor-1806 .elementor-element.elementor-element-9b2fd78 input[type="search"].elementor-search-form__input{font-size:var( --e-global-typography-secondary-font-size );line-height:var( --e-global-typography-secondary-line-height );}.elementor-1806 .elementor-element.elementor-element-a790473 .elementor-nav-menu--dropdown .elementor-item, .elementor-1806 .elementor-element.elementor-element-a790473 .elementor-nav-menu--dropdown .elementor-sub-item{font-size:var( --e-global-typography-secondary-font-size );}.elementor-1806 .elementor-element.elementor-element-d1a473d .elementor-nav-menu .elementor-item{font-size:var( --e-global-typography-text-font-size );line-height:var( --e-global-typography-text-line-height );}.elementor-1806 .elementor-element.elementor-element-8f19ab8{font-size:var( --e-global-typography-text-font-size );line-height:var( --e-global-typography-text-line-height );}#elementor-popup-modal-1806 .dialog-message{width:100vw;}#elementor-popup-modal-1806{justify-content:center;}}@media(max-width:767px){.elementor-1806 .elementor-element.elementor-element-5a9beed .elementor-image-box-img{margin-bottom:8px;}.elementor-1806 .elementor-element.elementor-element-9b2fd78 input[type="search"].elementor-search-form__input{font-size:var( --e-global-typography-secondary-font-size );line-height:var( --e-global-typography-secondary-line-height );}.elementor-1806 .elementor-element.elementor-element-a790473 .elementor-nav-menu--dropdown .elementor-item, .elementor-1806 .elementor-element.elementor-element-a790473 .elementor-nav-menu--dropdown .elementor-sub-item{font-size:var( --e-global-typography-secondary-font-size );}.elementor-1806 .elementor-element.elementor-element-d1a473d .elementor-nav-menu .elementor-item{font-size:var( --e-global-typography-text-font-size );line-height:var( --e-global-typography-text-line-height );}.elementor-1806 .elementor-element.elementor-element-8f19ab8{font-size:var( --e-global-typography-text-font-size );line-height:var( --e-global-typography-text-line-height );}#elementor-popup-modal-1806 .dialog-message{width:100vw;}#elementor-popup-modal-1806{justify-content:center;}#elementor-popup-modal-1806 .dialog-close-button{top:40px;font-size:20px;}body:not(.rtl) #elementor-popup-modal-1806 .dialog-close-button{right:30px;}body.rtl #elementor-popup-modal-1806 .dialog-close-button{left:30px;}}/* Start custom CSS for nav-menu, class: .elementor-element-a790473 */.elementor-1806 .elementor-element.elementor-element-a790473 .elementor-nav-menu--dropdown a.highlighted span i:before { content: "f0d8"; } .elementor-1806 .elementor-element.elementor-element-a790473 .elementor-nav-menu--dropdown a.highlighted:before { content: url('http://dev.jin.services/vulcanpost/wp-content/uploads/2021/08/icon-topics.svg'); margin-top: 3px }/* End custom CSS */