Right before the pandemic, alcohol catering service Elite Bar Solutions (EBS) had secured various projects and partnerships, ranging from weddings and festivals to VIP and corporate events.
With over 30 years of combined operational experience in providing beverage and mobile bar solutions, the restrictions brought about by the pandemic came as a shock to the business, and all of its projects and partnerships were abruptly cancelled.
In no time, the co-founders of EBS, Ken Chiang and Denver Low, found themselves dealing with a blanket drop to zero revenue.
Scrambling to preserve the jobs of EBS' employees at that time and to mitigate fixed costs, Ken and Denver came up with a new business idea, GudSht, a delivery-ready bottled cocktail business, to cope with the sudden shock and try their best to damper the effect of restrictions put on Singapore's F&B landscape.
They sold over 300 bottled-cocktails in one week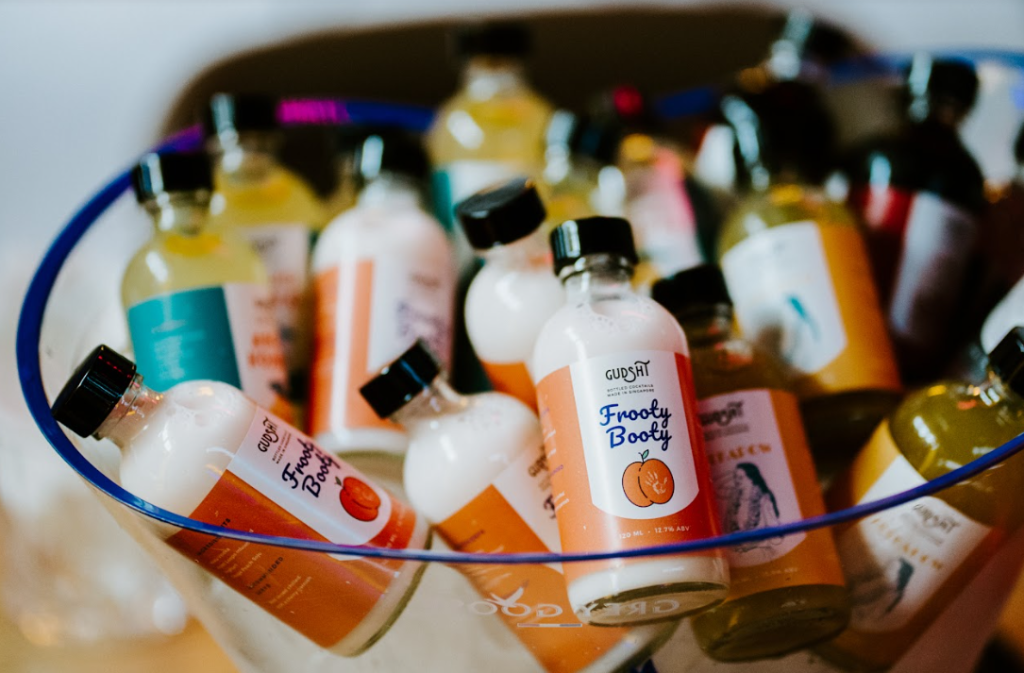 Abiding by the difficult restrictions imposed during COVID-19, GudSht was originally intended to be a digital native cocktail brand, solely focused on online deliveries and sales.
The brand launched in 2020 with five funky flavours: GudSht's signature Unicorn's Barf, Deeznuts, Rita's Marge, Keekapow, and Sangrila Utama- which became an instant hit among Singaporeans.
In fact, just after one week of its launch, GudSht sold over three hundred bottled cocktails.
Since then, the brand has steadily expanded its bottled cocktail range, launching new limited edition cocktails for select occasions.
"Singapore's F&B landscape has become increasingly competitive, thus, we believe that it is crucial to constantly create new and unique flavours to offer to our consumers," Ken explained.
For instance, the brand collaborated with GOODSTUPH to add two new concoctions to their menu shortly after its launch, Mao Cha and Mao Cha Nude, alcoholic bubble teas complete with generous amounts of pearls to satisfy the cravings of bubble tea fanatics during the pandemic.
In 2021, to help raise awareness for transgender youths in celebration of Pride Month and Pink Dot 2021, GudSht also launched two vodka-based bottled cocktails — Butterfly T-fect and Queer Quencher — inspired by themes of transformation, transcendence and identity.
Brewing the perfect concoction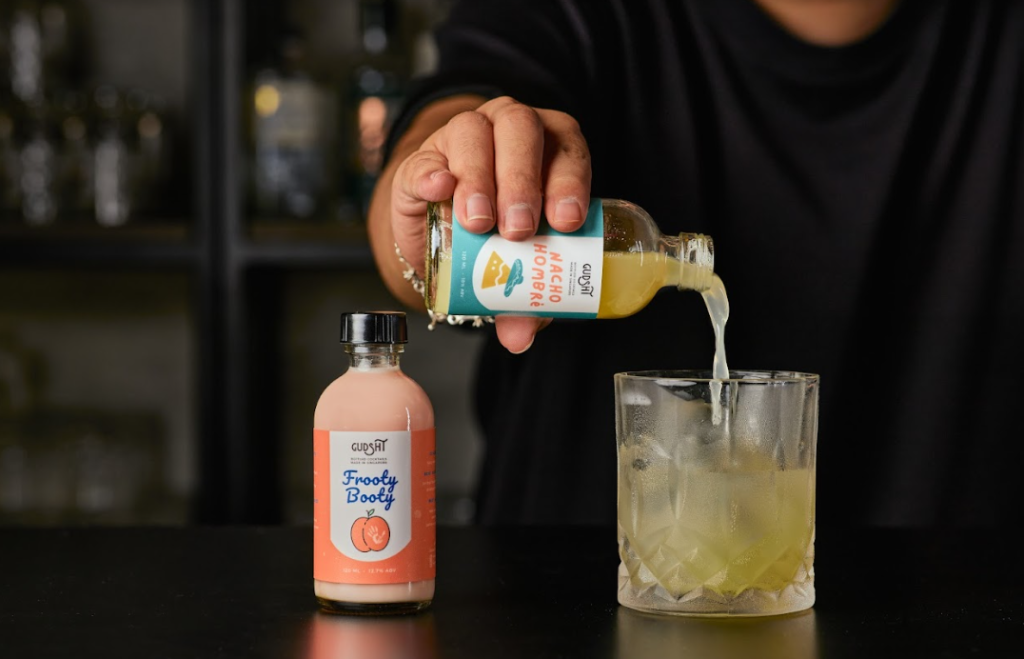 Every one of GudSht's cocktails go through an extensive R&D process to ensure the quality and taste of the drinks.
Firstly, the brand's resident bartenders will come up with a few recipes that they deem worthy for each cocktail concept.
These recipes will go through several rounds of tastings, and would be narrowed down to one variant for each cocktail concept.
Denver attests that each and every cocktail available on its shelves today has gone through multiple rounds of tastings and approvals.
Cocktails created as part of its collaborations such as the two Mao Chaos and local delights such as Cheng Tng Gao and Pink Lemon Barley, on the other hand, go through additional layers of tastings by the brand's collaborators as well.
We strive to create cocktail concepts that are worthy of being called 'good s**t' from both a conceptual as well as a taste profile perspective.

Denver Low, co-founder of GudSht
Pivoting from a digital native brand to launching a brick and mortar store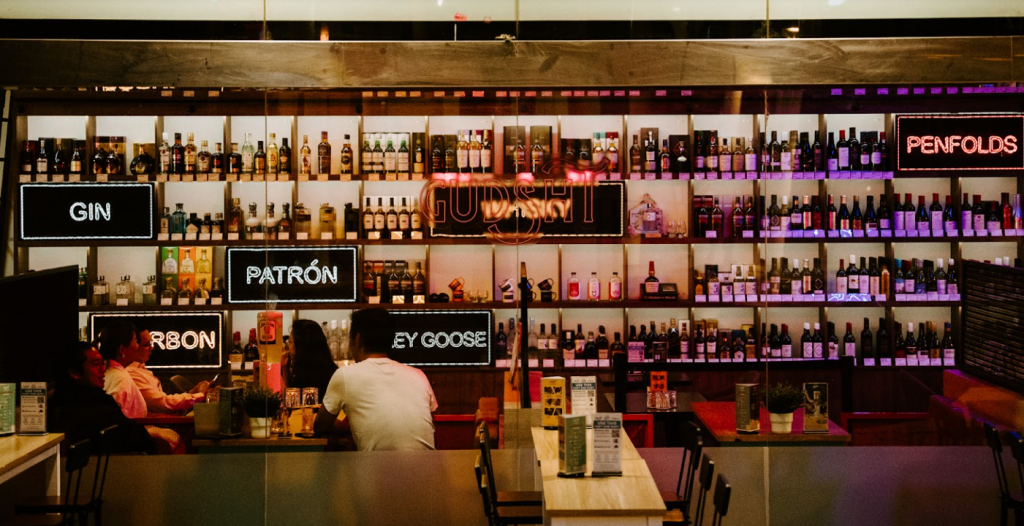 The fast turnaround from the bottled cocktail brand propelled GudSht to open up its own physical space to host its fans.
In January 2021, GudSht decided to take the plunge and open its first brick and mortar outlet in King George as the pandemic restrictions were eased. During that time, it shared a space with fusion Japanese restaurant The Refinery.
Subsequently, GudSht launched a flagship outlet at Cineleisure in March 2021. Deciding to focus solely on this standalone flagship outlet, both Denver and Ken decided to move out of King George June last year.
Adorned with neon lights and graffiti-like art murals to give off a Shinjuku-esque vibe, GudSht aimed to provide its customers with a "hip yet laid-back atmosphere for [them] to have a fun night out with friends or a much-needed lunch break in between work".
Although the brand is doing well today, Ken admits that it opening up a physical outlet was not an easy process.
"The first and most critical concern right off the bat was [if the physical outlet would] be successful cash-wise," he lamented.
There were doubts about the longevity of the space in Cineleisure, since the Somerset district is in the midst of a long term transformation.
In addition, both Denver and Ken were worried if the brand "could get enough people through the door" considering that the Cineleisure outlet was located in the corner of the building.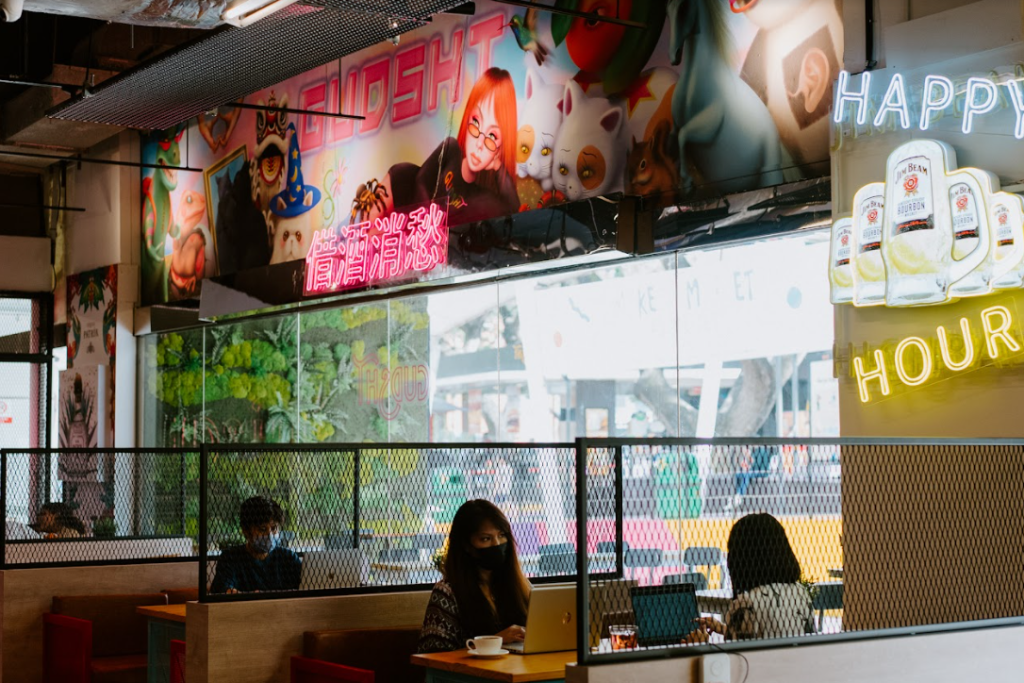 Another challenge that the duo had to deal with was to nail down GudSht's food concept.
Since the brand initially begun with cocktails, conceptualising the food offerings for its physical outlet was something Denver and Ken had to spend a fair bit of time on.
We had to recreate GudSht's vision and brand ethos in the physical space with limited resources. Our bites had to assimilate well with GudSht's brand persona.

Ken Chiang, co-founder of GudSht
However, despite being thrown challenges and clouded by doubts, Ken and Denver's efforts eventually paid off. GudSht's Japanese-fusion food menu was particularly well received, with its skewers proving very popular among its customers.
"The skewers remain one of our hottest sellers to this day," said Denver.
Capturing the market share in Singapore's competitive F&B space
Although COVID-19 restrictions have been lifted today and nightlife has resumed, the reopening of nightlife establishments such as nightclubs and the rise of hybrid clubs such as Thai discos are now a concern for the business.
That being said, the brand is still confident in what it offers — 'gud' drinks and 'gud' food at a 'gud' price point.
Looking forward, the brand plans to revamp the overall look and feel of its store to bring something fresh to its customers.
Ultimately, it aims to be the number one spot for Singaporeans to wind down and get together over quality drinks.
Featured Image Credit: GudSht