One thing you should know about me is that I'm a sucker for paper products. I'm a notebook girlie all the way—I love feeling a gel pen glide along 90gsm paper, or the lead tip of a pencil over my planner.
That's why when the team at Notebored pitched their product for me to try, I was sceptical.
Called a deskboard, Notebored's product is described as a desktop whiteboard and storage system. Essentially, it's a whiteboard (or blackboard) with a tempered glass surface, which opens to reveal a storage compartment within.
"Our mission is to decrease the reliance on single-use paper, such as sticky notes," Jordan, the founder of Notebored, had said to me.
Cue looking at the shared number of sticky notes between me and my colleague, Joyce (pictured below).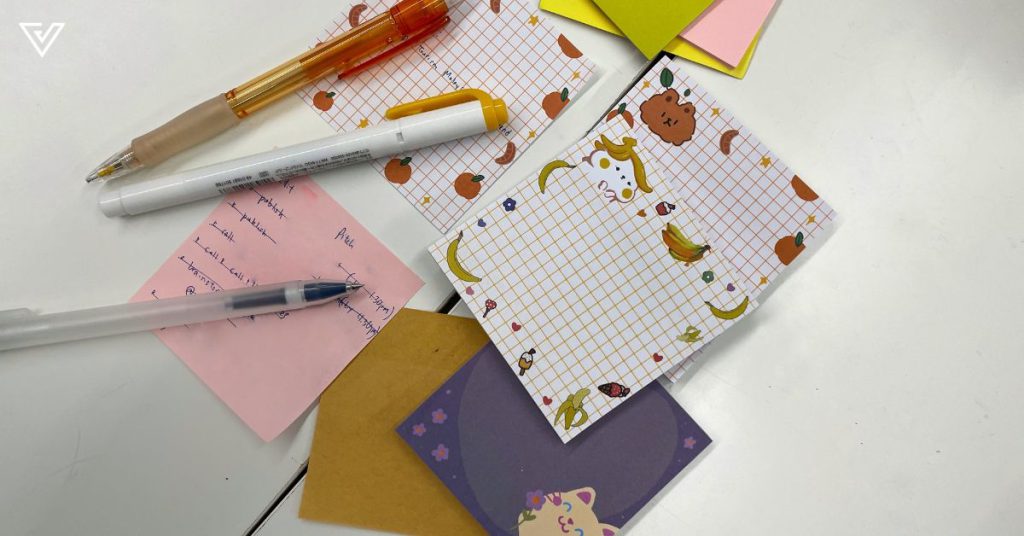 This kind of clutter is something that Jordan understands. He also used to be an avid user of sticky notes but one day decided he needed a less messy and more sustainable alternative.
That's when the deskboard came in.
Introducing the Notebored deskboard
If you feel like you've seen this product before, the chances are, you might have. But it might not have been from Notebored.
This product is not new. You can find variations of the product on Shopee from various sellers, though most—if not all—of them are shipping in from abroad.
Other than that, though, Notebored's product isn't much different from other options in the market.
"Our current offering is an OEM brand," Jordan explained. "But we are also in the process of developing 3D-printed attachments to be mounted on the rail."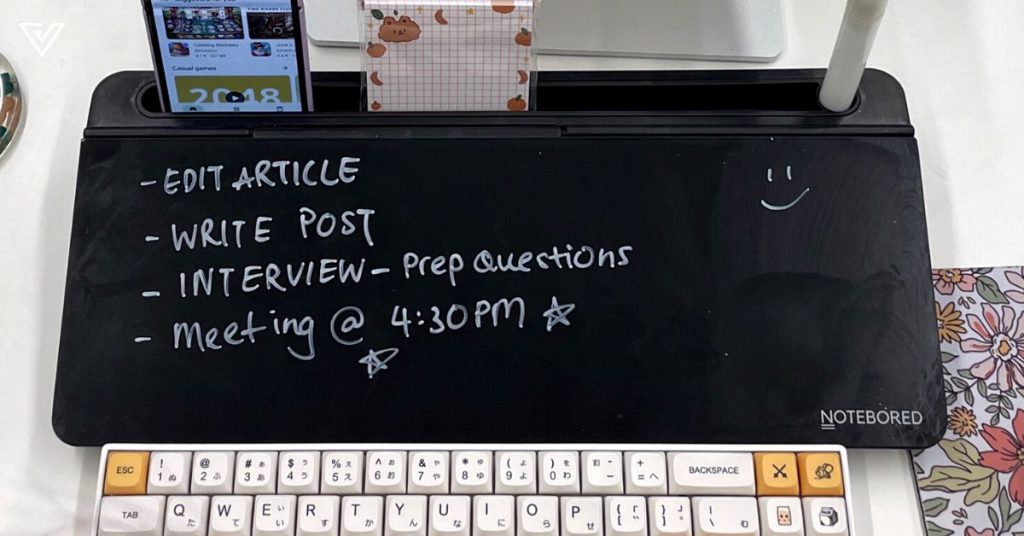 The founder generously sent Vulcan Post one of Notebored's deskboards in the black colourway (as the white version was sold out at the time).
True to the brand's sustainable lean, the product arrived in a cardboard (cardbored?) box with craft paper wrapping within instead of bubble wrap. That said, it also came in the typical plastic flyer, but I suppose that can't be helped.
At first glance, the product looked nice and sleek. The tempered glass surface had a premium feel and I didn't spot any dings, scratches, or issues with the workmanship overall.
But surface aside, the rest of the product is made with plastic that admittedly feels a little on the cheaper side.
The internal storage compartment fits a decent amount, but it's a bit like Tetris. Because of the sloped nature of the product, the compartments at the front are rather shallow. Still, after some configuration, I managed to move all my things from my usual organiser over to the deskboard.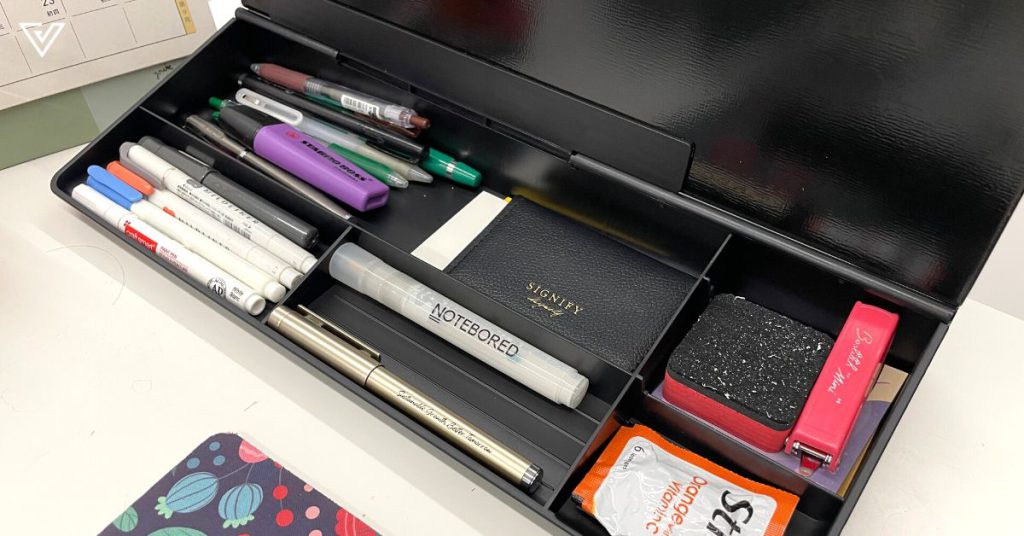 Overall, my first impression was that the visuals and optics of this product are nice. I like how clean, sleek, and professional it looked on my desk.
However, the shortcomings soon made themselves apparent.
Very user-friendly, but not the most intuitive
Suffice to say, there isn't really a learning curve to using this product. Just use one of the two markers provided by Notebored and start scribbling away your tasks or important notes. Goodbye, sticky notes. Hello… smudgy, streaky blackboard?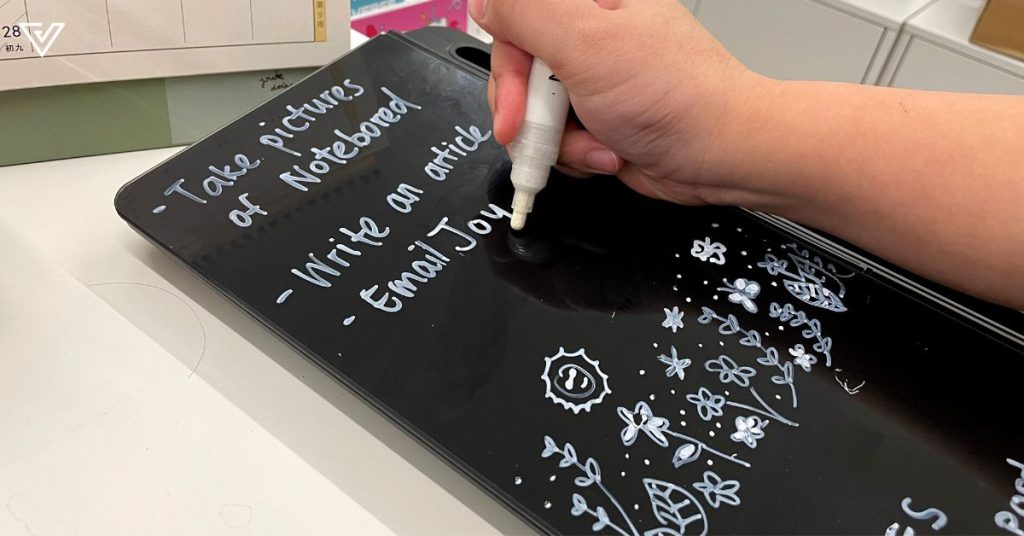 For some reason, the tempered glass surface is extremely prone to not just fingerprints but smudges of any kind. Even the eraser the set comes with can't get rid of them.
Should I resort to using newspapers, like how people clean mirrors and windows?
In any case, the reflective nature of the surface only makes the smudges more apparent, which really doesn't sell that sleek, clean look I so dearly wished it could give.
Plus, there's no way to lift the surface without holding a corner or the edge and thus leaving your fingerprints.
I'm no product designer, but I do wonder if it's possible to somehow design the deskboard to slide up instead of lift up. This would require more parts such as tracks along each side of the surface, though.
To be fair, the streakiness is not a big issue if you don't mind it.
Other than that, I also did not like the dry-erase markers. The white ink was vibrant and the marker wrote smoothly, but it's the messy clean-up that irks me. There's no better way to describe it to you than just showing you, so here you have it: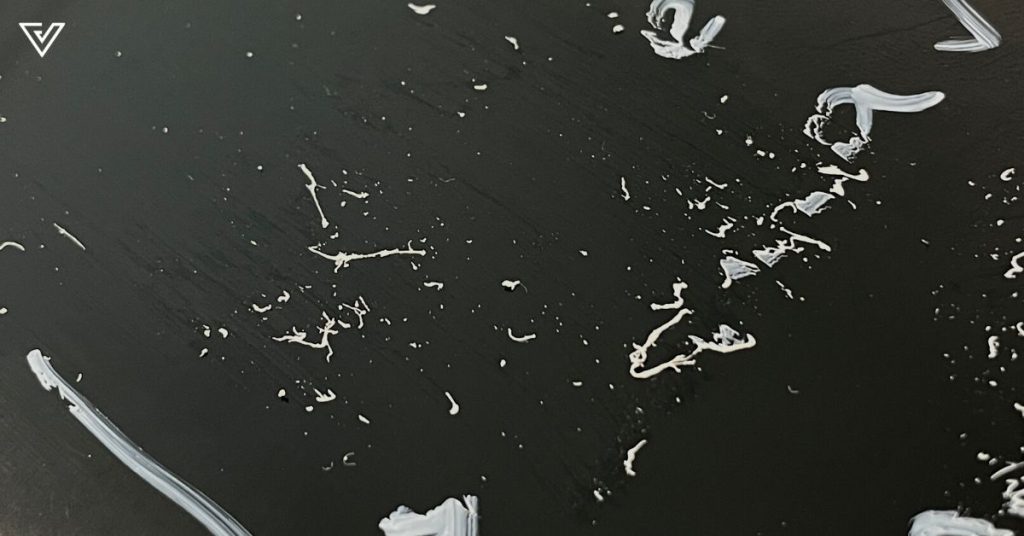 On the topic of cleaning, the square eraser is not my favourite either. I dislike that I have to open up the organiser to take out the eraser, since it doesn't fit in the holder behind the blackboard.
To counter this, I feel like Notebored could come up with a marker that has a built-in eraser on its cap.
I also realised that this product is ideal for people who have an external keyboard and monitor. This way, you can set the deskboard right behind your keyboard and in front of your monitor, and always have your notes in plain sight.
However, as a laptop user without an external keyboard, I decided to set the deskboard off to the side instead so I could see it. But still, not as functional as if it were right before me.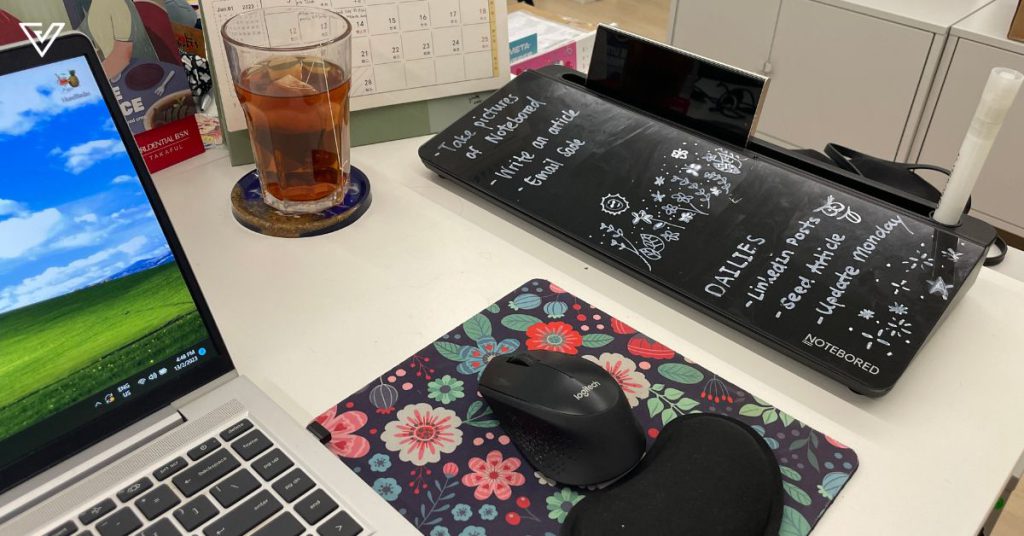 So, does it help with productivity?
Smudging issue aside, I actually enjoyed using Notebored's product. It was nice to scribble down my to-dos and have my notes in plain sight without having to open up my notebook. And it's true that I had less paper clutter from sticky notes.
But at the end of the day, would I say it boosted my productivity? No, not really. Plus, at a price point of RM147?
Given, this price is pretty standard in the market, as all the other deskboards I've come across are around the same price.
But for what it is, I'd rather just buy an organiser and a cheap whiteboard and call it a day. Wouldn't that be a more sustainable alternative, too?
However, everyone has their own work style. This might actually be a fantastic solution for some, especially those who have stationary work styles. I can't visualise a hybrid worker taking the Notebored with them everywhere they go.
If you're already in the market for an organiser, I do think the deskboard makes for a viable option, so long as you're willing to pay RM147 for it.