Renovating your home is never an easy task.
If you decide to go down the DIY route, you would have to source and coordinate different contractors on your own. While this is cost efficient, it would most definitely be time consuming.
You could always take the easier route by hiring an interior designer, but even then, finding a suitable interior designer and receiving a proposal on the design of your home would usually take up to a month.
On top of that, the renovation industry is also rife with non-transparent practices, such as hidden markups and a lack of standardised contracts — which is why homeowners often find themselves on the losing end when constructing their dream home.
In fact, the home renovation industry has received the most complaints as compared to other industries. A total of 807 complaints were lodged against renovation contractors with the Consumers Association of Singapore (Case) in just the first half of 2022.
About two-thirds of these complaints this year pertain to renovation contractors failing to complete projects on schedule and unsatisfactory workmanship.
Hence, to provide a more pleasant experience for homeowners looking to achieve their dream home, former colleagues Eugene Xie, Jon Ho and Tyson Lim decided to streamline the renovation process by launching their own (and Singapore's first) renotech platform, Homeez.
The TaoBao of home renovation

Launched in December 2021 during the pandemic, Homeez connects homeowners directly to suppliers and contractors.
The free-to-use platform lets homeowners design their homes online through its Design Now tool, and receive instant quotations on their selected renovations from the comfort of their own homes.
Through Design Now, you can upload your floorplans, which would then be digitised by the AI-powered tool. You can then start to design your home by dragging and dropping pieces of furniture to your digitalised floorplan and select themes for your rooms.
Once you are done, you can see your designs come to life — Design Now will provide you with up to three 3D renders of your "dream home" as well as up to six detailed floorplans, including hacking plans and painting plans. You will then be connected to Homeez's contractors and suppliers.
Alternatively, if you decide to engage your own contractors, these floorplans can be passed down to them at no cost.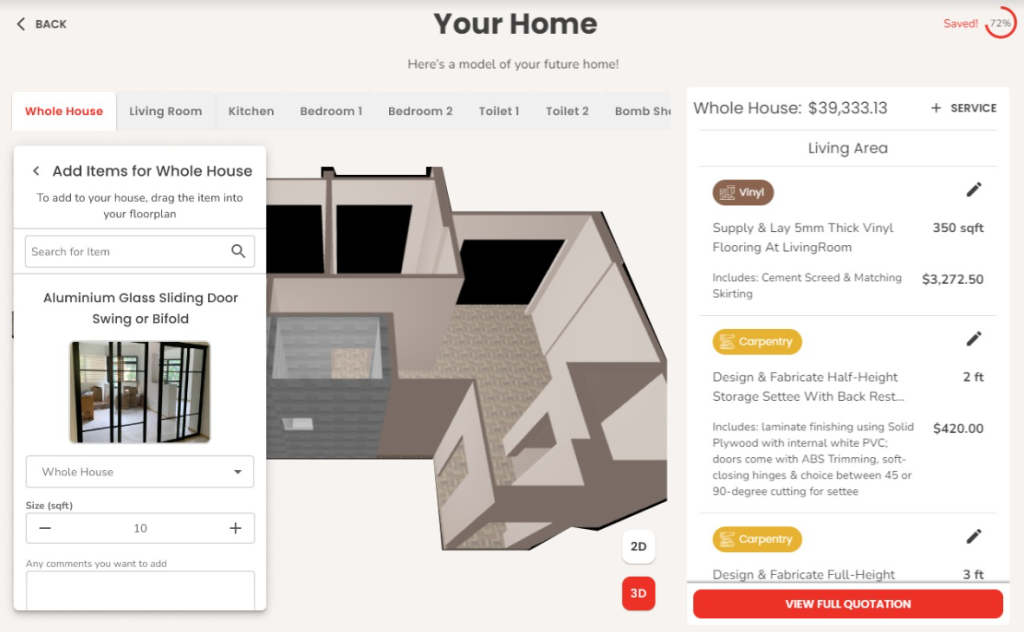 According to Homeez, homeowners who decide to renovate through its contractors and suppliers would typically receive a quotation of up to 60 per cent cheaper than what they would receive in the market, but this would vary depending on the needs and lifestyle preferences of the homeowner.
This is because there are no mark up fees and additional costs due to the lack of middlemen in the renovation process.
Our vision is to become the Taobao of home renovations. By empowering homeowners, we hope to prevent renovation scams and nightmares and save their money.

Tyson Lim, co-founder of Homeez
In the unlikely event that you manage to get a lower quote than Homeez, the platform will match the quotation, or refund you within a week.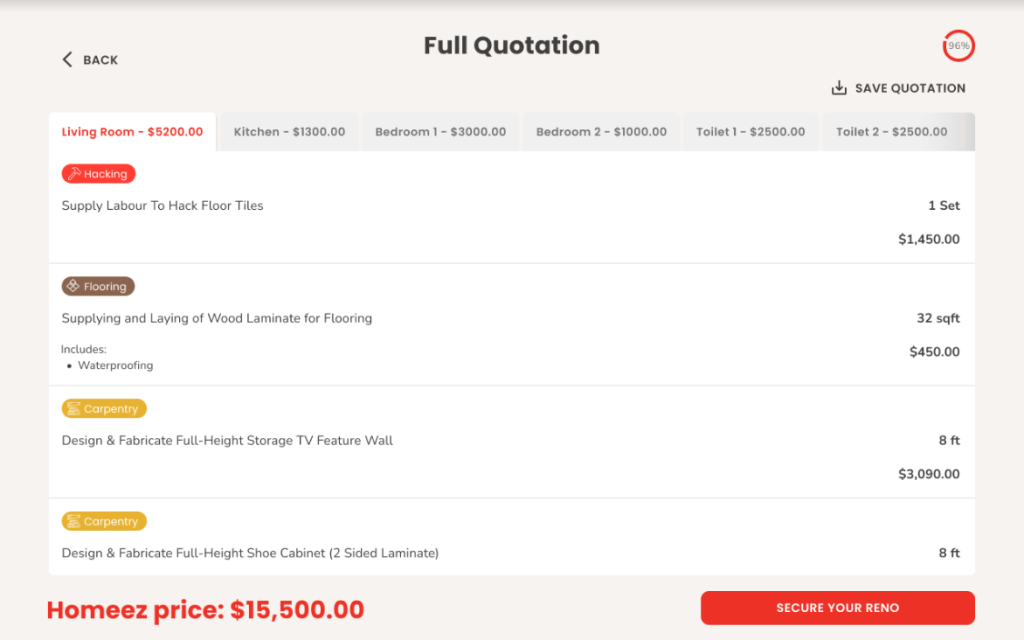 If you've already done all the hard work of sourcing out your own contractors (or interior designers), you can still utlise Homeez to review your quotations and narrow down to one with the best prices available in the market.
All you'll have to do is to upload these quotations through the platform's Quotation Doctor feature, and a representative from Homeez will contact you within five days.
Aside from these services, the renotech platform also provides ad-hoc services, with no commission fees and additional hidden costs.
Get a S$100,000 refund if reno works are not up to standard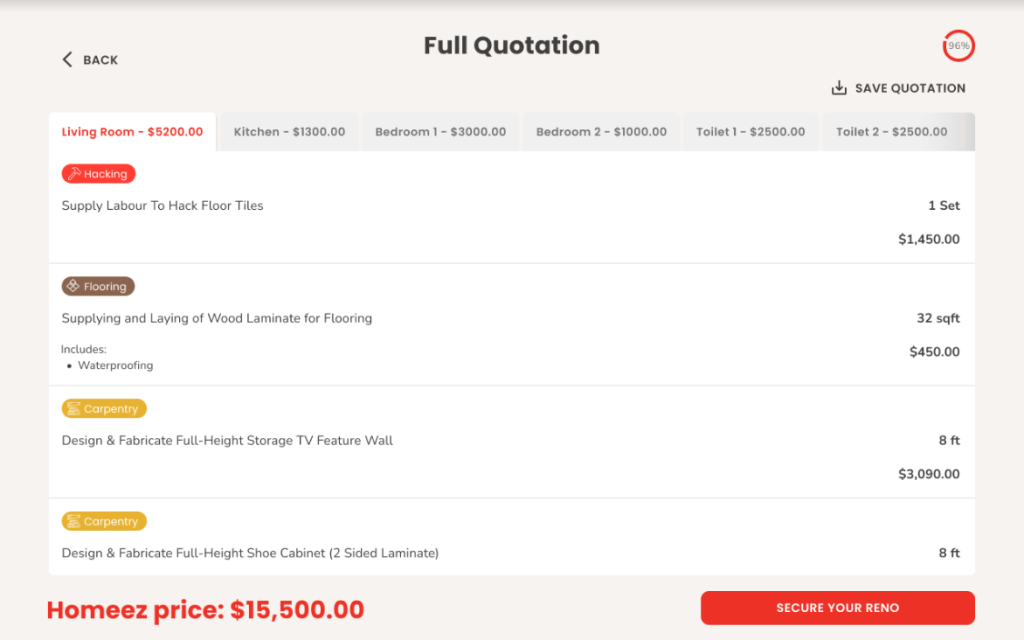 Most often than not, homeowners typically do not have a solution to determine the quality and workmanship of a contractor or supplier until renovation works are completed.
Hence, the platform has implemented a couple of measures to provide transparency and quality workmanship to homeowners.
For one, all Homeez suppliers are carefully vetted and are ACRA-certified, with proper licenses and certificates to run the renovation works. For instance, Homeez's hackers are equipped with HDB licenses, while its electricians and plumbers are certified.
Every home renovation done through Homeez also comes with a year of warranty. To make sure that its suppliers uphold this guarantee, the renotech platform practices a small retention amount so that suppliers can come back to rectify their errors or defects during this period.
Aside from these measures, Homeez will get you a replacement or refund you up to S$100,000 if the completed works are not up to standard, or if services are defaulted.
"We have a tier rating system to ensure onboarded suppliers stay consistent on their quality of work to our homeowners," Eugene added.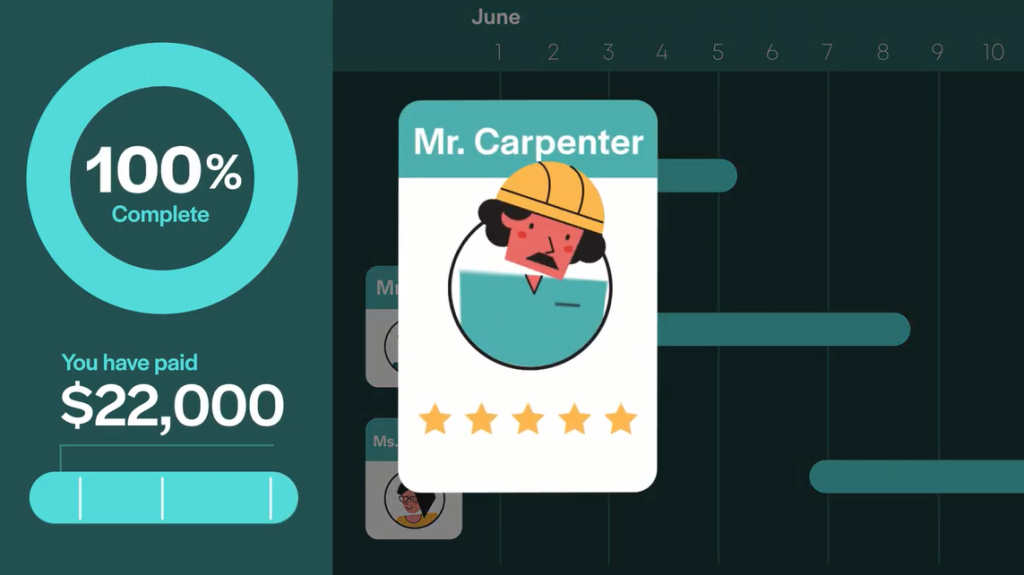 In addition to these benefits, Homeez has also partnered with Great Eastern to provide its users with complementary insurance coverage of up to S$50,000 for fire, theft and insured perils even after renovations are completed.
Taking a leap of faith into tech

While working in the renovation industry, the three co-founders have seen their fair share of home renovation horrors.
This is due to the fact that the industry has "always been a very traditional sector, with no change for at least the past 30 to 50 years," explained Eugene.
Homeowners are forced to heavily rely on middleman and labour, and are also blindsided most of the time because of the lack of standardised costs.
Although there has been many platforms in the renovation space that have pushed to digitalise the industry, they mostly consist of directories that direct homeowners to interior designer firms.
Seeing a need to streamline and implement a standardised system for homeowners, Eugene, Tyson and Jon took a leap of faith into tech despite having design backgrounds.
In fact, the trio view Homeez as an necessary disruption in order for the industry to evolve and digitise.
A pioneer in the renotech industry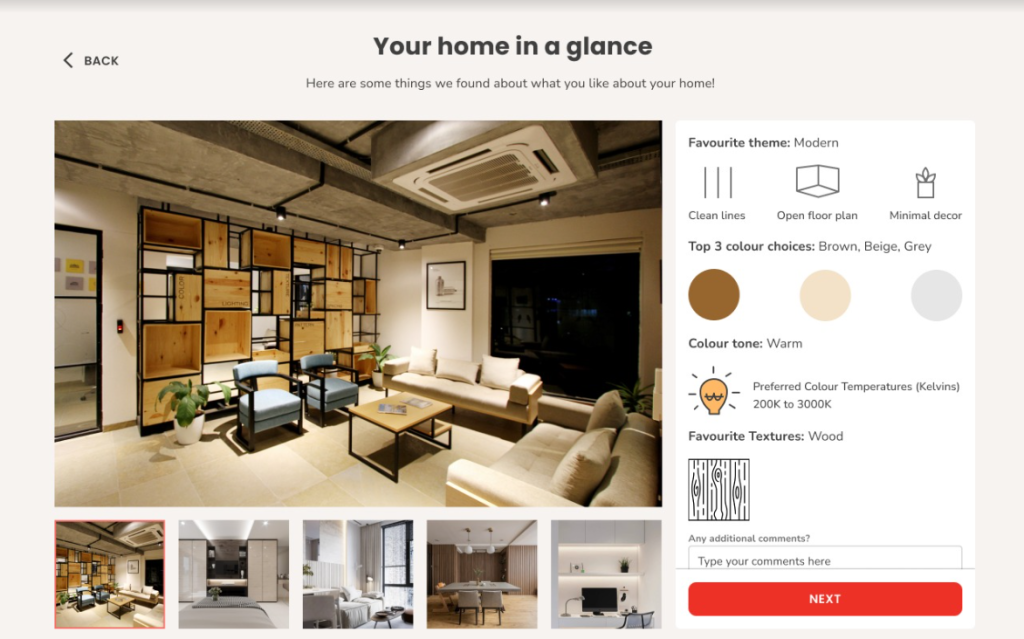 Although Homeez has managed to breakeven in just three months since its inception, as a first mover in the renotech space, the company found it hard to convince homeowners and contractors to utilise its platform.
Homeowners are just so used to the usual methods of turning to interior design firms and comparing quotations. Introducing Homeez to them is akin to when Grab was first introduced in Singapore — taxi drivers and passengers had to be educated to use its system instead of flagging for a cab.

Jon Ho, co-founder of Homeez
Jon admits that the company still faces this challenge, however, Homeez is striving to educate Singaporeans on its technology through marketing — and this move has proved to be successful to date.
Since December 2021, the renotech platform has managed to grow its user base from zero to over 6000 users.
Over this year, more than 100 suppliers have onboarded the platform, and about a quarter of them exclusively receive jobs from Homeez. "We've also had many other enquiries varying from homeowners to commercial business owners," he added.
To help push the platform further, Homeez raised funds in a seed funding round late last year. It plans to go to institutions for a bigger raise by Q4 of this year.
Ultimately, the renotech platform plans to roll out its offerings to various other cities around the world with stacked homes, including Kuala Lumpur, Hong Kong and Shenzhen, among others.
So how much can you save with Homeez?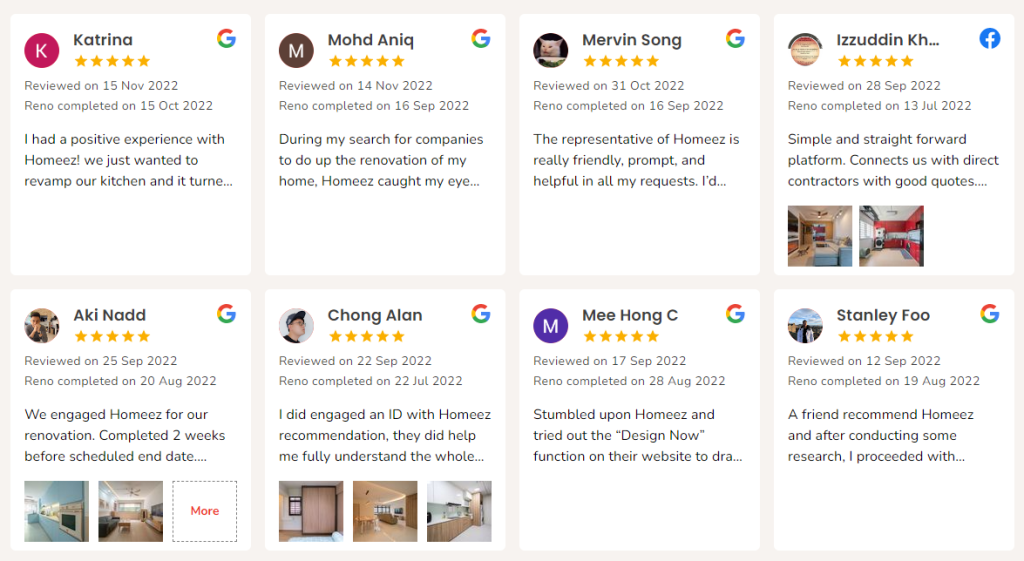 Most Singaporean homeowners have managed to save a significant amount on their renovations by using the renotech platform.
According to Javin Sim, his family originally intended to spend about S$80,000 on home renovations, but instead, they ended up forking out around half the price for his constructions through Homeez.
Meanwhile, an anonymous Google reviewer who was initially skeptical of Homeez's zero per cent markups, shared that the cost of his/her home renovation came up to 25 per cent lower as compared to the prices offered by other interior design firms.
However, some have pointed out that the cost of hiring contractors through the platform is not exactly the cheapest. "I can easily find more reputable direct contractors with same specs from Carousell," said a member of online tech platform Hardwarezone.
Another user, Wan Zi Low, echoed the same sentiments through a Google review. Although Homeez's quotations are generally cheaper and of good quality as compared to other quotations, the quote given by Homeez's electrician was slightly on the higher end, she explained.
That being said, most Singaporeans who have utilised the platform have had a positive experience. Cost savings aside, Homeez has also been commended for its responsiveness, and follow up service.
Featured Image Credit: Homeez