CelcomDigi Berhad (CelcomDigi) and SK Telecom (SKT) have signed and sealed a Memorandum of Understanding (MoU) to "explore and develop" Malaysia's first operator-led mobile metaverse platform.
(Digi and Celcom merged last year, and according to a Bursa Malaysia announcement from February 27, Digi.com Bhd has changed its name to CelcomDigi Bhd.)
According to a March 1 press release, CelcomDigi and SKT will create new business opportunities by working together to develop and offer metaverse and artificial intelligence (AI) use cases optimised for the Malaysian market.
Naturally, the leading question in our minds is: Why?
Before we get into that, though, let's try to understand what exactly it's all about. Here's what the press release says:
"Leveraging from edge computing processes for best latency experience, the development of Malaysia's first operator-led mobile metaverse platform will also enable the co-creation and unlocking of new metaverse content and services for customers and businesses in Malaysia."
Specifically, the two parties aim to explore creating metaverse services in verticals such as education, health, retail, and entertainment, contributing to the development of Malaysia's metaverse ecosystem.
Now that we understand it, we must once again ask:
Why are they doing this?
In CelcomDigi CEO Datuk Idham Nawawi's words, the collaboration "puts us at the forefront of developing innovative metaverse services for Malaysians by leveraging on the latest technology, including 5G."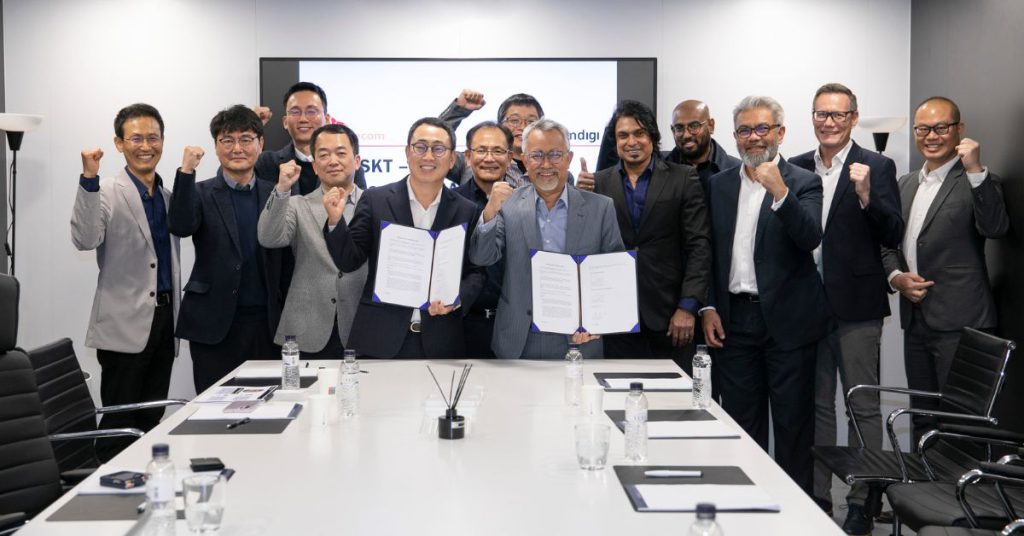 Interestingly, the Malaysian Digital Economy Corporation (MDEC) has recently just signed an MoU with Groupe Speciale Mobile Association (GSMA) to spur the development of 5G applications.
The CelcomDigi CEO further said, "This collaboration is part of our journey towards becoming the top telco-tech company in Malaysia and we aim to collaborate with more local organisations to co-create innovative use cases that will spur growth within the nation's digital economy."
Alright, so we know why CelcomDigi is doing this. What about the other party, SKT?
Perhaps now's an opportune time to add that SKT, a South Korean telecommunications operator, has already developed its own metaverse platform—ifland—and globally launched it back in November 2022.
Giving me Zepeto vibes, ifland's Apple app store description mentions that the app lets you "transform into a trendy you or sometimes funny you sometimes".
This could be a language barrier, but we'll admit it doesn't sound as attractive as it should be.
ifland also seems to offer play-to-earn opportunities, even though we're pretty sure play-to-earn is banned in South Korea.
The app also somewhat reminds me of Metadream's Bondee, which had gained virality over the past few months.
The main difference, though, is that Bondee hadn't leaned into the whole metaverse, Web3, and NFT concept, but instead went with a more lifestyle and entertainment approach.
I feel like that approach works a lot better, because there are currently still a lot of people who don't understand the metaverse, and perhaps might not want to.
In any case, will CelcomDigi's mobile metaverse platform look similar to ifland? Will it have play-to-earn features? Should it?
I'm not really sure. But ifland reportedly had 12.8 million users in October 2022, and if true, we're pretty sure they're doing something right.
Cynicism aside, I do understand why CelcomDigi is doing this and should do it—so it can propel our nation's digital economy and its own standing in Malaysia's digital economy.
But is the metaverse really the best sector to delve into in this attempt to accelerate our country? As in, how are these sorts of apps actually going to improve our lives?
There's still a huge gap in research on this, but I can already think of a few ways. It might be able to bring in more investors and create more job opportunities in this growing field.
Plus, if we don't stay up to date with this sort of tech, Malaysia might end up lagging behind (again).
I'm still slightly sceptical about this whole project. But if the app is good, the crowd will follow. Suffice to say, I'm curious to learn what CelcomDigi and SKT will cook up.
Featured Image Credit: Datuk Idham Nawawi (right), CEO of CelcomDigi Berhad, and Young-sang Ryu (left), CEO of SK Telecom