Ride-hailing giant Grab announced yesterday (March 9) new services designed to support the expected return of passenger traffic to Singapore's Changi Airport.
With passenger volumes now at 80 per cent of pre-pandemic levels, Grab has expanded its GrabShare BETA service to include Changi Airport terminals 2 and 3, with the service available from 5pm to 12am.
For travellers who may not want to download a new app for ride-hailing purposes, Grab has partnered with messaging platforms WeChat and WhatsApp to make its ride-hailing service available for booking.
From end March 2023, travellers can book the full range of Grab ride-hailing services through WeChat's Grab Mini Program when they arrive in Changi Airport, or they can book rides through a WhatsApp chatbot, accessed via a QR code.
Ride details, including estimated time of arrival, driver details, and contact information, will be provided to passengers.
The new services have been designed to address the common issues that tourists face when travelling, such as finding affordable transport options and navigating themselves to their selected pick-up point.
Ride-hailing services have become a core part of a person's travel journey when they arrive at the airport. We will keep innovating to meet the evolving needs of our users.

GrabShare will be a more affordable ride-hailing option that also helps to ease the ride-hailing supply crunch, as two travellers can now share a ride. Our new services will also help overseas travellers book Grab rides through apps that they already use and are familiar with, and enjoy a more thoughtful airport ride-hailing experience on the whole.

– Alvin Wee, Head of Transport, Grab Singapore
Improving the Grab experience for travellers
The GrabShare BETA trial expansion will help to ease the driver supply shortage, as two passengers can now share a ride at a lower fare, reducing overall costs for travellers.
The latest version of the service has been redesigned based on feedback from users and driver-partners, ensuring that drivers will not have to make unnecessary detours when picking up matched passengers.
For instance, pick-ups will be assigned based on the sequence of door numbers, starting with the one nearest to the driver. Additionally, only passengers within the same terminal will be matched to a ride, improving the efficiency of the pick-ups.
Features such as upfront matching, no-cancellation policy and cashless-only payment method will continue to apply to this experience.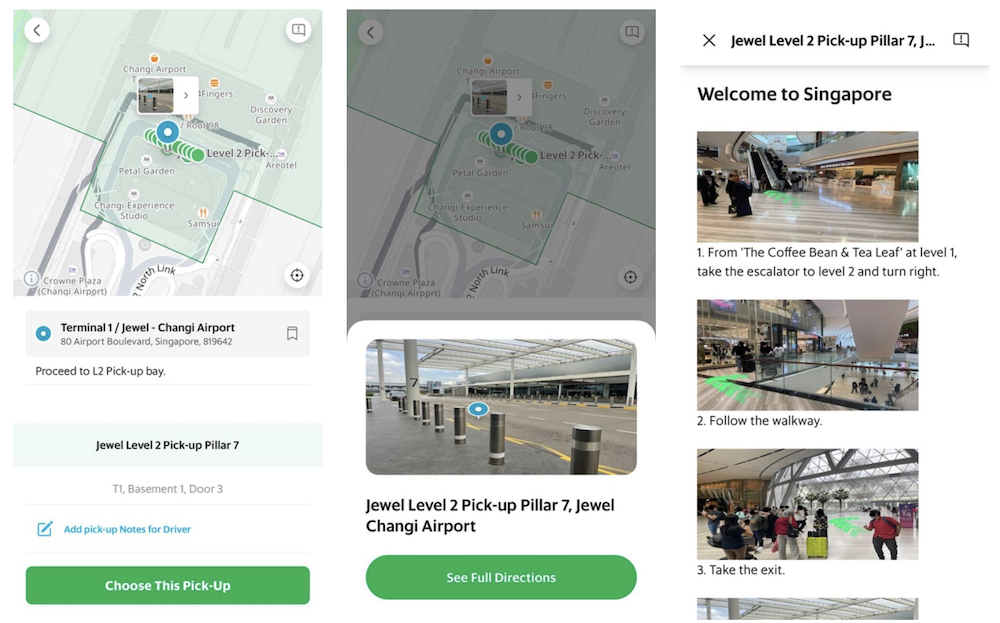 To further improve the Grab experience for passengers at Changi Airport, the company has also improved its Venues feature, which provides passengers with in-app photo and text directions to get to their selected pick-up point.
With the latest version, passengers will be able to view images of each pick-up point prior to selecting the one they want and receive turn-by-turn directions to it before booking their ride. This helps passengers to more accurately select their desired pick-up point and reduce drivers' wait time and congestion at pick-up points.
Grab is also simplifying its ride-booking screen for passengers at the airport, allowing them to more easily select the best vehicle option to accommodate their group size and luggage. Fro GrabShare, only one 27″ luggage is allowed per passenger, so that there is enough space for all baggage and both passengers can travel comfortably.
The new services are designed for both overseas travellers and Singapore residents and will provide a more thoughtful airport ride-hailing experience for everyone.
Grab said that it will continue to monitor the situation before assessing if the GrabShare service will be made available at more areas and timings.
Featured Image Credit: Grab