Marketed as an "all-in-one" VR headset, the PICO 4 is a relatively new device from PICO, a subsidiary of ByteDance.
But what exactly does "all-in-one" even mean? How much does "all" actually encompass? We set out to find out.
What can you do with it?
Obviously, one of the main things that people will want a VR headset for is the gaming portion, which we'll get to later on in this article.
But other than playing games, users can also watch immersive VR content through the PICO Video platform.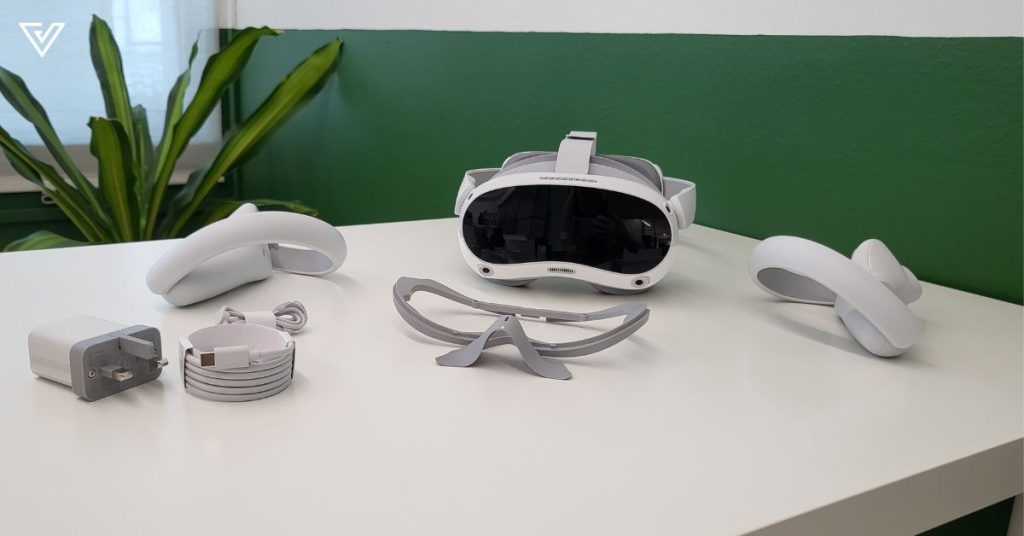 Here, you can access VR concerts, 6DoF (six degrees of freedom) films, and more.
We tried going on a virtual roller coaster, which was visually immersive but, of course, didn't live up to those 6D experiences where the chairs move and bursts of air and water blast at your face.
The PICO 4 also has fitness-tracking features. The PICO OS 5.0 Sports Center uses PICO's proprietary CalSense technology. A physical fitness monitoring algorithm, it can calculate your calories burnt in real time.
There's also other sports management functions such as data statistics and weekly plans available. We haven't fully tried all the fitness functions, so stay tuned for a more in-depth review of the fitness capabilities of this headset.
There's also a browser if you ever need to look up stuff—it's a little hard to type in VR, though.
Considering the fact that PICO is under ByteDance, TikTok's parent company, it might come as no surprise that there's some integration of the social media app on this headset.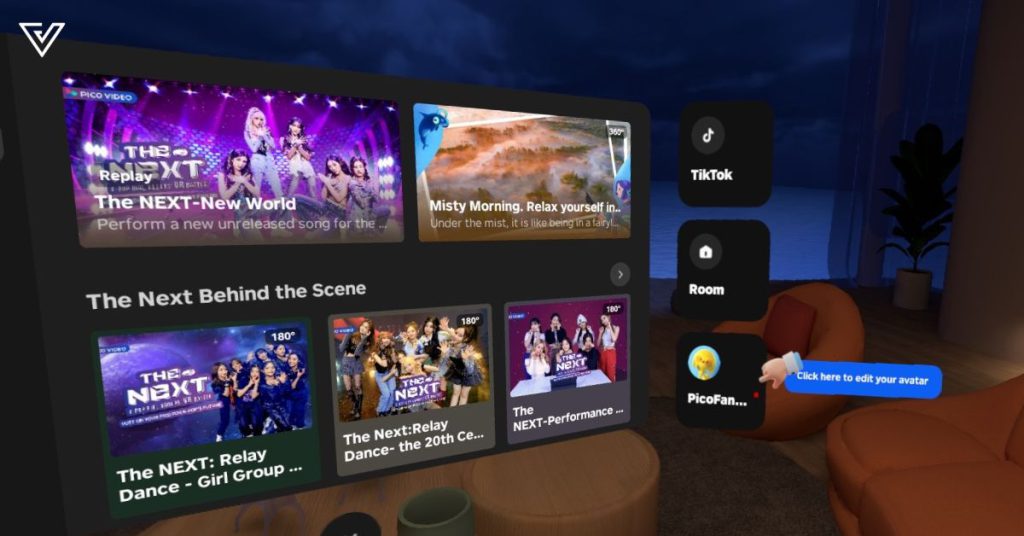 You can connect your TikTok account with the PICO Video app to watch TikToks on the headset. Just in case swiping on your phone isn't cool enough.
More interesting is the feature that lets you share your VR perspective to your personal TikTok.
A slightly limited store
Now, time for the gaming experience. As an All-In-One VR headset, the PICO 4 naturally features the PICO Store. There's a sizable library of games here, though the free titles seem to be rather limited. How "All-In-One" can a headset be when you have to pay extra for "all"?
Still, there are certainly quite a few VR staples on the store that are worth noting. There's Rec Room, the free online multiplayer VR game that essentially lets users explore millions of player-created rooms and communicate with people from all over the globe.
As for sports, there's Eleven Table Tennis, Real VR Fishing, and All-In-One Sports VR, the last one being a free game.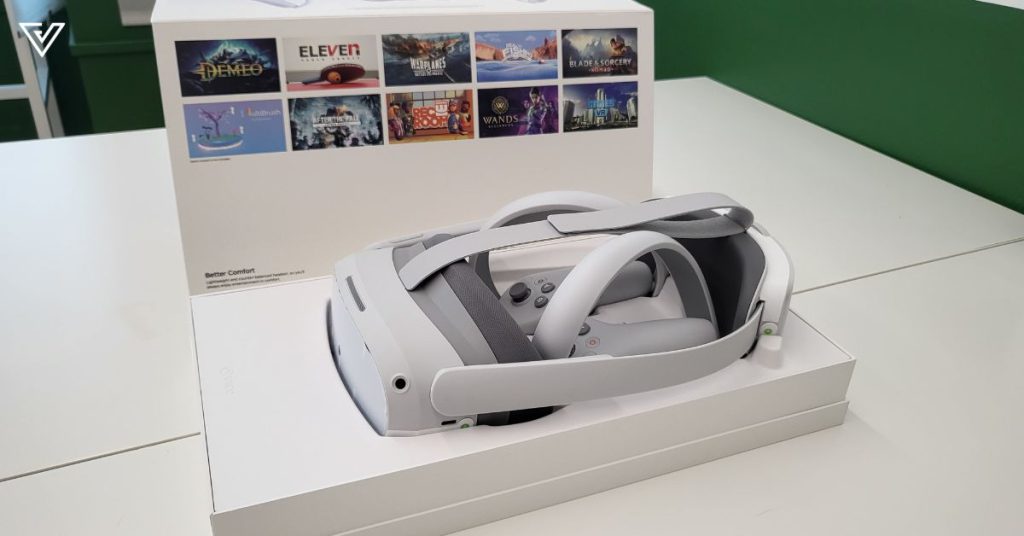 And on the bright side, the library seems to be frequently updated with new titles. For one, there's a seemingly new Beat Saber dupe by the name of Mutrix.
But how does this compare with, say, the Meta Quest 2's store? Meta Quest 2, for those who don't know, is Meta's VR headset (previously known as the Oculus Quest 2) and is also marketed as an all-in-one device.
Given that Meta Quest 2's store is essentially a rebrand of the Oculus store, it's got a treasure trove of games, ones that look a lot more polished. We're talking the real Beat Saber, not the Mutrix knock-off.
Other notable titles include Among Us VR, Resident Evil 4, NFL PRO ERA, and more. These are all paid games, of course.
Overall, the PICO 4 does seem to be comparatively lacking when it comes to the library of games.
Fine. How about we cast some Steam games onto the headset?
An issue with connectivity?
The process of hooking up the headset to my laptop seemed simple enough, until I actually had to try it.
First, I needed PICO's Streaming Assistant, which can be downloaded online from PICO's website. Once downloaded, the Streaming Assistant will also need you to have the SteamVR tool downloaded, which is necessary to play Steam games.
In the meantime, I also downloaded a free VR game on Steam to try out.
Then, once you've set up the Streaming Assistant on your laptop, open the Streaming Assistant on PICO 4, which comes already installed, and connect the two devices as per the instructions on screen. Easy peasy.
At least, it should've been easy peasy. I spent one full hour trying to sync my laptop to the headset. At one point, the audio from the game started playing through the headset, giving me a semblance of hope.
But the applications kept crashing and I finally decided that perhaps my laptop was just not compatible.
We tried again with a more powerful laptop, and lo and behold, it worked. I managed to play some Phasmophobia, but got way to dizzy from all the motion, so proceeded to build some furniture with Home Improvisation. It was glitchy at times, but worked mostly as intended.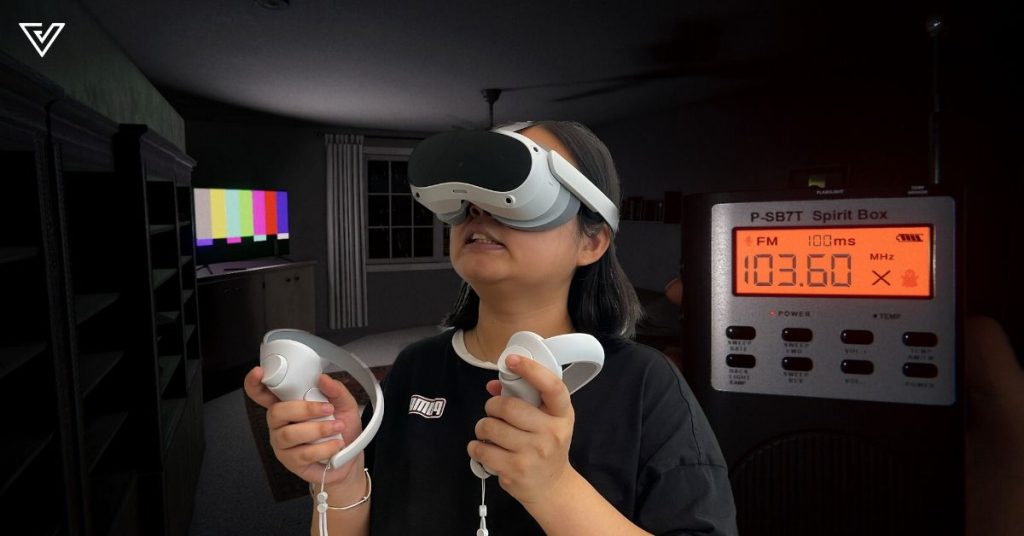 But I guess connectivity isn't really the main thing you'd want from a headset that's supposedly already All-In-One. The charm is that everything you could want is already built into the headset, right?
Verdict
Bottom line is, the PICO 4 gets the job done. Especially for people who have a better time connecting their PCs to the headset.
Maybe its "All-in-One" quality still isn't as much as we'd like, but it's got enough to keep you entertained.
With a starting price of RM2,149 that is usually discounted to RM1,699 most of the time, it's an arguably good price for those looking for a home entertainment device.
Plus, the PICO 4 is more accessible compared to the Meta Quest 2, as PICO has an official Shopee and Lazada store that just makes life so much more convenient. As for Meta Quest 2, you'll need to purchase it from other resellers.
If you're still weighing your VR headset options, it really comes down to what functionality you want out of the headset.
Those who can't bother with connecting the PICO 4 to a PC would likely prefer the larger game library on the Meta Quest 2, but it's important to note that the PICO store is growing, too.
If we're talking specs, the PICO 4 does have a higher RAM (8 RAM compared to 6 RAM). PICO 4 also has a higher display resolution.
And heck, if you mostly play on a PlayStation console, you might even prefer getting the recent PlayStation VR2 headset, which isn't wireless like the Meta Quest 2 or the PICO 4, but has garnered great reviews.
That said, the starting price for the PS VR2 is… maybe a little steep (RM2,799).
My ultimate verdict is that the PICO 4 is a really nice headset, but I would definitely like to see an expanded library of games to make the PICO 4 a truly "All-In-One" VR headset.
| Pros | Cons |
| --- | --- |
| Different types of entertainment (video, games, fitness) | Game library is a little limited |
| Can connect to PC to play Steam games | Streamcasting Steam games will require a powerful laptop |
| Reasonable price for an All-In-One device | |
VP Verdict is a series where we personally try and test out products, services, fads, and apps. Want to suggest something else for us to try? Leave a comment here or send the suggestion to our Facebook page.