[Written in partnership with PubliCT.io, but the editorial team had full control over the content.]
For the first time, renowned anime and manga producers KADOKAWA Group is hosting a global version of its TATESC contest, opening up its submissions to artists across the globe.
TATESC is a portmanteau of two words—Tate, which is Japanese for stand up, while the SC refers to scroll. It's a vertical scrolling comic label from the KADOKAWA Group, launched in Japanese in 2021.
This year, the event, aptly called TATESC Comics Global Awards, will allow submissions in six different languages—English, Malay, Traditional Chinese, Simplified Chinese, Thai, and Japanese.
All entries will be vetted by the first TATESC Comics Global Awards Jury which consists of editors from KADOKAWA Group publishers in each language.
This means that Kadokawa Gempak Starz (KGS), KADOKAWA Group's Malaysian subsidiary that's known for comic series such as Lawak Kampus, is taking charge of the Malay and Simplified Chinese submissions.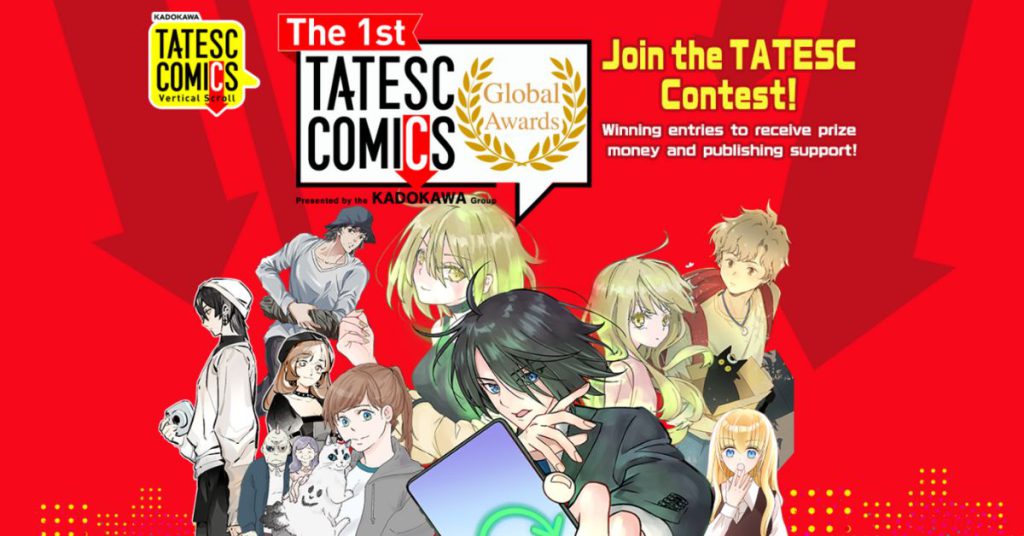 The first prize winner of each language group will win US$15,000. The second and third-place winners will bag US$2,500 and US$1,000 respectively.
Prize money aside, the award winners are guaranteed electronic serialisation and an editor will be assigned to assist comic writers in publishing their work.
The first-place winner from every language will also be invited to participate in the award ceremony which is scheduled to be held in Japan sometime in December this year.
Criteria
Submissions for this vertical comic contest must include at least one chapter with a sizing of 760px by 20,000px. More details of the file format and image size can be found online.
You don't actually need any comics experience or be of a certain age in order to join the competition. You can even team up with your friends or corporation, or choose to do it solo.
Since there isn't a theme or topic that applicants have to abide by, you can also let your imagination run free.
There are certain restrictions, though, namely regarding works that include excessive sexual or cruel depictions, works that infringe on the copyright of others, as well as works that are slanderous, offensive to public morals, or otherwise deemed unsuitable by the judges.
So, stay away from those themes unless you want your submission to be disqualified.
Other than the main prizes, there will be a Translation and Publication Award given to three submissions from the five eligible languages (English, Simplified Chinese, Traditional Chinese, Thai, and Malay).
These contestants will have their work translated into Japanese and will be guaranteed electronic serialisation in Japan.
-//-
Artists can now sign up for the TATESC Comics Global Awards online. Applications are open from now until August 31, 2023 at 11:59PM.
The finalists will be announced on a special website come October 2023 and the final selections will be disclosed in November.
KADOKAWA added that there will be more opportunities for the winning submissions that will be unveiled over the duration of the contest.
Here are the dates at a glance for your convenience:
| | |
| --- | --- |
| August 31, 2023 (11:59PM) | Submission deadline |
| October 2023 | Finalists announced |
| November 2023 | Final selections announced |
Learn more about TATESC Comics Global Awards here.
Featured Image Credit: Kadokawa Gempak Starz