Coming in a chassis made with aluminium alloy, the sleek and sturdy ASUS Zenbook 14 Flip OLED features 360° hinges, meaning it can be converted from your run-of-the-mill laptop to a nifty tablet.
While convertible laptops are nothing new nowadays, this Zenbook also features a wealth of other attractions, one of which is the laptop's durability.
It's said that the laptop has been stringently tested to U.S. military-grade durability standards, but as someone who doesn't really get what that entails, I have my own version of durability standards. It goes by the name Cocoa, AKA the cat that we've been fostering in the office.
With a fearsome demeanour and a reputation for sharp claws and a give-no-effs attitude, Cocoa has been trodding all over the laptop (proof below), and I'm pleased (and highly relieved) to report that there have been no scratches or damages to the laptop.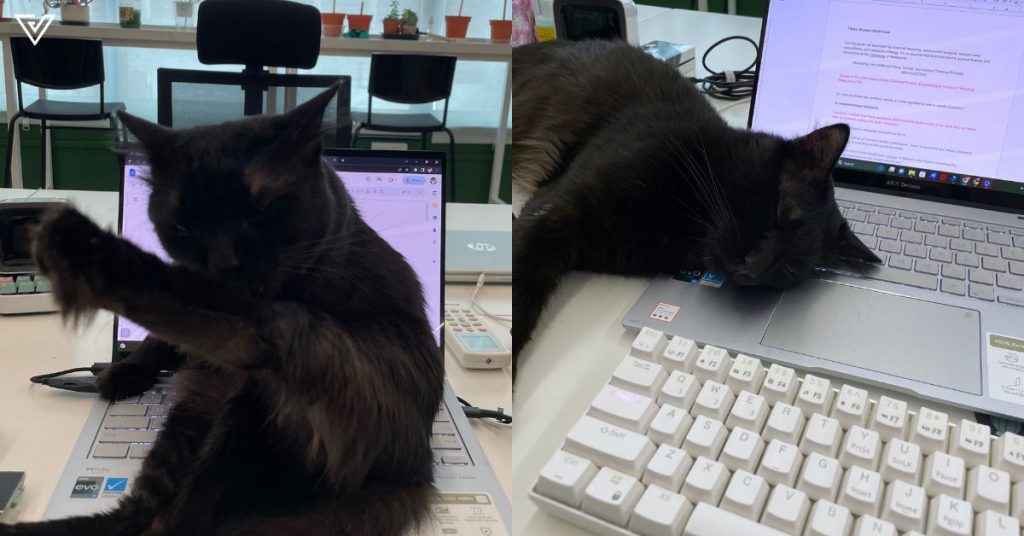 Just as I was writing this article, Cocoa actually pushed down the screen (to around 270°), and if it were any other laptop, it might've resulted in a disaster.
The touchscreen is made with Corning Gorilla Glass as well which has enhanced scratch resistance and reduced scratch visibility—perfect for situations involving a cat.
Cocoa aside, I myself have been testing it for about a week, using it for all my laptop needs, from working to gaming. Here's how the laptop has been performing.
Flipping into tablet mode
At the end of the day, the main attraction of the ASUS Zenbook 14 Flip OLED is its ability to flip, of course.
The hinges (called the ASUS 360° ErgoLift hinge) are smooth and flexible, but tight enough that the screen doesn't budge without any external force. Speaking of force, the laptop is sturdy enough that pushing the screen open doesn't lift up the bottom, which is always fantastic.
According to ASUS, the durability of the hinge design was tested with over 20,000 open/close cycles.
For those who are keen on using the Zenbook as a tablet, the laptop supports ASUS Pen 2.0 Stylus.
While the pen can easily be charged using one of the two USB-C ports, it's regrettable that the laptop doesn't have any housing for the pen. I wish the pen was somehow magnetised to snap along the side of the laptop, but is that too much to ask for?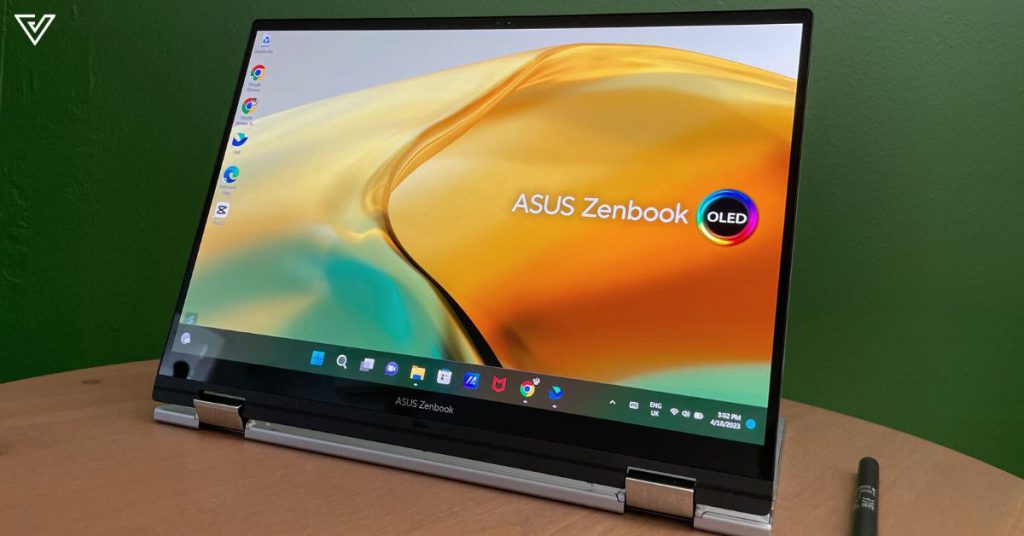 Speaking of ports, there's only one USB port, which is a shame for someone like me who often has up to three things plugged in at once (keyboard, mouse, phone charger, or microphone…)
On the other hand, it has two Thunderbolt 4 USB-C ports as well as a full-sized HDMI 2.1 (TMDS) port.
Back to the tablet functions of the laptop, when I first tested it at the media launch, I had a bad experience with the palm rejection, meaning that when my hand was resting on the screen, it would randomly activate things that I didn't intend to.
My more hands-on experience has shown that it's not always that bad, though. Yes, there are still certain occasions where the palm rejection was a bit off, but more often than not, it works fine.
Some nice frills
Sometimes, it's the sum of all the little things that make or break the user experience of any device. And boy, are there quite a number of small yet appreciable things about this laptop.
While it's not an uncommon feature anymore, the touchpad can function as a number pad, though it can get tricky to toggle on and off sometimes. This can be a good thing as well though, as it prevents any accidental misclicks while using the touchpad.
The keyboard on this laptop has backlit lights which can easily be turned off (using the F7 key). Through the MyASUS app, you can also customise the settings so that your keyboard can auto-brighten or auto-darken based on the lighting conditions.
There's also the FHD infrared camera for facial recognition, so you never have to type your password anymore.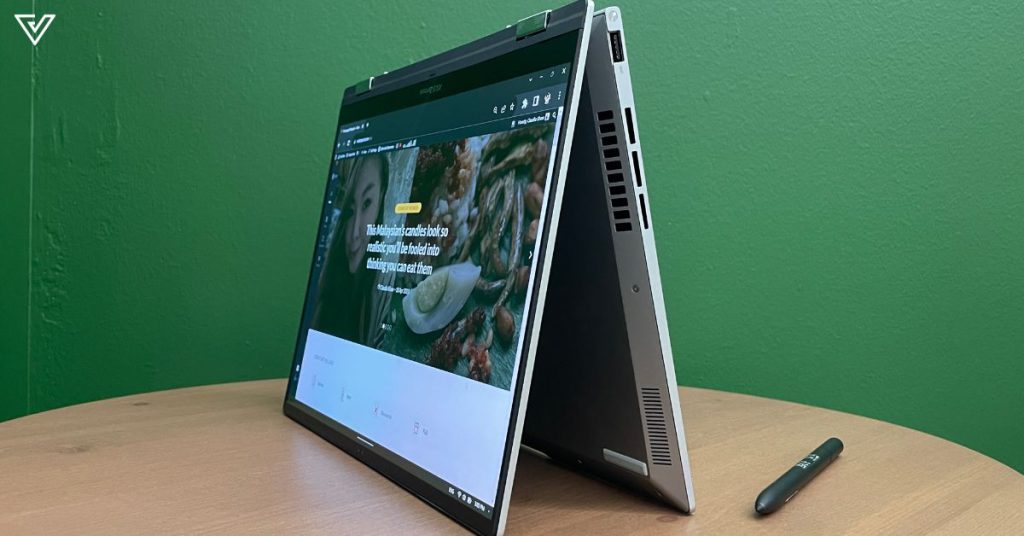 Another notable thing about the laptop is its quality sound, which ASUS worked on with Harman Kardon. It's phenomenal, as in it can go ridiculously loud.
There are customisable settings for the audio, such as volume booster, sound modes (with options such as dynamic, game, movie, music, and voice), as well as AI noise-cancelling speaker and microphone.
You can change the microphone settings to the unidirectional mode or omnidirectional mode based on your necessities.
When plugging in the laptop, the screen will suddenly black out, which might surprise some users. But this is actually intentional as it's just the dynamic display refresh rate doing its job to help extend the laptop's battery life.
For those who might find this annoying, though, you can also turn it off in MyASUS.
Another small but notable feature is that the laptop emits less blue light and is supposedly safer for children's eyes.
Decent specs for everyday use
With a 75Wh-battery and a weight of 1.5kg, the ASUS Zenbook 14 Flip is a great portable laptop for your day-to-day work or study purposes, even if it leans on the slightly heavier side. Knowing that the laptop is durable helps with ease of mind when lugging it around town, too.
However, if we're talking about more intensive use cases such as playing games, this laptop might not be the one for you.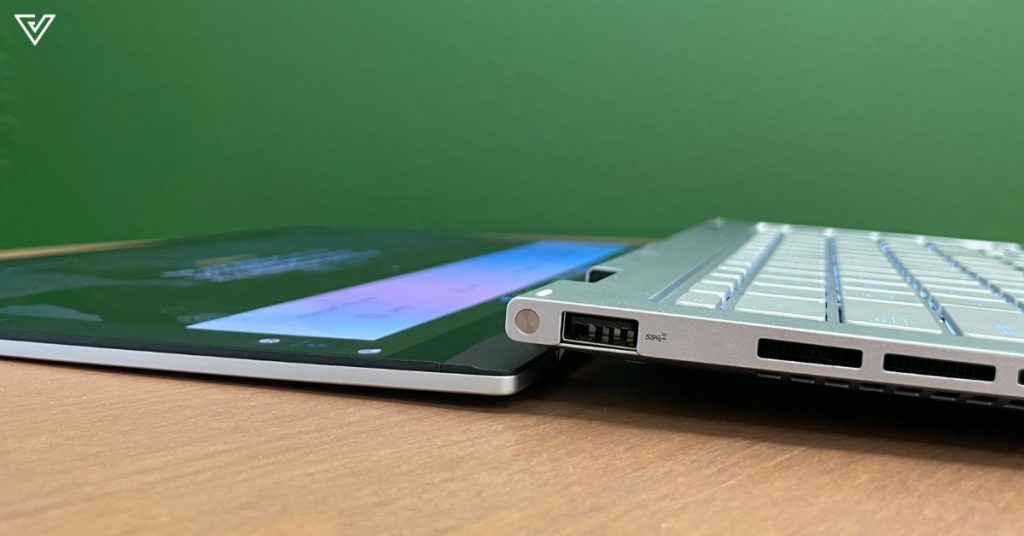 Even with the fan profile set on performance mode (which you can turn on in MyASUS), the laptop gets really warm, so you might have to get a cooler for your laptop's health.
The laptop has a refresh rate of 90Hz, which is good for most cases, but if you're trying to play a FPS game, it might not provide the ultimate experience.
More than for gaming needs, though, this laptop will be more suitable for creatives. Not only will artists enjoy the tablet function for drawing on the go, the laptop supports a customisable colour gamut function. This allows users to efficiently switch the display's colour gamut.
All things considered, at RM5,499, this might seem on the pricier end if you're just looking for a day-to-day laptop that gets the job done.
But if you're someone who will make full use of the convertible nature, the ASUS Zenbook 14 Flip OLED might be the laptop you're looking for.
Especially if you have a naughty cat who's always trying to sit on your laptop.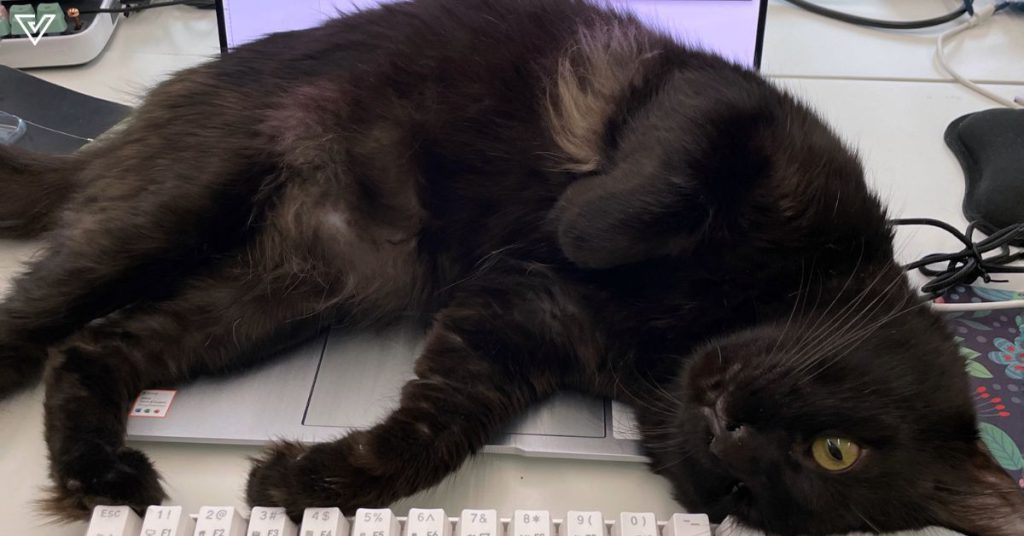 | Pros | Cons |
| --- | --- |
| Highly durable chassis as well as screen (cat-tested) | Even with the fan on performance mode, the laptop gets quite warm |
| Flexible yet sturdy hinges | Palm rejection can be a little finnicky |
| Customisable audio and microphone functions | Only one USB port |
| Infrared camera for facial recognition makes the laptop security more efficient | |
Learn more about the ASUS Zenbook 14 Flip OLED here.
Read other articles we've written about ASUS here.
VP Verdict is a series where we personally try and test out products, services, fads, and apps. Want to suggest something else for us to try? Leave a comment here or send the suggestion to our Facebook page.