Disclaimer: Opinions expressed below belong solely to the author.
Startups which transition into rapidly-growing multibillion dollar enterprises are frequently misunderstood by many, as they keep posting heavy losses (often for years).
Critics tend to call them irresponsible, extravagant, fraudulent or unsustainable, but the reality is that if they focused on profitability then, paradoxically, they would reduce their chances of survival.
As long as cheap capital is abundantly available, growth takes precedence over profits. They will need to come when easy money runs out — and if you're not big enough by then, you're simply not going to make enough when economy hits the brakes.
Singapore-based Sea Ltd. is an excellent example, after the company — thus far bleeding on average half a billion dollars per quarter (and around a billion at its peak) — has managed to stop and reverse on a dime, suddenly finding a billion dollars in the fourth quarter of 2022, reporting its first ever profit as a group.
The really remarkable thing, however, is that it has managed to achieve it amidst a broad stagnation or even decline in business activity across its two main pillars — digital entertainment arm Garena, and e-commerce giant Shopee: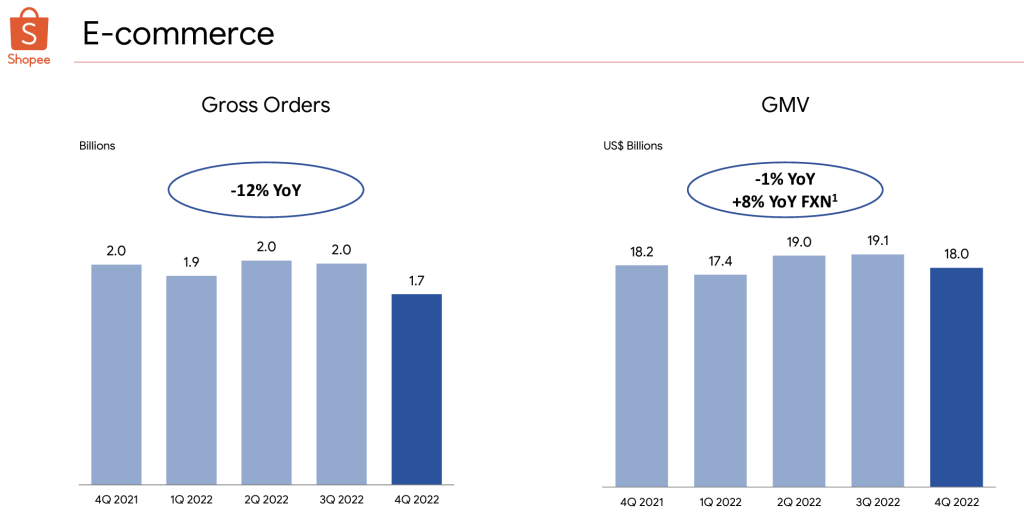 Shopee processed 12 per cent fewer orders of total Gross Merchandise Value (GMV), comparable to Q4 of last year — and below its mid-year months, despite the fact that last quarter is typically a busy holiday season.
Meanwhile, Garena has been in free fall, ever since the pandemic restrictions eased and millions of people turned away from digital entertainment, which used to fill their time under lockdowns.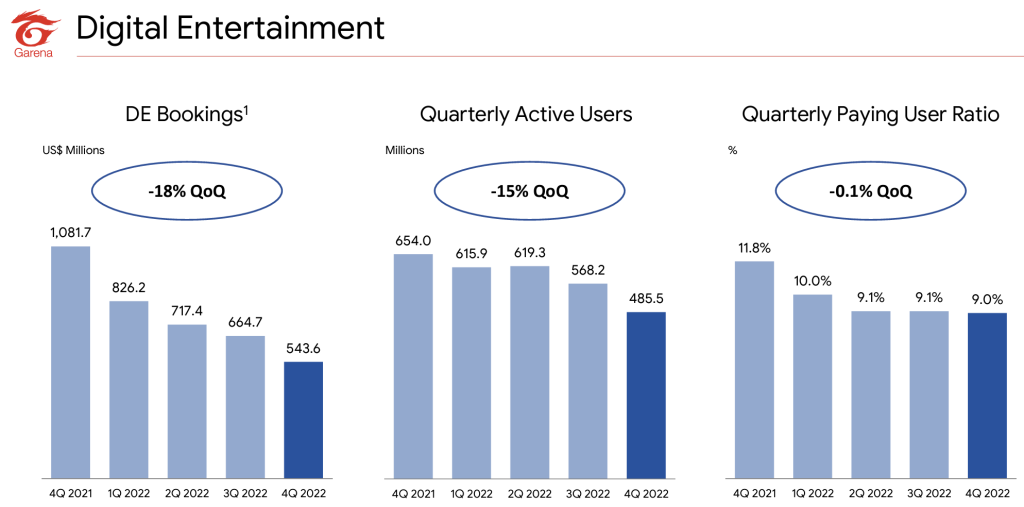 Year on year, Garena saw a 50 per cent drop in bookings, a 25 per cent drop in active users and a similar 25 per cent decline in paying user ratio, what contributed to a whopping 57 per cent fall in EBITDA – from over US$600 million in Q4 2021 to just US$258 million in 2022.
It used to be Sea's cash cow, but not anymore.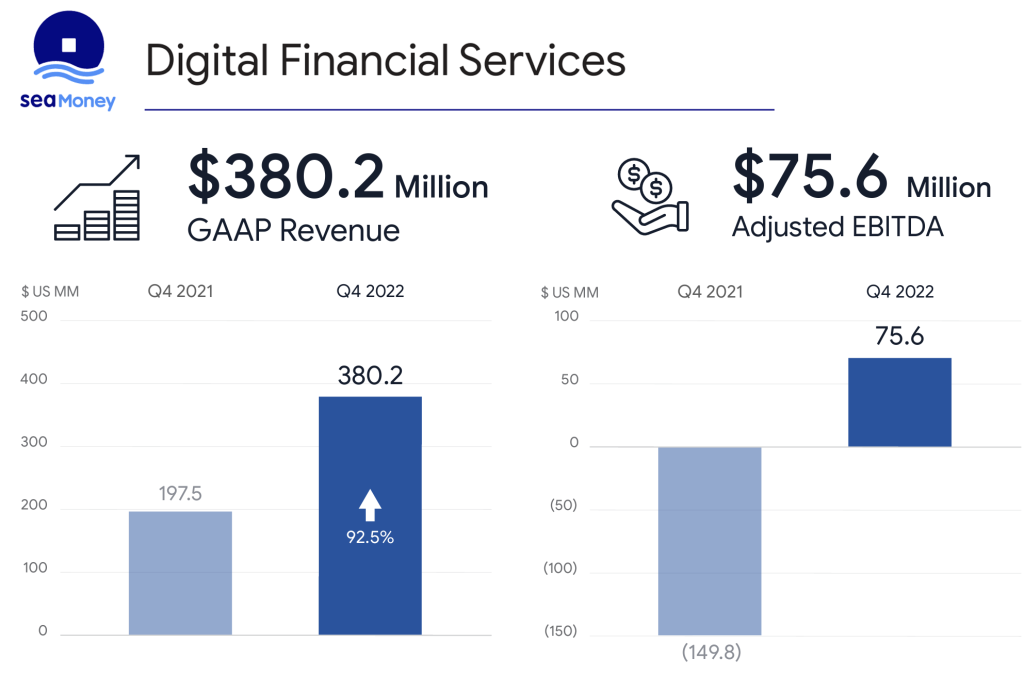 The still-young digital financial services division was the only shining light in this period, nearly doubling its revenue and turning a profit as well as reversing a US$150 million loss into a US$75 million gain, but that's still US$800 million short of the turnaround the entire company pulled off.
Where do you find US$800 million when your business isn't busier than usual?
Marketing trumps sales
It's in moments like this that the long-term, multi-year marketing strategy proves its worth (after taking lots of flak from naysayers in the meantime).
Yes, Sea may have been burning a couple of billion every year, but it has done this in pursuit of one thing: establishing a brand.
And not just any brand, but a leading one.
The purpose was to grow to a point your business becomes a household name. You spend on advertising, you spend on celebrity endorsements, you spend on attractive discounts for buyers, you charge no fees for most of your sellers, you run competitions, offer cashback, financing — anything to make the purchasing experience smoother, easier and cheaper.
All of this is necessary because when push comes to shove, an economic crisis hits, cheap cash runs out and you have to pull the plug on most of these expenses.
And when that happens, if you've done everything well, people will still keep buying from you.
That's when you know you have succeeded.
Shopee finally pays off
This has been the strategy for Shopee ever since its inception in 2015. It wasn't the first to the market and had a massive, billion-dollar incumbent Lazada to challenge — which was further reinforced with the might of Chinese Alibaba upon its takeover in 2016.
And yet, it is Shopee that is the reigning leader in Southeast Asia, with successes in markets thousands of miles away as well.
Iit is also where Sea's stunning reversal happened.
Despite no higher activity in terms of sales than last year, e-commerce revenue has jumped by 50 per cent. Meanwhile, group-wide marketing expenses (chiefly consumed by Shopee) have shrunk by a staggering US$746 million — or over 61 per cent.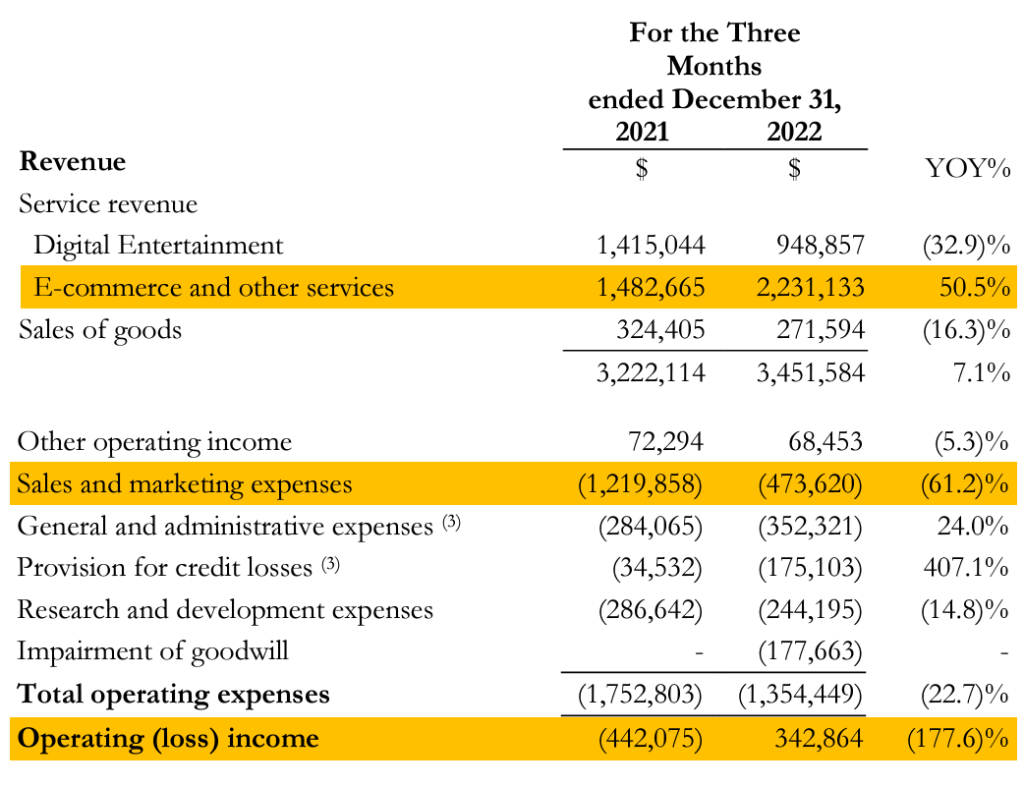 Overall, the operating results have flipped by a comparable amount, from a loss of US$442 million in Q4 2021 to a profit of US$342 million.
Adjusted earnings for each of the business units provide further evidence that it was Shopee that saved the day, after years of being bankrolled by Garena.

As Garena slumped and digital finance has only started coming into its own, Shopee went from a nearly US$900 million loss to about a US$200 million profit (before taxes, depreciation and amortisation).
That's a stunning US$1.1 billion (per quarter!) difference at the same level of sales and orders.
This is the real value hidden in Sea's e-commerce activities that was not visible to anybody as long as the company kept burning more cash in pursuit of global growth.
As Warren Buffett once quipped, "only when the tide goes out, do you learn who has been swimming naked." In this case, we can see that Sea was among those very well prepared.
So, where was all this money hiding?
Years of generous incentives have bound thousands of sellers and millions of users to the platform. So when Shopee cut marketing expenses, most of them still stayed on. Where could they go anyway since they are used to buying everything in the app?

This loyalty enabled the company to introduce new two per cent commissions for all sellers from 1 May 2022 onwards, increasing its operating revenue at the same level of sales. High and quite volatile inflation has certainly helped to mask the bump in prices, with many vendors likely absorbing some of it to keep their customers.

Laying off 7,000 people and withdrawing from loss-making experiments in Europe (all of them) and Latin America (some countries), has refocused operations on markets where Shopee is already established well-enough, so that marketing cuts would not hurt its results there.
Sea has spent years distributing value among its prospective customers, only to extract some of it back when it was in need.
Given its marketing success in establishing itself as the primary platform in many markets in Southeast Asia and a strong contender in several Latin American markets, it could do it without a painful penalty.
Paradoxically, as I mentioned in the beginning, if it did not pursue growth at all costs but tried to turn a profit much earlier, it would likely find itself in big trouble today.
Profit without sufficient scale means that you're not making enough money to keep growing fast enough. And unless you reach the right size, you will have to keep spending to make people aware of your existence.
When economy is threatened by crisis and people are more cautious with their wallets, it also becomes harder for businesses to borrow or raise capital when they might need it.
Reduced revenue without sufficient scale means that you would be forced to spend more, not less on marketing activities only to fight for survival — the exact reverse of the situation Sea Ltd. is in.
We don't even have to look far for an example. Lazada has just received another infusion of cash from its parent Alibaba for a total of US$2 billion in a year — this is at a time when its largest competitor has become profitable.
It is lucky, of course, that it can draw from a wealthy owner, but in free market circumstances, nobody would pump billions of dollars into it in this economy.
You burn cheap cash when you can, so that you can start saving it when it becomes expensive. This is the secret behind's Sea's success.
Featured Image Credit: Depositphotos