DBS has been named the "world's best bank" for five consecutive years, which reinforces its position as an innovative company and its ambition to always be a better bank. 
Now, DBS is embarking on a journey to reimagine its workspace using data and analytics. This is not an easy task, considering it's one of the biggest banks in Asia, with a 33,000-strong workforce across 18 markets. 
The COVID-19 pandemic in particular, has shifted work trends, bringing about the rise of hybrid working. In response, DBS announced in February 2021 that it has permanently adopted a 60-40 hybrid working arrangement, in which employees are given the flexibility to work remotely for up to 40 per cent of the time. 
However, hybrid working is not just about a simple mix of working from home and in the office. There needs to be a synchronised balance between managers and employees, policies and employee engagement strategies, flexible versus permanent spaces, and tools that blend virtual and physical interactions. 
To adapt to this new way of working, DBS has rolled out a series of transformational initiatives spearheaded by its cross-functional regional Future of Work team. This includes the Corporate Real Estate Strategy and Administration (CRESA) team – they are the custodian of DBS' real estate assets, while helping to drive the work culture and improve employee experience.
Together, they have conducted research, deep-dive experiments and employee surveys to find out how they can improve the way employees work and identify ways to thrive in the new normal.
Creating a workspace with the employees' needs in mind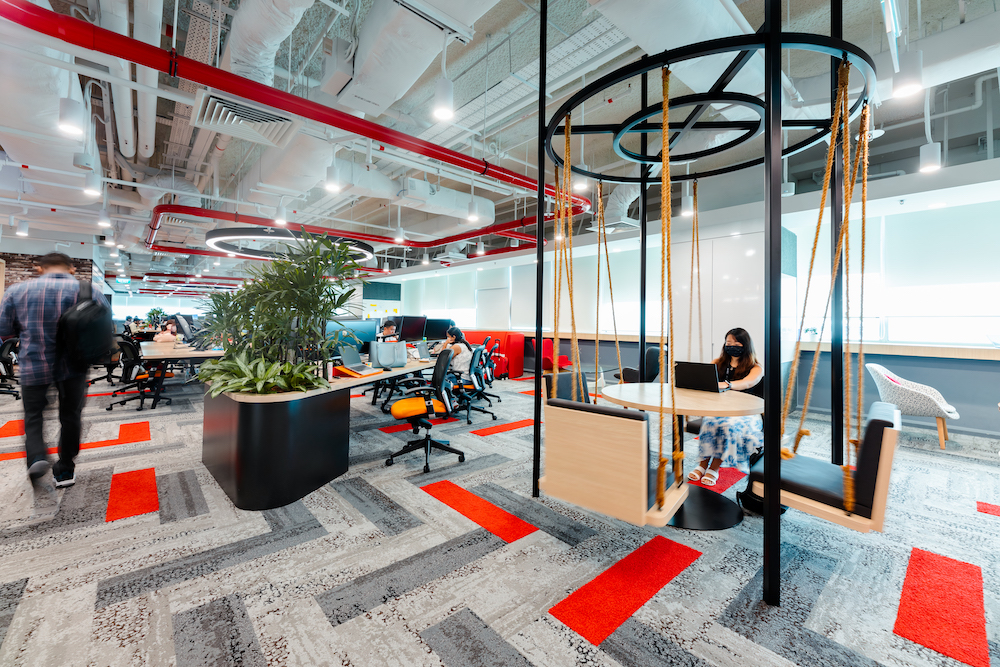 The bank's effort to transform its workspaces is nothing new. In fact, it dates all the way back to 2016, when it first experimented with JoySpaces.
JoySpaces breaks away from the traditional office design filled with cubicles, and transforms workstations into activity-based workspaces to emulate a startup culture. This was first met with skepticism, but eventually won support from CEO Piyush Gupta.
It had started out as a small experiment within CRESA, in which team members worked around a large dining table instead of their own desks. This brought the team closer through open communication and collaboration, and the number of emails sent among themselves reduced by 40 per cent.
Managers and non-managers were also not "tethered to a space", which helped remove the sense of hierarchy.
They also came up with the concept of creating different zones to cater to different needs of specific teams with community-building in mind. This means that there is a space for everyone and every mood – breakout zones to ideate, quiet zones and pods for focused work and collaboration zones for meetings.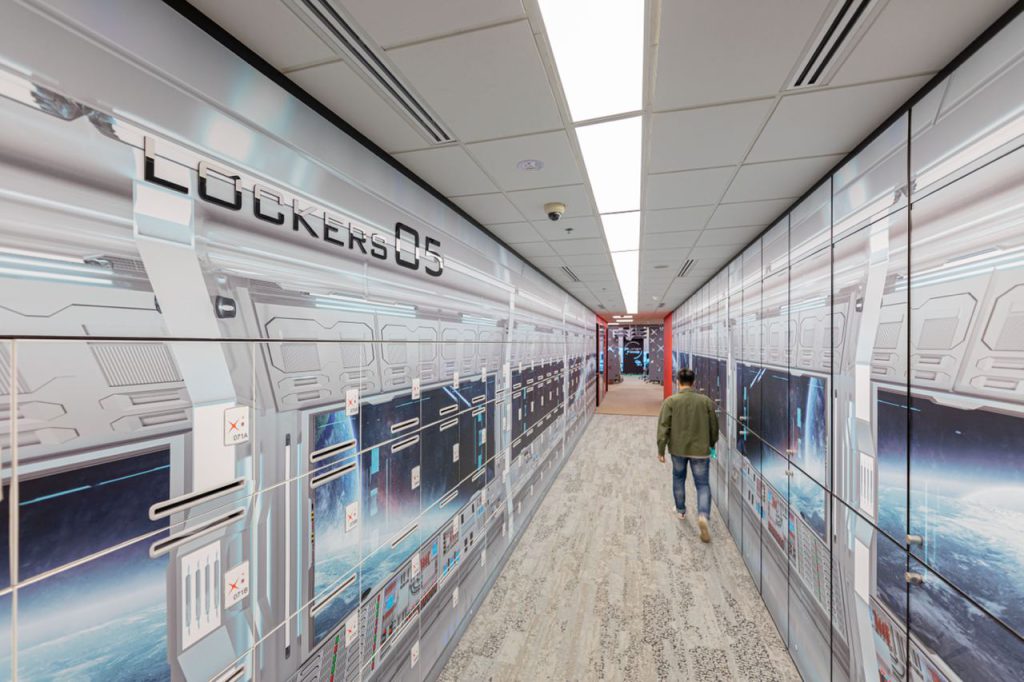 In addition, they also introduced lockers that allow employees to store their belongings in a safe space, which was well-received.
The success of this experiment inspired CRESA to scale the idea of workspace redesign across the rest of the bank.
Their research revealed that over 80 per cent of its employees have indicated that they prefer to have more open collaboration spaces to facilitate informal discussions and cross-team ideation, which they found difficult to do remotely.
Building on its experience in developing JoySpaces, DBS is looking to further reconfigure its workspaces to enable greater collaboration and ideation. After all, such curated spaces for teams form the hardware of hybrid working.
At the core of it, data is being used to improve the design of office spaces. Each team is consulted on how they would like their ideal office space to look like, and how they usually work.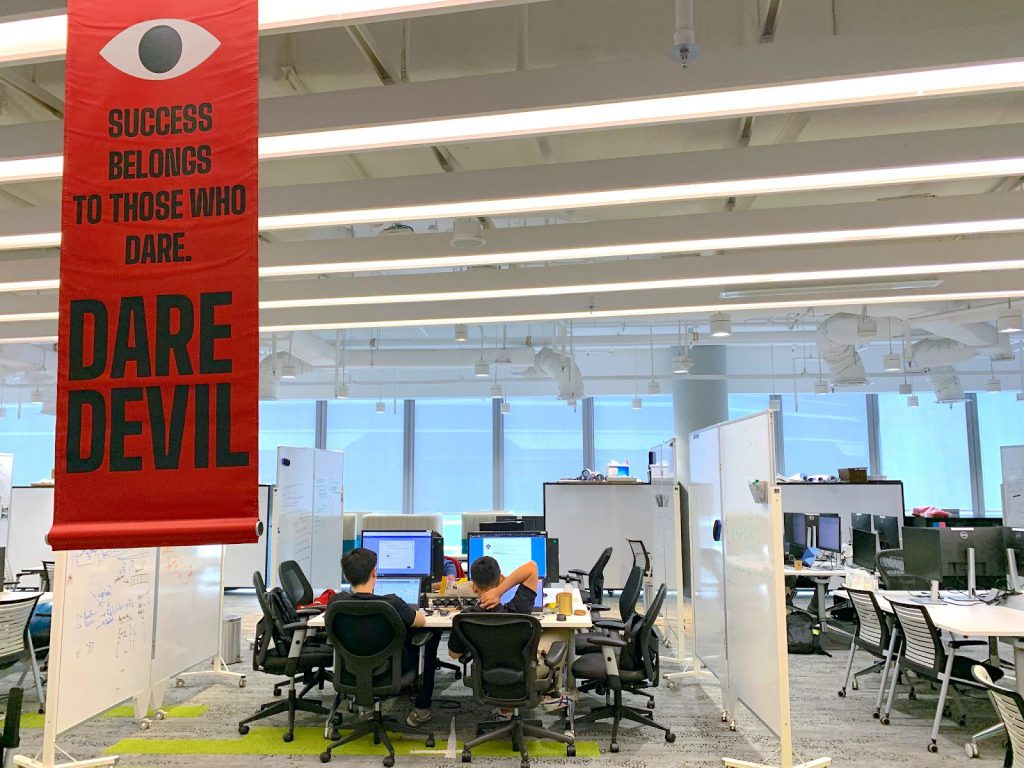 This is why the innovation team's office design at its innovation hub DBS Asia X (DAX) features wide, open spaces with moveable furniture that mimic co-working spaces. Since the team requires a lot of group discussions in their daily work, the office has plenty of whiteboards around to encourage brainstorming and ideation.
Beyond focusing on helping employees be more efficient, DBS makes it a point to integrate such social spaces to encourage its employees to take a pause from their work and prevent burnouts.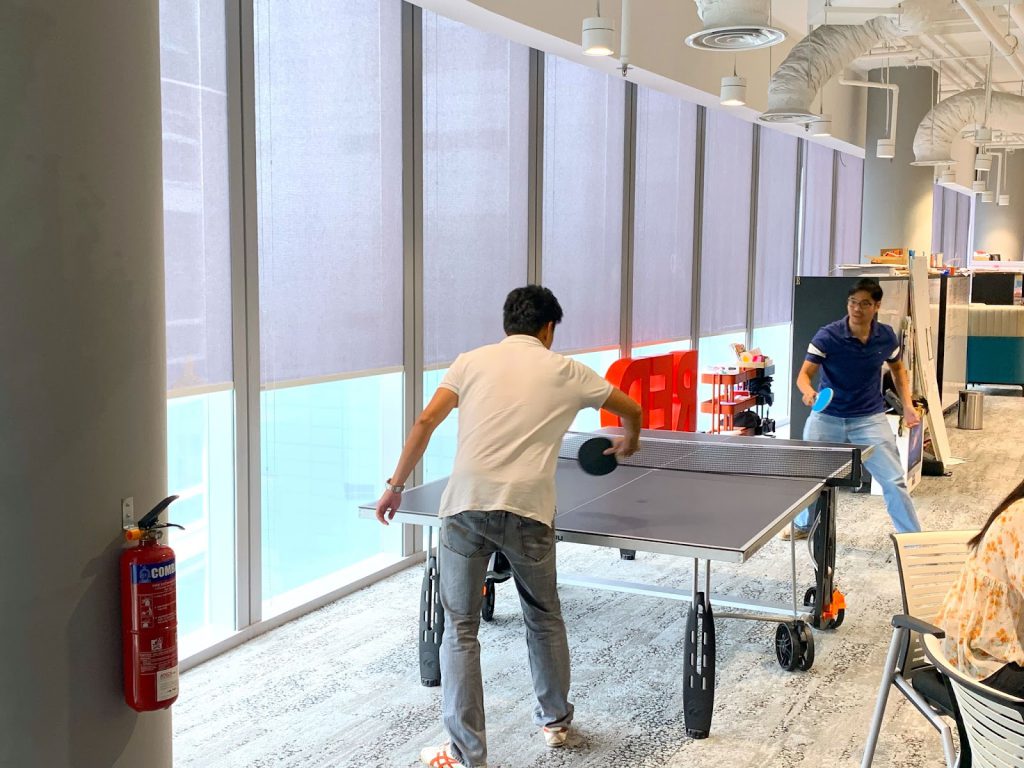 At the DAX office, it also has an open-space garden that allows employees to bask in nature and relax, as well as a ping pong table for them to have fun and unwind from work.
Ultimately, DBS wants to create spaces that maximise the potential of face-to-face collaboration and innovation, enhance connections to build a community, and effectively integrate work and social spaces.
They continually test and improve on it for the best design iteration
To further understand how workspaces can positively impact the employee experience in the hybrid working world, DBS ran a series of workshops with employees across its six core markets in 2021.
Some of the key insights learnt was that face-to-face interaction was deemed necessary for connections. In-person interactions boost collaboration and cooperation, which in turn, results in increased productivity when working in the office.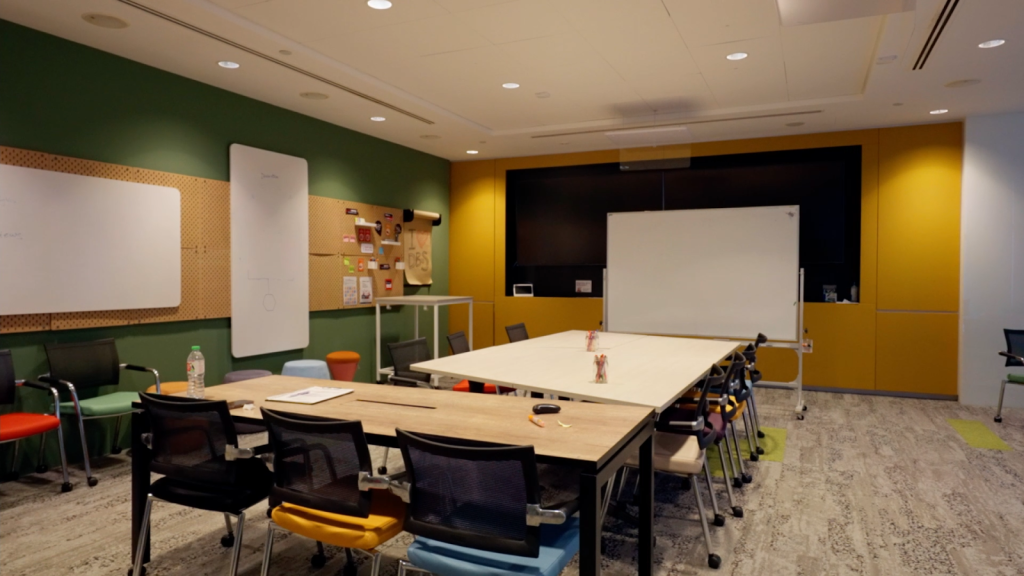 To address this, CRESA incorporated ideation rooms across the office to facilitate more informal discussions and cross-team ideation with features such as an entrance experience, colourful and moveable furniture and ideation prompts – all of which have proven to help employees reset their minds and in turn, generate better quality of ideas.
Additionally, employees also expressed their desire for more social and wellness spaces. However, the "fear of judgment" affects the utility of the space.
To tackle this, CRESA piloted social and wellness spaces and activities to create social destinations, and a culture where socialisation during work hours is accepted and encouraged.
Nestled in a corner at the 42nd storey of DBS Bank's office in Marina Bay Financial Centre, lies a wellness space that houses sleeping pods, a reading corner with relaxing music, and yoga mats sprawled in front of large windows that display stunning views of the city skyline.
The space is intentionally tucked in a corner that is out of bosses' sight, so employees can freely take work breaks and recharge without feeling conscious of being perceived as unproductive.
This space was first set up in July as an experiment, and is now being progressively scaled across DBS offices.
Employees are also free to sit at other spots within the office whenever they want to have a change of working environment. This helps to drive 'water-cooler' moments – not just to spark innovation, but also allow employees a chance to chat and interact with other colleagues as well as find mental breaks to help reduce work stresses.
Besides the workshops, DBS also conducted regular employee surveys to get feedback on what employees want in a workspace. With these surveys, employees – regardless of those working from home or in the office – can get their voices equally heard. When their ideas get implemented, it increases their sense of belonging to the company.
Moreover, a company needs to offer an office environment that edges out the experience from working from home to lure employees to return to the office. This is why DBS is investing in better technology and amenities that help make work easier than if it were done at home.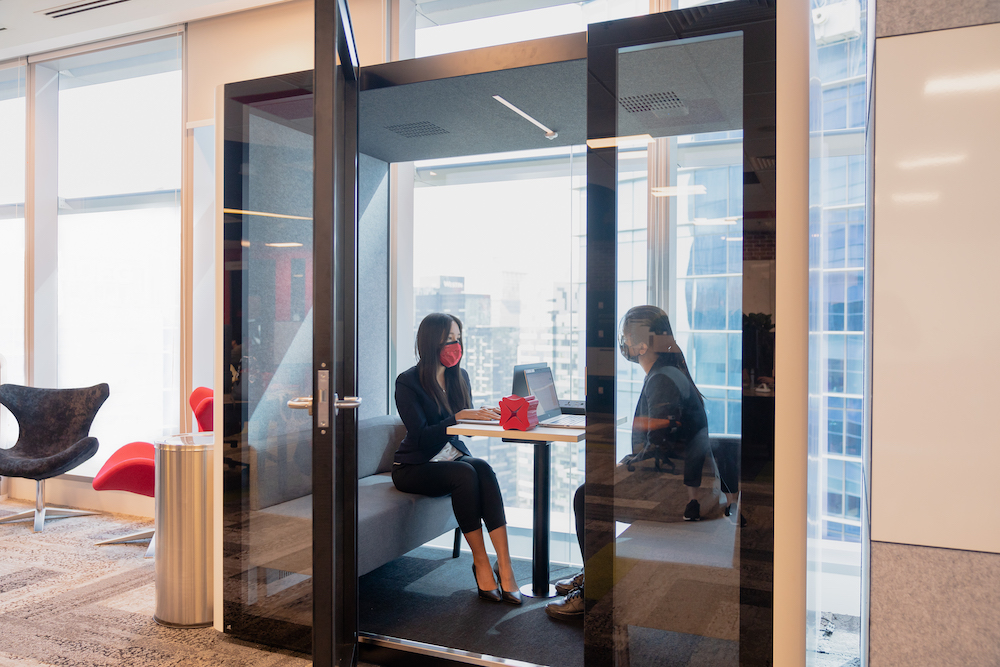 For example, with employees dialling into hybrid meetings from the office, noise levels need to be managed well, so DBS started installing soundproof pods.
It also started an IT delivery service, which sends over relevant equipment to employees working from home to ease any hiccups with technology.
DBS also adopted a "test and learn" approach, in which it designs and implements pop-up spaces around the office to test certain hypotheses. Some of them worked, while some didn't.
One successful experiment is when they built an entrance experience to the ideation room. The research showed that the immersive journey helped users shift focus to the upcoming task and improved performance in the ideation sessions.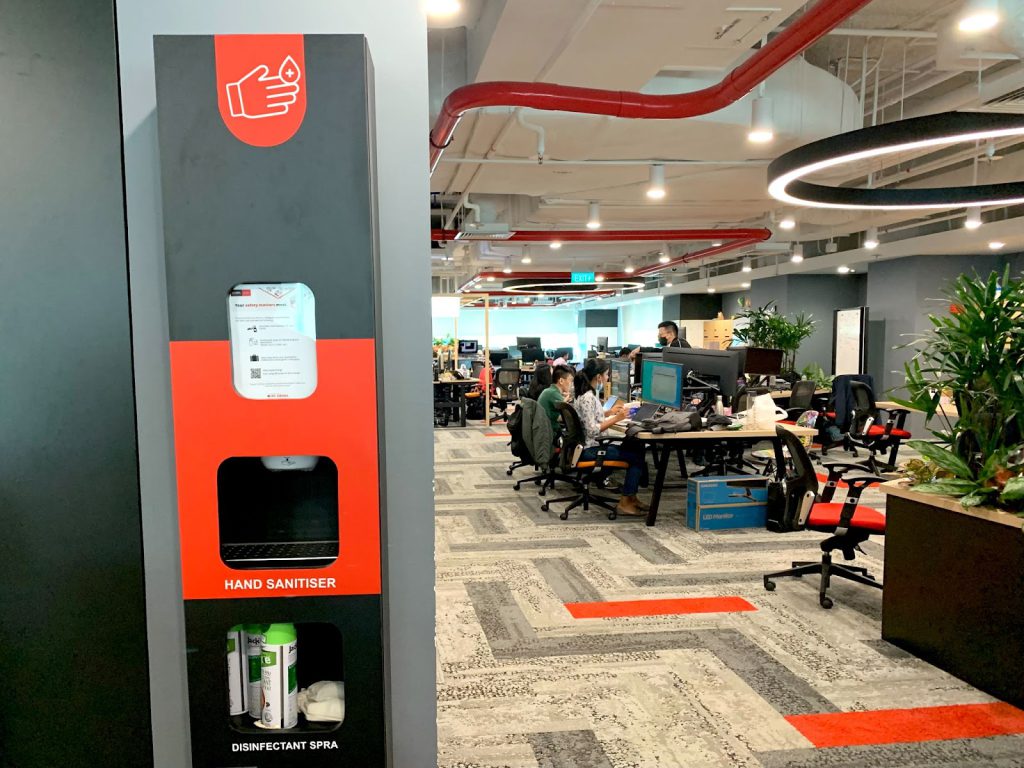 On the other hand, one experiment that didn't work out is the pedals for hand sanitisers, which is an office essential during the pandemic period. When employees stepped on the pedals, the sanitisers squirted on them instead, creating a mess.
This prompted them to rethink the design and deploy free-standing sanitiser stations with automated dispensers instead, which also come with a shelf of disinfectant sprays.
Office will continue to be a pivotal part of the work life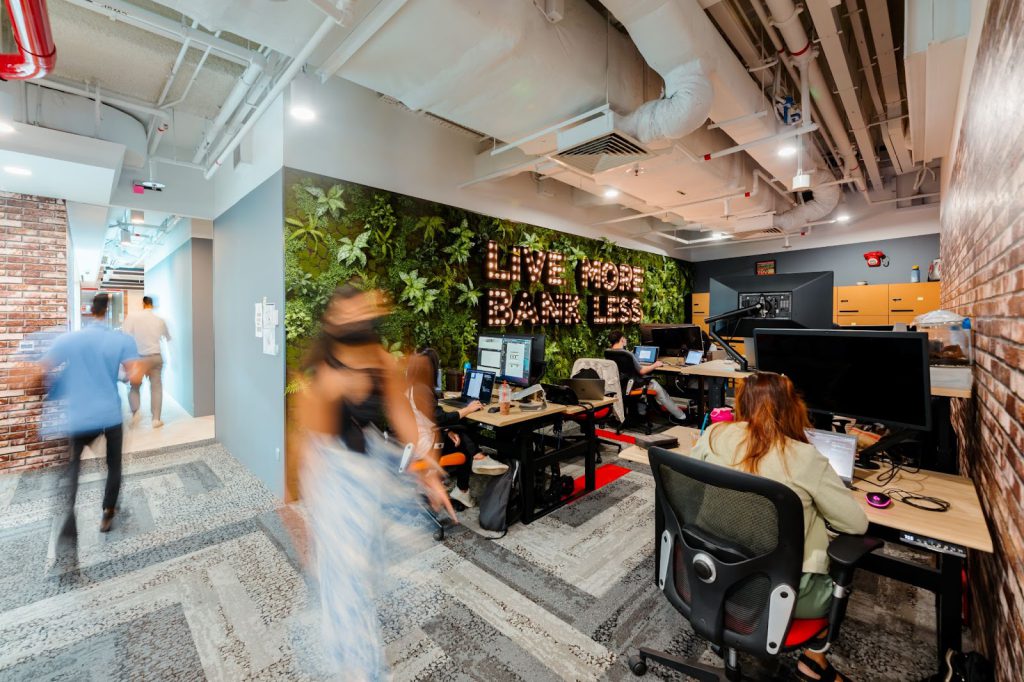 Beyond the post-pandemic era, hybrid working is here to stay and is seen as the future of work. As outlined in DBS' annual report 2021, the workspace has a role to play in the new normal.
Offices remain an important part of the working environment, and will never disappear. In fact, a physical space and face-to-face interaction is irreplaceable when it comes to building connections.
"We firmly believe the office will continue to be the 'soul of the company'. The challenge, however, is how people work and adapt in hybrid situations," said Erwin Chong, MD, Group Head of CRESA at DBS.
He added that hybrid working is best not left to chance – "there is a need to design, plan and adapt."
However, there is no one-size-fits-all solution when it comes to designing a hybrid workspace. Each company is unique, and for DBS, it has continually experimented with various ideas to test what works best.
At DBS, it strongly believes in making work joyful for employees by offering them flexibility and choice. By reimagining their workspace to allow employees to better adapt to working in the new normal, it can best help drive employee experience, enablement and engagement.
For instance, DBS removed the requirement for new joiners to fully work from office in the first six months after internal surveys showed that these hires were just as productive and satisfied with a hybrid work arrangement.
When it came to employee welfare, DBS also rolled out various support such as telemedicine consultation and webinars to help employees better take care of their physical and mental wellbeing.
Thanks to such initiatives, one of its survey findings revealed that 92 per cent of DBS employees said that they have adapted well to hybrid work, compared with 84 per cent in February.
As its employees' satisfaction with hybrid work rose, DBS undoubtedly stands to benefit too. At the end of the day, a reimagined workspace brings about a win-win situation for both employees and employer.
It's also important to note that such change is not a one-time effort, but a continuous process.
As such, the bank is committed to further experiment with spaces and will continue to deploy analytics to understand how usage of these spaces will evolve over time so they can refine the workspaces accordingly, ensuring that it's centred around the DBS culture and the needs of its own employees.
This showcases the perfect opportunity to work the way they bank – agile and future-focused.
This article was written in collaboration with DBS Bank.
Featured Image Credit: DBS Bank