When Darrell Er graduated from Nanyang Technological University in 2020, he joined Singapore Tourism Board as a management associate for more than a year, before deciding to be a full-time entrepreneur in late 2021.
He first started OVERMUGGED as a small online community when he shared his personal 'O' Level notes for free during the circuit breaker period, due to the sudden shift to home-based learning. Ever since then, OVERMUGGED has grown to be a full-fledged tuition brand, with more than 300 students under its care.
Although the 28-year-old dabbled in many different small ventures when he was in university, OVERMUGGED is his first official business venture.
As a tutor for nine years, Darrell is driven by a passion to make a real positive impact on students' lives. Growing up in a lower-middle-income family, he is committed to ensuring that everyone who wants quality tuition should have access to it.
This is what led to the birth of OVERMUGGED's mission, which is to "make quality education accessible to all".
Revolutionising the tuition landscape with a subscription model
Founded in 2021, OVERMUGGED is a Singapore-based tuition brand that offers in-person and online learning experiences for both 'O' and 'A' Levels.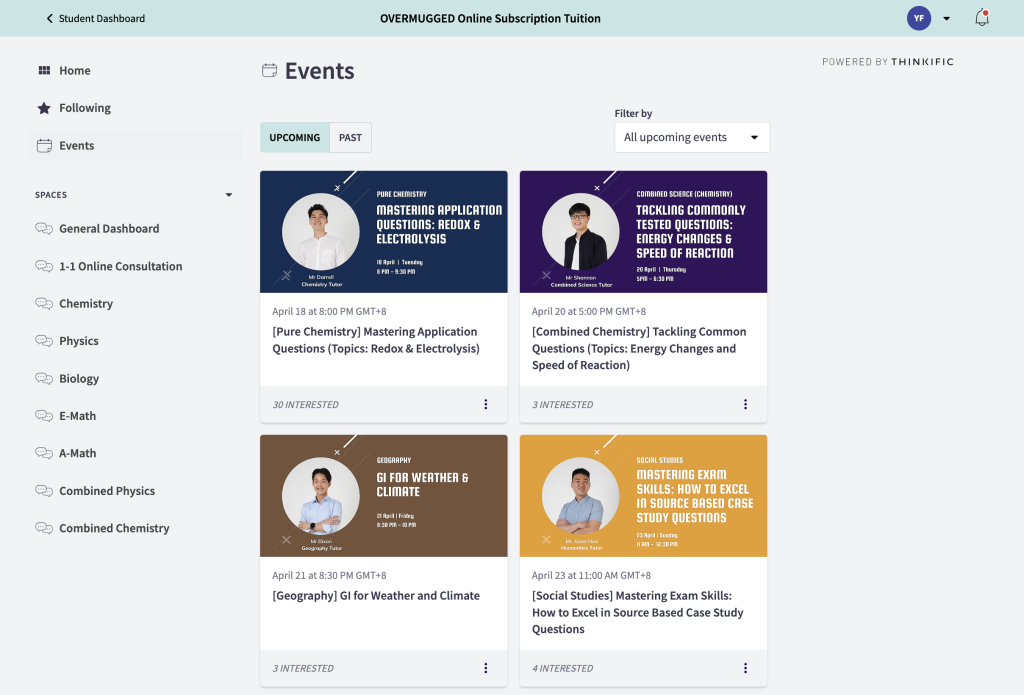 In line with its goal to make quality education affordable and easily accessible, OVERMUGGED recently launched an online subscription tuition service that provides 16 to 18 online lessons across all core 'O' Levels subjects for just S$99 every month.
"This brings the price of each class to as low as S$5.50," said Darrell. He explained that they intentionally priced their online classes lower than the average Singaporean household's monthly expenditure on private tuition, which is S$112, according to the 2017/2018 Household Expenditure Survey.
The subscription plan also provides weekly learning resources to supplement students' learning, as well as past lesson recordings to allow students to review lessons at their own time.
All secondary school students will stand to benefit from this low-cost subscription service. We also don't want students to neglect their weaker subjects, so we made it a point to cover almost all subjects tested at 'O' Levels. As a one-stop learning hub, we want to ensure that most students will be able to benefit from the full range of subjects that are offered.

– Darrell Er, founder of OVERMUGGED
He admits that offering such competitive pricing might not make the best financial sense, but also sees it as a way of giving back to the community.
Most of their tutors conduct lessons for the subscription service for free or a low payout, as they believe that every student that desires tuition should be able to access it. The company also makes the subscription free for their own group tuition students, so they can get support across other subjects that they might not have tuition for.
Helping students achieve academic success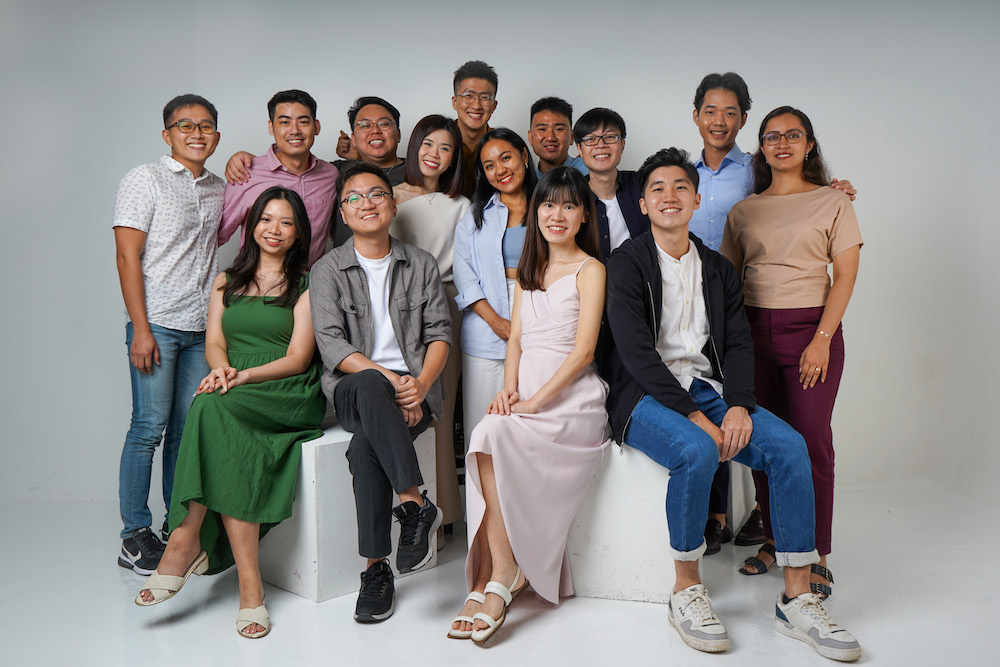 OVERMUGGED's current team of 18 tutors come from a variety of backgrounds, including experienced ones that used to work at top tuition centres, those holding a Master's Degree in education, and even ex-MOE teachers.
Each online lesson lasts for 1.5 hours, and there is a minimum of two lessons per subject. The lessons focus heavily on exam skills such as answering techniques and content mastery.
So far, students have shared feedback that the online subscription plan makes the lessons "easy, convenient and accessible", as it allows them to learn from the comfort of their own home. They can also choose to focus on certain areas instead of sitting in lessons for all subjects.
The company has also received many highly-rated reviews from ex-students, such as success stories from D7 to A1 in five months or achieving a net two-point score for 'O' Levels.
Our 2022 batch of students made significant improvement after joining our classes for just 11 months, with over 70 per cent attaining an A1/A2 and over 90 per cent scoring at least a B3 at 'O' Levels.

– Darrell Er, founder of OVERMUGGED
He added that OVERMUGGED regularly tracks students' progress through weekly worksheets and topical tests, as well as mock exams closer to exam season help students prepare realistically for the actual exams.
Bridging the gaps in education needs for students
When asked if he faced any doubts or criticisms due to his young age, Darrell revealed that there were many doubts about his unconventional approach to running the company.
His company's policies of offering an unlimited leave system, a compensation structure based on results rather than prior work experience, and having a flat hierarchical system that runs on collaboration and teamwork were met with skepticism. However, he remained persistent in building a company that he himself would want to work at.
Darrell's focus on creating a positive work environment and culture has resulted in a company where students enjoy learning, and tutors too find a strong sense of mission and purpose.
He pays attention to things that are important to tutors, such as schedule flexibility and the freedom to teach with their own effective personal touch, to make sure they can impact students' lives beyond just academics.
Darrell's journey as a first-time business owner was not without its challenges, and he cited balancing profitability with social impact as his first challenge.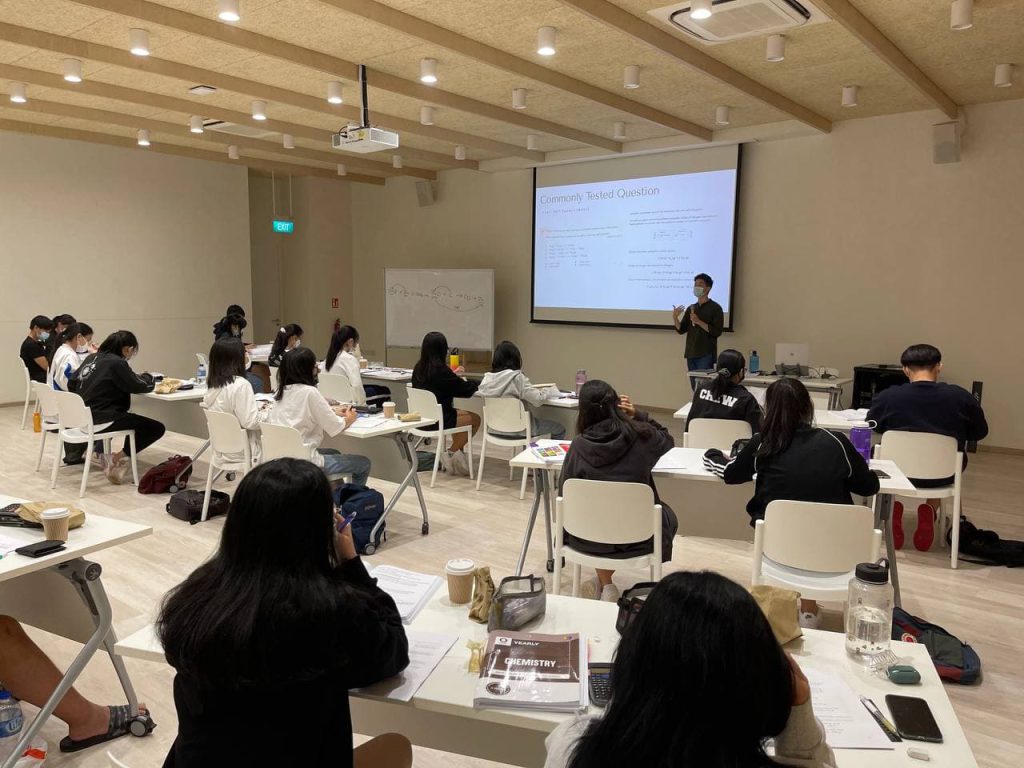 Although they are a business, his company made significant investments in providing free educational resources to all students, including its podcast, YouTube, and Telegram channels, as well as free notes on their website. Despite being time-consuming and expensive, Darrell was committed to this cause to ensure that those who needed it most had access to the necessary help.
The second challenge was the highly competitive and saturated tuition sector, which required constant innovation to make learning more engaging and intuitive. To stay ahead of their competitors, they aimed to utilise technology and continuously experiment with new methods for students to learn, including machine learning to create a personalised learning experience.
Lastly, as a rookie entrepreneur, Darrell had to quickly learn new skills such as managing finances, overseeing renovation work for their new centres, and working with suppliers to print their notes on time.
Despite these challenges, Darrell remained optimistic and saw the COVID-19 pandemic as an opportunity to "do well and do good". During the circuit breaker, he was able to build and grow his community through providing free educational resources, which helped him build relationships with both students and parents.
Through OVERMUGGED, he makes it a point to bridge the gaps in students' education needs. For instance, they regularly conduct free webinars such as "JC vs Poly", where they invite ex-students to share their experiences to help students make more informed decisions on their post-secondary journey.
Ultimately, Darrell seeks to become the tuition brand that he wished was present when he was a student learning for 'O' Levels.
Integrating the use of AI to enhance learning
The bootstrapped startup has grown organically over the years, sticking to its core principles of being there for students every step of the way throughout their educational journey.
According to Darrell, OVERMUGGED sees at least 20 per cent enrolment growth every quarter, and it achieved a six-figure revenue in its first year of operation. He remains optimistic about the business growth, projecting to hit a yearly revenue growth of at least 150 per cent for the next three years.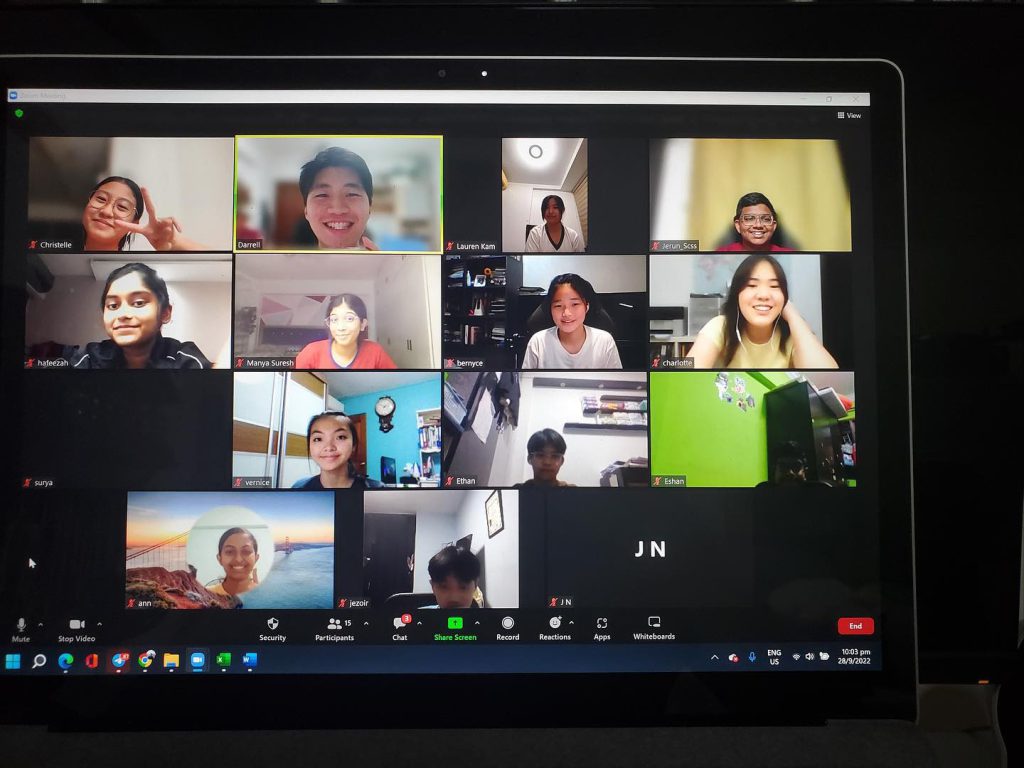 With the COVID-19 pandemic forcing schools to shut down and students to adapt to online learning, OVERMUGGED has been able to capitalise on the growing preference for online classes.
While the pandemic is 'over', we must be prepared for new COVID-19 waves. Recently, the tuition sector witnessed about 10 per cent of students being absent every day because of this. Hence, the preference for online classes is here to stay, and we have to stay agile in the ever-changing market. 

– Darrell Er, founder of OVERMUGGED
He believes that in order to create a personalised learning experience for each student, artificial intelligence (AI) and machine learning will play a vital role. Darrell emphasises that there is no one-size-fits-all approach when it comes to learning and that with recent advancements in AI such as ChatGPT, educators can now teach more effectively.
Currently, OVERMUGGED is working towards developing new technology capabilities in AI and machine learning to enhance their students' learning experience. As they continue to expand into the edutech space, the company has set its sights on securing seed funding and venture capital to further their growth.
Sharing other business plans, Darrell said that they are also working on extending its online subscription tuition to 'A' Levels.
The company's commitment to making quality education accessible to all is commendable, and it is clear that OVERMUGGED's innovative approach to education has been making a significant impact on the lives of many students.
With the rising cost of private tuition in Singapore, its affordable subscription-based model has been a gamechanger for students who would otherwise not have access to quality tuition.
Featured Image Credit: OVERMUGGED