The team at Vulcan Post has tried several real-life games like thematic escape rooms and interactive haunted houses, which tested our mental, physical, and teamwork skills.
However, few of them pushed our teamwork skills to the limits in comparison to Bomb Battle.
We were graciously given the opportunity to try out what's said to be the first paint bomb battle in Asia where the objective was to defuse a ticking paint bomb within a 75-minute time limit.
If we managed to successfully defuse the bomb, we would be spared from being covered in paint, and if we didn't, we'd end up being blasted by an explosion of different colours.
Better safe than sorry
Upon arrival at Bomb Battle which is located in Berjaya Times Square, we were greeted by the 'Bombers' (staff members) who told us that we could book a locker to store our belongings. Do note that this requires an RM10 deposit that you can only pay in cash.
After we had stored all of our equipment, we were each given a pair of plastic shoe coverings and a hazmat suit.
I was given the 5XL-sized hazmat suit which fit me perfectly, however, some of my colleagues had slight issues with their sizing. Upon letting the Bomb Battle team know, they were quick to provide better fits.
Once we suited and booted up, we were then given a briefing. Ours was hosted by the founder, Datin Sheehan Tee on.
Sheehan explained that a group of terrorists have hidden a bomb in the city and prepared five different missions designed to challenge and prevent us from saving the day.
How we do in the first four games will ultimately determine how much time we have in the final game, where we would get the chance to stop the paint bomb from exploding.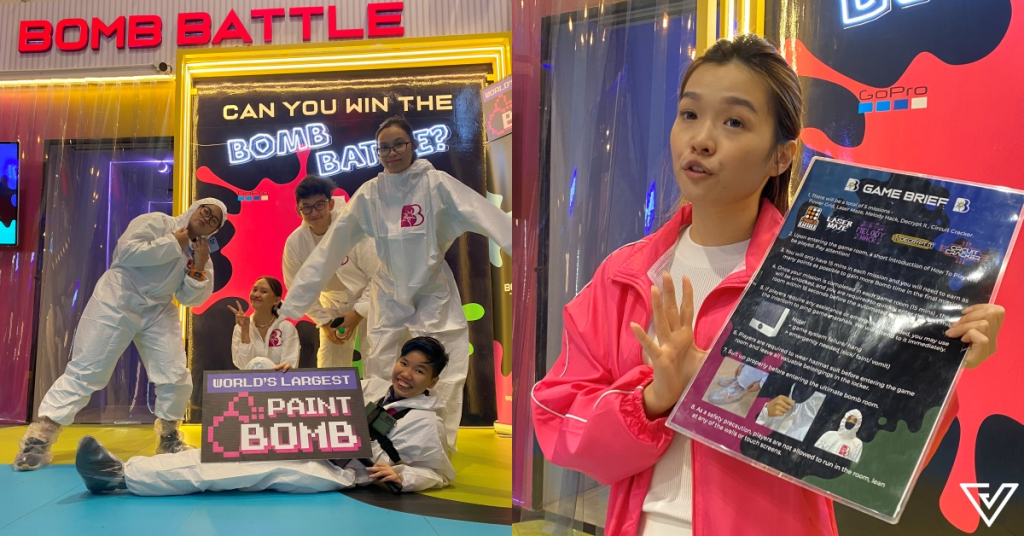 There are five missions in total—Power Grid, Laser Maze, Melody Hack, Decrypt It, and Circuit Cracker. Each mission is 15 minutes long.
We started off with the Easy level, as Sheehan said that the success rate for Medium and Hard was very low. Phones in hand for pictures and videos, we were then led into the first mission room.
A test of brains and brawns
Once inside the room, the door was quickly shut behind us and we were then met with four screens on each wall.
Before every mission, we would be shown a tutorial in each room. For this room, our goal was to connect the coloured dots on the screens.
Although this is reminiscent of the games we would play on our phones (such as Flow Free), it was slightly more complex as the four screens were connected to one another, meaning that we would need to work together to connect the coloured dots.
Some colours on a screen would be locked until another player connects them on their screen.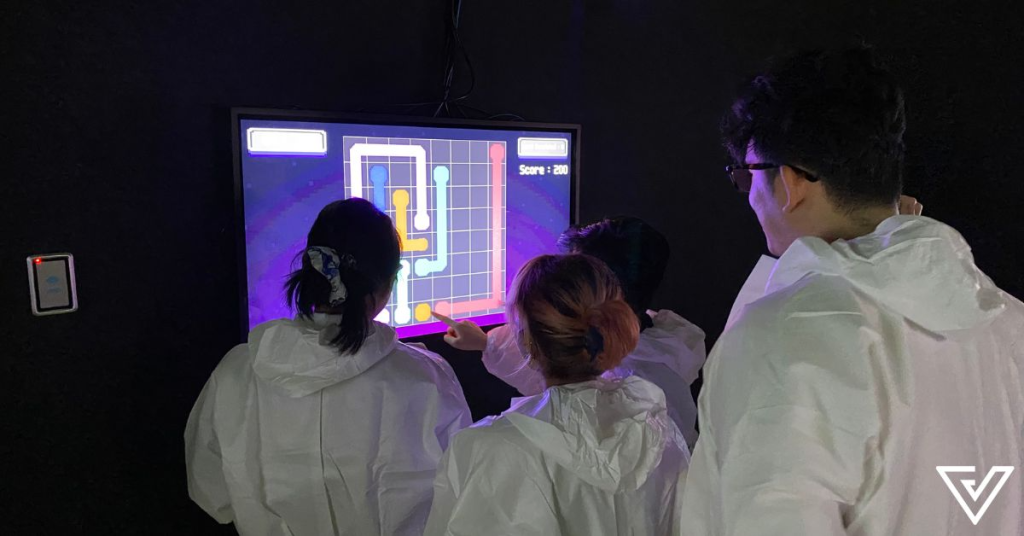 The first round was off to a good start as we managed to complete it in less than two minutes, but it got harder and harder.
That was until one of our team members managed to figure out the strategy (no spoilers!), and we were able to breeze through the remaining rounds.
After the 15 minutes had run out, we then moved on to the next mission, Laser Maze. We only get around 15 seconds to move between rooms, so we had to act quickly or risk getting stuck in the room and forsaking the rest of the game.
In Laser Maze, players needed to hold onto buttons that lit up simultaneously to complete the mission.
But, this was definitely easier said than done as the middle of the room had a laser maze preventing us from simply walking through as any contact would mean a deduction in points.
As the timer commenced and the lights appeared on the other side of the room, a few of us either crawled under or traversed the laser beams by stepping around.
However, after a tiring couple of minutes, we decided to work smart rather than hard and positioned our team equally on both sides of the room so that we would not have to face the lasers.
Although this game required quite a bit of stretching and putting body parts in weirdly positioned angles, we performed pretty well.
Don't worry if you only have the minimum team size of 4 pax, because Sheehan said they can adjust the number of lit-up buttons accordingly, otherwise it would be impossible to score points here.
How's your memory?
With Laser Maze leaving many of us panting, we were happy to know that the next game, Melody Hack, didn't require much physical exertion.
The game is essentially a memory and listening test which requires us to recreate tunes that were played.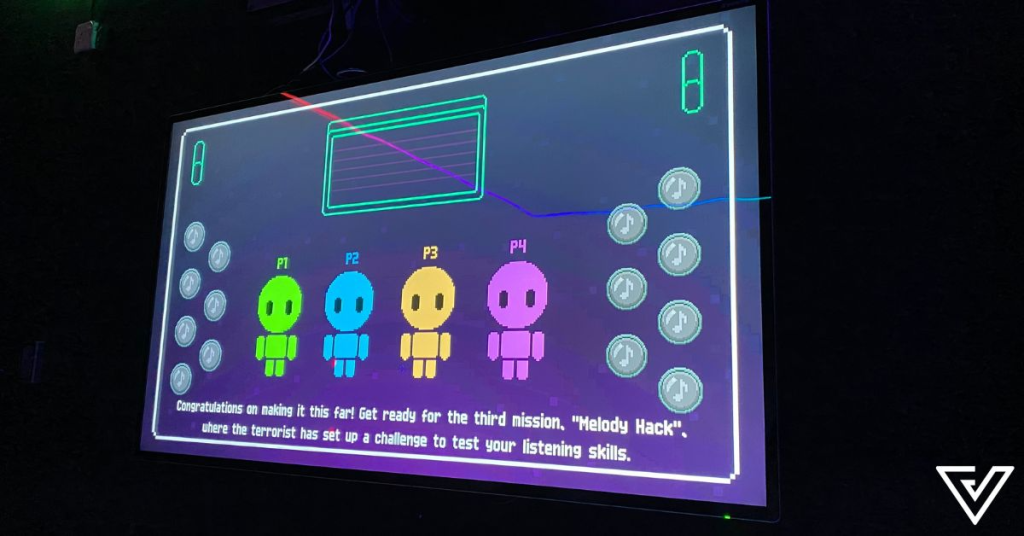 We were given three chances to play each tune before recreating them with a bunch of motion sensor buttons, each with its own individual sound.
Having some musically inclined teammates helped, but it was still tough because some motion sensor buttons had weird sounds that would throw our performance off each time. In the end though, it turned out to be our highest-scoring mission yet.
Both mentally and physically drained, we were then led to the fourth game which was Decrypt It.
In this mission, there were four screens all around the room with a series of jumbled up numbers. The players need to click the numbers in ascending order, and the numbers in sequence will be randomly generated across different screens.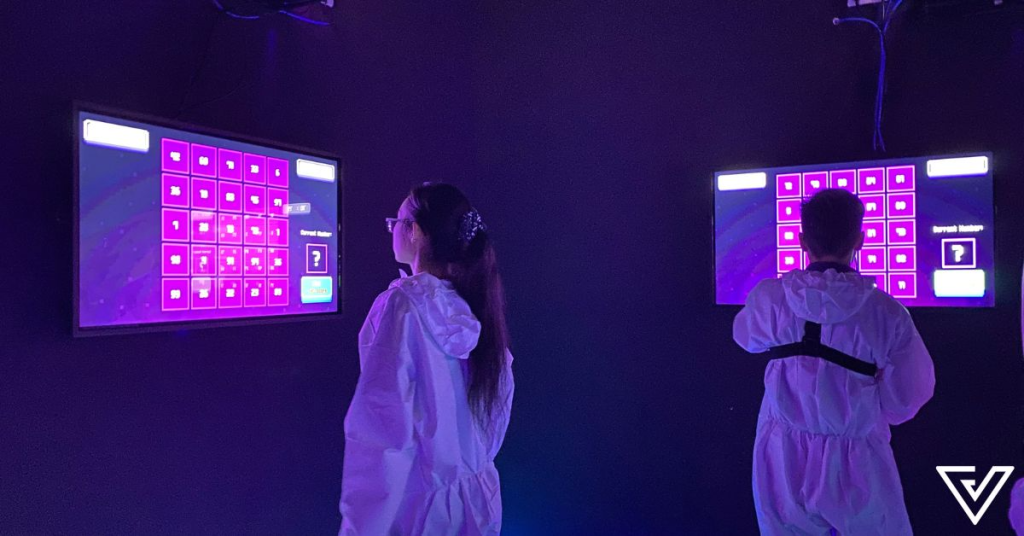 To do this mission, we communicated with one another by shouting what number we required. To up the challenge, the number board onscreen changed frequently too.
On Medium and Hard levels, you apparently will have to do some Maths formulas in order to click on the right numbers, so we did have it pretty easy indeed.
Ending with a bang
The fifth and final room was the total opposite of all the others. This room was super bright and had one screen behind five cannons pointed at us.
It was then revealed to us that all of our hard work in the previous games had awarded us a time of six minutes and 29 seconds to complete the final game, Circuit Cracker.
We were given pumps that were connected to the screen. To diffuse the bomb, we needed to use the pumps to direct the "current" to the green points and avoid the red points, which reduced our time.
The pumps can work as a rotation device, reverse rotation device, and stop button, so we had to coordinate in order to finish four rounds within the time limit.
Despite the panic that set in when faced with the cannons, we managed to successfully defuse the bomb! So, technically we didn't have to get blasted by the paint cannons.
But knowing that the whole point of people coming to Bomb Battle was for the colour blast at the end, whether win or lose, Sheehan and her team give winners a choice.
After storing our phones safely off to the side or in our pockets, we zipped up our hazmat suits, put on a face protector, and prepared to get bombed.
With a loud bang, we were then covered by paint from head to toe, dripping with colour. Victors can get a dance party under black lights too, which highlights the glow-in-the-dark paints.
The verdict
There are two packages for Bomb Battle known as Bomb Mission and VIP Package. In the VIP Package, players will receive 1 Haus Bomb welcome drink, a limited-edition Bomber's Season T-shirt, and more paint.
The pricing is as follows:
Monday to Friday (before 5PM)
– RM89/pax (Bomb Mission)
– RM109/pax (VIP package)
Monday to Friday (after 5PM),
weekends, public holidays
– RM99/pax (Bomb Mission)
– RM119/pax (VIP package)
All in all, we loved the experience we had and the sense of accomplishment we got from knowing we won the game, since it was challenging in certain aspects.
Winners can get a special prize from Bomb Battle's merch too, and each one of us got official caps.
Bomb Battle also has a leaderboard on its website so that very competitive teams can feel inspired to return and place higher. We placed 56th, which isn't bad at all.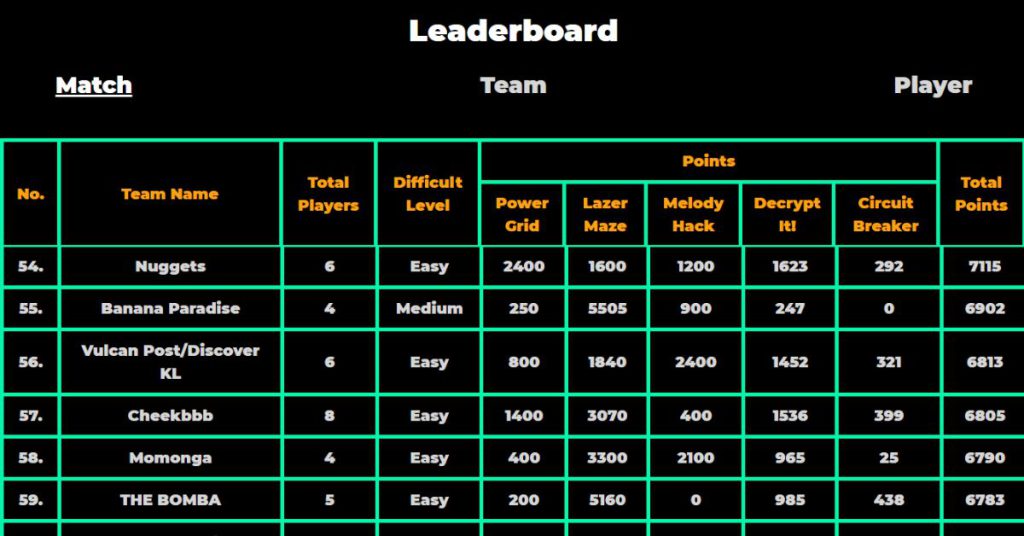 Something to note is that despite the hazmat suits, your clothes can still get stained, and it will be especially obvious on lighter clothing. My own peach-coloured shirt got stained, so I'd highly recommend wearing something dark.
The good news is that the paint is water-soluble, so a rinse should be able to get the colours out.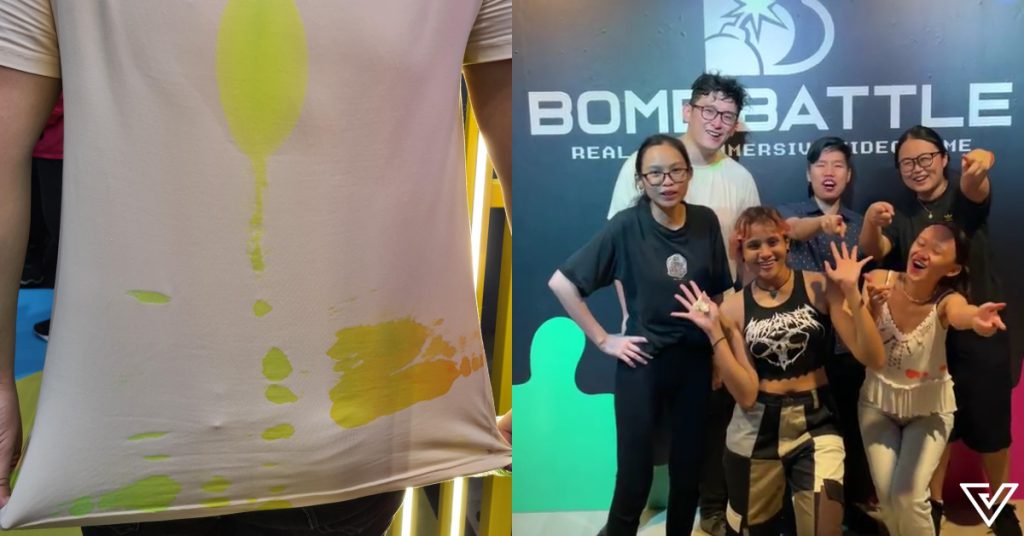 Overall, we also saw little relevance between the missions and stopping the terrorists by disarming the bomb, so we'd say that the storyline is rather weak and doesn't have much impact on the gameplay and fun.
The Bomb Battle team was very helpful throughout, and shoutout to the cheery gamemaster who kept hyping us up in the final game, and kept our adrenaline levels up towards the bombing.
With what we've shared, may you go on to be a winner at Bomb Battle too!