In the wake of the global pandemic, the travel industry has witnessed a remarkable boom in what has been coined as "revenge travel".
Since borders opened and travel restrictions eased, wanderlust-filled individuals, including myself, have eagerly embraced the opportunity to hop on a plane and explore the world.
One of my recent escapades is a six-day trip to Vietnam, exploring the bustling streets of Hanoi and the breathtaking landscapes of Sapa.
Throughout my journey, I relied on my YouTrip card, Singapore's first multi-currency wallet with a linked Mastercard. This is not the first time I've used YouTrip – I used it for all my past travels to simplify my payment processes and to ensure that I receive the best rates.
YouTrip provides extensive support for payments in 150+ countries worldwide. With the ability to exchange 10 major currencies (SGD, USD, EUR, GBP, JPY, HKD, AUD, NZD, CHF and SEK) within the app itself, YouTrip basically serves as an in-app money changer, eliminating the need for external currency exchanges.
For other supported worldwide currencies, YouTrip offers the Mastercard wholesale exchange rate at zero fees. This convenience and cost-saving feature allows me to leave the hassle of currency conversion to YouTrip and enjoy the best rates all day.
Before delving into my Vietnam trip, it's worth mentioning that YouTrip recently underwent a rebranding to "YouTrip 2.0", introducing a virtual card, a newly-designed physical card and app, as well as exciting features such as free ATM withdrawals to ensure seamless payment throughout the trip.
In line with its rebranding, YouTrip is also hunting for its 'Best Rates Boss', offering the chance to win a pair of free return flight tickets to anywhere and S$5,000 YouTrip credits, so users can enjoy hassle-free spending during their travels.
Convenient payment and favourable rates
One of the standout features of YouTrip is its ability to top up instantly using any Singapore credit or debit card. Prior to my trip, I topped up S$100, ensuring I had sufficient funds for my expenses in Vietnam.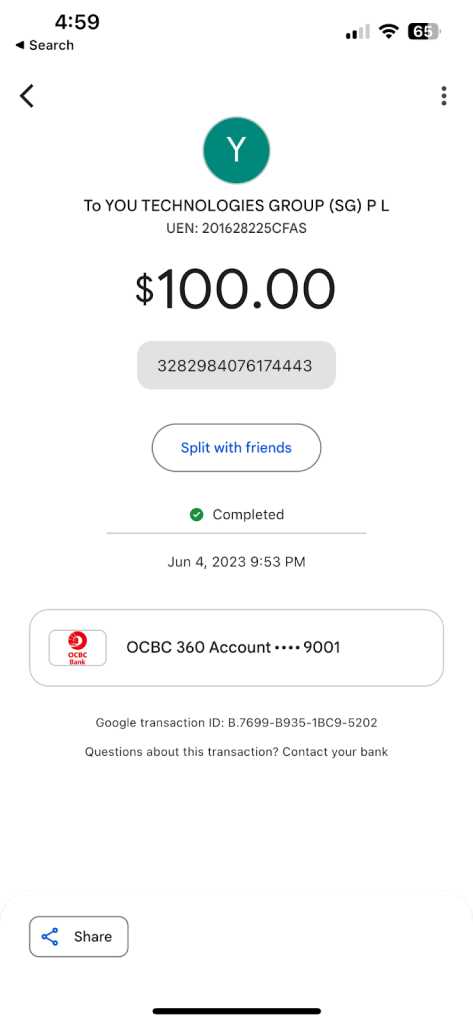 The YouTrip app allows users to hold up to S$5,000 at any one point in time in a secure mobile wallet. When my funds on YouTrip ran low during the trip, I could easily make top-ups in-app via PayNow at no charge, ensuring uninterrupted payment capabilities.
My first transaction using the YouTrip card in Vietnam was at convenience store Circle K in Hanoi, where I purchased drinks and snacks. The payment process was seamless, living up to its promise of fuss-free payments – you just need to tap the card on a payment terminal, and there's no need to input any PIN codes or sign on any receipts.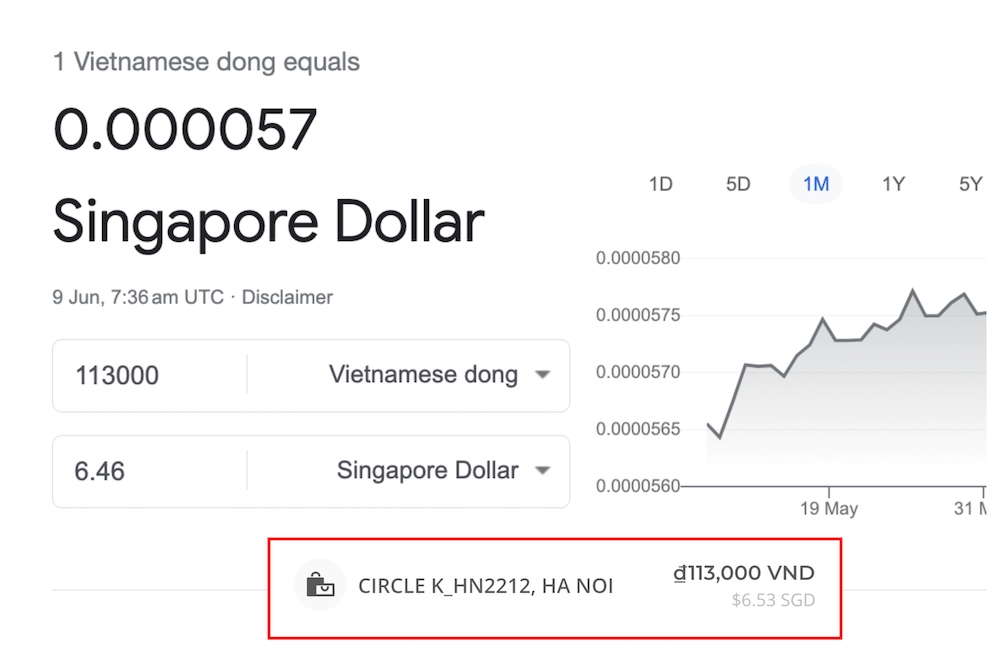 With each tap, I received push notifications on my mobile device, keeping me well-informed about every transaction I made. YouTrip's instant payment alerts are especially useful for budget-conscious travellers like myself, as it enables me to stay on top of my budget and track my spendings effortlessly.
Moreover, YouTrip's competitive Wholesale Exchange Rates ensured that I received the best rates for my transactions.
Wholesale exchange rates refer to the rates used by big organisations, like banks and companies, when they need to exchange large amounts of money from one currency to another. In simpler terms, they are real-time rates that are very similar to the ones you find on websites like Google, XE.com, and other financial sites.
However, I observed that while cards are widely accepted in Hanoi, some local merchants – such as food establishments and spa businesses – charge a three per cent transaction fee for card purchases.
Despite this, the convenience of using the YouTrip card outweighed the additional cost, as I could still enjoy the best rates throughout my trip.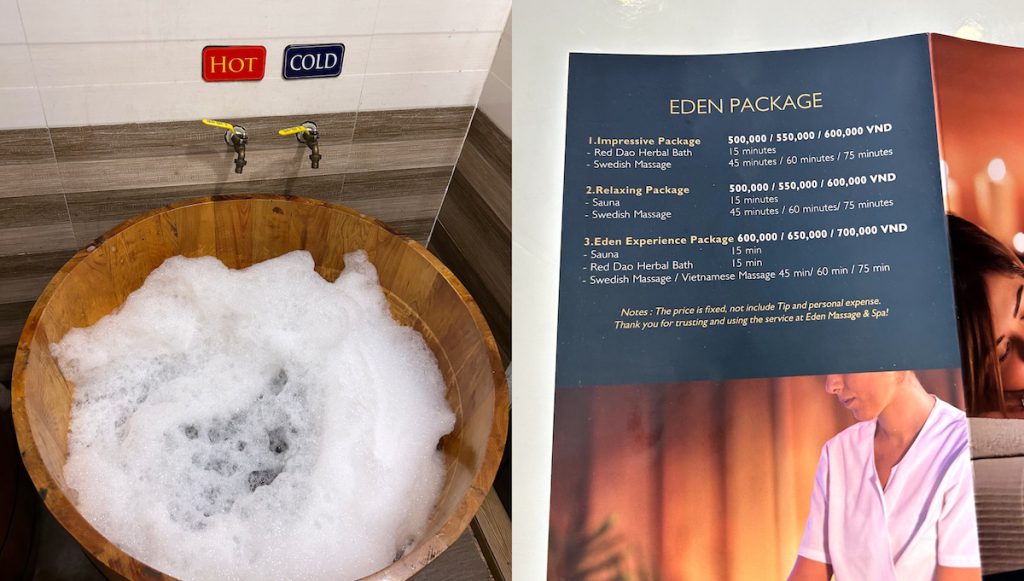 For instance, I decided to try out a herbal bath (a traditional bathing ritual practised by the Red Dao ethnic minority in northern Vietnam) along with a 45-minute Swedish massage.
After a 10 per cent discount for hotel guests, the total bill for two persons was 900,000 VND, but an additional three per cent charge for card transactions brought the final amount to 927,000 VND.
In contrast, there are some businesses that do not charge an additional fee. When I bought multiple packs of Vietnam's signature coconut coffee (my latest obsession) at their local coffee joint, the bill amounted to 415,000 VND. This equates to S$23.74 on Google, and I was charged lower on YouTrip at S$23.68.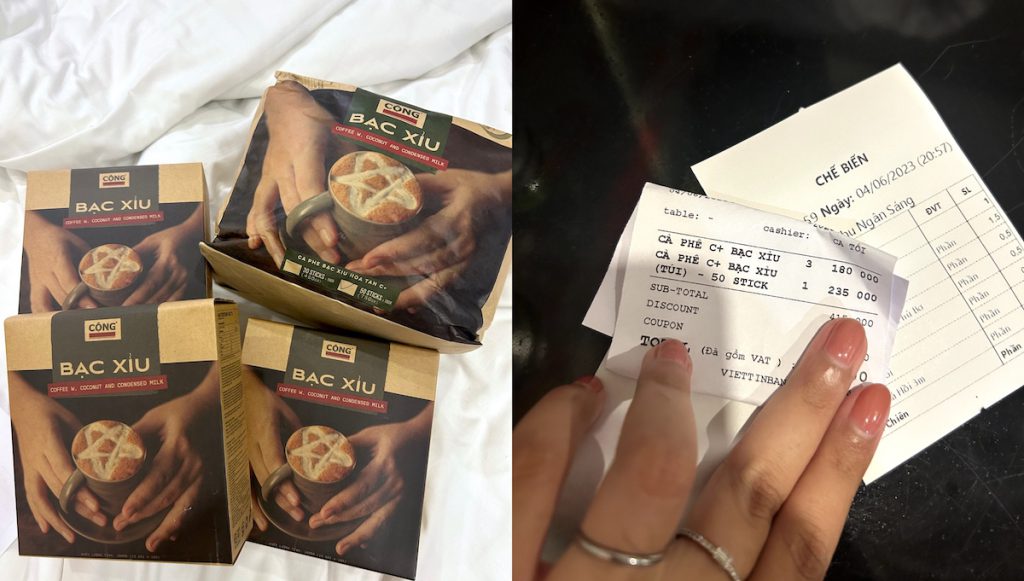 Cash is king in certain places, but YouTrip still comes in handy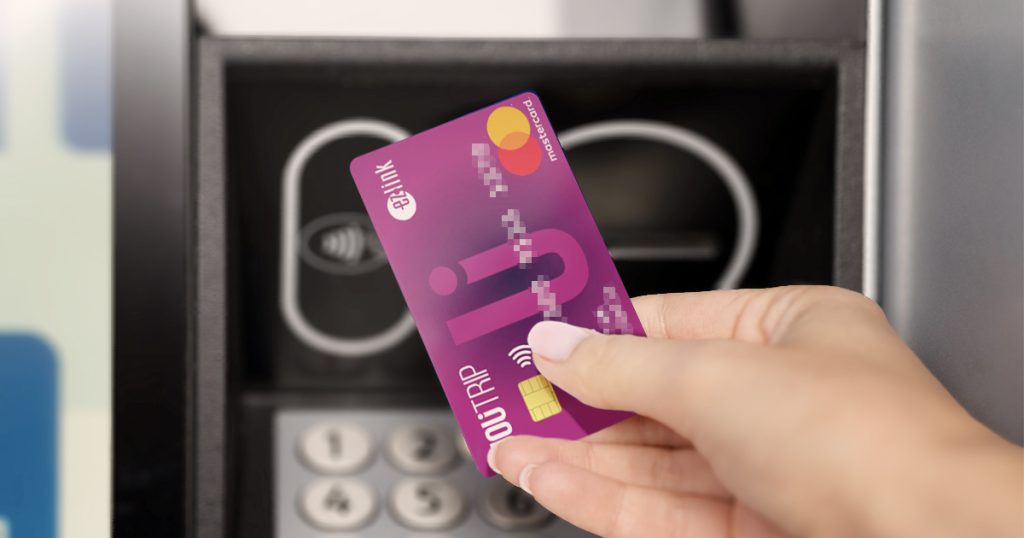 During my visit to Sapa however, I discovered that the region heavily relies on cash transactions, with most businesses not accepting card payments. I was low on cash then, so I resorted to withdrawing cash from a local ATM, for which I was charged a S$5 flat fee.

S$5 may not be a huge sum, but I'm pleased to learn that YouTrip will be removing this fee soon.
From June 15, YouTrip is offering zero ATM fees for the first S$400 in foreign currency withdrawals per calendar month, resetting on the first of each month. A two per cent fee applies to subsequent withdrawals.
This feature enables the convenience of last-minute cash withdrawals, so users can get access to cash whenever they need it without worrying about additional fees.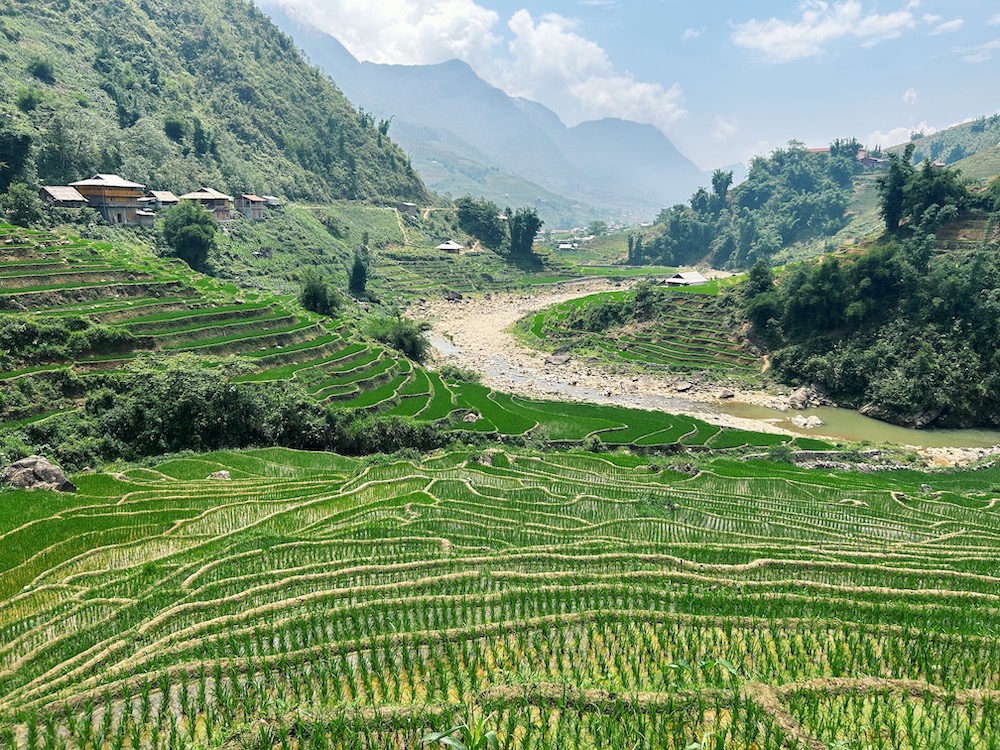 In Sapa, I also used the YouTrip card to pay for a private trekking tour with a local guide, amounting to US$66 for two persons. The guide converted it to VND first (927,000 VND) before charging it to my YouTrip card, although it's possible to charge directly in USD.
Similarly, on my last day of the Vietnam trip, I encountered many merchants at the Noi Bai International Airport who charge in USD.
When given the choice, users should always opt to pay in foreign currency instead of local currency (in this case, SGD) to avoid Dynamic Currency Conversion (DCC) fees and obtain better rates.
YouTrip gets even better with "YouTrip 2.0"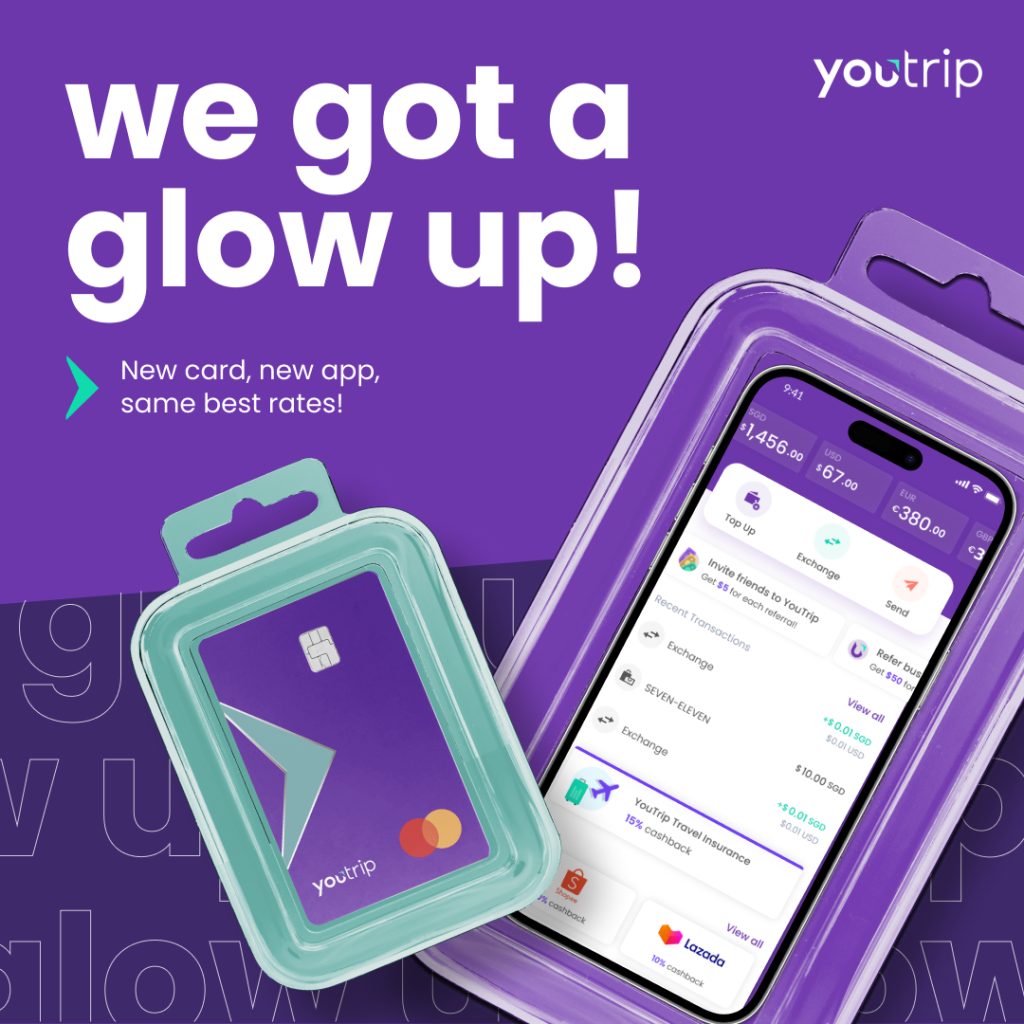 Besides a newly-designed physical card, one of the most notable additions to YouTrip 2.0 is the introduction of a virtual card. With this feature, users no longer need to wait for their physical YouTrip card to arrive in the mail before they can start using it.
In fact, they can immediately start spending with the YouTrip virtual card upon approval of application.
The virtual card also offers unmatched convenience, as it can be accessed anytime and anywhere via the YouTrip app. Even when your physical card is not with you, you can still use the virtual card for online purchases.
Additionally, it offers enhanced security, adding an extra layer of protection for online purchases. As the virtual card is not physically issued, the card number isn't exposed, reducing the risk of card theft or misuse.
Complementing the cards is the sleek and intuitive YouTrip 2.0 app. Its user-friendly interface allows easy access to features like YouTrip Perks and Insurance directly from the homepage.
The YouTrip app also effectively manages both the virtual and physical cards, allowing users to view their transactions in-app as well as lock or unlock their cards with a simple tap. This one-click lock system ensures that funds remain secure in case of loss of theft, providing users with a peace of mind.
Despite all these new upgrades, one thing remains the same: YouTrip still offers the best rates.
Unlock convenience and savings when you travel
All in all, using the YouTrip card throughout my Vietnam trip was an absolute breeze. The reliability of the card was unquestionable, as I never encountered any issues with payments or acceptance.
It simplified my payment processes, offered the best rates, and allowed me to track my transactions. The convenience of instant top-ups, the upcoming removal of ATM withdrawal fees, and the ability to hold multiple currencies in a secure mobile wallet makes YouTrip the ultimate travel companion.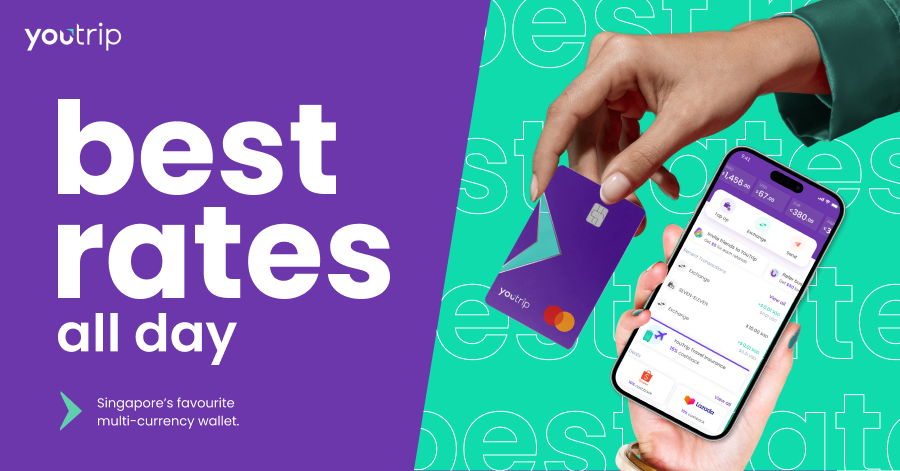 YouTrip's recent rebranding shows its commitment to innovate and provide an unparalleled user experience. Whether you're also exploring the vibrant streets of Vietnam or planning your next global adventure, YouTrip is undoubtedly the go-to solution for seamless payments and favourable rates.
For those who are eager to experience firsthand the advantages of using YouTrip, you'll be pleased to know that signing up is a straightforward process. It takes just three minutes to create an account via MyInfo, and there are no sign-up fees involved.
Your YouTrip card will be delivered to your doorstep, ensuring you're ready to embark on your next adventure with ease.
To sweeten your travel experience, YouTrip just launched its Best Rates Boss campaign. By simply sharing your 'best rates' stories on social media, you have the chance to win a free pair of Singapore Airlines return tickets to anywhere and S$5,000 YouTrip credits.
Don't miss out on this chance to maximise your travel savings and enjoy the perks of YouTrip. Sign up here today and unlock a world of convenience and savings for your future travels.
This article was written in collaboration with YouTrip.