Love, Bonito, the renowned Southeast Asian women's fashion brand, has made its mark on the global fashion scene with the opening of its first pop-up store in New York City's vibrant SoHo neighbourhood.
The brand, which launched its international website in 2019 to cater to new markets, has experienced remarkable success in the United States, achieving a staggering 60 per cent year-over-year growth in 2022 solely through online orders.
From now until 31 December 2023, Love, Bonito welcomes its American fans to explore their pop-up store, marking a significant milestone in the brand's global expansion beyond Asia.
Dione Song, the CEO of Love, Bonito, expressed enthusiasm about the brand's foray into the US market, stating, "Over the years, we have mastered the fit for the Asian female and successfully replicated this across various clothing lines to offer women apparels suited for varying seasons in life. As the business grew, we saw increasing momentum from the U.S. and we knew that we had an untapped and meaningful opportunity to explore."
Song sees the pop-up as an essential part of Love, Bonito's strategy for international expansion, aiming to provide customers in high-growth markets with the unique experience of being inside a Love, Bonito store.
In a previous interview with Vulcan Post, Song revealed that Love, Bonito typically initiates its global expansion efforts by establishing temporary pop-up stores as a preliminary step before establishing a permanent presence.
From local to global
Love, Bonito traces its roots back to 2005 when it started as a digitally native blogshop named BonitoChico, selling pre-loved apparel on the Livejournal platform.
In 2010, the brand underwent a rebranding and established an official website under the name Love, Bonito, and quickly expanded its presence in neighbouring countries.
In 2017, Love, Bonito opened its first physical store in Singapore, and it has continued to expand since then. It currently operates 18 retail stores across Singapore, Malaysia, Indonesia, Cambodia, and Hong Kong, and ships to 20 international markets.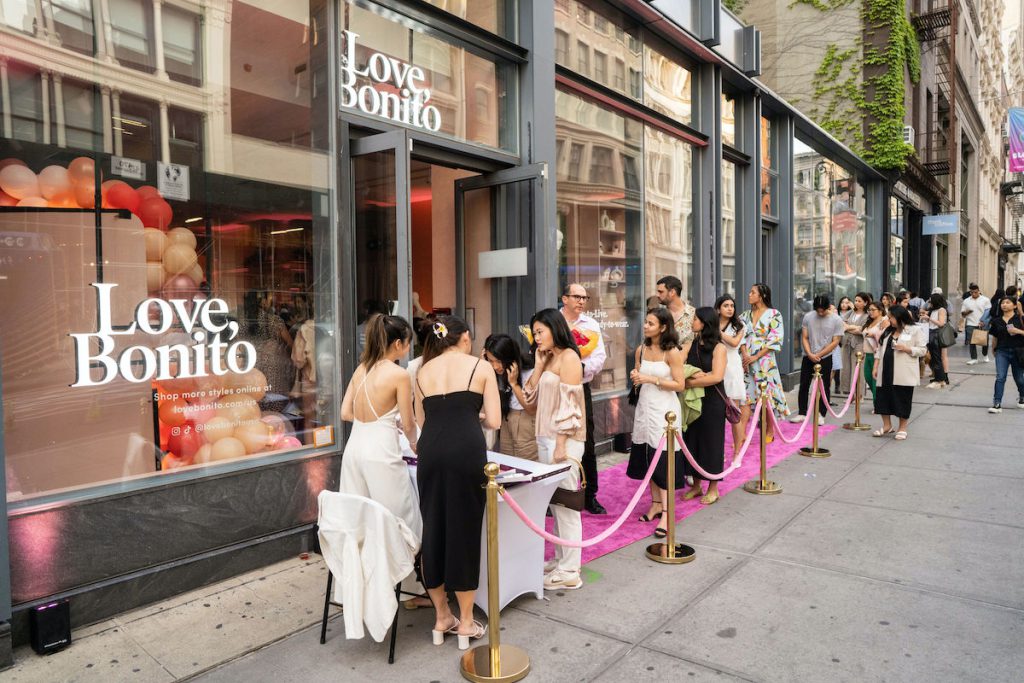 Rachel Lim, co-founder of Love, Bonito, shared her excitement about the brand's international success.
"It has always been a dream for me to take Love, Bonito onto the international stage, and seeing this come to life has been an extremely surreal experience. We've come a long way from expanding into neighbouring Asian markets to now empowering millions of women across the globe," she said.
She also expressed gratitude for the opportunity to connect with the diverse Asian-American community in the United States through the pop-up store, aiming to foster closer relationships and adapt to better suit the needs of the local community.
Looking ahead, Love, Bonito has ambitious plans to further expand its omni-channel presence in key markets, including Singapore, Malaysia, Indonesia, and Hong Kong.
For newer markets like the United States and the Philippines, the brand intends to conduct in-depth research through pop-ups, enabling them to better understand local nuances and customer preferences.
Demonstrating their commitment to this approach, Love, Bonito has already opened three physical stores in Hong Kong, Indonesia, and Singapore since June 2022, in addition to launching six pop-ups in Hong Kong, Indonesia, Malaysia, the Philippines, and the United States.
Love, Bonito's entry into the fashion landscape of New York City signifies the brand's determination to make its mark globally. With its signature style and focus on the diverse needs of women, Love, Bonito aims to captivate the hearts of fashion enthusiasts around the world while continuing to empower women and promote inclusivity in the fashion industry.
Featured Image Credit: Love, Bonito