Disclaimer: Opinions expressed below belong solely to the author.
When Mark Zuckerberg launched Threads, a microblogging rival to Elon Musk's Twitter, on July 5, it set the world ablaze, setting records for the fastest app to reach a million users and one of the fastest growing in history, onboarding over 100 million people in just five days.
Media coverage helped to feed the frenzy, with commentators the world over wondering if it means that Meta's new child could dethrone Twitter and burn Musk even more painfully after he spent US$44 billion to acquire the company last year.
I think, not even a fortnight later, we can already give an answer to that question: no.
Threads? That's passé
Whatever you think about the potential of the app to rival Twitter, the facts are that its popularity has, thus far, been very short-lived — and the numbers (which typically don't lie) are in to prove it.
Let's start with Google Trends, a nifty tool measuring the relative popularity of specific search terms: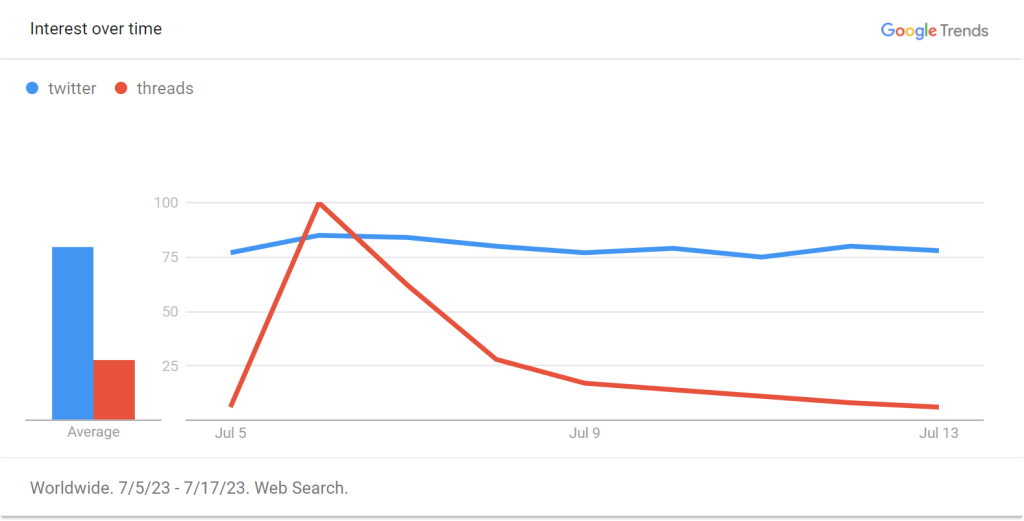 Worldwide interest in Threads piqued just after the launch on July 6, and then rapidly trended downward to drop to the same level as it reported on July 5 — just one week later.
You might be thinking — "oh, but this is just web search and Threads is a mobile-only app". Worry not, we have other figures too.
According to data collected by Sensor Tower, while the launch triggered quite unprecedented activity, subsequent engagement started dropping off within the very first few days.
The number of daily active users on Tuesday and Wednesday in the week following the app release, was already down by 20 per cent, while the time spent in app melted in half, from 20 to 10 minutes.
Similarweb, another tracking company, reported similar findings, showing a drop-off of over 51 per cent — from 40 to 23.6 million — among active Android users by July 14, and an even bigger drop in time spent, to between three and six minutes daily.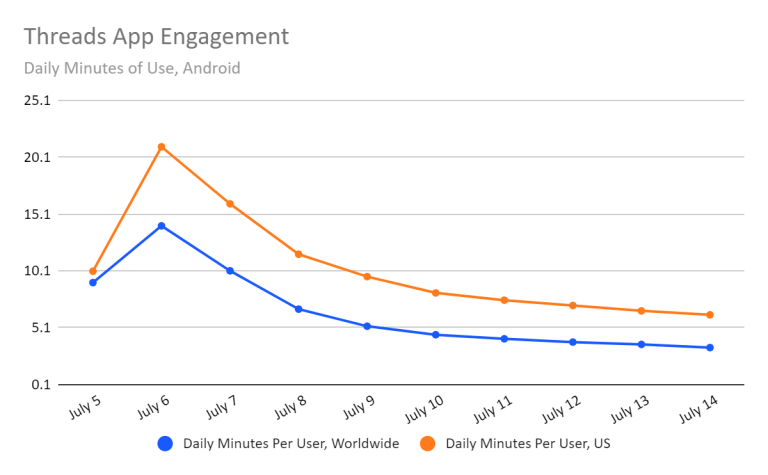 Uninterestedgram
The pace of onboarding has also stalled fairly quickly after piercing through the 100 million figure and, as of writing of this article on July 17, stands at 114 million according to tracking by Quiver Quantitative:

It may look, nonetheless, impressive but only until you realise that Instagram — that Threads is based on and linked to — has over two billion monthly active users (and even more accounts).
This means that even if we take the MAU figure (lower of the two), it shows that Meta only managed to convince less than six per cent (a bit more if we exclude the EU, where Threads is unavailable) of current Instagram users to clone their accounts on Threads and fewer still remain active on it 10 days after launch.
Only this can provide the proper perspective in comparing the seemingly explosive popularity of the new app to a supposedly similar eruption in interest in ChatGPT when it launched late last year, that many media outlets did in their coverage over the past week.
It's quite a lot different when a completely new, unknown product receives mass attention (e.g. ChatGPT) and when an established company pitches something to its vast, existing user base of billions.
In this context, the 100+ million sign ups no longer look very impressive, even if we exclude the 200+ million European Instagrammers, who can't even access Threads due to app's lack of compliance with EU laws.
This takes us to the fundamental problem.
You only get one chance to make a first impression
The app is half-baked. That's it. It doesn't have many of Twitter's basic features, it doesn't even use hashtags — the bedrock of microblogging. It doesn't comply with EU laws, which means it lost on tens of millions of possible subscribers, driven by launch day hype, which is not coming back.
As I commented last week, big Silicon Valley companies often make a mistake of behaving like startups when, in reality, expectations towards them are far greater due to the reputation they have already established.
Threads was built quickly — or rather rebuilt from an earlier attempt, under the very same name, that the company shut in late 2021 — and released too hastily.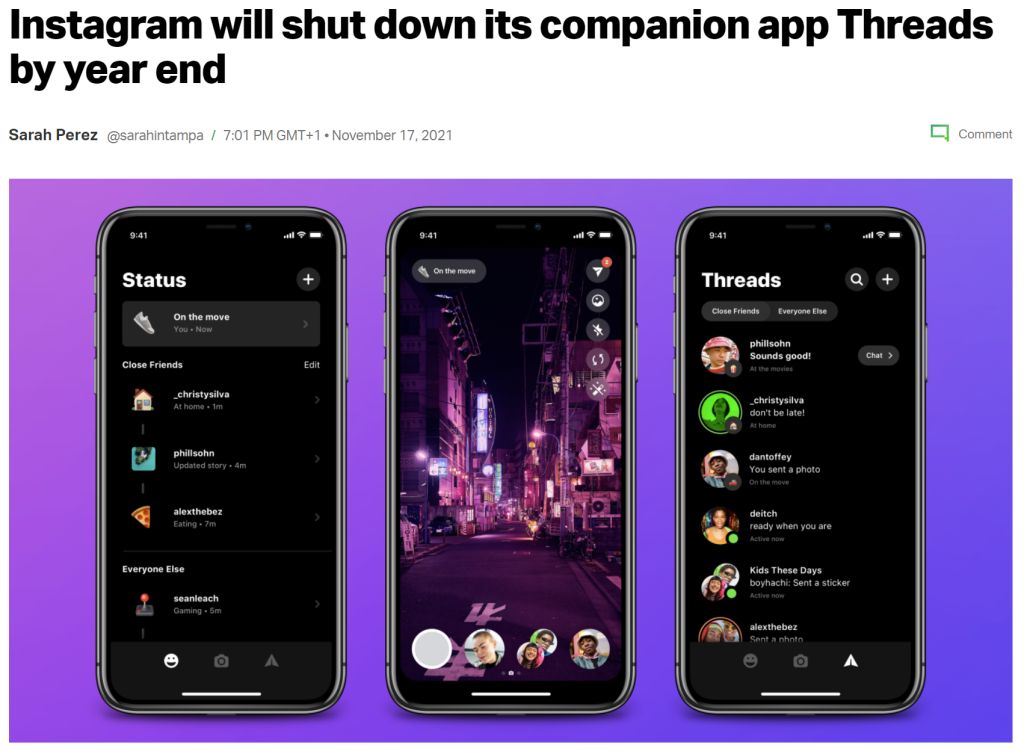 The way things are today, it seems that not even the launch was really a success.
Less than 10 per cent of active Instagram users decided to give app a try and fewer than half of those who did stuck around just a week later, spending an average of just six minutes (or three among non-US audiences).
Contrary to many news reports, Threads doesn't have much going for it and it's likely to take weeks — if not months to introduce "new" features, which are really just about catching up to Twitter. Meanwhile, Twitter has finally started paying its creators thousands of dollars in ad revenue sharing scheme.
It seems that Zuckerberg gave the order to release it early to test the waters, but his only achievement may very well have been discouraging even those most eager to try.
This is why after breaking a few records, Threads may soon set a completely new one of its own — becoming the fastest tech flop in history.
Featured Image Credit: RAFAEL HENRIQUE/SOPA IMAGES/LIGHTROCKET VIA GETTY IMAGES