I'm totally guilty of hoarding clothes. I'll usually tell myself, "One day, I'll wear that", but that day has yet to come. It may never come, actually.
Throwing away clothes that I will never wear or can't wear anymore isn't a sustainable solution for Mother Earth though. Donation is a better option, and there are lots of centres where you can donate still-wearable clothes to.
But you may have a few branded pieces that are still in good or pristine condition, and you're hoping that you can send them away while being remunerated for a fraction of the original price you paid.
Or maybe you just want some sort of incentive to finally push you to clear your wardrobe.
With that in mind, here's a non-exhaustive list of businesses in Malaysia that reward you for donating your clothes to them.
1. 2nd Street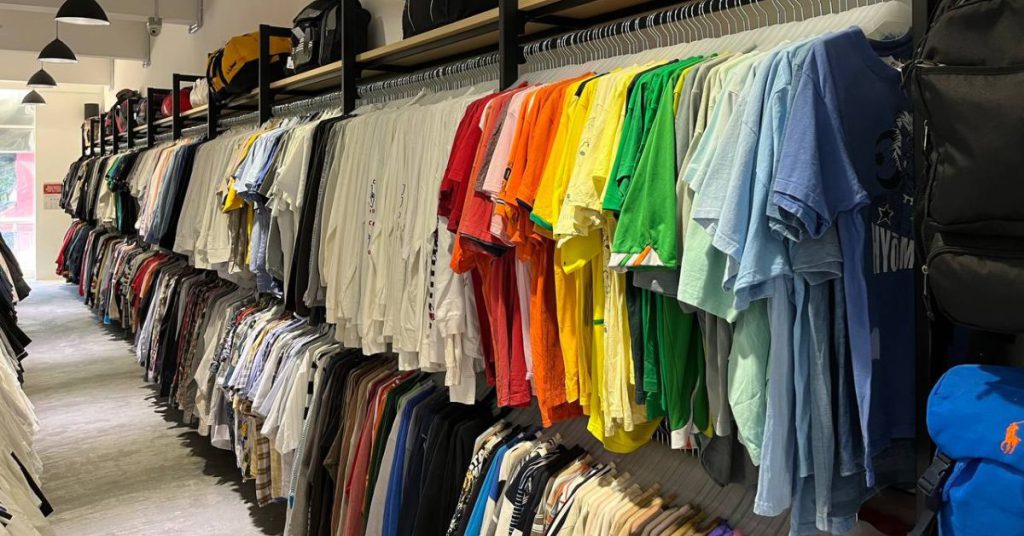 2nd Street claims to be Japan's most popular reused clothing store, with over 800 outlets opened there since its founding in 1996.
Us Malaysians also got a slice of 2nd Street when 2nd Street Trading Malaysia was launched to bring in second-hand clothing from Japan to the rest of Asia.
If you're not looking to buy but to sell instead, 2nd Street does take in used clothing for reselling, albeit only at specific outlets (see below).
I was told by a colleague who donated to the store (specifically the TTDI outlet) that she felt the vetting process was rather strict, though.
So, be prepared to have some of your clothing potentially rejected, but if one 2nd Street outlet rejects that clothing, you could still try your luck at their other buying outlets.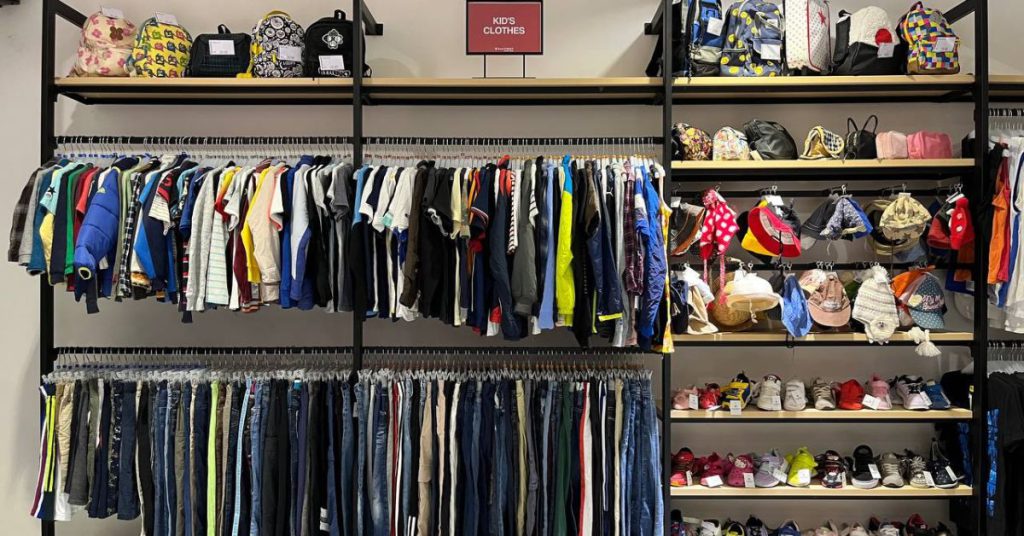 Clothing donation guidelines:
Accepted
Not accepted
Branded and non-branded attire
Specific clothing like babywear, kimonos, pyjamas, work attire, swimwear, etc.
Clothes, shoes, bags, headwear, etc.
Accessories such as handkerchiefs, jewellery (gold and platinum), stockings, tights, and towels
Brands like Cartier, HERMES, Rolex, etc.
More information on what items 2nd Street will or will not buy can be found here.
When donating, you'll need to bring either your NRIC or passport, with a visa that's valid for at least three months (if you're not Malaysian).
If you're under 18 and want to donate, you'll need to come with a parent or legal guardian who has a valid NRIC.
Donation process:
Bring the clothing that you want to donate to selected 2nd Street stores, hand over your items to the person at the counter, and fill in the given form.
2nd Street will look through your items piece by piece.
Once the assessment is complete, you can check the results on the form and decide if you want to sell all your items, just a select few, or cancel the transaction.
If you agree to 2nd Street's pricing offer, you will be paid in cash on the spot.
This entire selling process must be completed on the same day, otherwise 2nd Street will dispose of your clothing the next day.
Location(s):
All these stores are open from 10AM to 10PM daily.
Reward: RM1 to RM3 per item, depending on 2nd Street's assessment.
Website/contact: https://www.2ndstreet.global/ or 03-5613 4872
2. REFASH
According to their website, in 2015, Aloysius Sng observed his wife's wardrobe and noticed that it was full of clothes she didn't wear.
Despite many of the pieces still being in excellent condition, they would be discarded to make place for newer purchases.
Realising that she probably wasn't alone in this unsustainable cycle, he had a lightbulb moment and founded REFASH, a Singapore-based thrift store brand with outlets in both Singapore and Malaysia.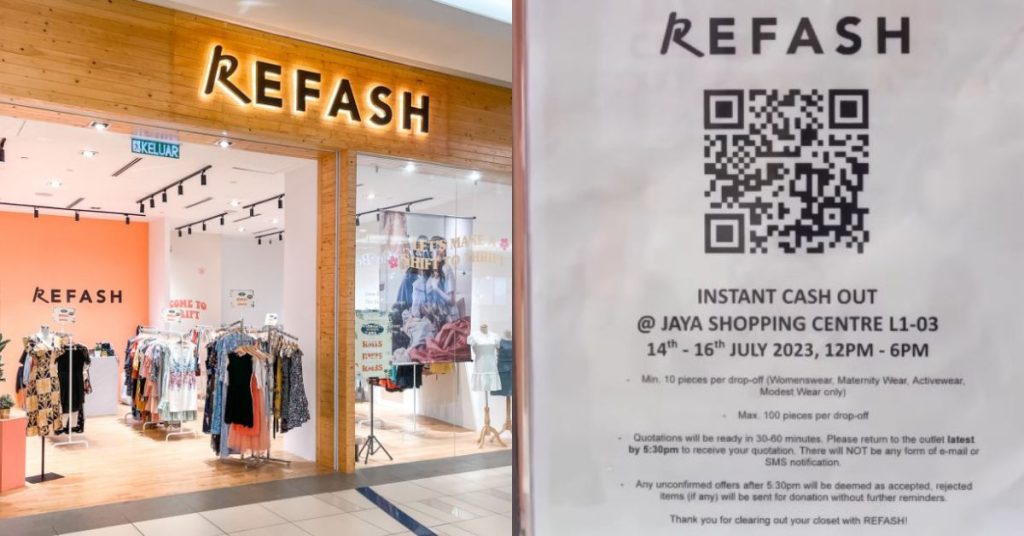 Since then, he reported that they've found new homes and owners for over a million unwanted fast fashion pieces.
Clothing donation guidelines:
REFASH accepts womenswear, activewear, maternity wear, and modest wear from any brand, but does have a list of preferred brands here.
They do not accept menswear, intimates, and swimwear.
For a higher payout, any clothing you donate should ideally have no signs of wear (it looks new), no defects (missing or broken parts, stains, or odours), and be in trend.
Donation process:
Fill up your bags with clothes (minimum of 10 pieces, maximum 100 pieces).
Drop off your clothing at REFASH's outlet during their bi-monthly Instant Cash Out Events (you'll have to follow their social media or subscribe to a mailing letter to know when they're held).
Scan a dedicated QR code at the counter and fill in a digital form about your donation.
You'll receive a quote within 60 minutes, and get paid if both parties are agreeable. Any unaccepted items are either returned to you or recycled.
Location(s):
Location
Opening hours
Paradigm Mall, Unit 2F-08/09/10, No. 1, Jalan SS7/26A, Kelana Jaya, 47301 Petaling Jaya, Selangor
Daily, 10AM – 9PM
3 Damansara, Unit G-22, 3, Jalan SS 20/27, Damansara Intan, 47400 Petaling Jaya, Selangor
Daily, 11AM – 9PM
Jaya Shopping Centre, Unit L1-03, Jalan 14/17, Seksyen 14, 46100, Petaling Jaya, Selangor
Weekdays, 12PM – 8PM
Weekends, 11AM- 9PM
JUMPA Sungei Wang Plaza, LGP09, Jln Sultan Ismail, Bukit Bintang, 55100 Kuala Lumpur, Malaysia
Weekdays, 11AM – 8PM
Weekends, 11AM- 9PM
Reward: REFASH divides donated clothing into tiers of A to C, and the payout per piece will differ based on the tier.
| | |
| --- | --- |
| Tier A | RM6 – RM10 |
| Tier B | RM3 – RM5 |
| Tier C | RM1 – RM2 |
Website/contact: https://refash.my/
3. helaian.co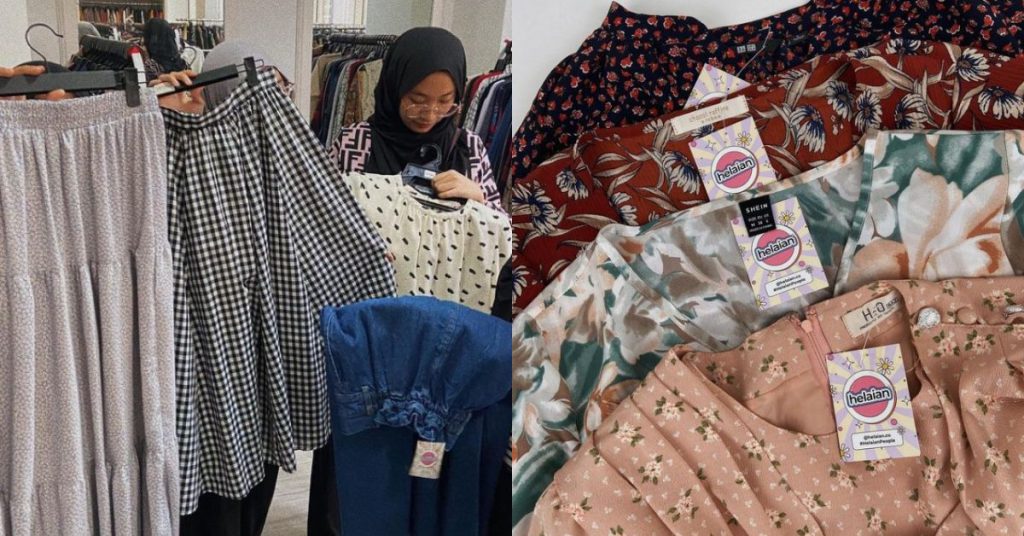 Not much is known about the founder or origins of this thrift store, but based on its online presence, it seems geared towards the modest crowd.
Specialising in thrifted women's wear, helaian.co now also buys preloved clothing and provides a payout accordingly.
Clothing donation guidelines: Not much can be readily found online, but interested sellers can contact helaian.co on WhatsApp to find out exactly what they do or don't accept.
Based on what they sell though, it seems like they may prioritise blouses, long dresses, and skirts in good condition.
Donation process:
Chat with a helaian.co employee online through their WhatsApp or social media and find out what they'll accept or reject.
Pack up your clothes and opt to either send the bundle by courier or drop it off at their physical store.
The team will then check and evaluate the condition of your preloved items.
Your payout will be based on each eligible item, and it will be delivered to your bank account.
Location(s): 3A-57-02 (1st floor), Jalan Medan Pusat Bandar 8, 43650 Bandar Baru Bangi, Selangor
Reward: Your payout will be based on a percentage of helaian.co's selling price as below:
| Selling price | Your cash payout |
| --- | --- |
| RM 30 – RM 49 | 25% |
| RM 50 – RM 99 | 35% |
| RM 100 – RM 199 | 45% |
| RM 200 | 55% |
Website/contact: https://helaian.co/ or WhatsApp through https://helaian.yzza.io/consignment
4. LOOOP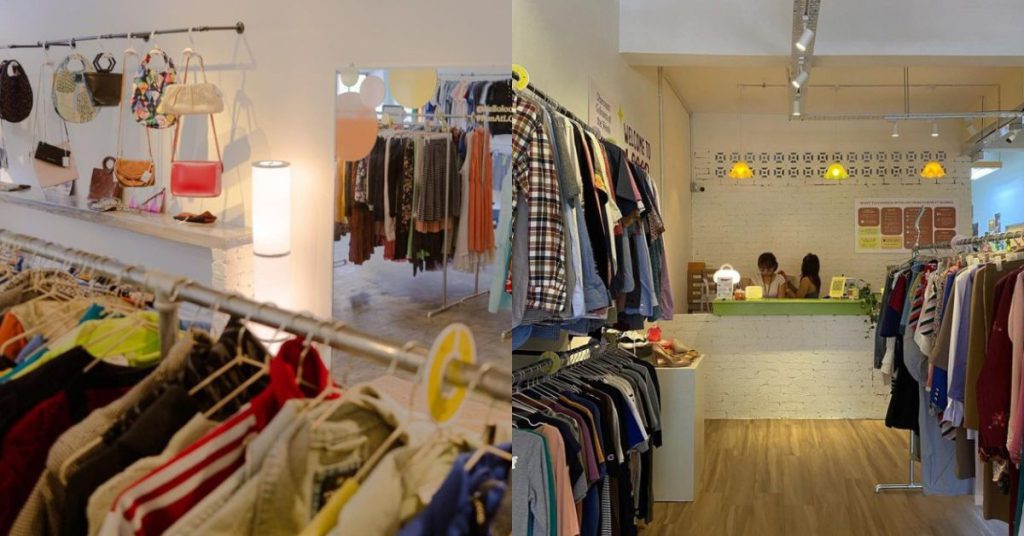 Opened just over a year ago, LOOOP is the brainchild of local social media influencers Adani Bakhtiar, Bay Doucet, and Emma Khoo.
Wanting to encourage a more active cycle of thrifting, the thrift store allows contributors (AKA donators) to let go of old clothes and earn back a little sum of money with each piece.
While the store is open to walk-ins for purchasing, you'll need to book an appointment to sell your clothes or accessories. LOOOP uses a consignment model for that.
Clothing donation guidelines:
| Accepted | Not accepted |
| --- | --- |
| High quality women's and gender neutral clothing that are timeless pieces, inclusive in sizing, have quality fabrics, great construction, and are still in good condition with no major defects | Accessories, jewellery, underwear, swimwear, costumes, winter wear, socks, children's and babywear |
| Well-made basics (like T-shirts), traditional clothing, and non-apparel items like bags, shoes, sunglasses, belts, hats, and scarves | Luxury items from brands such as Chanel, Louis Vuitton, and Prada as these items require official authentication |
Clothing that you want to donate must be washed and clean.
You can bring up to 15 curated items to donate, but LOOOP will only take in 10 selected pieces per appointment. You can check out their preferred styles here.
LOOOP will display your consigned clothing in their store for only eight weeks.
Donation process:
Based on appointment slots that are released bi-weekly on Sunday at 9PM, you can make an appointment here. Appointments are necessary for you to consign and ultimately donate.
Prepare your items and arrive at your appointment on time. Fill up an onboarding form and pay an RM15 consignment fee.
After a curation process of about 20 minutes, you'll get a receipt that lists all of your accepted pieces and their expiration dates. Rejected items can be donated by LOOOP on your behalf, or you can take them home.
You're encouraged to write a note for each consigned piece to enable customers to connect with an item through its history, and increase its chances of being bought.
LOOOP will send you a pricing email within a week, and you can make pricing amendments within 24 hours. After that, your items will be tagged and displayed in their retail store.
You'll get an email each time an item is sold, and you can also log on to LOOOP's portal to check on the status of your consigned pieces and the balance of your earnings.
You can pick up unsold items at the end of the eight-week retail cycle, or have LOOOP donate them on your behalf.
Location(s): 20-A, Lorong Rahim Kajai 14, Taman Tun Dr Ismail, 60000, KL
Tuesday to Friday: 2PM – 9PM
Weekend: 12PM – 7PM
Reward: You'll get 40% of the purchase price (LOOOP's selling prices in-store range from RM10 to RM200+), and you'll be paid your earnings via bank transfer on the last Monday of every month.
Website/contact: https://www.looop.fun/
5. Sasuke Outlet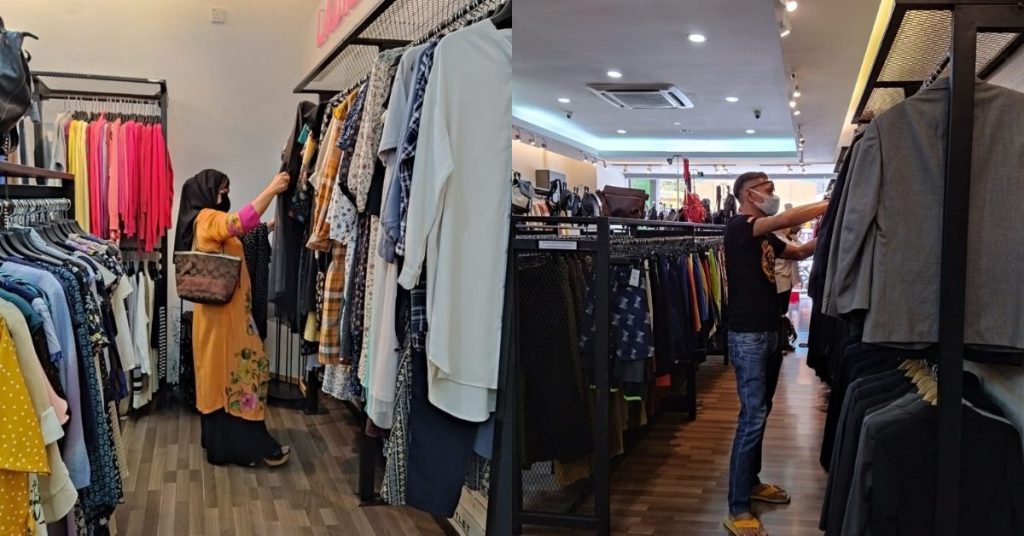 No, to my dismay, this wasn't an anime-themed preloved clothing outlet. Sasuke Outlet's story started in 2010, in the trading and wholesale business of used clothing.
Today, it has several outlets around Malaysia that both sell and buy preloved clothing. Its buying programme is called Renew.
Clothing donation guidelines:
Sasuke Outlet purchases preloved items in bundles, and items are priced on a per kg basis.
Accepted items include jackets (except winter jackets), women's and men's clothing that's still in good condition (except traditional wear), and even curtains and bedsheets.
Donation process:
Sort your items into categorised bundles and bring them to Sasuke Outlet's Danau Kota store.
Fill in the prepared form, and a staff member will assess and weigh your bundles.
If your items pass inspection according to the accepted criteria, you'll get your payout in cash on the spot.
Location(s): Sasuke Outlet,15G, Block B, Platinum Walk Business Center, 2, Jalan Langkawi, Taman Danau Kota, 53300, Wilayah Persekutuan Kuala Lumpur (Weekdays, 11AM – 6PM)
Reward:
| Item categories | Value per kg |
| --- | --- |
| Jackets | RM3 |
| Clothing that's still in great condition | RM2 |
| Clothing that's in wearable quality | RM0.50 |
| Curtains | RM0.80 |
| Bedsheets | RM0.80 |
Website/contact: https://www.sasukeoutlet.com/ or 03-4141 5204
6. H&M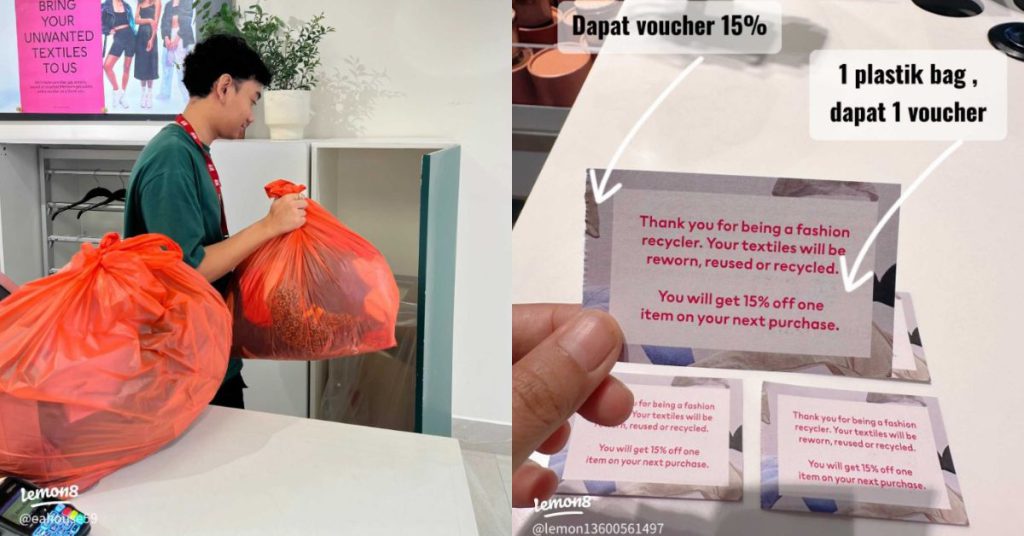 H&M's Garment Collecting programme was rolled out globally in 2013 and is said to be the world's biggest of its kind.
At the time of writing, all H&M stores in Malaysia should accept your old or unwanted clothing.
It's worth noting though that H&M has been accused of greenwashing, with some controversy in the past pertaining to its sustainability programmes. It was mainly about its claim that your donated clothing can be used to make new clothing.
Clothing donation guidelines: Garments of any brand and in any condition can be accepted.
There don't seem to be many strict guidelines on what H&M takes in, since they have business partners who will sort through your donations and split them into three categories:
Rewear: Wearable clothes are marketed as second-hand clothing
Reuse: If the clothes or textiles are not suitable for rewear they're turned into other products, such as remake collections or cleaning cloths
Recycle: All other clothes and textiles are shredded into textile fibres and used to make insulation materials, for example
Donation process:
Divide your garments into medium-sized piles and bag them up properly as you'll have to donate them bagged. Each bag should have a minimum of five pieces of clothing.
Head to any H&M store, show your bags for donation to the staff and you'll get a 15% discount voucher for each bag, although the vouchers are capped at two per day.
Location(s): Any H&M store in Malaysia
Reward: 15% discount voucher (per donated bag, but only two vouchers can be given per day) that can be used on the spot for any H&M clothing item of your choice at a normal price
Website/contact: https://www2.hm.com/en_my/index.html
7. Monki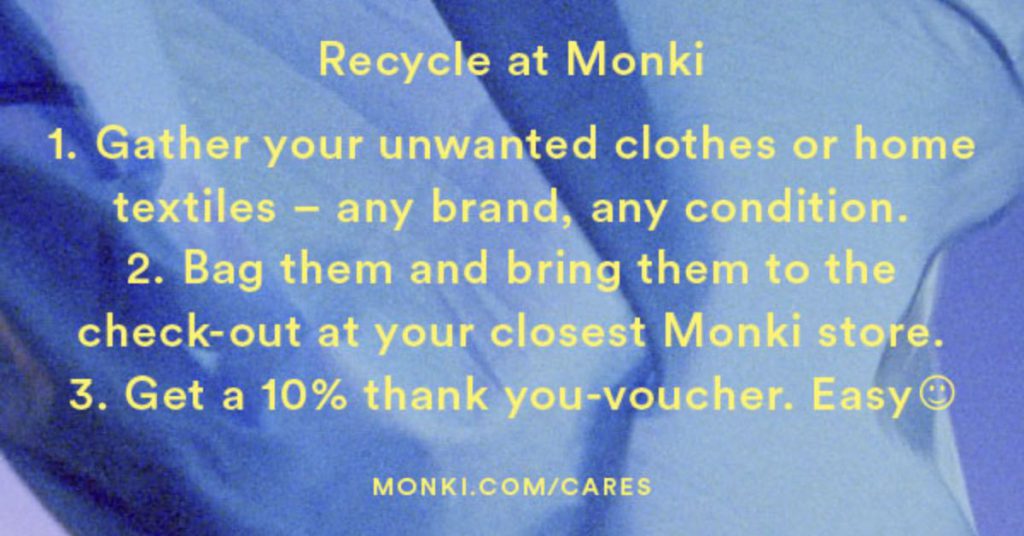 Another fast fashion store on the list, Monki's recycling programme works pretty much the same way that H&M's does.
Clothing donation guidelines:
Garments of any brand and in any condition can be accepted. These will be sorted by their business partner Remondis into the categories re-wear, re-use, and recycle.
Donation process:
Divide your garments into medium-size piles and bag them up properly as you'll have to donate them bagged.
Head to any Monki store, show your bags (maximum two per visit) for donation to the staff and you'll get a 10% discount voucher.
Location(s): Any Monki store in Malaysia
Reward: 10% discount voucher that can be used in Monki
Website/contact: https://www.monki.com/en/index.html
-//-
Some would feel that it's not really worth it to clear their closets by donating or reselling their clothing through these businesses. After all, the payout or discounts you get in return admittedly don't amount to much.
However, they're still good options for those who want to get rid of their clothing without further harming the environment, or for those who don't want to handle the selling process themselves, like on Carousell.
There's also an argument to be made about clearing your closet only to get back fast fashion vouchers that encourage you to easily spend again if you donate to stores like H&M and Monki.
If that doesn't sit right with you ethically, then the many thrift stores listed above will be the ideal way to go. 
Not only are you contributing to the pushback against harmful fast fashion practices, but you'll also know that your clothes will actually be given a fair chance at being loved by someone again.
Read more fashion content we've written here.
Featured Image Credit: AwynOthman / 2nd Street / helaian.co