Disclaimer: Any opinions expressed below belong solely to the author.
Startup funding in Southeast Asia fell by a quarter in the first half of 2023, dropping to below pre-pandemic levels (or around the same it last saw in 2020) at US$4.3 billion, according to the latest State of the ASEAN Technology Ecosystem report by January Capital, Venture Cap Insights and Tracxn.
The number of deals, however, has considerably increased to 488 compared to just 345 last year, pointing to greater diversification of smaller sums of money, placed in early-stage companies in the region.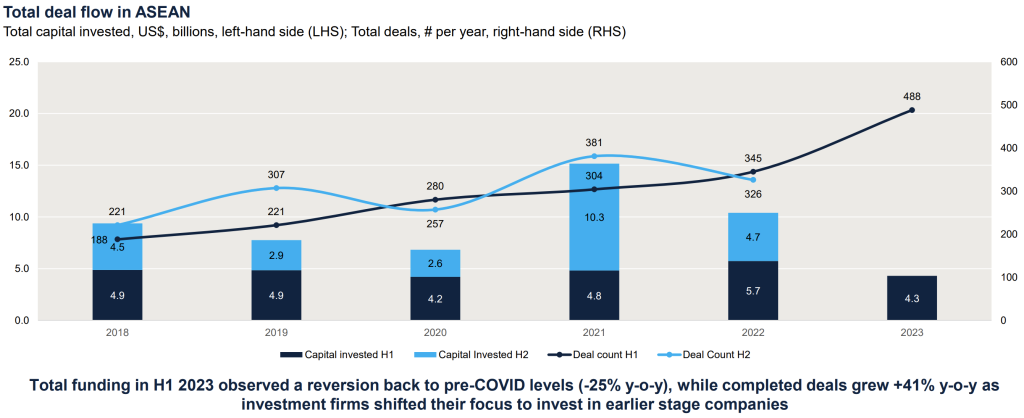 Docking at a safe haven
This search for safety has manifested itself also in the locations where the money flows to — with Singapore absolutely dominating the landscape, as investors appear to have less appetite for risk after a volatile 2022.
Nearly two in every three deals, and three out of every four dollars invested in ASEAN went to Singapore-based companies in the first half of 2023.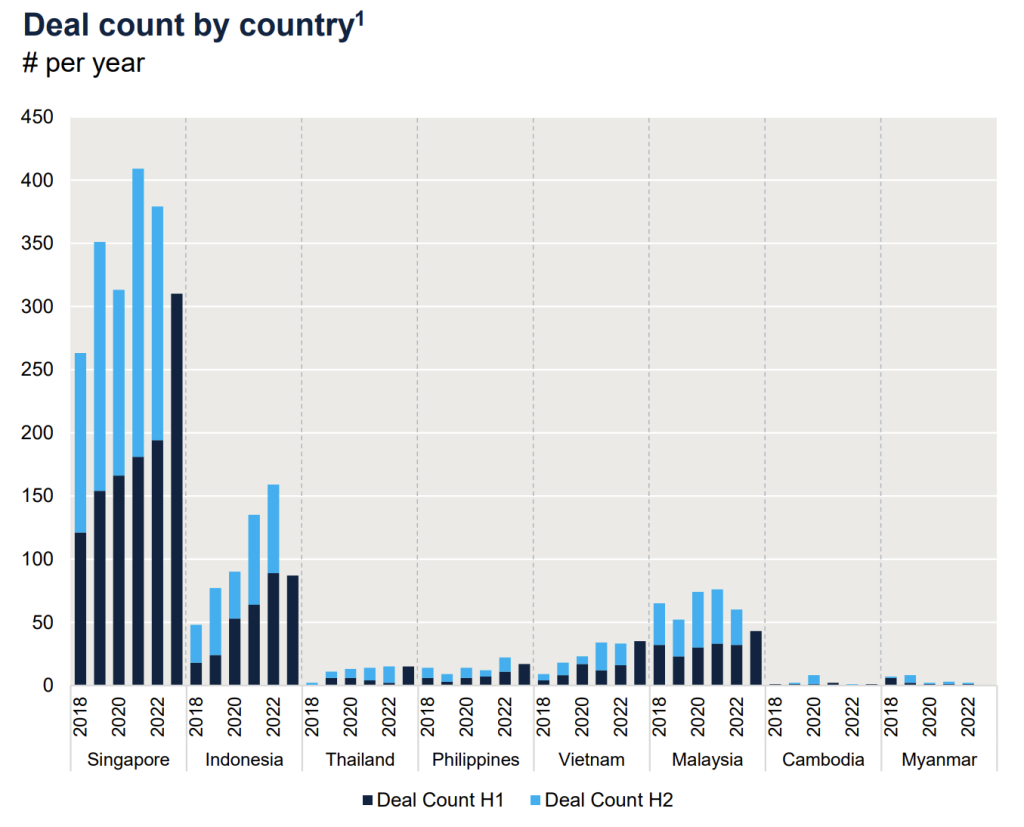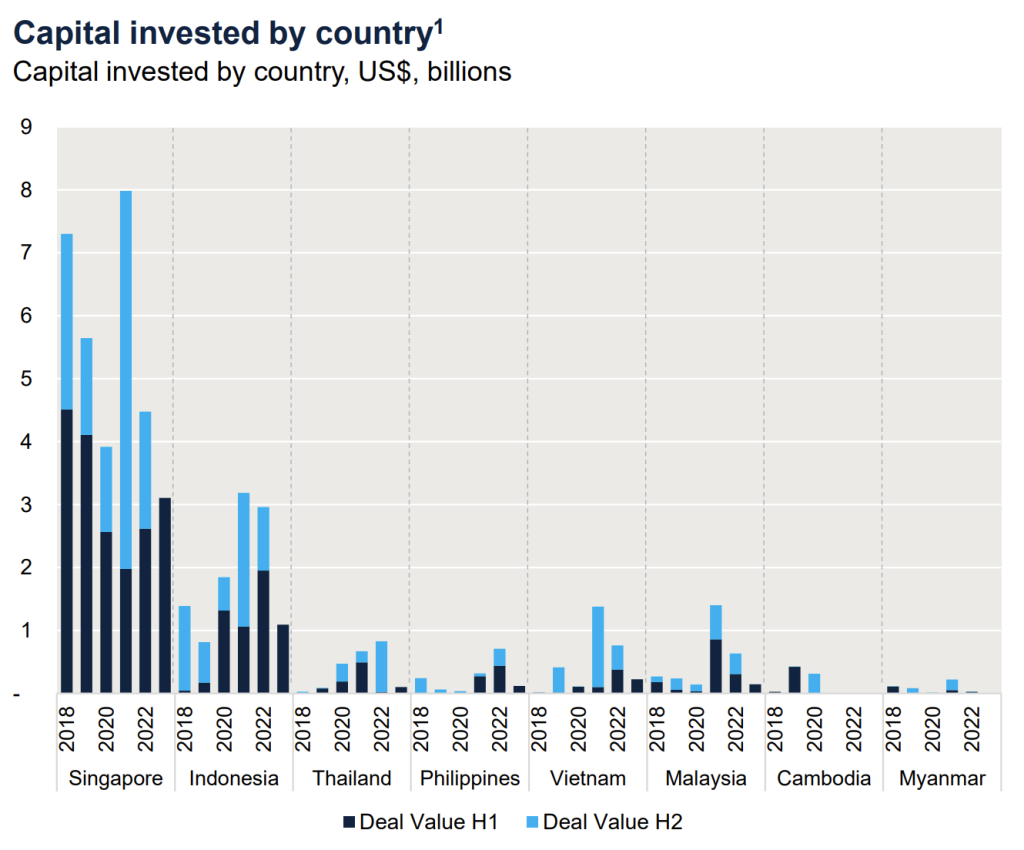 The city of just under six million absolutely dominates the region of 660 million people, with over 300 out of 488 agreements (up by 60 per cent year-on-year) and US$3.1 billion (up by 19 per cent year-on-year) in investments, out of a total of US$4.3 billion so far disbursed in 2023, with most other countries falling further behind than at any point in the past five years.
E-commerce gives way to fintech
As recently as 2018, e-commerce startups were hoovering as much as 75 per cent of all funding in Southeast Asia — a percentage that has now dropped to just 22 per cent.
At the same time, financing for tech companies offering financial services has multiplied (relatively), putting the industry in the lead, collecting one out of every four dollars: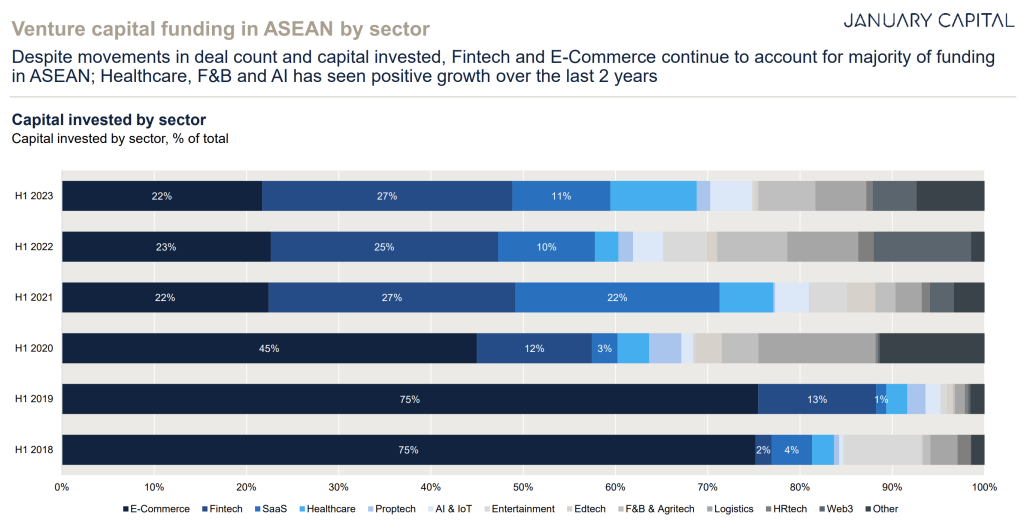 While the number of deals in e-commerce may actually be going up, their value is on its way down — likely a sign of acceptance that the mainstream market is already divided between the biggest players, like Shopee, Lazada, Amazon and a few national brands, challenging which would require billions of dollars in highly risky investments.
This left the stage to smaller, more specialised businesses, which do not need nearly as much funding as they attempt to carve out profitable niches for themselves.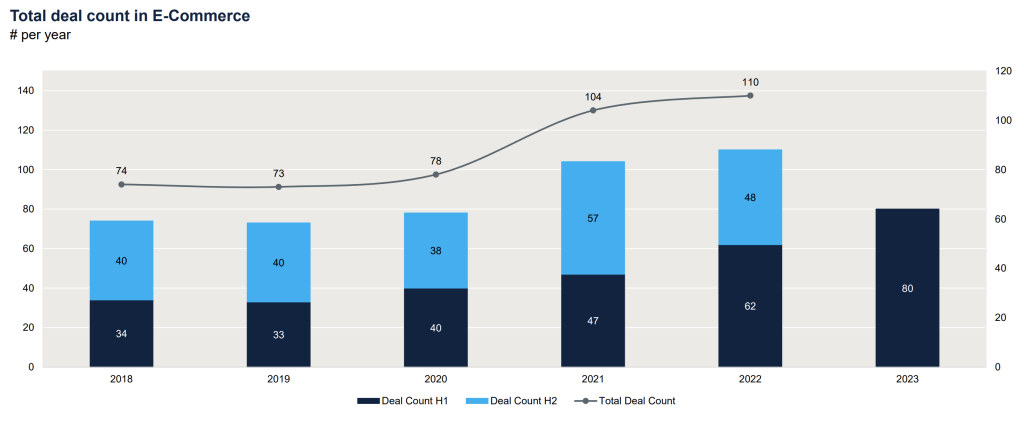 Fintech, while on the rise, is still waiting for a major breakthrough year. Despite significant opportunities in a still largely underdeveloped region of close to 700 million inhabitants, VC money is struggling to find attractive enough deals, dividing its rather paltry funding between a growing number of companies.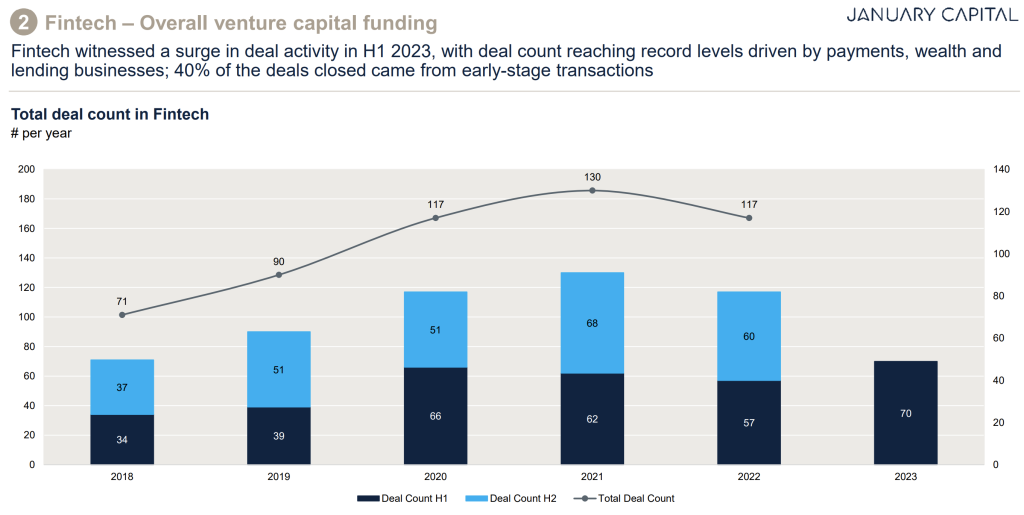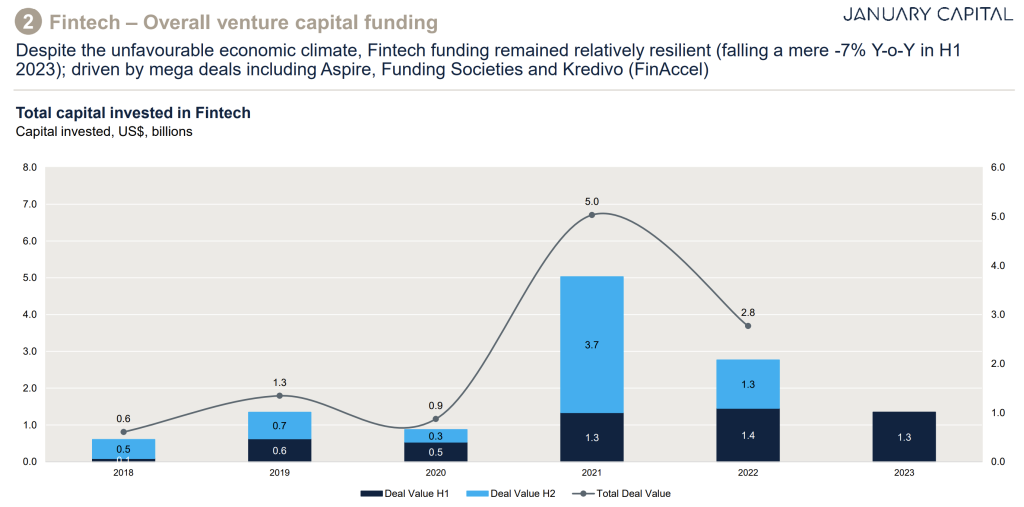 On the other hand, it may also suggest that expansion of ambitious superapps — like Grab or Shopee — by existing companies building on top of their dominant position in adjacent markets, is sapping most attention away by raising risks for smaller enterprises.
With the crypto frenzy over, it may be difficult for any newcomers to compete with financial services (including complete digital banking) added to already wildly popular platforms.
Nevertheless, as the heft of e-commerce in the startup scene wanes and despite the ongoing Web 3.0 winter, fintech remains the sector to watch given the huge addressable population in ASEAN that is yet to have many of its financial needs fulfilled.
Though, of course, whatever happens, it's bound to be managed out of Singapore.
Featured Image Credit: Jiji via AFP