Financial institution DBS has taken a groundbreaking step towards leveraging the metaverse as a catalyst for positive change with the unveiling of "DBS BetterWorld."
This innovative metaverse concept aims to raise awareness about pressing environmental, social, and governance (ESG) issues, starting with the global food waste challenge.
The virtual adventure is designed to immerse participants in a gamified experience that not only educates, but also highlights the impact of Businesses for Impact supported by the DBS Foundation.
According to the United Nations, approximately 1.3 billion tonnes of food – equivalent to one-third of the world's total production – goes to waste each year. To tackle this crisis, DBS introduced the "Towards Zero Food Waste" initiative in 2020, rallying its stakeholders, including employees, customers, communities, and the general public, to collaboratively build a more food-secure future.
As of the end of 2022, the initiative has achieved a remarkable total food impact of over 2,000 tonnes, encompassing reduced food waste, recycled food, and redistributed food.
Spotlights on businesses fighting food waste
DBS BetterWorld, a virtual experience hosted within The Sandbox's Alpha Season 4, goes beyond traditional ESG campaigns. The interactive platform engages players in a journey that spotlights innovative solutions to combat food waste.
Players undertake a series of activities inspired by five Businesses for Impact supported by the DBS Foundation:
Brewerkz: The Singapore-based craft beer manufacturer focuses on upcycling brewers' spent grains – a common brewing by-product – into food products, reducing waste in the beer-making process.
Breer: This Hong Kong startup collects surplus bread from bakeries and restaurants and repurposes it to brew craft beer, demonstrating an ingenious approach to tackling food waste.
GreenPrice: Operating in Hong Kong, GreenPrice specialises in selling food close to or just past their "best before" dates, making food more accessible to low-income households while curbing waste.
Edible Garden City: Based in Singapore, this initiative promotes urban farming and edible gardening, encouraging city dwellers to grow their own food and bolstering food resilience.
Rooftop Republic: Hong Kong-based Rooftop Republic transforms underutilised spaces, such as disused helipads, into urban farms, demonstrating the potential of unconventional spaces to contribute to food production.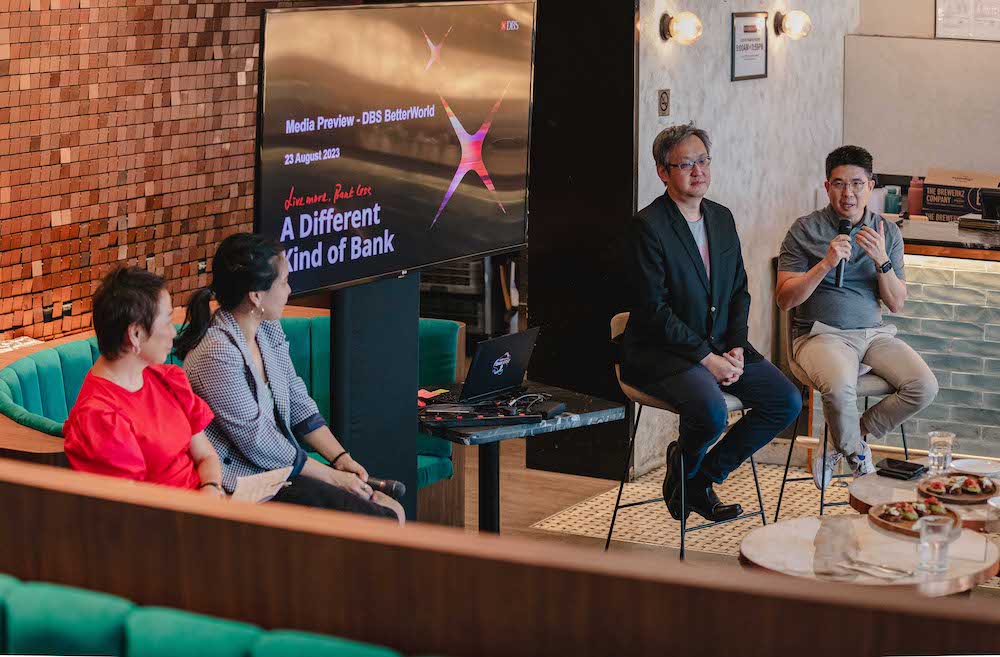 Karen Ngui, Head of Group Strategic Marketing and Communications at DBS and Board Member of DBS Foundation, highlighted the potential of the metaverse as an impactful medium for ESG awareness.
"With DBS BetterWorld, we have chosen to delve into the challenges of food waste and food resilience… As metaverse technologies mature, we hope to create mechanisms for communities and businesses to translate the outcomes of their virtual initiatives to real world impact," she said.
DBS's commitment to community impact spans years. Since 2014, the DBS Foundation has been nurturing businesses for positive change in Asia.
In 2022, the Foundation introduced a Community Impact chapter, pledging S$5.6 million to empower underserved communities with digital and financial literacy skills. This year, DBS announced a monumental S$1 billion commitment over the next decade to uplift the low-income and underprivileged and foster inclusivity.
DBS BetterWorld, accessible after the launch of The Sandbox's Alpha Season 4, integrates interactive elements, QR code-based rewards via DBS PayLah!, and intriguing easter eggs, including appearances by characters from DBS's web series, Sparks.
This pioneering initiative underscores DBS's determination to utilise technology, collaboration, and innovation to drive positive change and address critical global challenges.
Featured Image Credit: DBS