On July 19, Ng Kok Song, the former Chief Investment Officer of Singapore's sovereign wealth fund GIC, declared his candidacy for the highest office in the city-state.
His announcement to join the race for Singapore's presidential election followed the declarations of former Senior Minister Tharman Shanmugaratnam, who was the first to announce his intention to run for the presidency over a month earlier.
Ng, aged 75, said that his decision to enter the race is driven by "recent concerns about the integrity of our national institutions".
Here are some facts to know about the presidential hopeful:
1. He grew up poor in a fishing village in Kangkar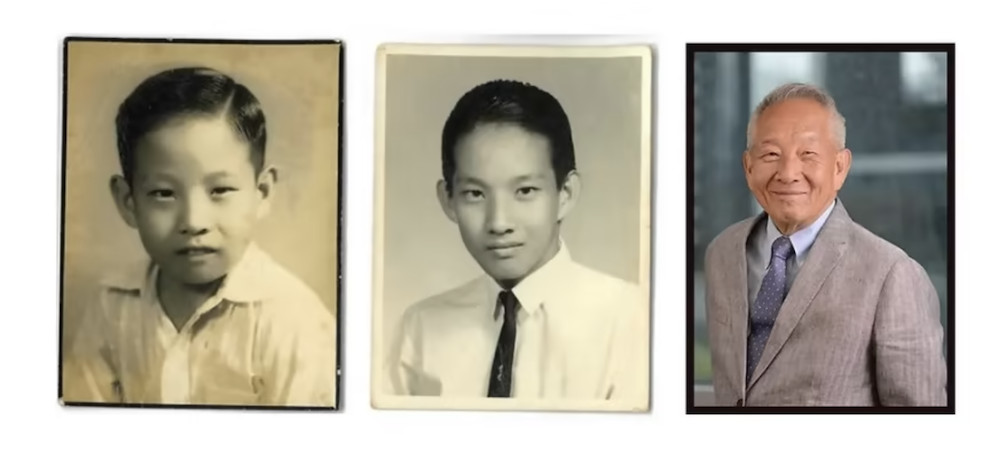 Ng grew up in Kangkar, a former fishing village that is now known as Sengkang, where he lived in a mud-floored dwelling with a thatched roof and two small bedrooms.
His father worked as a fish auctioneer, shouldering the responsibility of providing for the family's 11 children. However, circumstances took a turn when his father lost his voice, leading to his unemployment.
Reflecting on those times, Ng acknowledged in a Bloomberg interview that it was the benevolence of their neighbours that provided the family with the means to meet basic needs and acquire textbooks.
He also recounted a poignant memory: his mother returning home with tears in her eyes, conveying the inability of their neighbours to extend further financial assistance. This moment left an indelible mark on him, compelling him to resolve that he would do all within his power to alleviate such distress, vowing not to witness his mother's tears again.
2. He had zero economic background when he joined MOF
Following his physics studies at the University of Singapore (now known as the National University of Singapore) through a Public Service Commission scholarship, he pursued a Master's degree in management at Stanford University.
Commencing his professional journey in 1970, he embarked as an investment analyst at the Ministry of Finance.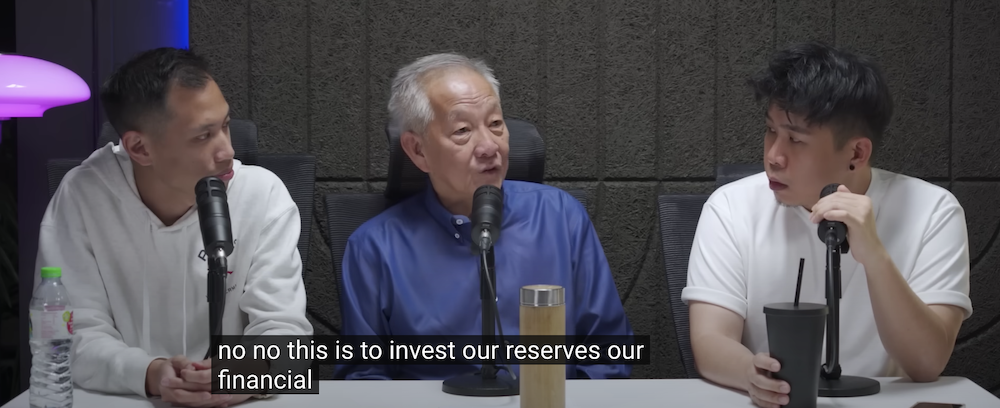 "When I went for an interview to get my posting for my job — I have to work for the government because I went to university on a bursary, a scholarship — they say there's a vacancy in the Ministry of Finance in investment," he shared in a recent podcast interview with The Daily Ketchup.
He added that they explained to him that the role involved investing Singapore's financial reserves. Although he didn't know anything about stocks or bonds back then, they believed that his foundation in Mathematics would suffice to navigate the responsibilities.
In the subsequent year, 1971, he became part of the Monetary Authority of Singapore (MAS) — an organisation he would later chair before relinquishing the position to enter the election race. During the MAS's inception, he directed its London office for a span of three years, commencing in 1973.
A substantial phase of his career revolved around GIC, where he became a member in 1986. Following pivotal roles within the equities and bond department, and holding the distinction of being the first locally-based director of the fund, he ascended to the role of Chief Investment Officer in 2007.
He held this pioneering position until his retirement in 2013, marking his enduring tenure. Preceding his GIC engagement, Ng assumed the role of inaugural chairman at the Singapore International Monetary Exchange (SIMEX) from 1983 to 1987.
3. He lost his wife to cancer; now engaged to Sybil Lau
In matters of romance and family, Ng's first marital union was with Patricia, a fellow schoolmate from Montfort School. Their marriage was sealed in 1972 and they became parents to three children, who are now aged between 33 and 50.
While they were dating, he financed their dates by repeatedly pawning and redeeming a Seiko watch that had been gifted to him by the father of a student he tutored. Following Patricia's passing due to stomach cancer on Valentine's Day in 2005, Ng's life took a different course.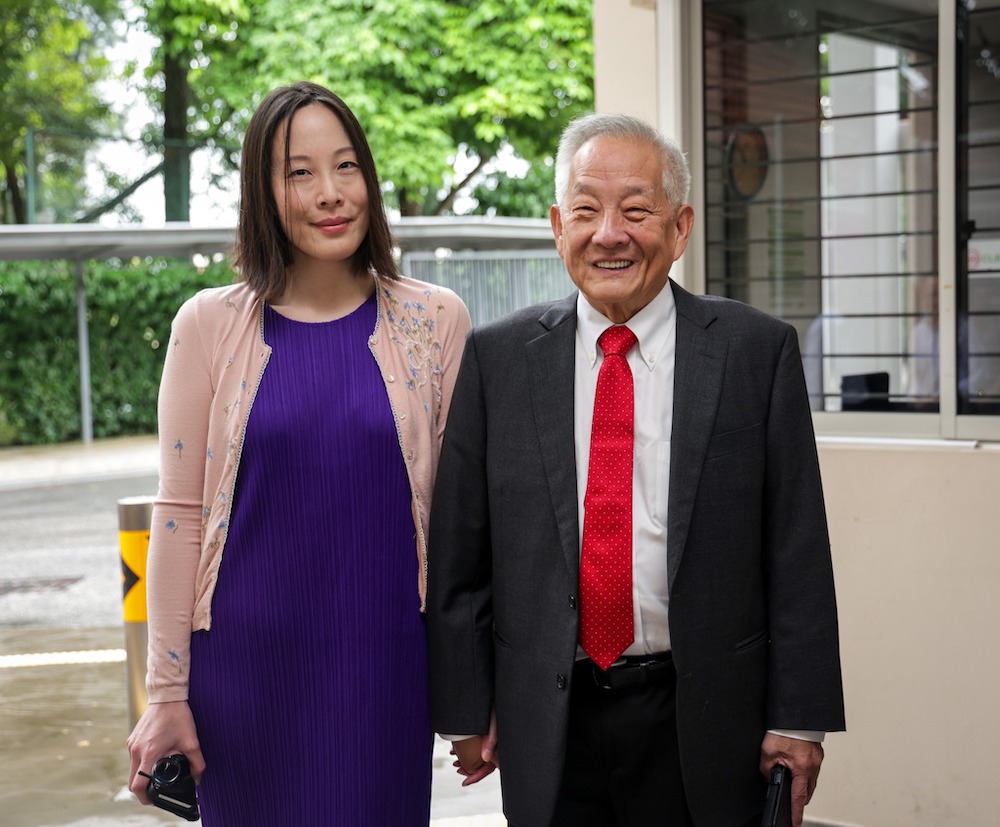 He is currently engaged to 45-year-old Sybil Lau, whom he met four years ago. Lau is a Singaporean hailing from Canada, and is notably 30 years younger than him. He proposed to her in March 2020 when they were on their way home to Singapore from Vancouver.
Recounting the day, he said that he went down on one knee with a diamond ring in hand and popped the question. Sybil then quickly took out her phone and took a photograph of the moment, before replying with a resounding 'yes'.
Lau initiated her professional journey as a financial analyst at Goldman Sachs and since 2009, has been entrusted with managing her family's wealth. According to Lau's LinkedIn page, she is currently a board member of SG Enable, Well Health Technologies Corporation, and the Dailo Family Office.
4. He taught the late Mr Lee Kuan Yew how to meditate
Ng's deep affinity for meditation, a practice he has diligently engaged in for decades, is widely recognised. His commitment to this practice even drew the attention of the late Mr Lee Kuan Yew.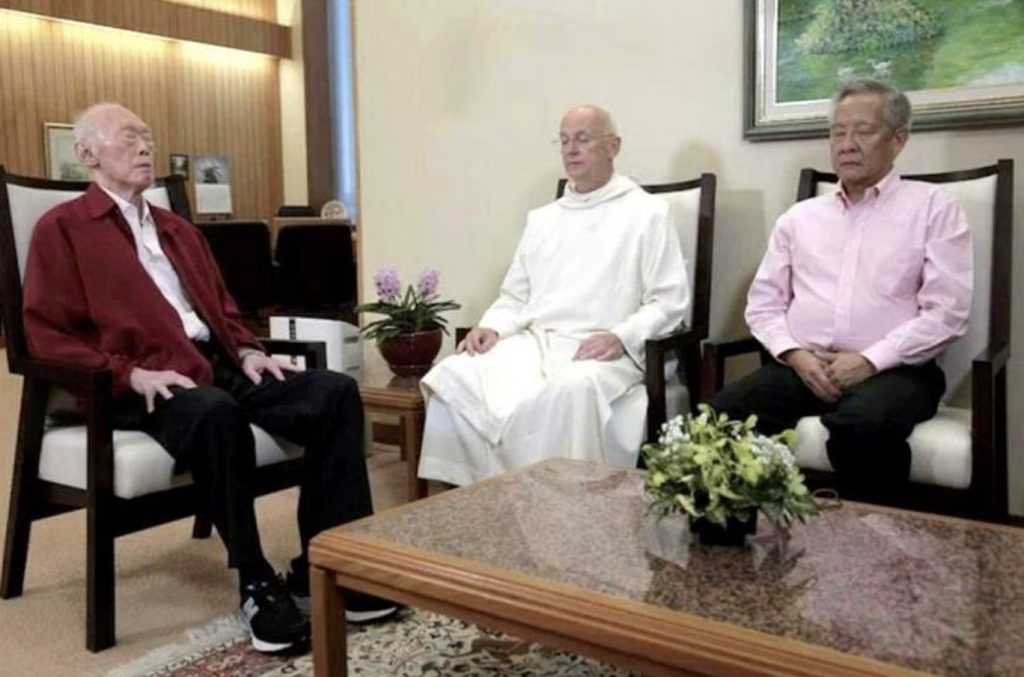 "In 2010, one evening, Mr. Lee called me up. I initially thought the call pertained to some GIC-related business, but to my surprise, he asked, 'Song, I've heard from Health Minister Khaw Boon Wan that you're experienced in meditation. Could you come and guide me?'" Ng told SPH Razor in a video interview.
He recently shared in a The Daily Ketchup podcast that Mr Lee was looking to "have a clear mind [and] serenity" since he was entering the final stage of his life. At that time, the late Mrs Lee was also feeling unwell so he hoped that meditation would be a way for him to better come to terms with his wife's condition.
In a separate 2019 interview with the CFA Institute, Ng conveyed his perspective on meditation, considering it to be "potentially one of the simplest remedies for the bustling executive, a balm for the restless mind."
Ng attributes both his personal growth and professional advancement to his committed meditation practice. His daily routine involves two meditation sessions, a testament to the significance he attaches to this practice.
Notably, Ng holds the position of Singapore's national coordinator for The World Community for Christian Meditation, an organisation in which he also serves on the executive committee.
In this presidential election, Ng has also been very vocal about getting Singaporeans to pick up meditation, which he believes can help tackle mental health issues and enable the country's future success.
5. He has gained numerous accolades over the years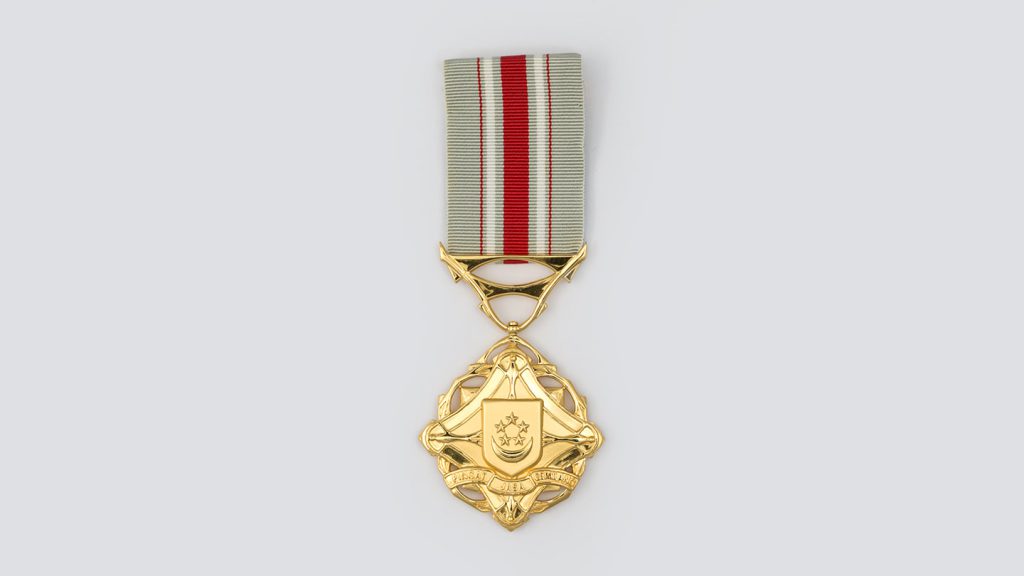 In recognition of his dedicated service to Singapore, Ng was granted the Meritorious Service Medal by the government in 2012. The subsequent year witnessed the CFA Institute bestowing upon him the Thomas L Hansberger Award for Leadership in global investment.
In addition, the French government had bestowed him with the Legion of Honour in 2003, along with the Order of Merit in 2011. From 2001 to 2014, Ng was an esteemed member of the strategic committee of Agency France Tresor, entrusted with managing the debt and financial reserves of the French government.
His notable contributions within the global futures sector led to his induction into the Futures Hall of Fame by the United States-based Futures Industry Association in 2009.
Beyond his ongoing role at Avanda, Ng actively participates as a board member of several institutions. He holds a position on the board of governors at the Asia School of Business in Kuala Lumpur and serves as the founder and chairman emeritus of the Wealth Management Institute, a venture established in 2003 through the collaboration of GIC and Temasek.
His influence extends to 65 Equity Partners, a globally recognised investment firm, where he also occupies a board seat.
Further underscoring his impact, Ng's involvement extends to Pimco's global advisory board, a distinguished body that includes notable figures such as former British Prime Minister Gordon Brown and former US Federal Reserve Chair Ben Bernanke.
6. His cat has its own Instagram page
Ng has two pets — a dog named Cotton, and a cat named Max Lemon Ng.
"Cotton is very dear to me because I've had her for 11 years, and we didn't know that she was deaf when she came to us," he shared in a TODAY video interview.
Ng and Sybil co-own Max, which is an 18-month old Golden British Shorthair. "This Max is very different because he likes to spend time with Sybil and me."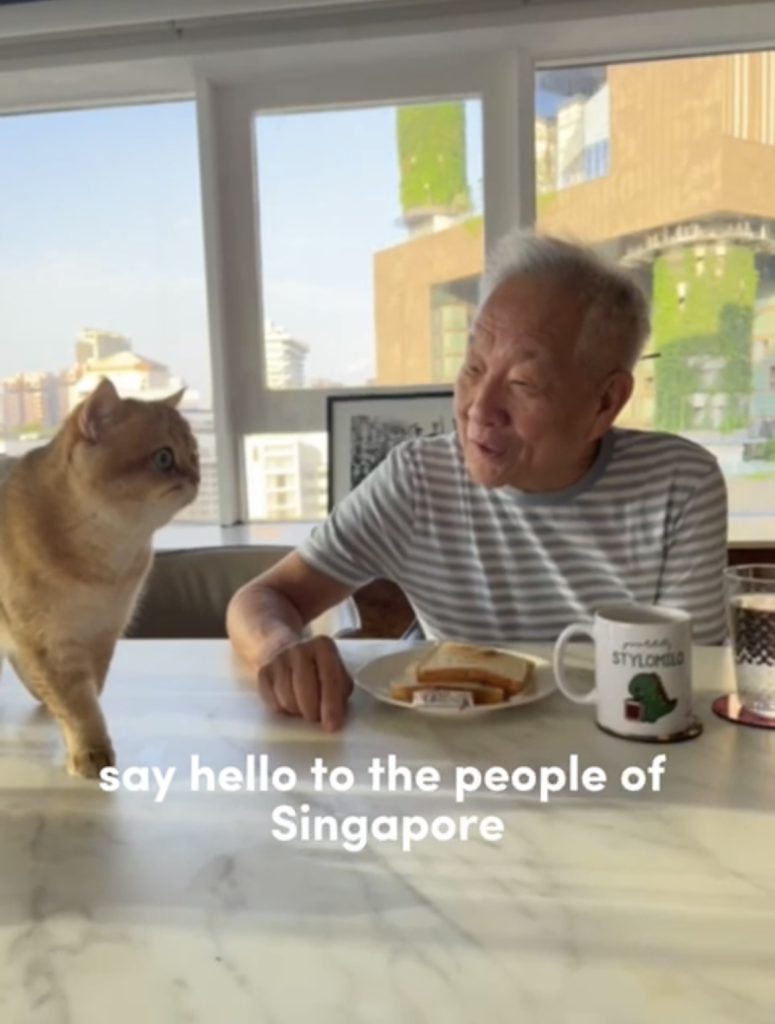 Max, which has amassed more than 4,500 followers on Instagram, always greets him at the door when he goes home.
"You know what happens when you have this feeling? This experience of being loved. It really lifts me up. I might come home a bit tired from having been out in the hustings, and then Max is just there. Playing with Max, it is such an important part of how I stay peaceful, how I stay energetic," he told The Straits Times in a separate interview.
7. His secret to staying healthy
Even at the advanced age of 75, Ng is still mentally and physically fit, a feat he attributes to the 'SHIELD' formula.
"Shield means armour, to protect yourself," he explained. Breaking down the acronym, SHIELD stands for Sleep, Handling stress, Interaction, Exercise, Learn, and Diet.
Ng underscores the significance of securing seven hours of restful sleep and adopting a well-balanced diet marked by a moderate consumption of carbohydrates and low sugar, in addition to a rich assortment of fruits and vegetables.
As a staunch proponent of meditation, he also firmly believes in its efficacy for mitigating stress, a common affliction in our fast-paced society.
He also underscores the importance of sustained social interaction as a means to keep the mind agile. Engaging in conversations, discussions, and nurturing relationships stands as a central tenet of this philosophy.
He also makes it a point to stay physically active. "Everyday, I either play a little bit of tennis, or golf — nine holes of golf, [and] I walk the course. I try to swim, and I do gardening. Four things — just do a bit of each everyday."
Lastly, Ng highlights learning as a lifelong journey. He dedicates himself to acquiring new knowledge and skills, and is currently learning how to edit videos.
Featured Image Credit: Ore Huiying via Bloomberg
Also Read: Poetry, cats and Jay Chou: 7 interesting facts you probably didn't know about Tharman