At a shocking 14.6 inches, the Samsung Galaxy Tab S9 Ultra is undoubtedly one of the biggest tablets I've ever experienced.
With that comes a heft to this device, but its 732g weight is still lighter compared to most of your standard laptops of similar sizes.
Its larger surface area also means that it's actually thinner compared to the Tab S9+ and Tab S9 at just 5.5mm (compared to 5.7mm and 5.9mm respectively).
Taking all this in, one of the obvious use cases of this tablet is as a lighter, more compact laptop. In terms of functionality, it's not quite a complete alternative, but on the spectrum of mobile devices, it's definitely leaning towards the laptop end (the other end being a phone, that is).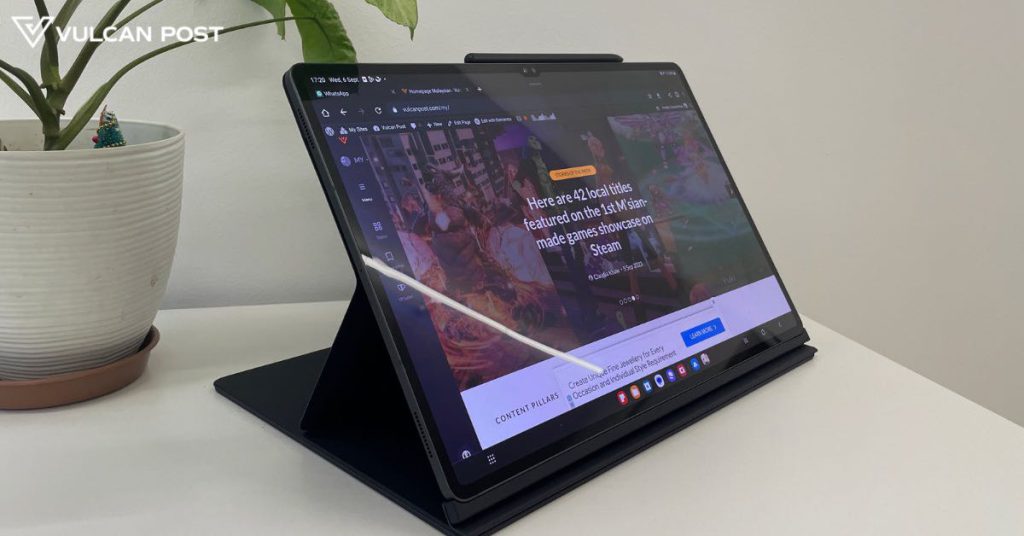 I've always doubted the practicality of a tablet, though. I already have a laptop as well as a phone, and either of these work as an on-the-go work device. Yes, a laptop might be clunkier and the phone can be a pain to use, but I've gotten used to working within those limitations.
Despite my initial hesitations, I was ready to take on the Tab S9 Ultra and test its capabilities and how it might fit into my life. Here's what a week of using the device showed me.
Portable productivity and multifunctionality
I admit that in the past (i.e. before last week), I used to mock the idea of people using tablets for their cameras, as my experiences with some early-gen iPads and tablets showed me image quality so grainy it might as well be a paddy field.
However, the Tab S9 Ultra's camera quality was shockingly good, especially the front camera. The front cameras (wide and ultra-wide) are both 12MP, while the back cameras are 8MP for the main ultra-wide and 13MP for the main wide.
Paired with a crisp audio recording, this makes the Tab S9 Ultra a phenomenal device to take video calls on.
As the camera also supports video recording resolution of UHD 4K at 30fps, the device works well for on-the-go picture and video-taking, should your phone ever not be enough. The size might make it difficult to use as a point-and-shoot camera, so I can only imagine using it as a stationery camera.
A combination of the Dynamic AMOLED 2X Display and a quad AKG speaker system and Dolby Atmos surround sound means the tablet provides a phenomenal viewing experience too.
There's also the fact that this is the first water and dust-resistant Galaxy S tablet series. You won't want to bring it into the pool with you, but it'll give you the ease of mind should you ever splash any water on the tablet.
I was surprised to find that the Galaxy Tab S9 series also caters to the gamers, offering an "engrossing, photo-realistic gaming experience on the Tab's expansive screen for marathon playthroughs", as the Samsung website claims.
The laptop is also fitted with the Snapdragon 8 Gen 2 for Galaxy processor, which is engineered to deliver "revved-up performance and power savings for champion-level gameplay".
A reliable DeX experience
Using the DeX, which provides a desktop experience on the tablet, I ran into some small glitches here and there, such as with my mouse connectivity and some copy-pasting functions, but it could have just been a peripheral issue.
But there are some limitations in general. For example, I prefer the web interface of Google Mail, but when trying to access the web version on the Chrome app, an old format of the site showed up and I was prompted to download the app version instead.
However, the app version was not ideal, as it was hard (or even impossible) to use tools I often rely on, such as the format brush and font sizing.
This is a very specific scenario, I know, but these kinds of limitations are everywhere. Most apps I download give me the mobile experience, not the desktop one, which ends up frustrating me. But, well, it's all a matter of getting used to, I think.
Best experienced with a mouse and keyboard
While I very much enjoyed the tablet, I wouldn't feel the same if it weren't for the addition of the keyboard (and my own mouse).
The book cover keyboard does come with a touchpad, but it was way too clicky and responsive, and just wasn't very ergonomically sound for my wrists.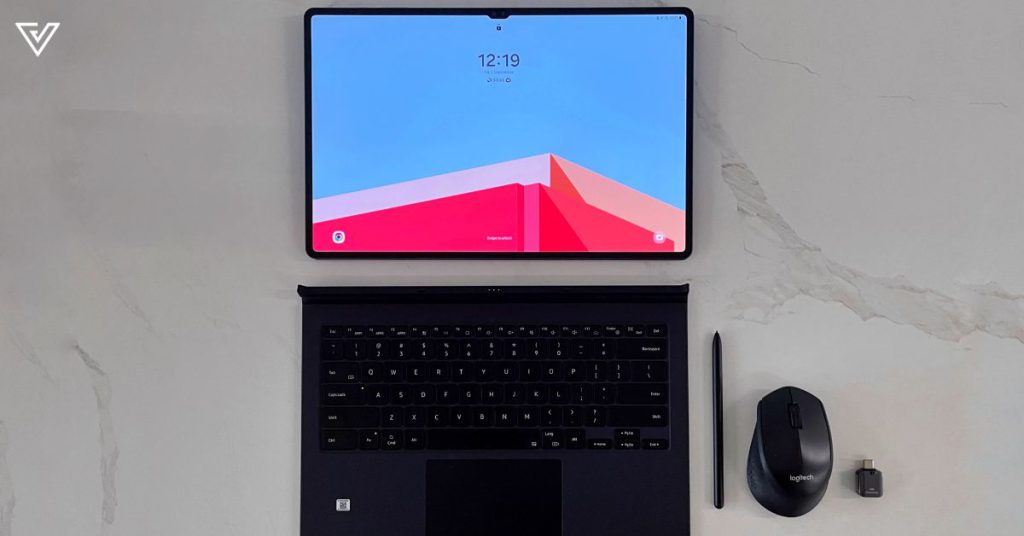 Thus, using a type C to USB converter, I was able to use my USB mouse, which was a total game changer when it came to productivity.
And the book cover keyboard works well, but as someone who types a lot and prefers a more tactile experience, it's not my favourite.
On the topic of accessories, the S Pen is a great addition to the tablet too. I found the tablet a little too big to work as a journal for notetaking in a meeting, but it does work well to pen down more visual ideas.
I love the intuitiveness of using the pen. The tablet can detect when the pen has been taken out of its housing in the case, and immediately opens up the Galaxy Notes app.
Overall, the battery life was good, especially with the quality of display provided. Charging is a bit slower, though, as the tablet didn't come with a designated power adapter.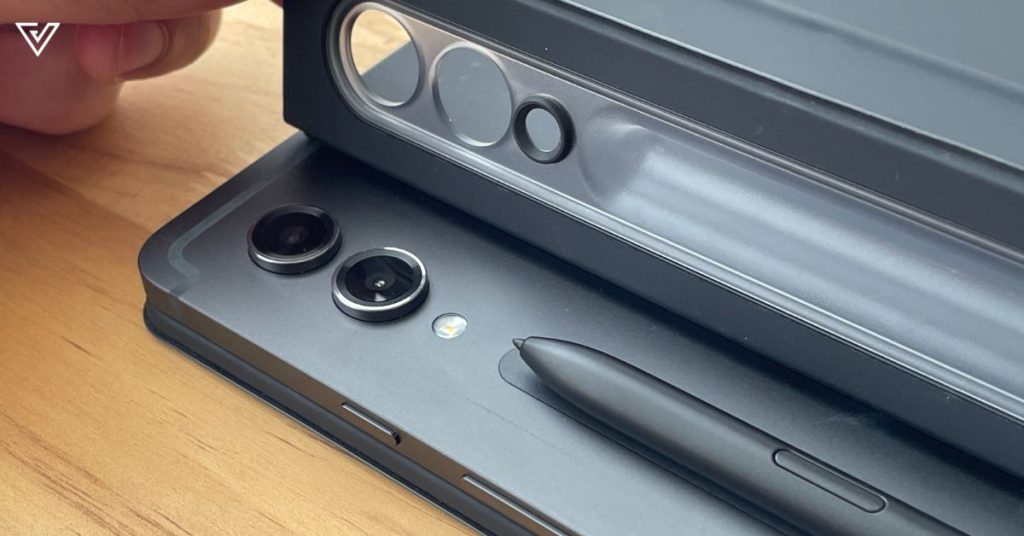 Verdict
Of course, its huge size can be a double-edged sword, making it impractical for scenarios that require true mobility.
For example, as a commuter, I like to get some work done on trains sometimes. As its name suggests, a laptop can be conveniently used on your lap, but the stand of the tablet makes it hard to keep upright while tapping away at the keyboard.
It's still not going to replace my laptop as a primary work device, but I really like being able to tuck it under my arm and bring it out to get some small tasks done. As proof, here are some pictures taken when I brought the tablet to a Pizza Hut to continue working while picking up food for the team.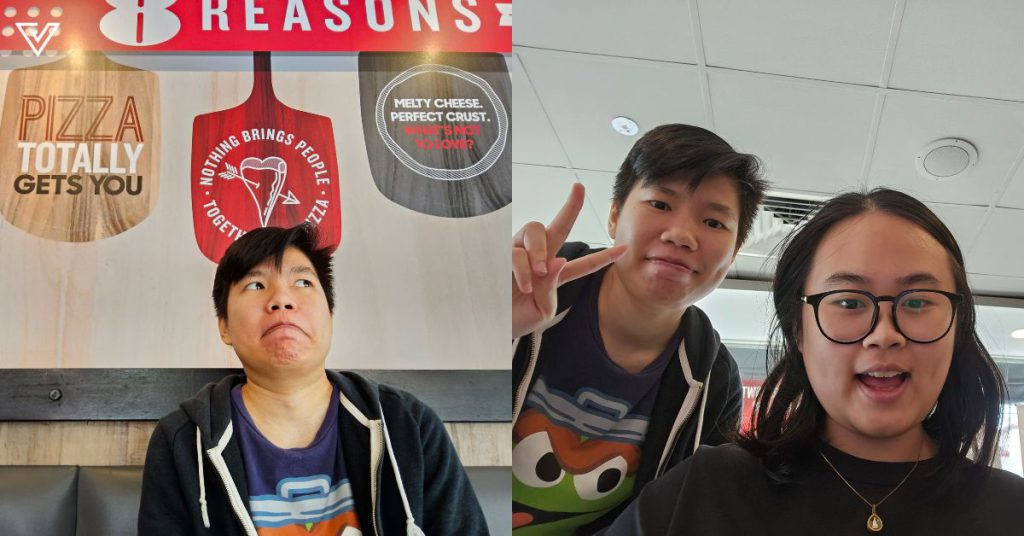 At RM6,499, the tab is on the pricier end, especially if it's going to act just as an addition to my ecosystem of devices. I think the size would also be a bit overkill for that.
Although I haven't tried the full S9 Tab series, perhaps the Samsung Galaxy Tab S9 Plus would function as a Goldilocks—not too big, not to small.
Ultimately, it's great as a multipurpose device. I can see the tablet being great for families, balancing its role as a work companion as well as a portable entertainment hub at home.
It's for those who are tired of lugging their laptops around for those purposes, and can do without the full range of functionality a laptop provides.
| Pros | Cons |
| --- | --- |
| Pros | Cons |
| Great camera and microphones for video calls | The DeX can be glitchy at times |
| High performance visuals and audio to enjoy entertainment | Must be used with a keyboard and mouse for better productivity and practicality |
| Reliable DeX to get a PC experience | |
VP Verdict is a series where we personally try and test out products, services, fads, and apps. Want to suggest something else for us to try? Leave a comment here or send the suggestion to our Facebook page.