Financial planning is a concept that is familiar to all of us, with many financial plans available on offer. However, many people avoid financial planning due to the lack of awareness and clarity, as well as the stigma associated with financial advisors being seen as "hard-sellers".
Seeing a gap in the fintech industry for an avenue providing independent and neutral financial advice, Cherie Wang co-founded Planner Bee together with her younger brother, Kenneth Wang. Their aim was to employ an omnichannel approach to make financial planning less intimidating.
User feedback has always been a key pillar of Planner Bee, so the siblings spent a year conducting market research and focus sessions to better address the pain points of their users. 
They discovered that people struggled to select the right financial products for their needs, with many users lacking a clear understanding of which financial products to choose. Consolidating financial data typically took an average of four hours, accompanied by significant friction.
"When we first ideated the product, we really thought that our target audience would like to also budget their money – look at everything in one place, down to the cent where they would say 'I've spent 'x' amount on dining, 'y' amount on transportation' and be more neurotic about it," said Cherie.
With the data and feedback gathered, Planner Bee was founded in 2019. It subsequently launched a mobile app and website in 2020 with the goal of assisting users in comparing different financial plans and providing advice based on their financial needs.
The mobile app allows users to synchronise their bank, insurance, and investment data into a unified platform, offering them a comprehensive overview of their health and life insurance plans.
Meanwhile, the website serves as a neutral marketplace where users can compare insurance options and seek advice. Additionally, through their blog posts, they educate users on what to consider when purchasing financial products. 
They launched Planner Bee during the Circuit Breaker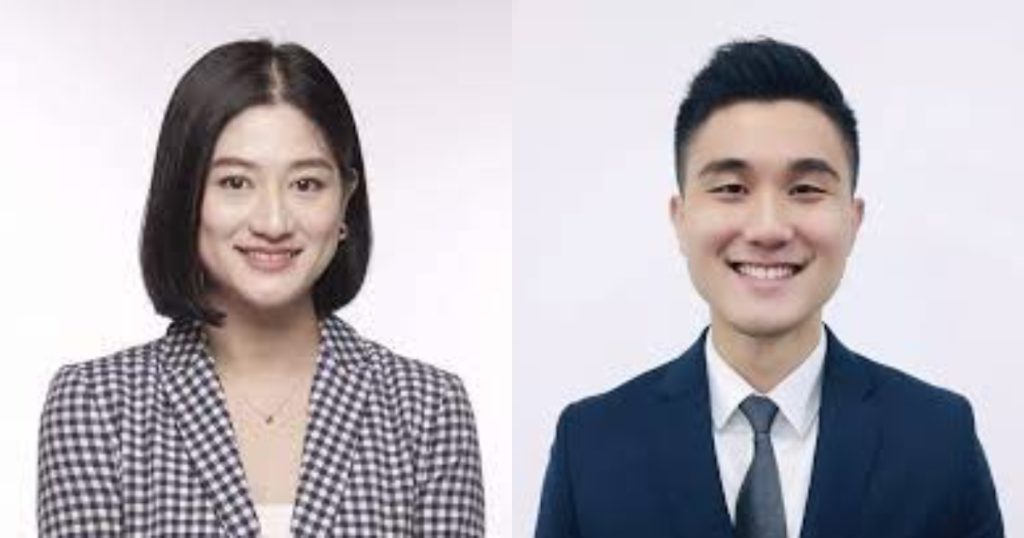 The COVID-19 pandemic has brought a lot of uncertainty to the global economy, impacting both the operational and fundraising landscape. Consequently, some insurtech startups, such as GoBear, have been forced to cease operations due to insufficient funds to sustain operations.
Despite the high risks and the uncertain nature of the pandemic, Planner Bee's mobile application and website launched in 2020, coinciding with the Circuit Breaker period.
Cherie observed that more people have become more receptive to seeking financial advice online which encouraged her to invest US$1 million into the launch, which was jointly funded by her family and friends.
Unlike GoBear which focused on travel insurance, Cherie stressed that Planner Bee focuses on a different area of financial planning.
For us, our main focus is on long-term insurance planning, where we help people secure their Life and Health Insurance, Term Insurance [and] Maternity [Plans]. It is a little bit more recession proof, because these are products that people need regardless of the economy.

– Cherie Wang, co-founder, Planner Bee
She added that Planner Bee initially acquired users through the launch of their app, with app development spearheaded by Kenneth, who is an Artificial Intelligence (AI) engineer.
Users were also acquired through their blog posts, which helped to boost their SEO (search engine optimisation) and long-tail marketing efforts. Cherie further leveraged her network, which she had cultivated over her 13 years as a financial advisor.
Catering to different financial needs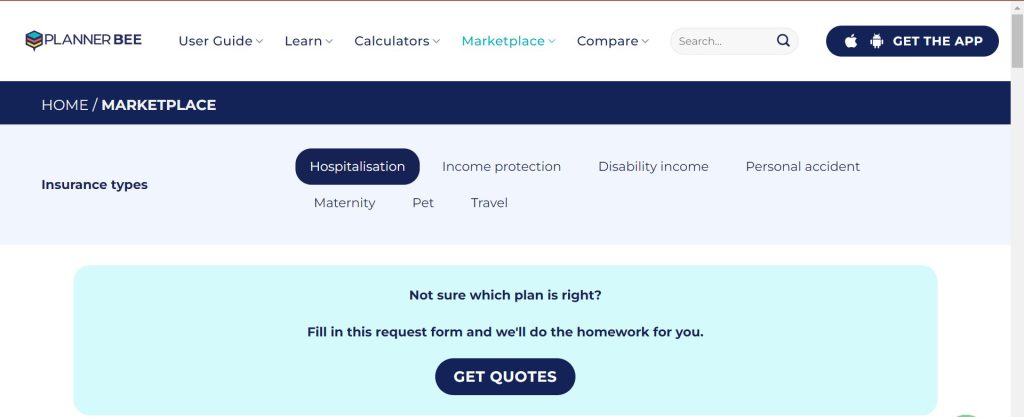 While Planner Bee has maintained its main objective of providing a platform offering neutral financial advice, its business operations have evolved to better meet the needs of its audience. 
When the duo launched their mobile app and website in July 2020, they initially envisioned the app becoming their primary source of traffic. To their surprise, the website has garnered 10 times more engagement since its launch.
Additionally, Planner Bee monetised its online marketplace in the previous year, allowing users to request personalised comparison quotes upon viewing the online product listings and make online purchases through an independent advisor. This strategy has enabled Planner Bee to achieve a 40 per cent month-on-month growth since 2022.
When asked if they would shift to a paid subscription model, Cherie shared that there are no plans to charge customers any fees. Instead, they generate revenue through referral fees from partnering financial providers.
From the outset, the founders understood that, much like many Asians who are willing to view ads in exchange for privacy, they generally prefer not to subscribe to paid services. They believed that the same behaviour extended to paying for financial advice.
We don't think that we're big or strong enough to change that behaviour, [so] we went along with it. We tell our customers that we rank our products according to facts – we're not biassed towards any insurer [because] we don't represent them. We get fees for each purchase, and it's clearly stated when people buy through us. [The price is not] affected by how much they pay us because the data is all ranked by the technology.

– Cherie Wang, co-founder, Planner Bee
Cherie also shared that while Planner Bee initially aimed to cater to a younger audience between the ages of 21 and 35, specifically fresh graduates interested in early financial planning, they have observed that a significant portion of their users falls within the 25 to 45 age range.
Users in this age group tend to have higher average incomes and are more financially literate, with many holding professions such as lawyers, software engineers, bankers, and middle management roles. Consequently, they are more inclined to purchase financial plans and products. 
However, this shift in user demographics does not mean they have lost focus on the younger demographic. Educating users remains a key pillar of Planner Bee's business. 
We've always insisted that education is the key to awareness. Hence, we produce original content on our blog thrice a week. Our topics are catered mostly to new insurance buyers that are slightly more financially literate through lifestyle topics that help to bring out the importance of financial planning and importance of insurance. 95 per cent of our base are between 21 and 45 [years old], with a very gender neutral split.

– Cherie Wang, co-founder, Planner Bee
More tech advancements ahead
In February last year, Planner Bee added an automated insurance recommendation engine to its mobile app. Currently, Planner Bee compares insurance products from more than 20 insurers for their customers and consolidates data from 43 financial insurers for its users. 
With the digitisation of financial services, the convenience of accessing our finances at our fingertips has increased significantly. However, this convenience has also led to a surge in online scams and incidents of user data leaks in recent years.
To safeguard users' data and privacy, all user data is fully encrypted and stored on Singapore-based cloud services. Access to specific pieces of data is restricted to a need-to-know basis only.
Cherie also emphasised that maintaining relationships with a large number of financial providers is no easy feat. Furthermore, the team has to constantly fine-tune their technology to keep the data presented on their apps and website up-to-date, especially when there are new product and price updates in the financial sector. 
She admitted that working with such a large number of providers is never easy. It's akin to managing a supermarket with a vast array of stock-keeping units (SKUs) to keep track of, and that presents its challenges.
These challenges become even more pronounced when the providers offer a wide variety of products in different shapes and sizes. As a result, they are constantly fine-tuning their technology to adapt to the frequent changes that occur across all these providers.
Whenever there is a product or price update, that trickles down to our quotation team, and accuracy is key when it comes to money. So these changes are actually quite hard to manage even until today, simply because insurers do find it hard to streamline their data to us.

– Cherie Wang, co-founder, Planner Bee
Planner Bee has since made significant strides in automation, with 90 per cent of their systems now automated. This effort is aimed at providing users with timely and accurate quotations and data. Additionally, providers provide the team with advanced notice of new updates, which are embargoed until the specified release date.
While the fintech scene in Singapore is rapidly expanding, the insurtech space has been growing at a slower pace compared to other areas within fintech. However, Cherie noted that the insurance sector is experiencing some real changes.
"A lot more providers are looking to support the insurance [sector] to become faster, reduce costs, compliance, claims and stuff like that, [but] that's not our expertise," said Cherie.
Due to their strong understanding of end consumers, they have chosen to address the consumer side of the problem, which is that purchasing insurance and dealing with claims can be a daunting process for many. She acknowledged there are not many businesses providing these services, highlighting an existing gap that has yet to be filled.
To date, Planner Bee offers S$1.5 billion of insurance offerings for their mobile app users, and it continues to strive for an enhanced user experience.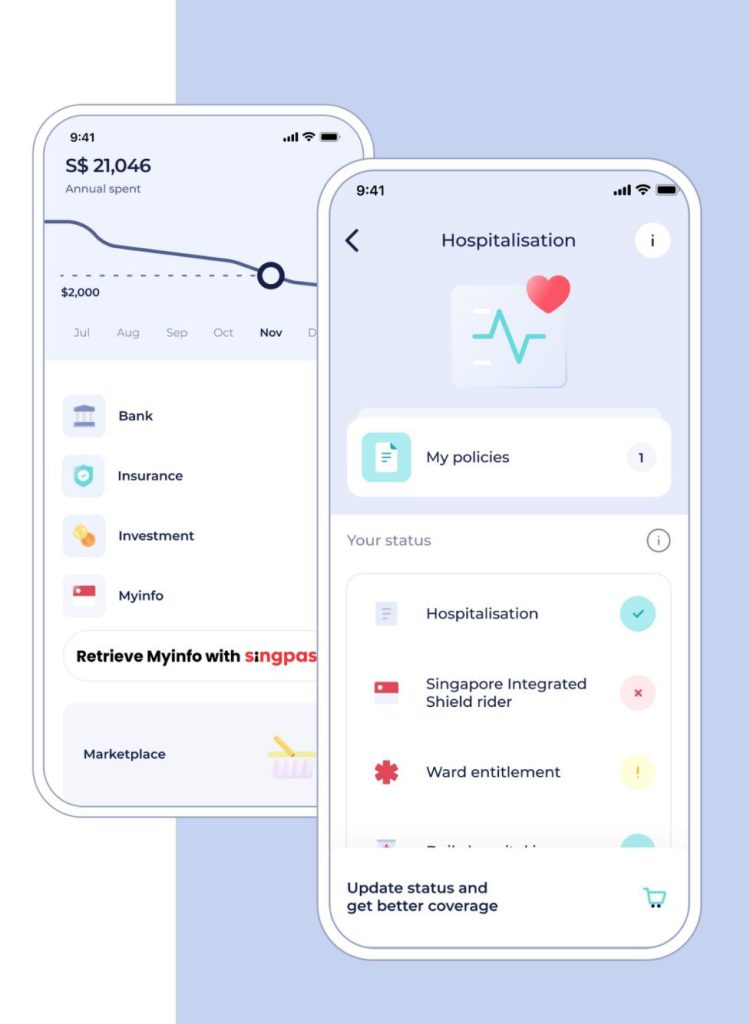 Despite the gradual growth of the insurtech industry, Planner Bee remains committed to advancing its technology and offerings to users. In the coming months, users can anticipate an improved version of their mobile app, which will enable them to access data from their Central Provident Fund (CPF), including House Development Board (HDB) loans and CPF balances.
The company is also working on allowing users to synchronise their Singpass data to streamline their personal data. Furthermore, users can also expect a redesigned app by next month based on the feedback received. 
Featured Image Credit: Planner Bee