In a bustling metropolis like Singapore, adventure sports and the thrill of the great outdoors might not be the first things that come to mind.
But when Alex Hsu, 34, and Daphne Goh, 32 — both graduates from the National University of Singapore — combined their unique backgrounds and shared passion, they laid the foundation for something exceptional with The Ride Side.
What started as an adventure sports travel company has now blossomed into Singapore's first action-sports powerhouse.
Slated to open on October 28 at Orchard, Singapore, it is a groundbreaking project that is set to redefine the adventure sports landscape in Asia.
The birth of The Ride Side
The Ride Side was born out of a desire to make adventure sports, specifically snowboarding and skiing, more accessible.
In 2015, the duo began by hosting ski and snowboarding trips, creating a community of like-minded enthusiasts eager to embrace the thrill of winter sports.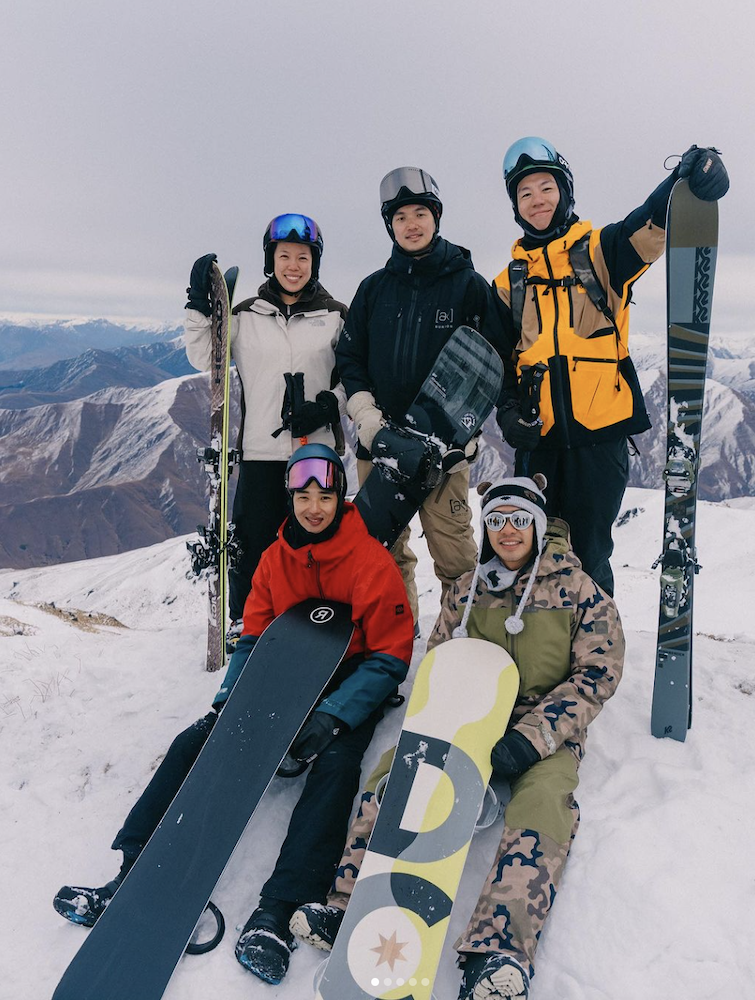 We wanted to create a fuss-free experience with the intricacies of the sports being taken care of for them. … The whole idea was to create a community around the sports, and make snowboarding more accessible for the general public who are interested in adventure sports.

– Alex Hsu, co-founder of The Ride Side
Over the years, their concept of social travel gained traction, leading to an annual pilgrimage of adventure seekers to destinations like Japan, Switzerland, Austria, and New Zealand.
However, the COVID-19 pandemic posed unprecedented challenges for The Ride Side and the adventure sports industry at large.
Travel restrictions and lockdowns forced them to pause their snowboarding expedition trips for an indefinite and uncertain period of time. This led them to refund customers — totalling six figures — for cancelled trips, which revealed the volatility and vulnerability of the travel and consumer-facing business.
"We made the conscientious yet painful decision to honour refunds to customers, without getting the same consideration back from suppliers we dealt with," lamented Alex.
Despite the challenges, the pandemic also brought about a shift in perspective. With travel on hold and more people working from home, individuals began to reevaluate their health and wellness.
Many turned to outdoor and adventure sports as a means of entertainment and exercise. Activities such as skateboarding, cycling, and home workouts gained popularity, and those with access to mountains and waves started exploring snowboarding, skiing, and surfing.
According to the founders, this period of introspection and exploration has made people more open-minded and adventurous. Adventure sports are no longer seen as intimidating or just 'bucket list activities'. They have become integral to daily life and a way to escape the monotony of urban existence.
Ski, snowboard, surf and skate all under one roof
Capitalising on this newfound appreciation for adventure sports, the founders came up with an all-new concept: TRIFECTA by The Ride Side.
As Asia's first snow, surf, and skate attraction, it is poised to become a mecca for board sports enthusiasts.
"The term TRIFECTA refers to the hallowed goal of completing all three board sports activities in a day — something that's difficult to achieve due to the paradoxical alignment of winter and summer conditions in the same place on the same day," explained Daphne.
Spanning 49, 611 square feet, TRIFECTA emerged as a solution to bridge the gap between urban living and outdoor adventure, overcoming geographical limitations. This allows people to experience the thrill of these board sports without the need for travel, making it both cost-effective and time-efficient.
The founders recognise the prohibitive costs associated with these activities and aim to make skiing and snowboarding more attainable for Singaporeans and regional visitors.
We wanted to do the impossible and bring the mountains and waves to the urban, tropical hub of Southeast Asia that is Singapore, and allow local and regional customers to experience surfing, skating, and skiing, under one roof.

Instead of being a sport for people to strike off their bucket list, TRIFECTA allows people in Singapore and the region to enjoy these adventure sports throughout the year.

– Daphne Goh, co-founder of The Ride Side
According to the founders, the attraction boasts three distinct facilities — the snow, skate, and surf arena.
The snow arena is a winter wonderland brought to life in the heart of the tropics. It features Asia's first virtual reality (VR) ski simulator that offers enthusiasts a lifelike snowboarding and skiing experience. With best-in-class speed simulation and directional movements, it mimics the uneven terrain of a mountain.
In the "freestyle" area that's equipped with airbags and dry slopes, guests can safely try out and practice snowboard tricks, including jumps and backflips.
Meanwhile, the skate arena is a skateboarding playground like no other, boasting the world's first hybrid skate bowl, catering to skateboarders and surfskaters alike.
Lastly, the surf arena takes guests on an epic wave-riding adventure. It features Citywave, the world's leading technology in deep water wave pools. It will be Asia's largest standing wave pool — this Olympic-sized pool is a massive 10 metres wide and generates 1.5-metre-high waves, which is the deepest in Singapore.
TRIFECTA goes beyond just thrilling activities; it's a lifestyle hub where culture and creativity intersect with sports. Visitors can also expect a food and beverage concept called Butter that will be rolled out in collaboration with Singapore cult favourite Two Men Bagel House. The 70-seater eatery will feature all-day breakfast, lunch, and dinner options, in addition to exclusive menu selections.
Moreover, it will house a new flagship retail store for The Ride Side — marked as its fourth outlet — featuring over 50 brands in surfing, snowboarding, skiing, and skateboarding.
Customers can also have the opportunity to test a collection of demo boards in the arenas, alongside a boot fitting and customisation station for ski and snowboard enthusiasts.
Building a community of board sports enthusiasts
Alex and Daphne envision TRIFECTA as a unifying force, cultivating communities from diverse backgrounds through sports.
With the open concept in the design of the space, the idea is to invite more people to participate as spectators and eventually try out sessions if they cultivate an interest — bridging the divide by being more inclusive and accessible for individuals who are interested in this sport, but might not have the capacity to afford the peripherals required [such as] travel and equipment.

– Alex Hsu, co-founder of The Ride Side
Community building lies at the heart of The Ride Side's mission, and TRIFECTA is no exception. With facilities open every day of the week, it becomes a natural gathering place for board sports enthusiasts.
They can attend sessions together, share tips and insights, and forge connections with fellow enthusiasts, whether they are based in Singapore or are travelers passing through the region.
Beyond sports, TRIFECTA aims to become a cultural and artistic hub, hosting art exhibitions, concerts, festivals, music gigs, community showcases, and more. It's not just about board sports; it's an intersection of art, music, lifestyle, and sport — an opportunity for creative self-expression on and off a board.
Moreover, TRIFECTA is committed to environmental sustainability. The attraction plans to launch eco-education programs for youth, focusing on the importance of preserving nature through snowboarding and surfing, sports deeply rooted in natural elements.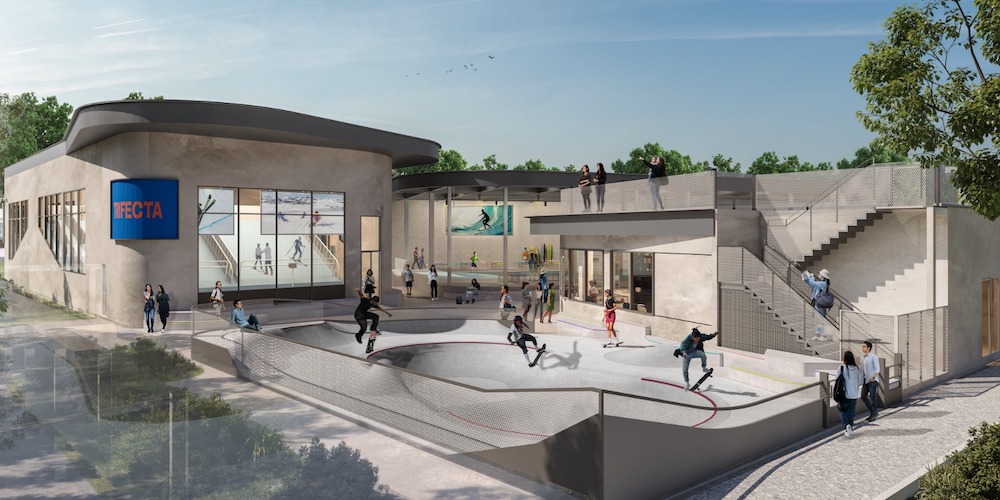 Some of the sustainability features include rainwater harvesting, using the skate bowl as the catchment area, and the upcoming installation of solar panels on the roof of the surf arena.
Navigating unchartered territory
However, the journey to bring TRIFECTA to life was far from smooth-sailing. While Alex and Daphne had always thrived on venturing into the unknown, TRIFECTA presented a unique set of challenges.
They were neither trained developers nor construction experts, which meant they had to immerse themselves in the intricate details of building design and construction, which was a steep learning curve.
To build something [that] Singapore, or the world, has never seen takes equal parts imagination, courage, and convincing to bring it to life.

– Daphne Goh, co-founder of The Ride Side
Undeterred, they leaned on the community they had painstakingly built over eight years. Collaboration with experts within the construction field became crucial to translate their vision into reality.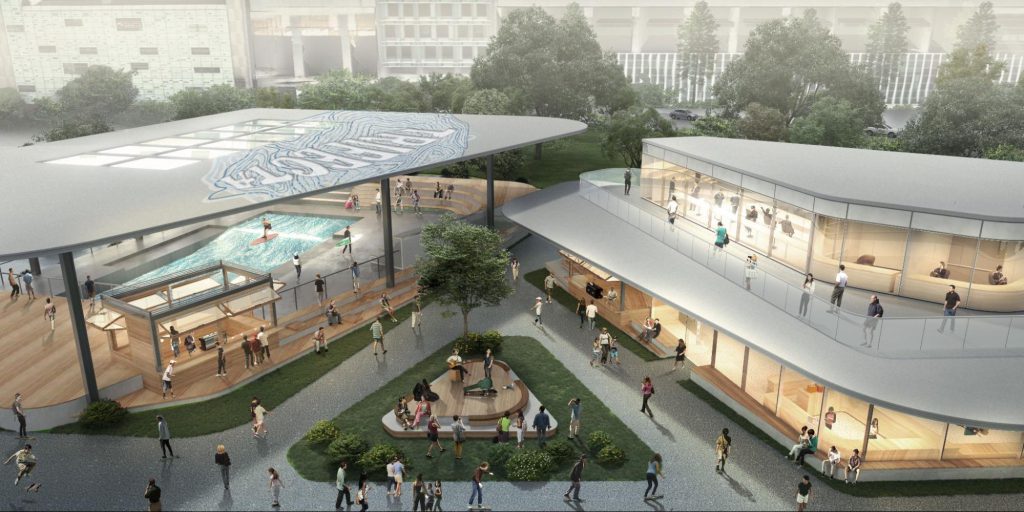 The founders also faced the challenge of explaining what TRIFECTA meant for Singapore. They had to help people visualise a place where the mountains meet the sea in an urban setting, and where skiing, snowboarding, surfing, and skating coexisted seamlessly.
Ensuring safety was another priority. They had to source the best technology to build a safe space for beginners and seasoned riders alike, conducting numerous tests to guarantee that the equipment met the highest standards.
All participants would also have to undergo a safety induction programme with TRIFECTA's first-aid trained instructors before classes begin. The surf arena is equipped with a safety padded pool that provides a soft landing, while the ski simulators have customised safety harnesses and bars to allow a self-operated experience.
"There is no existing blueprint for the business we're doing, but the knowledge and expertise that my team and I share allow us to work toward the common goal of making board sports more accessible for people," said Alex.
A thriving future for adventure sports
Looking ahead, The Ride Side has ambitious plans to further elevate the adventure sports scene in Asia.
TRIFECTA will host a series of competitions, events, and workshops, offering athletes and amateurs opportunities to take their riding skills to the next level. Renowned coaches and professional athletes will be on hand to share their expertise and ride alongside enthusiasts.
The impact goes beyond individual development. TRIFECTA is also poised to nurture the next generation of board sports enthusiasts and professionals.
It offers a pathway for those in Singapore to explore careers in snowboarding and surfing — an opportunity that was previously unthinkable in the city-state. The attraction provides training for instructors and certification opportunities, opening doors to work in the field.
As for long-term goals, Alex and Daphne see a bright future for TRIFECTA as a catalyst for change. They note that younger generations are increasingly drawn to board sports, fuelled by exposure on social media and changing parental mindsets.
The recent recognition of skateboarding as an Olympic sport further reinforces this trend. The founders see TRIFECTA as a place for young enthusiasts to learn and grow, cultivating a lifelong passion for board sports.
As TRIFECTA opens its doors later this year, it heralds a new era in adventure sports, proving that the urban jungle can indeed be the ultimate playground for those who dare to ride the mountains and waves, turning dreams into reality.
Featured Image Credit: The Ride Side / TRIFECTA by The Ride Side